UNICEF advocates for the protection of children in armed conflict
Although by its very nature the exact numbers are difficult to quantify, it is estimated today that as many as 300,000 child soldiers – some as young as eight years old, are involved in more than 30 conflicts around the world.
Child soldiers are used as combatants, messengers, porters, cooks and to provide sexual services. Some are forcibly recruited or abducted; others are driven to join by poverty, abuse and discrimination, or to seek revenge for violence enacted against themselves and their families.
UNICEF focuses on the three key steps to assisting child soldiers:
Disarmament by taking the guns off children
Demobilisation by ensuring children are removed from participation in armed forces
Reintegration by assisting former child soldiers to integrate back into society and the community.
UNICEF works with key local partners to assist formerly abducted children by supporting centres that provide family tracing and psychosocial counselling. UNICEF assists such centres in the provision of shelter materials, medical services, psychosocial counselling support and vocational skills-training, and facilitates the coordination between centres.
We also work to ensure that community members have the tools they need to be the centre of support. This is essential to giving the formerly abducted their lives back.
The open participation of community members is an integral element in creating a protective environment for returnees and their families. Together, communities can address stigmatisation, limited economic opportunity and other common challenges faced by formerly abducted persons, and look together for solutions to reduce their vulnerability.
Since the mid-1980s, UNICEF and its partners have advocated for, and secured the release of, children from armed forces in conflict-affected countries including Afghanistan, Angola, Burundi, Central African Republic, Colombia, Cote d'Ivoire, the Democratic Republic of the Congo, Guinea-Bissau, Liberia, Mozambique, Nepal, Rwanda, Sierra Leone, Somalia, Sri Lanka, Sudan and Uganda.
Learn More
Find out more about UNICEF's work for child soldiers
Watch Video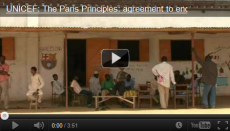 Categories: