UNICEF and RBC partner to tackle inequalities facing children and youth
"It has been said that the measure of any society is how it treats its children. If Canada were being tested, today would be judgment day." –David Morley, President and CEO, UNICEF Canada
On April 18, at a special event in Toronto, UNICEF Canada and RBC were joined by the Parliamentary Secretary to the Minster of Health Kamal Khera and youth from the Students Commission of Canada to talk about the inequalities faced by Canadian children and youth and what we can do to make this country the best place to grow up. A conversation that truly extends to every Canadian. Canada is a diverse, innovative and wealthy country that makes so many of us proud. However, a closer look at our society reveals a worrisome inequality gap that exists between the bottom 10 per cent of Canada's children and youth and those in the middle. A closer look reveals that inequality in Canada has a child's face.
Three years ago, UNICEF measured the overall well-being of children and youth living in wealthy countries. UNICEF Report Card 11 showed that Canada was "Stuck in the middle," ranking 17th out of 29 countries. This was, and continues to be, concerning for many Canadians.
If Canada's overall middle ranking for child well-being was concerning three years ago, the results of UNICEF Report Card 13: Fairness for Children are alarming. Canada is now one of the more unequal societies for children and youth. At the "Back of the pack," Canada ranks 26th of 35 rich nations.
We have no excuse for the inequalities that continue to exist among our children and youth.
Results from Report Card 13: Fairness for Children
At the event on April 18, David Morley, UNICEF Canada President and CEO, presented key data findings from UNICEF Report Card 13: Fairness for Children. The report measures the gaps between youth at the bottom and those in the middle (who reflect the normal and achievable conditions for growing up in Canada). It reveals wide inequalities in well-being for Canadian children and youth – with some wider than in many rich countries, and wider than Canada's moderate level of income inequality would predict.
What we see is wide gaps in family income and in children's health. Educational achievement is holding strong, despite some worrisome trends. But for children and youth at the bottom, life is about having poorer health, less educational achievement, more risk behaviours, more difficult relationships, and fewer dreams.
Also alarming is the deterioration in children's own sense of well-being. In Canada, we have one of the highest proportions of children who report very low life satisfaction. Almost 10 per cent rank their well-being at four out of 10 or lower. That is twice as high as the average among rich countries.
> Read the Fairness for Children report.
As David Morley puts it, "Life satisfaction is a composite indicator of a lot of things in children's lives so it is important to pay attention to. It seems to be the canary in the inequality coalmine."
Canadian children's experience of inequality is magnified and we are failing to shield them from its effects.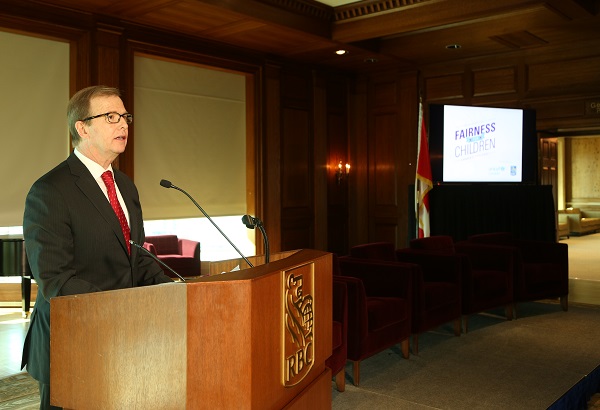 David Morley, President and CEO, UNICEF Canada
Partnering with RBC Canada to reach children and youth
Partnerships with the public sector are essential to creating the Canada we want for our younger generation. RBC Canada has a shared commitment to promoting equality for children and youth and is working with UNICEF to find the best solutions to address the challenges facing Canadian youth.
At the event on April 18, Zabeen Hirji, Chief Human Resources Officer, RBC called on "every Canadian who cares about our shared future to tackle inequality." Looking ahead, she added, "To create high impact solutions, we need to get better at listening to youth."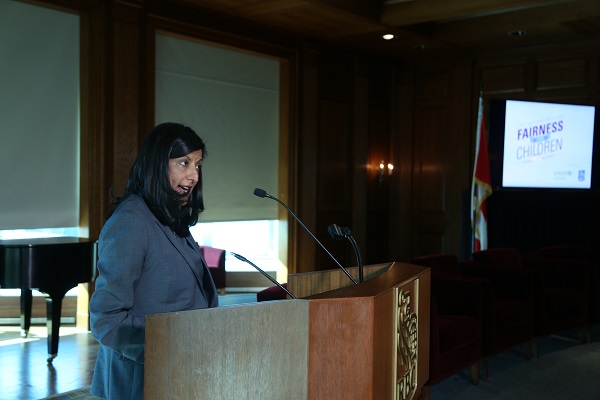 Zabeen Hirji, Chief Human Resouces, RBC
Working with the Government of Canada for a stronger Canada
Canada's governments at all levels have been champions for children on many fronts, but we need to take more determined action to limit how far some children fall behind. At the April 18 event, Parliamentary Secretary to the Minister of Health Kamal Khera joined us to discuss the allocation of resources to families and investments in child care, like the new Canada Child Benefit. Ms. Khera also discussed the need to close the gap in living standards between Indigenous and non-Indigenous families, address mental health concerns and more.
We encourage all levels of government to invest more and earlier in children, improve monitoring and data gathering, consult with children and establish child-impact assessments that ensure child well-being and equality is at the forefront of policy planning.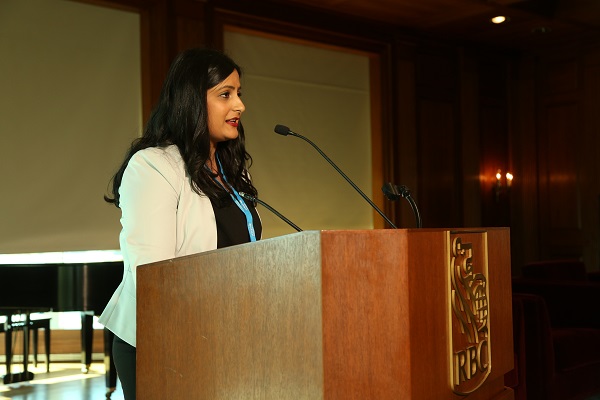 Kamal Khera, Parliamentary Secretary to the Minister of Health & Member of Parliament for Brampton West
Empowering youth to create change
Change also has to come from youth and be inclusive of youth. At the April 18 event, we heard from youth as they shared their insights and concerns. They spoke to stresses and pressures from inequality, a lack of choices and a need for support systems.
"Everyone can speculate about what youth want, but youth know what they need and want," said Austin, a youth representative from the Students Commission of Canada. "Being in control of your own present and future is important for youth."
Hearing from Austin and his peers from the Students Commission of Canada was a highlight of the event—their voices are so critical to building a shared future that gives them every opportunity to be healthy, happy and pursue their dreams.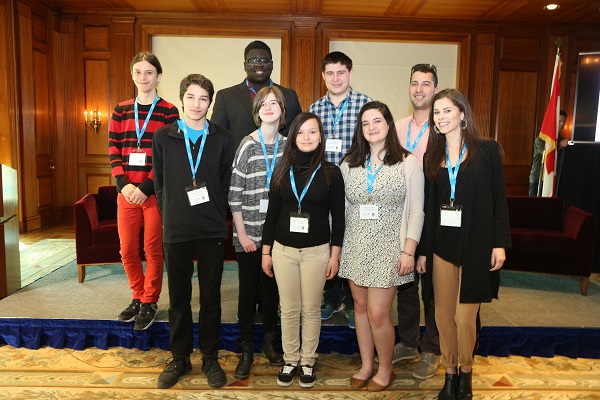 Members of The Students Commission of Canada
The path to closing the inequality gap
What will it take to narrow the inequality gaps? Looking at the nations who have been successful in closing the inequality gaps, we know that we need to do more of three things:
We need to invest more and earlier in children and youth
We need to better understand child and youth well-being through better monitoring and better data
We need to put in place policies that support equitable services and outcomes for all children and youth.
Giving children and youth the best we have as a country is a job for all of us. At UNICEF Canada, we see an opportunity to refresh how child well-being is measured, understood and marshalled to inform public debate, to invest in the greatest challenges facing our children and youth, and alter our course when evidence tells us that we can do better.
There is no shortage of willing Canadians to join us. There is no shortage of potential in our children and youth. They are our greatest national resources, and they will power our dreams for all our children and youth.
> Start a conversation about child inequality in Canada by sharing this blog post, or joining the social media conversation with #EqualityforChildrenandYouth.
UNICEF and #RBC partner to tackle inequalities facing youth: https://t.co/gwLGpcsXnj #EqualityforChildrenandYouth pic.twitter.com/06SFeogVtY

— UNICEF Canada Live (@UNICEFLive) April 21, 2016
Categories:
Geographic Regions: