UNICEF Supports Young Moms in China Through Social Media
When Xiaoyu Su tried to explain to her parents that her newborn daughter should be fed breastmilk and nothing else, they told her she was simply being stubborn. Despite her family's resistance, however, Ms. Su prevailed in exclusively breastfeeding her daughter during the first 6 months of life.
"Friends and family spared no effort in persuading me to give my daughter other food," said Ms. Su. "If you don't hold your beliefs strongly, it's very easy to be influenced by others and give up breastfeeding."
Ms. Su found encouragement in an unexpected place—by connecting with a group of like-minded new moms online through various blogs, microblogs, and online forums dedicated to exclusive breastfeeding.
"I am a fan of UNICEF China's page on Weibo," said Ms. Su, referring to a popular microblogging site similar to Twitter. "I have learned a lot about breastfeeding and child care through the content they share."
Despite the established health benefits of breastmilk, the rate of exclusive breastfeeding for children under 6 months in China is very low—only 28 percent. The practice is unpopular for several reasons: traditional beliefs or misconceptions about breastmilk, a lack of public facilities to accommodate breastfeeding mothers, a standard maternity leave of only three months, and the aggressive marketing of infant formula.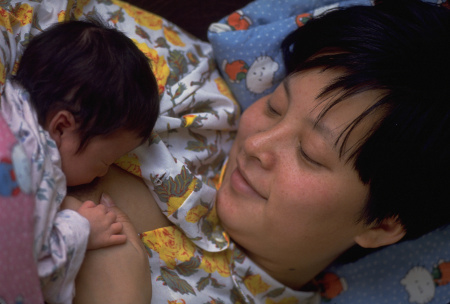 A breastfeeding woman smiles at her baby at the International Peace Maternity and Child Hospital, Shanghai, China. © UNICEF/NYHQ1993-0268/LeMoyne
"I would say the biggest obstacle to breastfeeding is traditional beliefs," said Ms. Su. "Both my parents and parents-in-law think breastmilk alone is not nutritious enough for my baby. They forced me to seek alternatives. Meanwhile, there are too many infant formula advertisements around us – in hospitals and in the media. Even nurses tried to persuade me to feed my daughter formula just after she was born."
Currently, UNICEF is engaged in a massive social media campaign to raise awareness about the unparalleled long-term benefits of exclusive breastfeeding. Since the summer of 2010, UNICEF's Weibo pages have attracted over 1,100,000 fans!
"I didn't know that breastmilk contains antibodies and lymphocytes from the mother until I read about in on UNICEF's microblog," said Jiangqun An, the mother of an 18 month old in Beijing. "There are many online forums and blogs discussing breastfeeding tips, and I saw UNICEF's content being frequently reposted by others."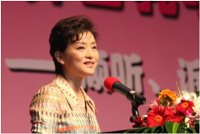 Yang Lan, a UNICEF Ambassador in China and a member of the Chinese People's Political Consultative Conference (CPPCC), submitted a resolution during the CPPCC in March calling for more support and workplace accommodation for breastfeeding mothers, and for regulation of formula marketing.
"Exclusively breastfed children are brighter and healthier," said Yang Lan. "They and their mothers will gain significant lifelong benefits, but we need to support breastfeeding and regulate the marketing of infant formula better. Let breastmilk be the infant's first taste."
Help UNICEF continue educating young mothers and donate today.
Categories:
Geographic Regions: