Violence Descends Upon Drought-Hit Mali
The escalation of an armed conflict in northern Mali has left more than 300,000 people displaced—half of them children. Meanwhile, growing insecurity on the ground is obstructing the delivery of vital aid to those who remain. Recent reports state that women and girls are being kidnapped, and children are being recruited into armed groups. Landmines have already taken the lives of several children.
Children in Northern Mali are among the most vulnerable of the Sahel region. As the conflict began to take shape, the country was already in the grip of widespread drought. Children at risk of severe malnutrition, therefore, are now threatened by violence as well.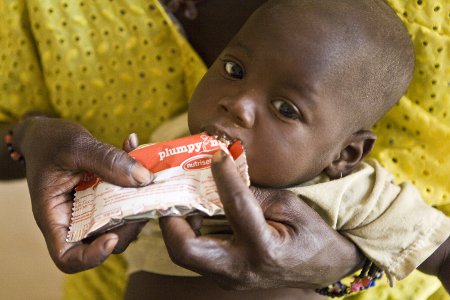 10-month-old Kadia Dianapo is fed Plumpy nut by her mother to treat severe malnutrition. © UNICEF/MLIA2012-00018/Harandane Dicko
"Children in Northern Mali are no longer on the brink of disaster," says UNICEF Mali Deputy Representative Frederick Sizaret. "Now it is here." Citing recent reports, Sizaret adds: "Far too many are suffering from under-nutrition, displacement, many are out of school, and now there are credible reports of grave violations of child rights."
UNICEF officials are warning that the crisis in Northern Mali has dramatically increased the threat from vaccine-preventable diseases like cholera, measles and polio, and could result in an increase in maternal and infant deaths.
More than half of all health facilities in the region have been vandalized, and the number of health professionals has dropped to between 18-27 percent of former levels. As a result, a polio campaign scheduled to take place last week was brought to a halt.
Cholera prevention measures will be needed for some 500,000 people in the affected areas. UNICEF is already distributing Water, Health, Sanitation and Hygiene packages (WASH kits) equipped with supplies to help combat an outbreak.
In the South, UNICEF is engaged in an extensive campaign to provide children at risk of malnutrition with ready-to-use therapeutic foods like Plumpy'Nut.
But the situation in the North is degenerating. To effectively confront the double threat posed by drought and insecurity, UNICEF urgently needs your support to reach Mali's most vulnerable children. Because no child is too far.
Categories:
Geographic Regions: