What is Ebola? Your questions answered – and how UNICEF is helping
The Ebola virus outbreak in West Africa is the largest and deadliest the world has ever seen. More than 4,200 people have been infected, with over 2,200 people dying from the disease.
You can help us to provide life-saving supplies and logistical support needed to stop Ebola. Donate today.
1. What is Ebola?
Ebola is a severe and often fatal virus, with a death rate of between 50% and 90%. Our colleagues on the frontlines describe it as "a biological war" from an "unseen enemy."
2. What are the symptoms?
Fever, muscle pain, headache and sore throat, vomiting, diarrhoea and severe bleeding.
3. How can you catch Ebola?
You catch it by direct contact with the body fluids of an infected person, either from a contaminated surface or by person-to-person contact.
4. Can it be prevented?
There is no specific drug or cure for Ebola, but it can be treated in hospital by health workers using strict infection control procedures.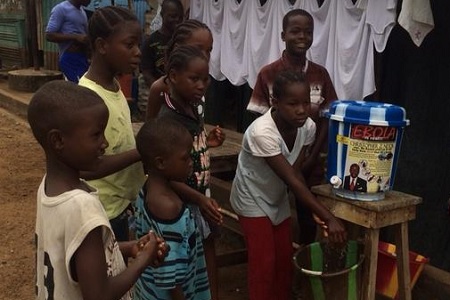 Children all over Liberia are now washing their hands in chlorine.
5. What is happening in the current Ebola outbreak?
Ebola has claimed the lives of children, parents, medical professionals and even journalists. This outbreak is the worst recorded, with the virus spreading across borders and communities at alarming speed. Today, the UN Security Council declared Ebola to be a threat to international peace and security.
Three countries are battling the disease (Sierra Leone, Liberia and Guinea) and eight high-risk countries are actively working to prevent an outbreak (Benin, Burkina Faso, Cote D'Ivoire, Ghana, Guinea Bissau, Mali, Nigeria and Senegal).
6. What is the impact on children?
Too many children have died or been orphaned by the diseases. In various parts of Sierra Leone, Guinea and Liberia, it has spread fear and division within communities and destroyed livelihoods. The disease has had a strong socio-economic impact on entire societies. Borders and schools have been closed. Health facilities and other essential services have been disrupted.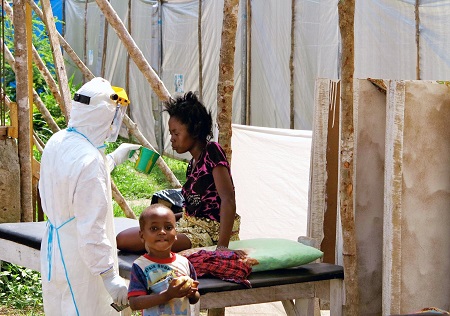 A woman infected with Ebola drinks water at a treatment centre, which is stretched to capacity.

7. Why is this outbreak so difficult to contain?
The spread of Ebola in West Africa has been fuelled by weak healthcare systems and the limited abililty to rapidly respond to cases. This is also the first time that Ebola has rapidly spread to urban and densely populated areas (as opposed to rural areas), which makes it much harder to identify who has it and who has passed it on. It is also more difficult to control and screen people moving across borders.
Fears, rumours and a lack of understanding about the disease also contribute to the spread of the disease. To tackle the epidemic without losing the trust and cooperation of those being treated, it's necessary to implement informed, culturally appropriate, healthcare and education messages.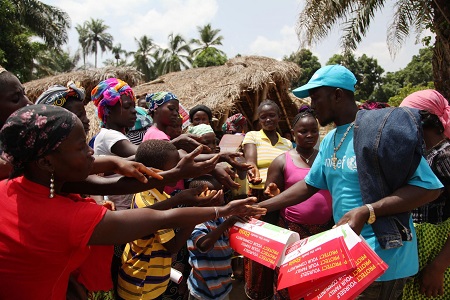 UNICEF teams visit every household to share prevention messages.
8. How is UNICEF helping?
Delivering Supplies
UNICEF is one of the largest deliverers of vital supplies for the treatment and care of people who are sick with Ebola, and for continued supply of basic services. We continue to airlift essential supplies to the affected countries on a massive scale. By the first week of October we will have delivered 1300 metric tonnes and mobilized 55 flights.
Helping families protect themselves
In the coming weeks, we will be focusing on packing and shipping 50,000 Household Protection Kits. These kits contain gloves, gowns, masks, soap, chlorine and buckets. The first 9,000 of these will leave this week for Liberia. The Household Protection Kits complement the Family Hygiene kits which are already being packed and distributed in the country.
UNICEF is also working to contain the outbreak by addressing rumours and misconceptions about the disease. It is essential that the right message reaches the right people at the right time, as we have seen in Liberia. In Sierra Leone, teams will go door-to-door to provide 1.5 million households with life-saving information on Ebola transmission and prevention.
Preparing at-risk countries
UNICEF is also working with Governments in at-risk and neighbouring countries to prepare them for possible Ebola outbreaks. We are already sharing information with communities and developing contingency plans and stockpiles.
Sending in extra staff
Building on our existing country presence in Liberia, Sierra Leone and Guinea, we are bringing in 67 additional staff members to these three most-affected countries. Another 37 staff members will be deployed in the coming weeks.
9. How can you help?
We are in a race against time to contain the outbreak but our resources are lacking. To break the chain of Ebola transmission we urgently need $200 million to fund our response.
You can help us to provide life-saving supplies and logistical support needed to stop Ebola. Donate today.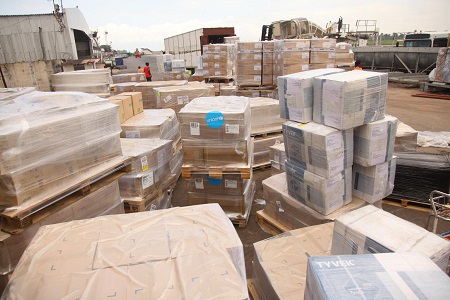 Massive shipments of life-saving supplies are on their way to families.
Categories:
Geographic Regions: