Where children learn: 25 photos of classrooms around the world
Education is the key to the future we want to see for every child. It all starts here, in the classroom.
Every week, children all across the globe pack their bags and head to school. It's a place for play, for learning and for growth. They develop skills they can use into adulthood and friends they'll cherish forever. In the midst of disaster and war, school can be a safe haven.
School looks vastly different all around the world but these photos prove that it can be life-changing for children no matter where they are. Take a look.

Uganda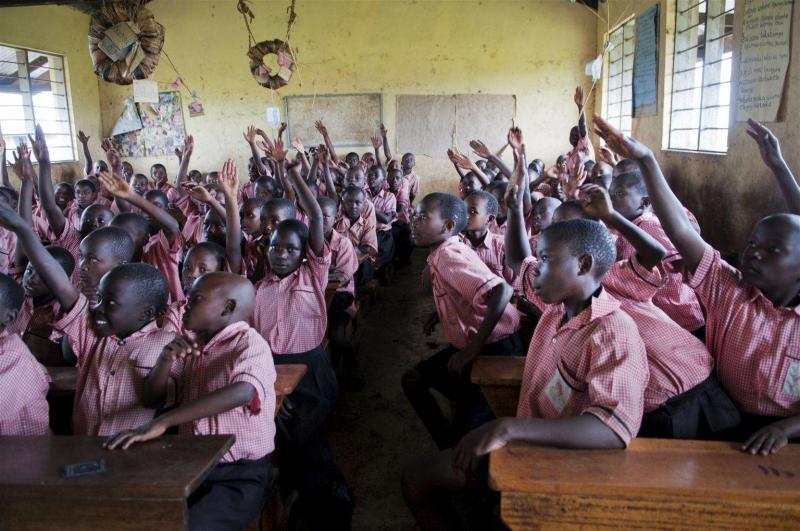 © UNICEF/UNI96063/Znidarcic
A well-trained teacher can bring a classroom to life. UNICEF is working to give teachers the skills, knowledge and supplies they need to engage children like these energetic pupils in Uganda.

Chad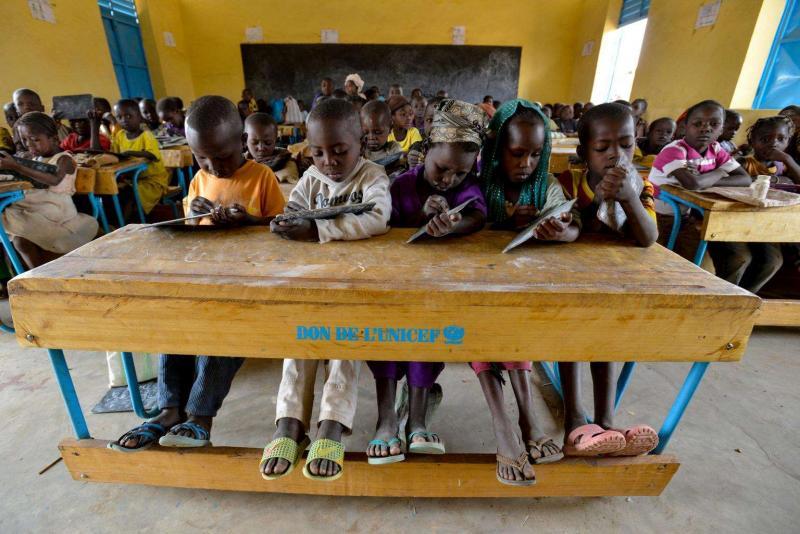 © UNICEF/UNI185296/Rich
In a crowded classroom, the right equipment can mean the difference between struggling to focus and finally nailing your alphabet. These children in Chad once sat on bricks in rooms made of clay and chopped straw. Now, with support from UNICEF and partners, they have wooden desks and a bright new classroom to learn in.

Mexico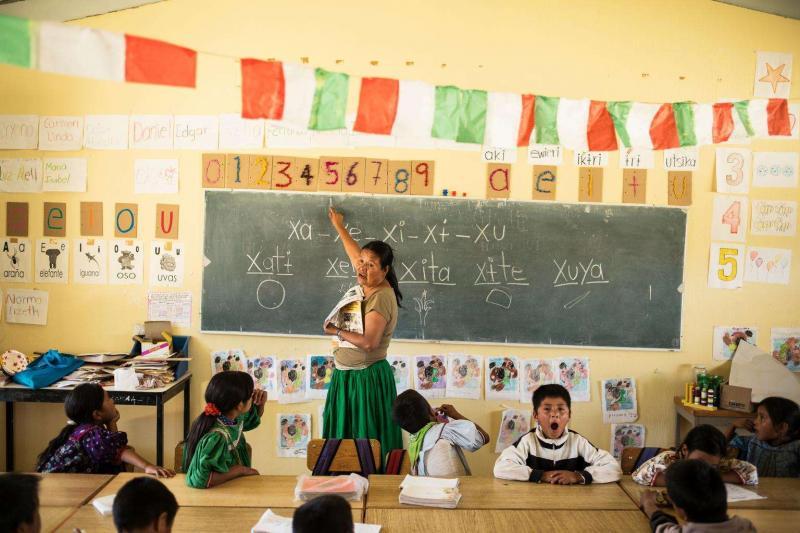 © UNICEF/UNI177022/Richter
Learning to read, write and develop our talents is a right we all have, wherever we are born and however we grow up. These kids are learning at a school for Indigenous children in Mexico.

Nigeria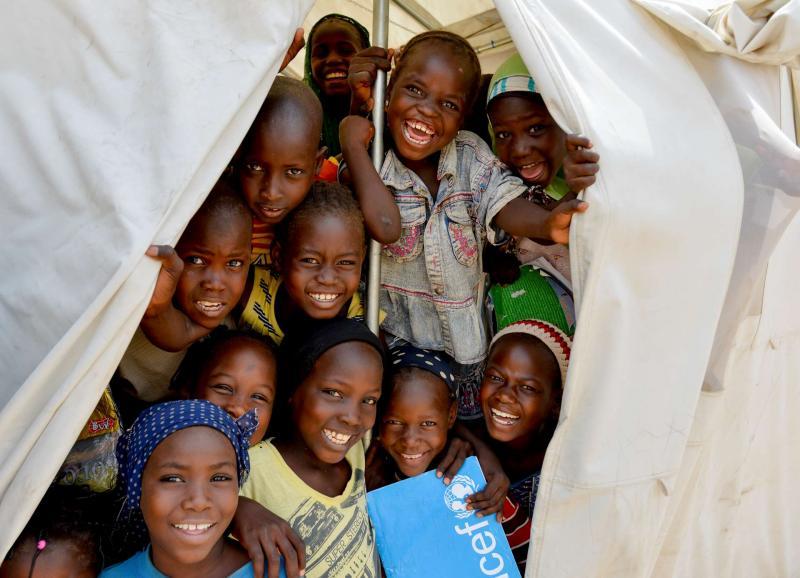 © UNICEF/UNI181989/Rich
Not long ago, these children fled violence. They left behind their homes, friends and the communities they grew up in to seek safety in a camp in Nigeria. They've seen more violence in their few years than anyone should in a lifetime. Now, they have a reason to smile: they're back in school in a UNICEF-provided tented classroom where they have a chance to learn, play and be children again.

Yemen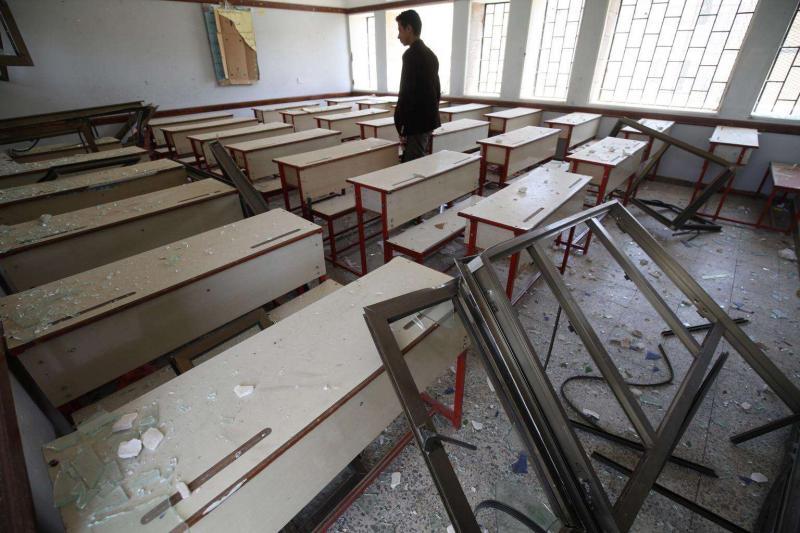 © UNICEF/UNI183977/Mahmoud
For many girls, classrooms are a place of safety, stability and opportunity. But when this school in Yemen was heavily damaged during an airstrike, 1,500 girls were suddenly robbed of their access to education. With their school indefinitely closed, they joined 3.4 million children forced out of school by Yemen's conflict.

Iraq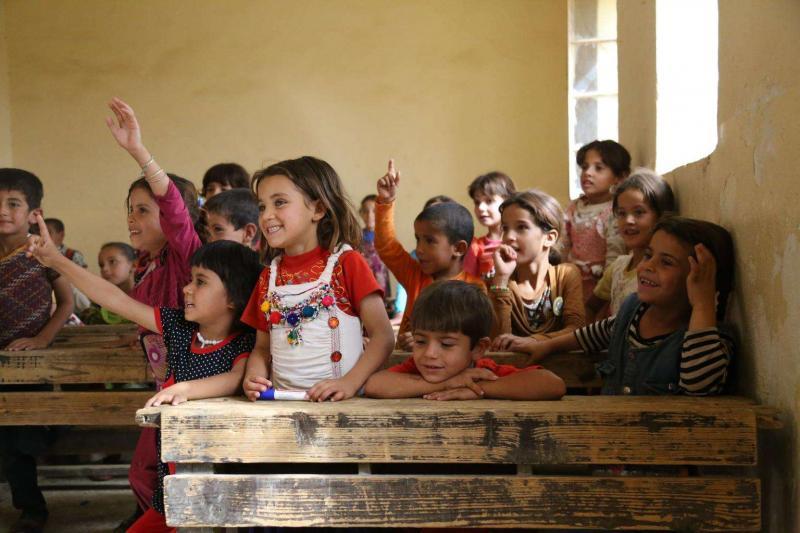 © UNICEF/UNI199903/Anmar
Six year-old Digana (second from the left) is happy to be back in class in Iraq. "One day I hope to become the director of this school.
Sierra Leone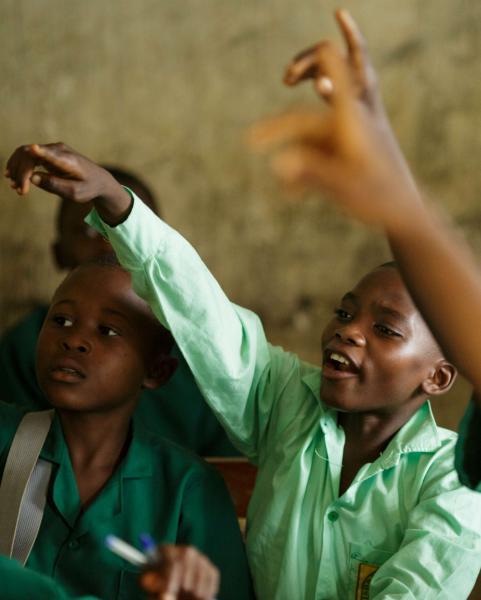 © UNICEF/UNI150768/Asselin
Education is the key to the future we all want to see. It all starts here, at schools like this one in Sierra Leone, where children eagerly raise their hands to answer questions.

South Sudan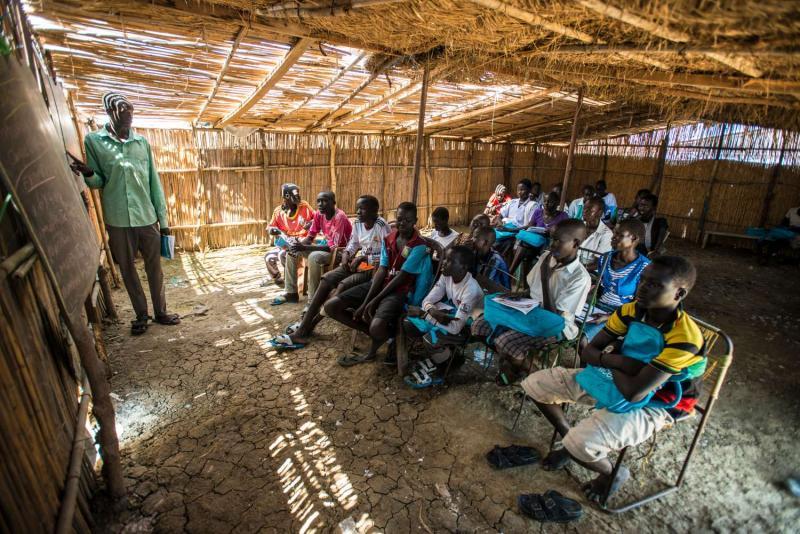 © UNICEF/UN019052/Rich
In an emergency, education is just like water, sanitation and nutrition - it cannot wait. Schools help children to stay safe, to cope with the profound stress of a crisis and to prepare for a more peaceful future. When fighting in Malakal, South Sudan saw 18 people die and a primary school burnt down - UNICEF helped get these children back to school as quickly and safely as possible.
State of Palestine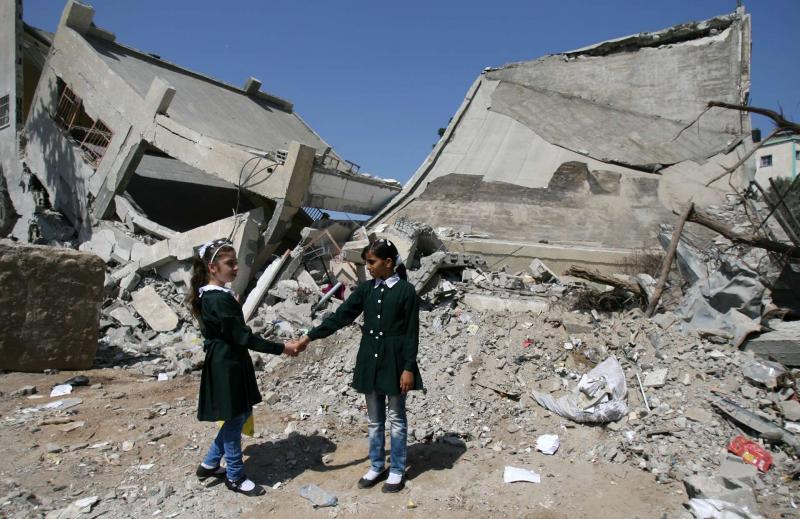 © UNICEF/UNI172070/El Baba
These girls' school and their chance to learn have fallen victim to violence in Gaza. Education is crucial for every child to thrive in life, especially after years of ongoing conflict. That's why UNICEF is committed to fulfilling this basic right for all children – even in emergencies.
Liberia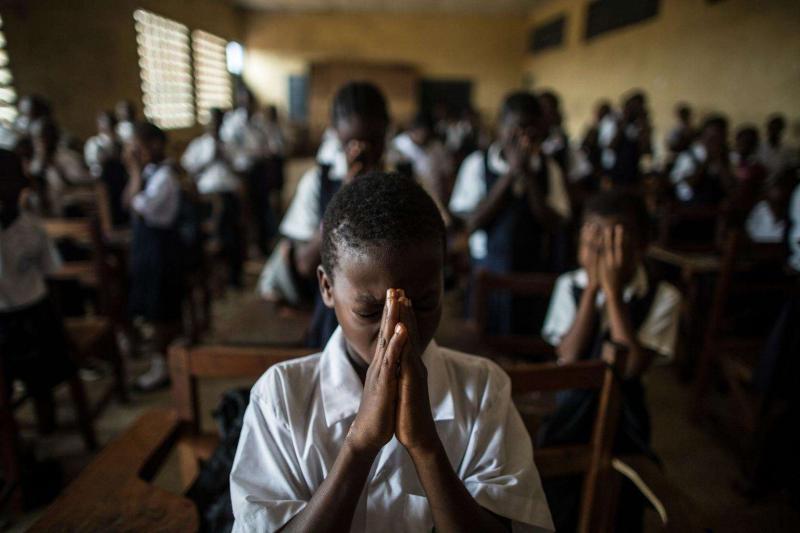 © UNICEF/UNI196041/Grile
Every child has the right to freedom of thought and religion. These children prayed during class on their first day of school in Liberia.
Nigeria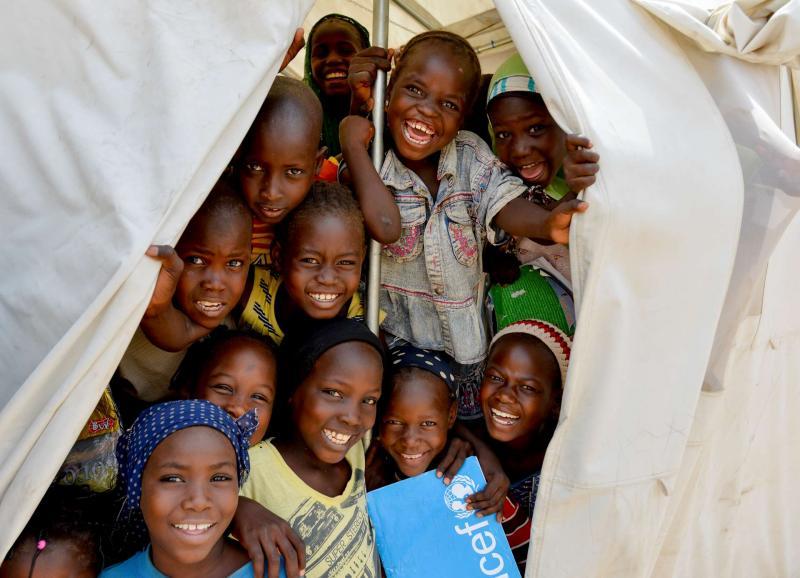 © UNICEF/UNI193693/Esiebo
In 2016, children make up more than half of all people displaced by Boko Haram's violence across the Lake Chad region. Even when they reach safety, many of these children miss their chance to learn for one simple reason: there is no one to teach them. But here, in a UNICEF-supported safe space for children in the Dalori camp in Nigeria, children have resumed classes. Their teacher Ms. Sanda was the principal of a secondary school that was attacked by Boko Haram. She's lost much to the conflict but in this makeshift classroom she's helping stop the violence define the lives of the next generation forever.
Colombia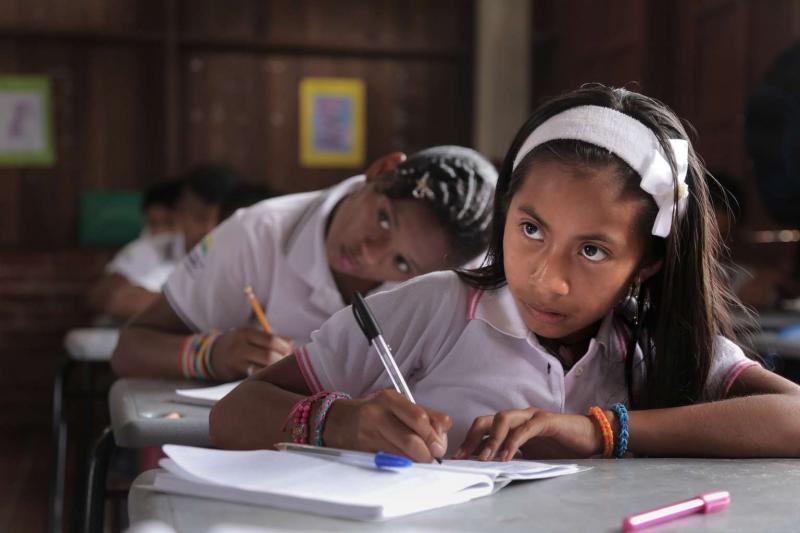 © UNICEF/UN013297/LeMoyne
A school is not just a place for learning. It's also a place where children can find stability and safety even during stressful times of crisis. Colombia's fifty year conflict, which has now thankfully come to a close, left Indigenous children like Solanyi particularly vulnerable. Staying in school helped her avoid violence and choose a future of her own making.
Cambodia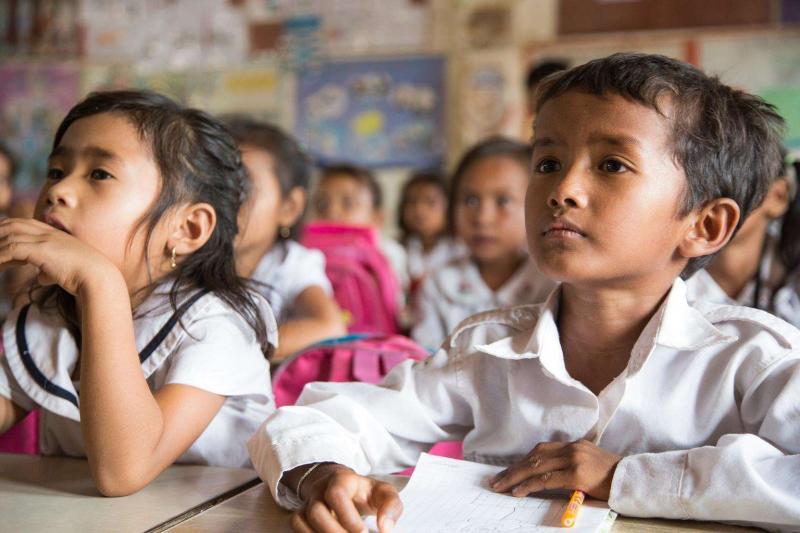 © UNICEF/UNI165046/Lovell
Keeping these kids in class won't just give them more opportunities in the future - it keeps them safe today. Children out of school in Cambodia are often vulnerable to trafficking, child labour, and exploitation through orphanage tourism.
Syria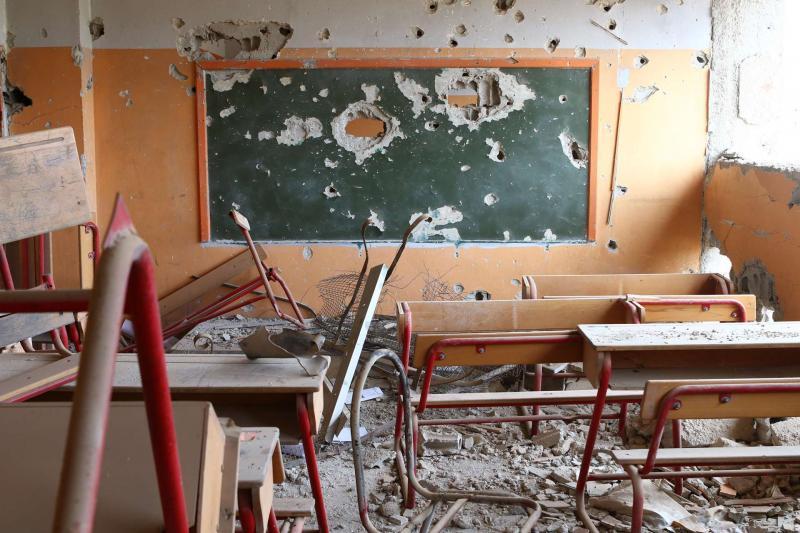 © UNICEF/UN018882/Abdulaziz
In Syria, every bullet-ridden blackboard, burnt schoolbook and closed classroom means more than just another destroyed building. This destruction tells the story of two million children forced out of school by the country's conflict - each child robbed of safety, friendships and the bright future they deserve.
Pakistan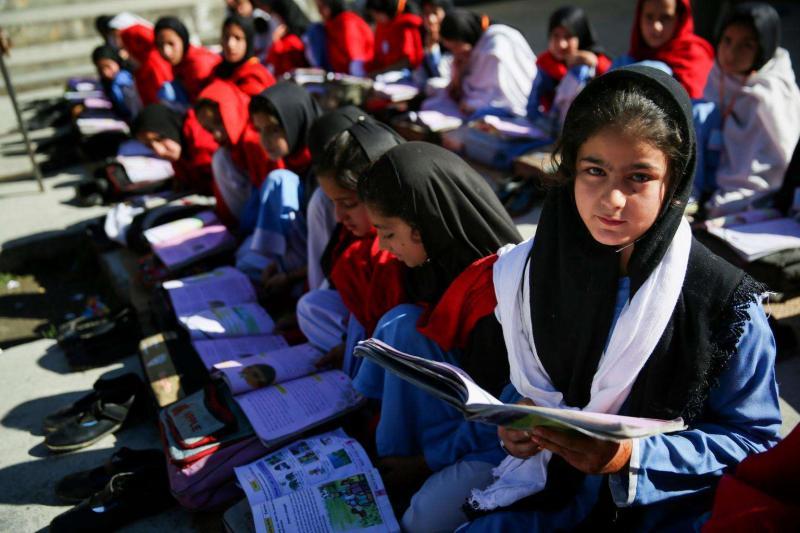 © UNICEF/UNI199930/Zaidi
It only took minutes for an earthquake to damage Lueza's classroom in Pakistan so badly she could not return. But even without a room to study in, Lueza and her classmates were soon able to learn again.
Vietnam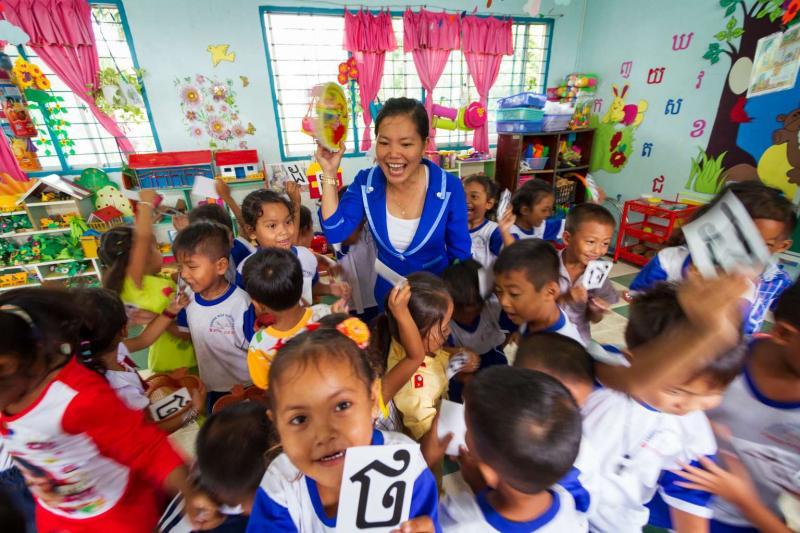 © UNICEF/UN09058/Lynch
As Vietnam grows, children are being left behind. Those who don't speak Vietnamese as a first language find themselves behind at school and with very slim chances of staying there long enough to lift themselves out of poverty. But by supporting schools like this one, for children from the Khmer ethnic minority, UNICEF is helping the government break down these barriers to provide all children with their right to learn, play and grow up healthy.
Fiji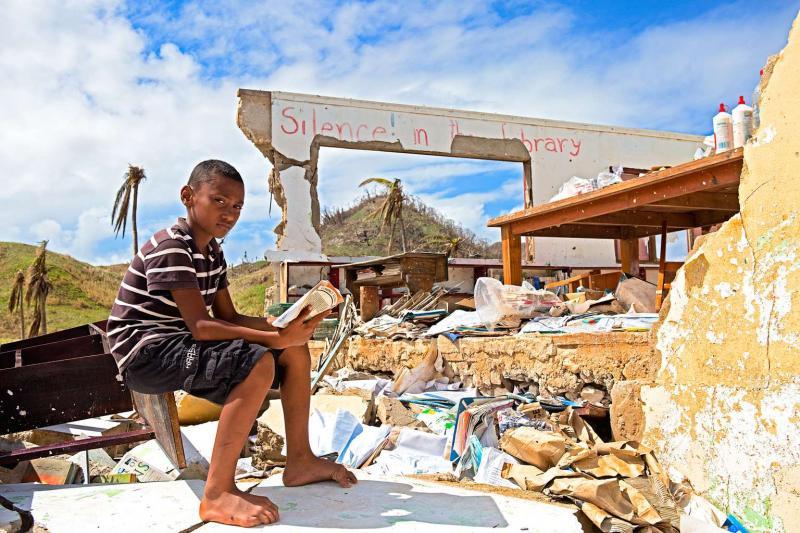 © UNICEF/UN013410/Sokhin
Cyclone Winston damaged 11-year old Wiliame's school beyond repair. Here, he is sitting outside what was once his library. At least 240 schools were damaged or destroyed in the cyclone, which was the strongest storm ever recorded to hit land in the Southern Hemisphere.
Ghana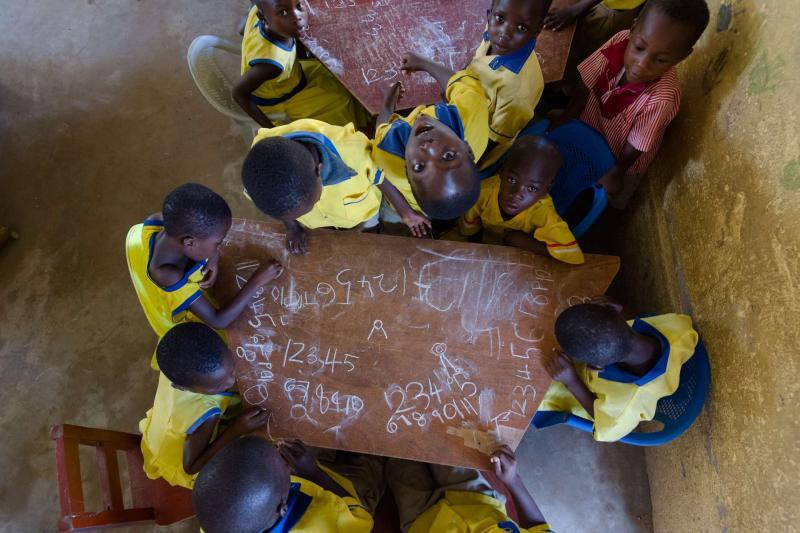 © UNICEF/UNI189856/Quarmyne
In the absence of books, paper or slates, children in kindergarten in Ghana practise writing numbers in chalk on their desks.
Nepal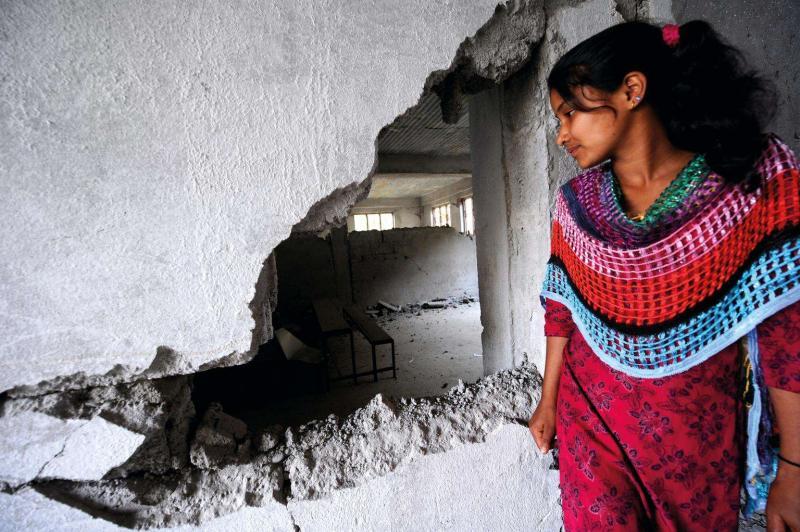 © UNICEF/UNI185323/Karki
In 2015, earthquakes tore through Laxmi's classroom in Nepal and 32,000 other classes like it. The earthquakes may have torn through Laxmi's future, too, if her local community hadn't banded together to rebuild her school. A few hours of digging holes, sawing bamboo and transporting furniture helped build the makeshift classroom that got Laxmi and her classmates back to school as soon as possible.
Iraq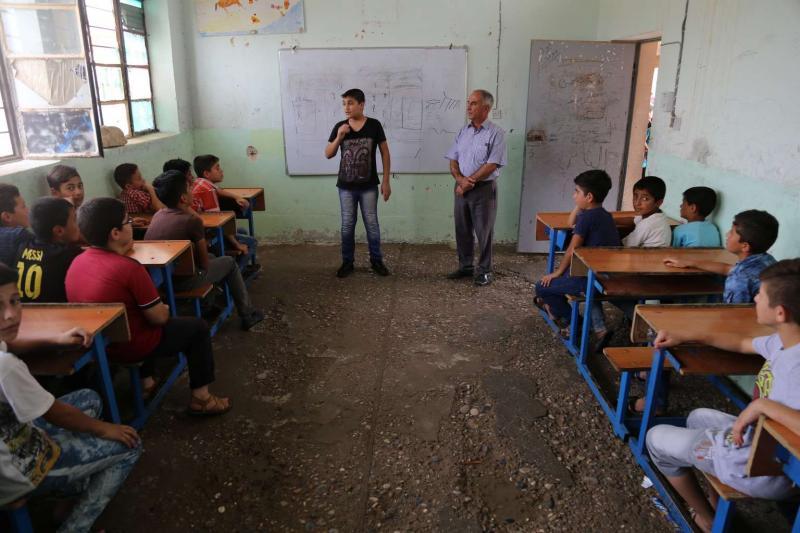 © UNICEF/UN019291/Anmar
For children caught in ongoing conflict in the Iraq, going back to class means a new chance at stability, a safe environment and a brighter future. Despite damage to their classroom, these boys are thankfully back at school in a country where many children miss out.
Somalia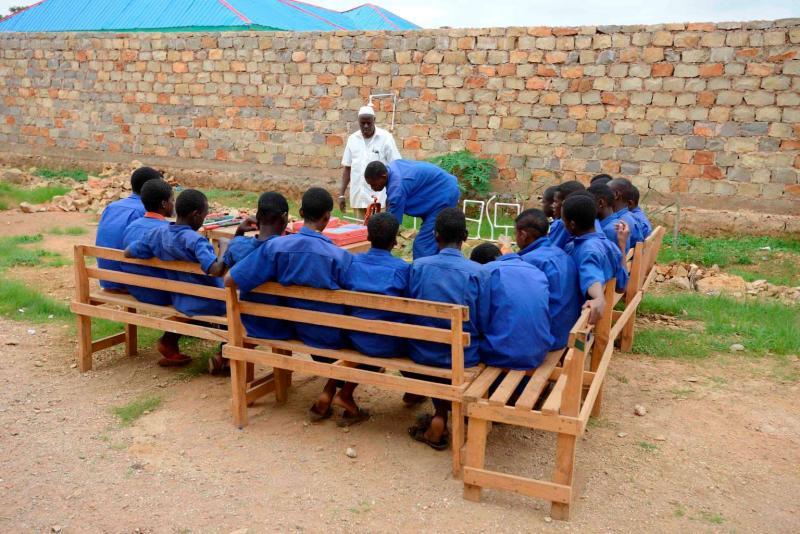 © UNICEF/UN09633/Rich
Practical classes could help these boys in Somalia stay out of danger, unlock their potential and creativity and build a positive future of their making. They're former child soldiers and children who were at risk of recruitment who now receive vocational training to help them join the workforce thanks to UNICEF partner INTERSOS.
Haiti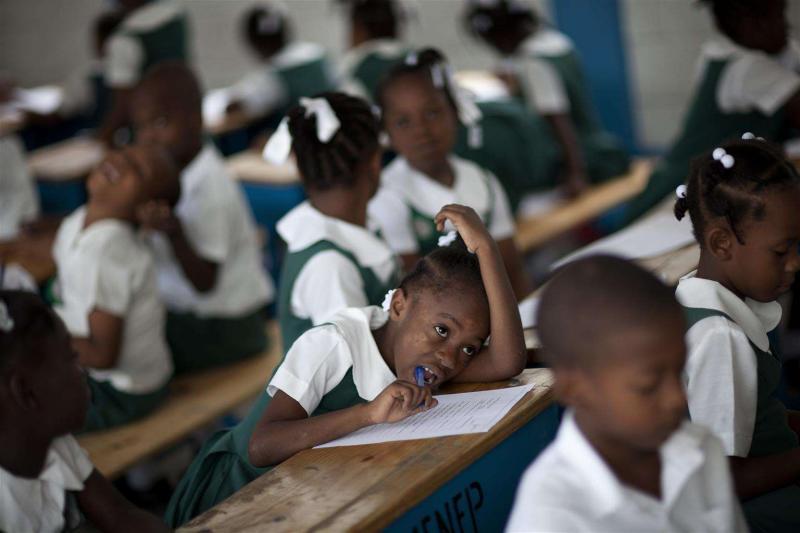 © UNICEF/UNI121144/Dormino
Something as small as a pencil and a book can mean the world to the children after disaster. UNICEF rebuilt this school after Haiti's 2010 earthquake to help kids return to learning as quickly as possible and regain a sense of normalcy.
South Sudan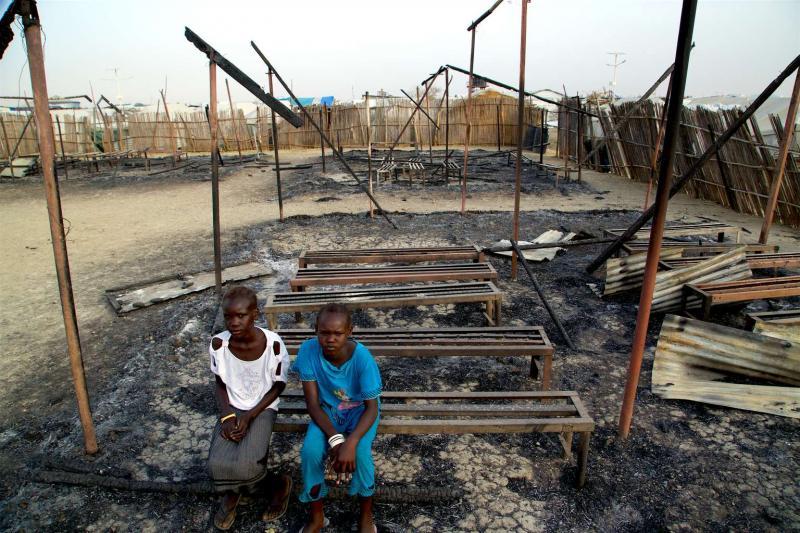 © UNICEF/UN018992/George
These are the charred remains of 12 year-old Chubat's school in South Sudan. Her country is home to the highest proportion of children out of school in the world but UNICEF is helping to change that. UNICEF rebuilt Chubat's school, trained teachers and provided supplies so that almost 250,000 other children like her could go to school too.
Syria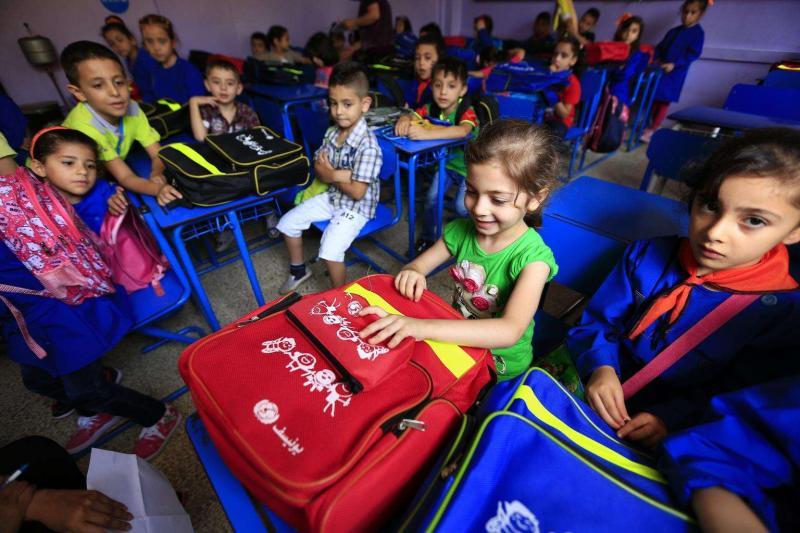 © UNICEF/UNI198153/Sanadiki
Remember the joy of new school supplies? For this girl in Syria, her first day of the school term and UNICEF school bag mark a fresh chance at education in a country where more than 2 million children are out of school. Packed with notebooks, a pencil case, pens, crayons and other stationary, UNICEF will distribute one million of these bags to children like her eager to learn again.
Fiji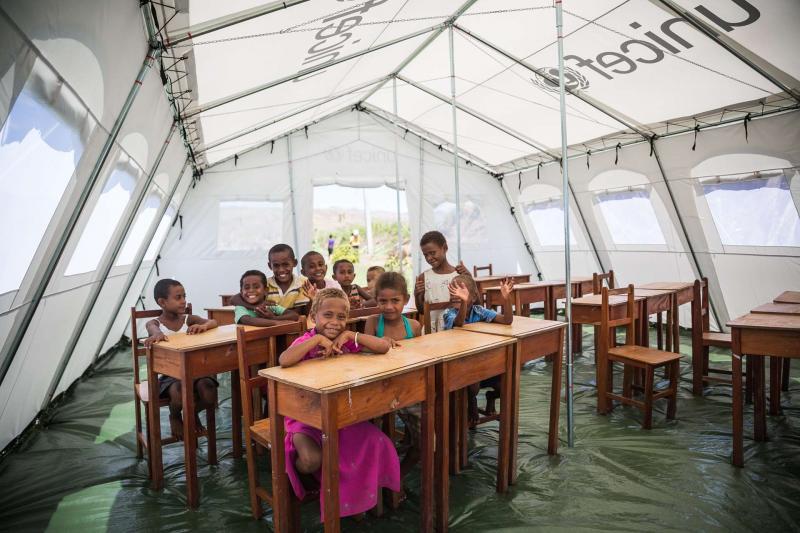 Let's give every child the chance to learn
All children have the right to learn. But every year, poverty and crisis deny millions of children that right. With regular and reliable support, UNICEF can reach children in poverty with education, bring school to children in conflict zones and be on the ground to help children start learning again after a natural disaster hits.
Support UNICEF today to help fulfill every child's right to go to school, play with their friends and get the education they'll need to thrive in life – just as we all once did. UNICEF helps keep children in school by:
Providing teachers with the training and supplies they need to help children reach their potential
Supplying safe water and hygiene facilities to schools to keep children attending
Working with governments to stop schools being taken over by armed groups during conflict
Delivering temporary learning shelters so children can keep learning when disaster strikes
Make it all possible with a donation.
Categories: