Winter conditions take toll on Syrian refugee families
By David Youngmeyer, ZA'ATARI CAMP – The cold is making life increasingly miserable for the tens of thousands of Syrian refugees sheltering at Za'atari camp in northern Jordan.
Mariam, her husband, seven children aged 10 months to 16 years and a grandmother huddle in their tents against the cold winds and rain. A relentless wind buffets the tent continuously and there is no stopping the sand and dust from seeping in.
Mariam says that her children fell ill due to the cold weather. Her 10-month-old boy, Abdullah, had an asthma attack and also suffered from dehydration. The infant was referred to a hospital in Mafraq.
"He stayed there for two weeks but we had to come back so I could look after the rest of my children," says Mariam, who was given some children's clothes while at the hospital.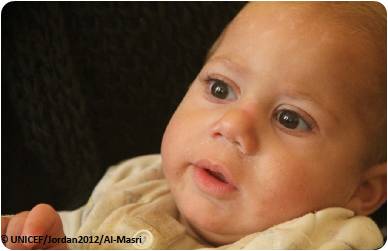 Abdullah, 10 months old, is frequently ill. Winter is making life at Za'atari refugee camp more challenging for him and his six siblings.
Now back at the camp, Abdullah has a cold. His 14-year-old brother, Ammar, also has asthma and is being treated at a camp health centre. Mariam says that several of her children are also experiencing diarrhoea and dehydration. Mariam sees the problems as a lack of hot water for bathing; and a desperate need for more winter clothes and food that is better suited for children.
The family fled Syria four months ago to escape the conflict near their home in Dera'a and have been living at Za'atari refugee camp since arriving in Jordan. Mariam's sister, who is six months pregnant, also fled Syria along with her five children. They only brought summer clothing.
Mariam says that things improved since the family received blankets and a heater, but "when the sun goes down at night it is freezing."
Families like Mariam's need your help. Please make an emergency donation today.
Since the story was written, UNICEF has distributed 1,400 winter clothing kits for babies with a further 900 made available for new arrivals. UNICEF is also readying heated winter tents for emergency classrooms and to replace the existing summer tents at camp child protection centres. Work is underway to provide hot water for showers and bathing.
Categories:
Geographic Regions: