World Food Day: Mary's incredible story of survival
Food is one of our most basic needs. As parents, grandparents or caregivers, we devote a good deal of time to making sure the children in our lives have enough to eat.
We make healthy breakfasts, pack lunches and prepare dinner. Some of us put together after-school snacks, too. We worry about whether they're eating the right things. Are they getting enough vegetables?
Now, try to imagine not being able to provide food for your child at all. Not healthy food, not junk food—not any food. Imagine your child resorting to eating grass or even plant bulbs from the ground just to stay alive.
This is the reality for hundreds of thousands of children right now. Of all deaths among children under five, nearly half—or approximately 3 million deaths a year—are attributable to malnutrition.
When I was in South Sudan, I visited the children's hospital in Juba, which UNICEF had refurbished not long ago. We had put in water and sanitation systems, and provided medicine and therapeutic food. But what I saw broke my heart.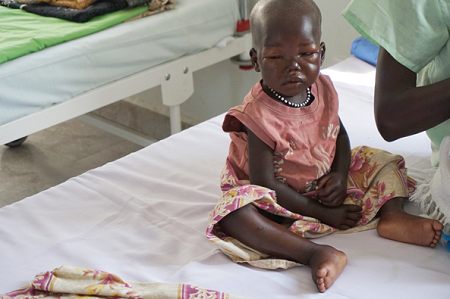 The children who made it to this hospital were considered lucky, but a three-year-old girl named Mary was suffering from severe acute malnutrition. Mary was incredibly weak, with excess fluid building up in her body causing swelling and stretched skin. This poor little girl was in terrible pain and could not stop crying.
Medical staff gave her medicine and therapeutic food specifically designed to treat severe acute malnutrition. Mary began to get better almost immediately. In fact, five days later, her condition had improved so much it was like she was another child. She was regaining her strength and, with further treatment, was soon sent home.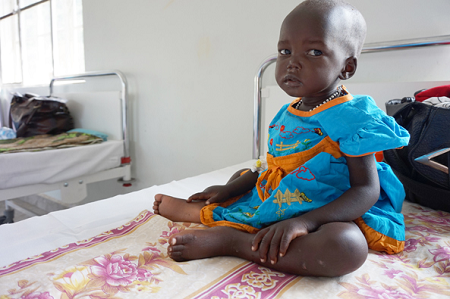 It didn't take a miracle to save a child like Mary. It just took simple, yet life-saving treatments and Mary's fierce determination to never give up.
We may not be able to change the causes of Mary's malnutrition—with conflict and climate ravaging South Sudan—but we can be part of the solution. We can restore her health to give her a future.
_________________________________
Therapeutic food can restore the health of a child in days. You can help by making a donation today.
Therapeutic Milk
Plumpy'Nut - This gift is matched by Maple Leaf Foods, making your gift go twice as far. For a $10 donation, you can purchase 42 packages of Plumpy'Nut instead of 21.
Categories:
Geographic Regions: