World Malaria Day
Malaria is the greatest cause of illness in the Democratic Republic of the Congo, responsible for nearly 200,000 deaths in the country every year. It is the leading cause of death for children under five years of age.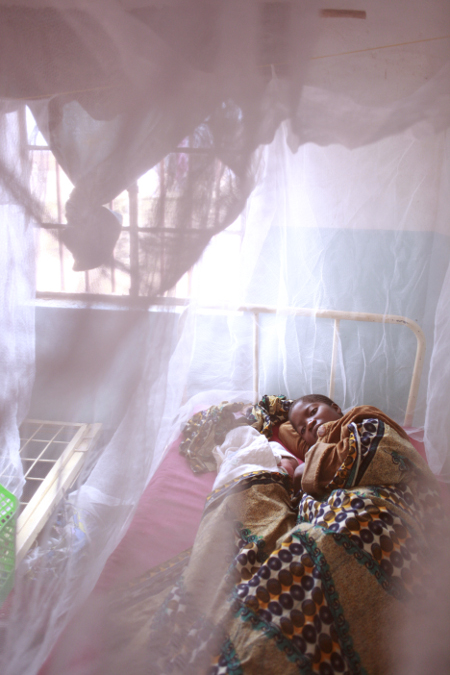 © UNICEF/DRCA2010-00095/Connelly
Insecticide-treated bed nets are one of the most effective ways to protect people from malaria. However, the distribution of this simple, cost-effective and life-saving solution in DRC is a bit more complicated.
Given the dense jungle and near-impassable terrain of the areas where transmission of malaria is highest, the distribution of millions of mosquito nets is one of the most challenging tasks UNICEF faces.
Back in 2009, UNICEF was involved in a groundbreaking campaign to distribute 5.5 million bed nets to 11 million people in DRC. These nets were transported by barge, bicycle, canoe, truck—and sheer human will. Men, women and children volunteered to transport nets to even the most remote rural communities.
This year, we want to do it again! But this time, we want to reach even more people.
UNICEF is spearheading an unprecedented campaign to distribute 13.7 million mosquito nets in four provinces across the country throughout 2012.
It won't be easy. To reach the most remote communities, more than 200,000 kilometers will have to be traversed by trucks, boats, bicycles, trains and aircraft. Think of it this way: if only one truck was used to cover the same distance, it would circumnavigate the globe 5 times!
We're determined to combat malaria because too many children under five and pregnant women die of this preventable disease. It is responsible for 1 in every 5 child deaths in Africa. Malaria is preventable and treatable. Your support makes all the difference in making life-saving endeavours like this campaign a success.
You can help protect children from malaria. Donate an insecticide-treated bed net ($10) today.
Photo Diary
Check out the photo diary about World Malaria Day here.
Categories:
Geographic Regions: