Children displaced by violence in the Central African Republic face great risks
By Patrick Flynn
BANGUI, Central African Republic, 21 March 2014 – On a sunny Sunday morning in early January, the tones of reggae-flavoured Christmas carols filter over the Boy-Rabe monastery complex in the capital of the Central African Republic. The hillside camp is home to close to 40,000 people who have fled conflict; Bangui has been plagued by violence since December.
As the different groups have fought – and targeted civilians, many of them children, with violence – much of the country has become unlivable. Some families have fled altogether, while others have gathered in camps for displaced persons, like Boy-Rabe.
In Qamishly for example – a city in north-eastern Hassekeh governorate where electricity is in short supply – UNICEF has provided local authorities with two 250 kilo-volt diesel generators to keep pumping stations working and help maintain the flow of water to children and families.
Learn more about the conflict »
Petula
This morning, some residents dry their laundry adjacent to a set of latrines, and others cook the rice that will constitute their daily meal. The priest celebrating mass preaches a message of peace and reconciliation to an attentive audience.
After mass, 17-year-old Petula Bokandi rests next to her family's informal shelter. She has been at Boy-Rabe for more than a month. At night, she sleeps on a thin mat, outdoors, under the stars.
"It's cold here," she says. "In the middle of the night, it's really cold here. There aren't any blankets, and I don't have a mosquito net.
"We aren't sleeping well, and there isn't enough to eat here," she adds. "The children are really suffering."
Petula has brothers and sisters; she is acutely aware of the risks. "Malaria is everywhere here." she says.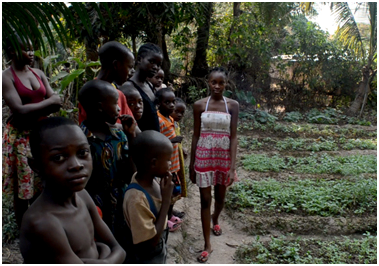 After spending more than a month in a camp for internally displaced persons, Petula is now in her home village, though the neighbours haven't returned. She and 11 siblings tend the garden, growing bananas and manioc and other vegetables. © UNICEF Video
Children at risk
Displacement and insecurity pose many risks to the children of the Central African Republic. The deteriorating security situation has separated children from their families, communities and schools. In the camps, they face disease, malnutrition, violence and recruitment into the very armed groups that forced them out of their homes in the first place. Schools are not open.
Petula – and children like her – spend their days doing light chores for their families, looking for opportunities to make a little money so that they might buy some food. UNICEF and its partners have been distributing essential supplies – nutritional supplies, essential drugs, hygiene kits, and mosquito nets – to affected families. Child-friendly spaces and temporary learning spaces have been constructed, small structures that host informal instruction and recreation for children. But, the demand is overwhelming.
And Petula's responsibilities are many. She's been unable to take advantage of the resources.
A return home
Halfway through January, citing security improvements in her neighbourhood of Gobongo, Petula decides to leave Boy-Rabe and return home. She and two of her sisters share a room. The room doubles as a kitchen. A huge hole in the roof lets in the rain, and a bit of sunlight.
"The sleeping situation is much better here, but there is still nothing to eat," Petula says.
"The neighbours haven't really moved back," she continues. "Their houses are burned; they don't have much to come home to."
Petula and 11 of her brothers and sisters work the backyard garden. They are growing bananas, manioc, other vegetables.
Despite a slight improvement in security, Petula says she is still afraid, so she stays close to home. She works in the garden. If she lays her hands on money, she might venture out to buy something for her younger siblings.
The more she misses out on her education, the hollower her dreams of becoming a treasurer or banker become.
Petula's message to those who are fighting is, "We have to stop the fighting and get back to the school in our country." Just after she says these words, a group of 30 young militia members march past her house.
The security situation in the Central African Republic remains volatile and unpredictable in Bangui and throughout the country. Petula's school is still not open.
21 March 2014:
While the number of displaced people has been decreasing in past weeks, there are still some 190,000 people staying in 57 sites around Bangui. The ongoing crisis is having a profound impact in the Central African region; some 313,000 refugees have fled to neighbouring countries, including Cameroon, Chad, the Democratic Republic of the Congo and the Republic of Congo. Children and women, who make up the majority of the refugees, are bearing the brunt of the conflict and are in urgent need of humanitarian assistance and protection.
Since the beginning of the crisis, UNICEF has been supporting child-friendly spaces at major displacement camps for almost 10,000 vulnerable children, and some 23,000 children have benefitted from more than 100 UNICEF-supported temporary classrooms.