7.4 magnitude earthquake hits Nepal: First-hand account from Canadian aid worker in Kathmandu—UNICEF
2015-05-12
KATHMANDU, May 12, 2015 – The following is a first-hand account from Kent Page, a Canadian working in Kathmandu as part of UNICEF's response in Nepal:
"Today's 7.4 magnitude earthquake struck while I was with a Reuters television crew while we were conducting a school damage and safety assessment with Government of Nepal engineers. A Reuters TV cameraman was with us filming the assessment of the schools and we had visited two schools already and were just in the middle of our third school assessment when the earthquake struck. We were all inside the school building at the time when there was a loud noise as the building started violently shaking. It took a second or two to realize what was happening but then we ran for the door. We gathered quickly outside in a small courtyard and the violent shaking continued and didn't stop for perhaps a minute, but it seemed much longer. We all thought the buildings around us were going to collapse and gathered in the center of the small courtyard in a kind of semi-circle. The Reuters TV cameraman continued filming throughout and is filing the story now.
Fortunately the earthquake finally ended – it is a terrifying experience – and the buildings did not fall down. Everyone was safe and accounted for, though of course shaken. I conducted two interviews in the courtyard with Reuters and then we went back to the school we had been to previously by foot because we had met some children there. While walking a follow-up aftershock happened and, fortunately, they had left the school before the earthquake hit and we believe they are all safe.
On the way back to the UNICEF Nepal office the streets were filled with people – everyone is out of doors. We know that all UNICEF staff in Nepal are safe and accounted for but of course we are very concerned about the impact of this second earthquake in just over two weeks on the children of Nepal, particularly on their psychosocial well-being—going through an earthquake is a terrifying experience for anyone, and perhaps more particularly children. UNICEF continues to work around the clock to support 1.7 million children affected now by two earthquakes in Nepal through our emergency health, nutrition, child protection, water, sanitation and education. We thank everyone who has supported UNICEF's work in Nepal – there is still a lot of work to do here for the Nepali children."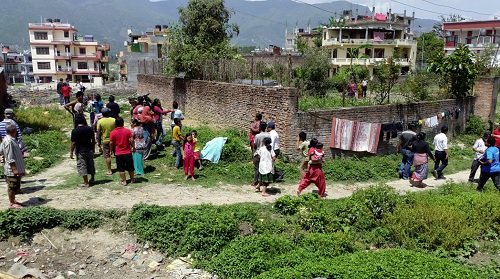 -30-
To donate, please go to unicef.ca or call 1-877-955-3111. All donations made to UNICEF Canada between April 25 and May 25, 2015 will be matched by the Canadian government.
About UNICEF:
UNICEF has saved more children's lives than any other humanitarian organization. We work tirelessly to help children and their families, doing whatever it takes to ensure children survive. We provide children with healthcare and immunization, clean water, nutrition and food security, education, emergency relief and more.
UNICEF is supported entirely by voluntary donations and helps children regardless of race, religion or politics. As part of the UN, we are active in over 190 countries - more than any other organization. Our determination and our reach are unparalleled. Because nowhere is too far to go to help a child survive. For more information about UNICEF, please visit www.unicef.ca.