IKEA Customers Raised Over $14 Million for Children's Programs in Africa, Asia, Europe Funded by IKEA Foundation
2015-01-19
BURLINGTON, ON, January 19, 2015 - Today, IKEA Canada has announced that this year's Soft Toys for Education Campaign raised over €10.1 million ($14.2 million CAD). For every soft toy or children's book sold in IKEA stores during November and December, the IKEA Foundation donates €1 (approximately $1.40 CAD) to educational projects run by Save the Children and UNICEF. The projects train teachers, improve child-protection systems, provide educational materials, and increase school attendance in some of the world's poorest communities.
"At IKEA, we recognize that every child has the right to an education and through the Soft Toys for Education Campaign we're having a significant impact educating the world's most vulnerable children." says Stefan Sjöstrand, President, IKEA Canada. "The success of this campaign is the ongoing engagement of both our customers and co-workers along with the incredible work both UNICEF and Save the Children do."
Thanks to this year's donation, UNICEF will fund the Schools for Africa initiative in eight countries and the Schools for Asia initiative in China. Save the Children's share will support education for children with disabilities and those from ethnic minority groups in Asia and Europe.
"Save the Children is commited to helping the world's most marginalized and vulnerable children gain access to quality education, giving them the chance for a better future," says Patricia Erb, President and CEO, Save the Children Canada. "We are very grateful for our partnership with the IKEA Foundation and would like to thank all its employees and customers for supporting this campaign and helping to change the lives of children."
Josephine Bourne, UNICEF Global Chief of Education added: "Giving the most vulnerable and excluded children the opportunity to go to school and learn is essential to building their future. No child should be denied this opportunity because of poverty, disability, gender, conflict or disaster, such as the Ebola outbreak in Guinea, Liberia and Sierra Leone. UNICEF is grateful for the continued and invaluable support from the IKEA Foundation, IKEA customers and co-workers worldwide to fulfil children's right to quality education"
The Soft Toys for Education campaign has helped improve education for more than 11 million children in 46 countries since 2003. The funding is used for a wide range of educational activities, even helping children continue to learn when disasters strike. For example, €880,000 ($1.2 million CAD) of last year's donation is supporting UNICEF's efforts to help children in Sierra Leone learn remotely via radio programs while their schools are closed because of the deadly Ebola outbreak; the money is also helping children and families get the lifesaving information and support they need to survive.
Learn more about UNICEF Canada's corporate partnerships at unicef.ca/partners.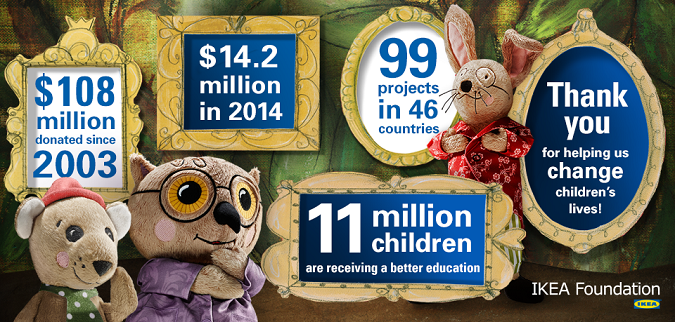 -30-
About IKEA Group
Our vision is to create a better everyday life for the many people and we offer well designed, functional and affordable, high quality home furnishing, produced with care for people and the environment. The IKEA Group has 315 stores in 27 countries. In addition there are more than 40 stores run by franchisees outside the IKEA Group. The IKEA Group had 716 million visitors during FY14 and 1.5 billion people visited IKEA.com. www.ikea.com
About IKEA Foundation
The IKEA Foundation aims to improve opportunities for children and youth in some of the world's poorest communities by funding holistic, long-term programs that can create substantial, lasting change. The IKEA Foundation works with strong strategic partners applying innovative approaches to achieve large-scale results in four fundamental areas of a child's life: a place to call home; a healthy start in life; a quality education; and sustainable family income. Currently-funded programs benefit an estimated 100 million children. Learn more at www.IKEAfoundation.org and www.facebook.com/IKEAfoundation
About UNICEF
UNICEF has saved more children's lives than any other humanitarian organization. We work tirelessly to help children and their families, doing whatever it takes to ensure children survive. We provide children with healthcare and immunization, clean water, nutrition and food security, education, emergency relief and more.
UNICEF is supported entirely by voluntary donations and helps children regardless of race, religion or politics. As part of the UN, we are active in over 190 countries - more than any other organization. Our determination and our reach are unparalleled. Because nowhere is too far to go to help a child survive.
For more information about UNICEF, please visit www.unicef.ca and follow us on Facebook and Twitter.
About Save the Children
Save the Children is the world's leading independent organisation for children. We are 30 national organisations working together to deliver programs in more than 120 countries around the world. Our vision is a world in which every child attains the right to survival, protection, development and participation. Our mission is to inspire breakthroughs in the way the world treats children, and to achieve immediate and lasting change in their lives.