Life-saving UNICEF supplies for children reaching areas affected by Super Typhoon Haiyan
2013-11-15
TORONTO, November 15, 2013— Amidst the huge devastation caused by Super Typhoon Haiyan, critical life-saving supplies for children are being delivered by UNICEF in Tacloban, Ormac and Roxas, the areas most affected by the disaster.
"Water supply service has been partiaally restored in Tacloban City with fuel, generators and spare parts secured for continued operations," said Ted Chaiban, Director of Emergency Programmes for UNICEF in a briefing at the United Nations. "This provides some safe drinking water to almost 200,000 people."
Over the last three days, with the help of 15 tonnes of free cargo space donated by AirAsia, the organization has started to airlift hygiene kits for 18,000 people to Tacloban. Each hygiene kit includes detergent and laundry soap, bath soap, water containers, toothpaste, toothbrushes, and sanitary pads.
"The needs are immense and immediate, so our response has to be equally far-reaching," said UNICEF Philippines Representative Tomoo Hozumi. "We are working in the face of enormous logistical challenges and shortages of fuel and physical space to operate, but we are doing all we can for those who have lost everything."
In addition to the AirAsia airlift, UNICEF has sent trucks with water, sanitation and hygiene supplies worth $142,000, which have now arrived in Tacloban. These include water purification tablets, water tanks to support 45,000 people a day with drinking water, latrine slabs, and hygiene kits for another 15,000 people.
From stores in Manila, UNICEF has sent similar supplies to Roxas, including water tanks, to support up to 19,000 people; water purification tablets, and squatting plates to set up latrines for 8,500 people in that city.
"We're doing all we can as quickly as we can," Hozumi said, "and there is yet more to come in the next few days, as our staff work round the clock to deliver much needed help."
One of the most crucial tasks on the ground is providing safe drinking water and sanitation as damage to water pipes and infrastructure has severely compromised water supplies in the affected areas.
Hozumi said tents, diarrhoeal disease kits, emergency hygiene kits for 90,000 patients and tarpaulins for shelter are to be delivered in Tacloban in the next days as the aid effort continues.
UNICEF is also mobilizing education support and supplies to the to the most affected areas. These include tents, Early Childhood Development (ECD kits), student school packs and teachers' packs as well as library kits for delivery to the most affected areas.
The UN children's agency is setting up field offices in Cebu, Roxas, Tacloban and Ormo, and technical and logistical staff are already in place.
Canadians can support relief efforts by donating at www.unicef.ca and calling 1-877-955-3111.
Multimedia resources available at: http://weshare.unicef.org/MediaResources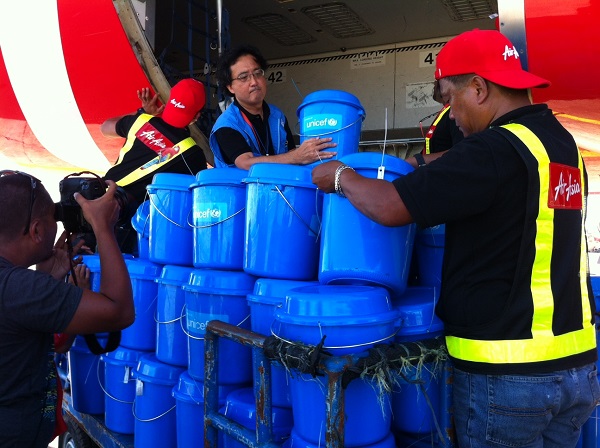 -30-
About UNICEF
UNICEF has saved more children's lives than any other humanitarian organization. We work tirelessly to help children and their families, doing whatever it takes to ensure children survive. We provide children with healthcare and immunization, clean water, nutrition and food security, education, emergency relief and more.
UNICEF is supported entirely by voluntary donations and helps children regardless of race, religion or politics. As part of the UN, we are active in over 190 countries - more than any other organization. Our determination and our reach are unparalleled. Because nowhere is too far to go to help a child survive.