David Morley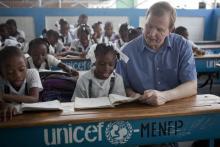 David Morley joined UNICEF Canada as President and CEO on March 14, 2011. Prior to his appointment to UNICEF Canada, Mr. Morley had served as President and CEO of Save the Children Canada.
Mr. Morley's extensive experience in international cooperation began when he volunteered with street children in Central America in the 1970s. Since then he has worked in community development and humanitarian projects in Congo, Zambia, Mozambique, Sierra Leone, Mexico, Dominican Republic, El Salvador and Brazil. From 1980 to 1998 he was Executive Director of Pueblito, a Canadian/Latin American NGO which promotes the rights and well-being of children.
From 1998 – 2005, Mr. Morley was Executive Director of the Canadian section of Medecins Sans Frontieres/Doctors without Borders. In 2005 he was chosen by the Right Hon. Adrienne Clarkson and John Ralston Saul to serve as the founding Executive Director of the Institute for Canadian Citizenship. He has served on the Board of Directors of the Canadian Council for International Co-operation, as President of the Ontario Council for International Cooperation, and as a mentor with the Trudeau Foundation. He and is currently a member of the Board of Directors of the Stephen Lewis Foundation, the Brazilian-based Abrinq Foundation for the Rights of Children and is on the Advisory Board of McGill University's Institute for the Study of International Development.
David Morley's writing on international issues has appeared in the newspapers across Canada and around the world, and he is a frequent commentator on radio and television. His most recent book, Healing Our World: Inside Doctors without Borders, was released in 2007 in Canada, South Korea and the United States, where it has won a number of awards..