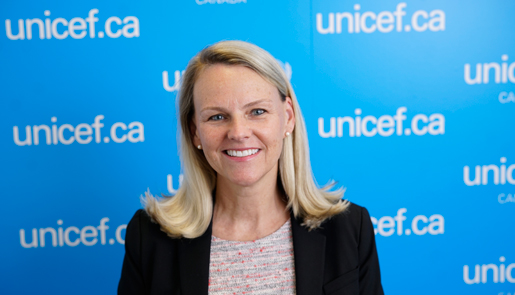 Linton Carter joined UNICEF Canada in February 2017 with more than 25 years' experience in developing donor relationships, generating revenue and motivating staff and volunteers and creating impact within the charitable sector.
As a member of the executive leadership team at UNICEF Canada, Linton infuses foresight, energy and long-term strategic thinking into the organization, driving it forward to help achieve its ambitious growth mandate. She spearheads innovative fundraising campaigns to reach new and more diverse donors and positions UNICEF Canada as a charity of choice with key donor groups across multiple revenue channels.
A forward and inclusive leader with a knack for powering organizations in their philanthropic efforts, Linton possesses a deep commitment to children. Prior to joining UNICEF Canada, she was Chief Development Officer at Children's Aid Foundation of Canada, overseeing fundraising and grants, and leading its successful $60M National Campaign for Child Welfare. Her previous roles include Vice President, Philanthropy leading the Strong Kids Campaign at the YMCA of Greater Toronto and Senior Director, Community Involvement for SickKids Foundation.
Linton's passion for giving back both personally and professionally has enabled her to develop strong volunteer, donor and organizational relationships that have resulted in successful programs and, more importantly, improved child health and well-being across Canada and the world.
Linton completed her Bachelor of Arts in Sociology and Women's Studies from Bishop's University, a Postgraduate Certificate in Public Relations from Humber College and has served on the Bishop's University Foundation board as Chair of the Development Committee and on the Asperger's Society of Ontario board. She is married to a high school teacher and has two sons.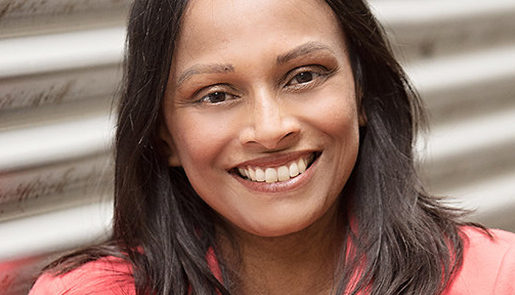 Rowena Pinto is the Chief Program Officer for UNICEF Canada, leading efforts to promote the rights and well-being of children in Canada and around the world. UNICEF has saved more children's lives than any other humanitarian organization.
For more than 20 years, Rowena has brought her strategic focus in the areas of advocacy, engagement, policy, communications and programs to the public and charitable sectors. Over her career, she has raised the profile of organizations through strategic communications efforts and brand engagement. She has also played a significant role in the passing of key legislation that has supported healthier Canadians as well as vulnerable populations.
As a member of UNICEF's Executive Team, Rowena ensures that UNICEF's mission activities, which are focused on reaching every child and ensuring their well-being no matter where they are in the world, are well established, leveraged where possible and communicated widely. She works effectively in partnership with her colleagues and stakeholders to engage UNICEF's supporters in order to increase UNICEF's impact both internationally and domestically.
Rowena builds on the strengths of an organization to improve outcomes. Prior to coming to UNICEF, Rowena was the Vice-President of Public Affairs and Strategic Initiatives at the Canadian Cancer Society, Ontario Region, where she created a number of key programs, including the Society's advocacy program and youth advocacy capacity. She also leveraged the solid history of the Society's hallmark patient programs to enable better client and donor stewardship and engagement. Rowena also served as Ontario's Chief Reputation Officer for several years, and increased the overall positive impact of the Society's communications department.
Rowena began her career in Ottawa in the federal government. She credits her start with Correctional Service Canada in igniting her interest and passion in social policy, supporting vulnerable populations and citizen engagement in government.
Originally from Montreal, Rowena holds a Master's degree in Public Policy and Public Administration from Concordia University. She currently lives in Toronto with her husband, who works in IT, and her son and twin daughters.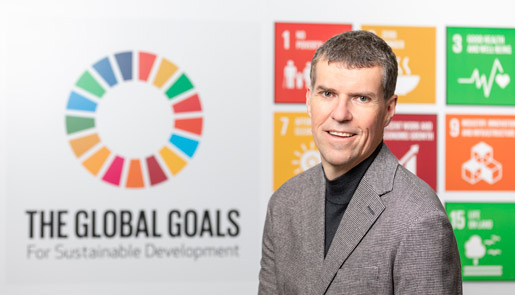 Dave Spedding is the Chief Operating Officer of UNICEF Canada, a leading humanitarian organization dedicated to helping children around the world survive, thrive and reach their full potential.
For almost 25 years, Dave has brought his vision, commitment and experience leading large-scale philanthropy and business operations to non-profit organizations across Canada. A champion for children, he has spearheaded efforts to provide support, opportunity and hope to the most vulnerable children in Canada and around the world.
As a member of the executive leadership team at UNICEF Canada, Dave provides critical guidance and oversight to the organization, ensuring it delivers on its mandate to help vulnerable children in the most efficient, effective and timely manner. He has been at the forefront of UNICEF Canada's fundraising response to several global emergencies, ensuring Canadian support is directed to those who need it most.
Under Dave's leadership, UNICEF Canada became one of the first 100 charities in Canada to have received the Imagine Canada Standard's Accreditation, which measure good governance, transparency and best practices. Dave is a volunteer with the Imagine Canada peer review committee serving as a member of their team that reviews and evaluates other charities that apply to the Imagine Canada Standards Program.
A strategic thinker with the discipline to maximize resources for results, Dave plays a fundamental role in ensuring UNICEF Canada remains a top organization for Canadians looking to help children around the world.
Prior to joining UNICEF Canada, Dave led fundraising efforts and expanded the reach of several prominent non-profit organizations, including Save the Children Canada, Big Brothers and Big Sisters of Toronto, United Way and the MS Society of Canada.
Through his commitment to good governance, transparency and advancing organizational excellence, Dave has contributed to the growth and improved performance of organizations, empowering them to better deliver on their promises to children.
Dave completed his certificate in Broadcast Journalism at Loyalist College in his hometown of Belleville, Ontario.