Virtual Courts: Easing COVID-19 Risks
---
Sakib (name changed), 16, smiles as he steps into his home in the Bangladeshi capital, Dhaka, for the first time in months.
"It feels so good to be back with my family," he says as he greets them. Sakib was being held in a detention centre in Tongi on the outskirts of Dhaka. But with concern growing about the risk of COVID-19 spreading rapidly in overcrowded conditions, virtual courts have been launched to expedite decisions on young people's cases.
"It wasn't so bad [at the detention centre]," Sakib says. "But I missed my mother terribly."
On seeing her son, Sakib's mother begins to cry. Overcome with emotion, Sakib's smile also turns to tears. For mother and son, these are tears of joy – and relief.
Happiness and hardship
Sakib is one of the more than 500 children who have been granted bail through the virtual courts, which were established with UNICEF support by the Bangladesh Supreme Court in May. Most of the children being held at these detention centres are there over minor alleged offences, but even these cases can take months – even years – to resolve.
Some 23,000 child-related cases are pending in the country's courts. By mid-May, more than 1,000 of those with pending cases were being held in just three centres, resulting in significant overcrowding.
Around two thirds of those who have been let out on bail have been reintegrated with their families. On being discharged, children are advised by the facilities that they should follow their parents' instructions and try to lead a good life. Sakib, for one, seems determined to follow that guidance.
"I'll stay home because I know about the threat of coronavirus and I'll try to avoid getting in with the wrong crowd," he says. "I'll also try to help my parents with their work."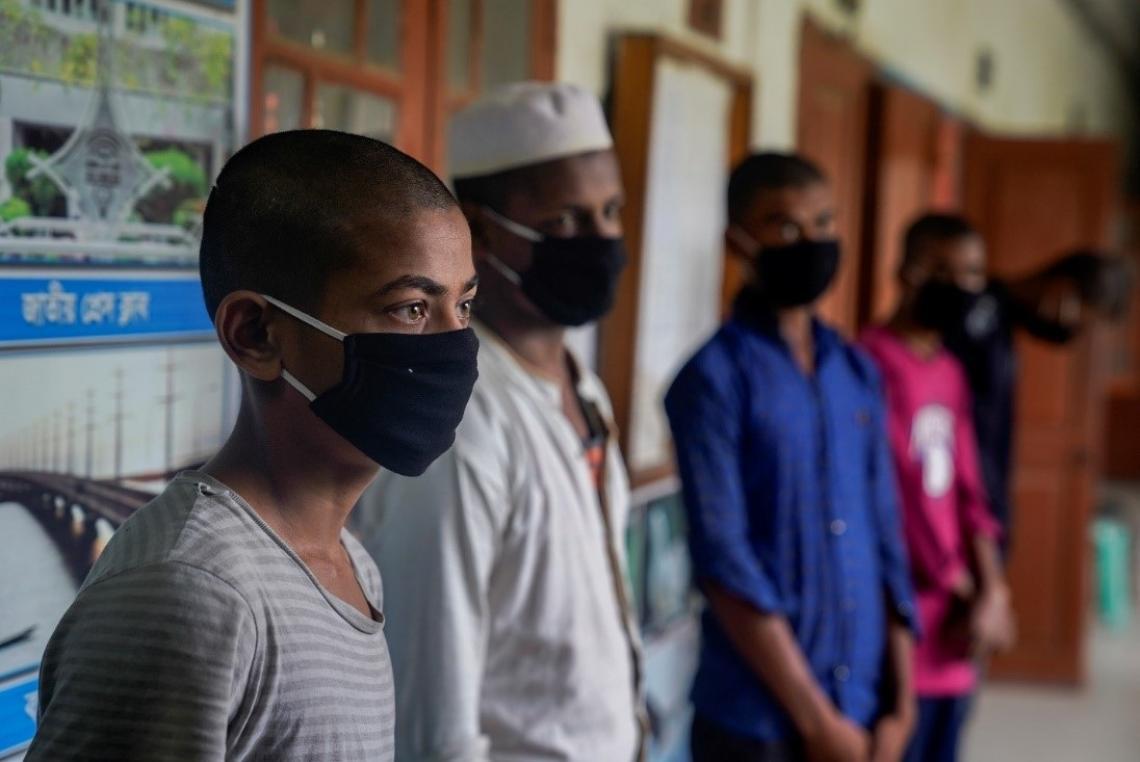 Sakib's father is happy that his son has been released, but he admits to some trepidation about making ends meet for their now seven-person household.
"Since the lockdown, my income has been very meagre. We're struggling to afford essentials even with financial contributions from two of my other sons, who work as electricians," Sakib's father says. "There are hardly any ways left for us to make money these days."
Under pressure
The COVID-19 pandemic disrupted an already overstretched court system in Bangladesh. This, and fears that the coronavirus could spread rapidly in overcrowded detention centres, prompted the Bangladeshi President to issue an ordinance introducing virtual courts on May 9 2020, with the first-ever virtual children's court launching just a few days later.
"Maintaining physical distancing is next to impossible in such a situation," Saifur Rahman, a special officer of the Bangladesh Supreme Court and Additional District Judge, says of the overcrowded conditions in detention centres, which are also frequently understaffed.
UNICEF supports the detention centres to manage the release process and works with the Department of Social Services to reunite children with their families and ensure they are accompanied on their journeys home. UNICEF also assists the reintegration process by facilitating access to health care and other services such as legal support, psychosocial support, violence prevention and response, and education.
Staying out of trouble
Shariful, a psychosocial counselor at the Tongi detention centre, says staff there check up on children by phone after they are released. Asked if there is a risk that children freed on bail will get in trouble, he notes that most of them were only there for alleged minor offences and adds that recidivism among children who have been released isn't common.
Indeed, Shariful believes that the biggest risk for those let out on bail isn't that they will come into contact with the law, but that they will abandon the hygiene routines they had to follow in detention after the COVID-19 outbreak.
"My concern is whether they'll maintain the same level of discipline and personal hygiene practices once they get home," he says.