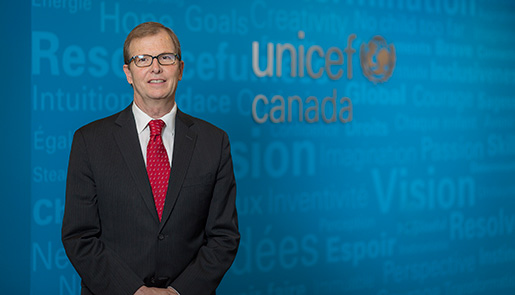 David Morley, President and CEO, UNICEF Canada
David Morley is the President and CEO of UNICEF Canada, a leading humanitarian organization dedicated to helping children around the world survive, thrive and reach their full potential.
A prolific international speaker, commentator, human rights advocate and mobilizer, David has more than thirty years of experience advancing children's rights and sustainable development on the world stage.
David is a passionate voice for the world's most vulnerable citizens, and has dedicated his career to improving the lives of children and communities in Canada and around the world. He is an internationally recognized expert on humanitarian response, international development and child well-being.
Prior to joining UNICEF Canada, David served as Executive Director of Médecins Sans Frontières/Doctors without Borders Canada, as President and CEO of Save the Children Canada and was the founding Executive Director of the Institute for Canadian Citizenship.
A recognized leader in the field, David has taught at the Munk School of Global Affairs and Public Policy at the University of Toronto, sits on the Advisory Council of the Institute for the Study of International Development at McGill University and is Co-Chair of the Stephen Lewis Foundation.
An award-winning author of two best-selling books, including Healing Our World: Inside Doctors without Borders, David's career has taken him around the world. In recognition of his dedication to global sustainable development, David has been appointed to the Order of Canada. As Canada's highest civilian honour, the Order of Canada recognizes outstanding achievement, dedication to the community and service to the nation. David has been invested into the Order "for his leadership in international development and for his humanitarian commitment to improving the lives of children and families around the world."
David completed his Masters in Education at the University of British Columbia where he recently received the UBC Alumni Award for Global Citizenship. He did his B.A. (Hons.) History at Carleton and was recipient of the Carleton University Alumni Humanitarian Award in 2014.