Give to an Emergency
In emergencies, we put children first. We are committed to addressing the needs of the most vulnerable kids in the world. In response to a disaster, UNICEF helps ensure that affected children and families can get clean water, that there are safe spaces for children, that education and health services can continue, that trauma and psychosocial support are addressed and that basic humanitarian supplies are distributed.
How does UNICEF help Children in Emergencies?
UNICEF has the global authority to influence decision-makers, we work with local governments to change laws and make a long-term difference for children. We also work on the ground, making a difference in the day-to-day lives of children, families and communities. We provide children with healthcare and immunization, clean water, nutrition and food security, education, emergency relief, protection and more. So when disaster strikes, we can move quickly to save and safeguard children, return them to school, and help families re-establish their lives.
---
Planned Emergency Results for 2015

NUTRITION
2.7 million children to be treated for severe acute malnutrition

HEALTH
13.6 million children to be immunized against measles

WASH (WATER, SANITATION AND HYGIENE)
34.3 million children to have access to safe water for drinking, cooking and personal hygiene

EDUCATION
4.9 million children to have access to improved formal and non-formal education

CHILD PROTECTION
2.3 million children to have access to psychosocial support

HIV and AIDS
257,000 people to have access to information, testing and treatment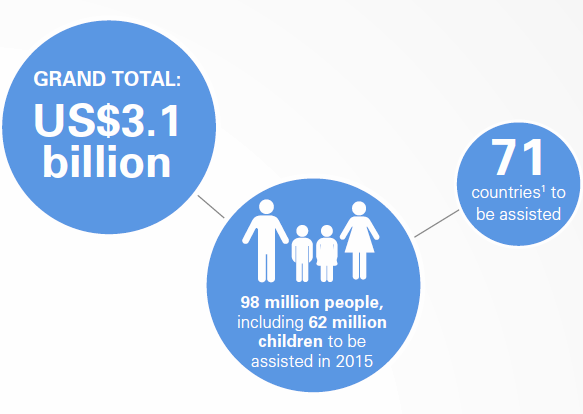 ---
Children are at risk in all areas of the world. Your help is needed most in these areas.