Innovation for Children

UNICEF's global Innovation Unit supports the application of design thinking through Innovation Labs that bring together the private sector, academia, governments and other experts together with young people to develop creative and sustainable solutions to pressing challenges. Learn more at www.unicefinnovation.org or take a design challenge for children at www.innovateforchildren.org.
UNICEF Canada is exploring the potential to bring UNICEF's global expertise in data generation and social innovation to a "children's observatory" in Canada. An observatory for and with Canada's children would foster innovative approaches to child well-being and belonging, with a mission to elevate the well-being of children from a middle position in the UNICEF Index of Child Well-Being.
Design Briefs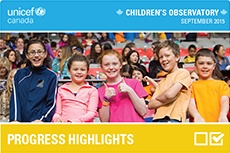 Update
Design with UNICEF Canada
Watch this space for upcoming events and other opportunities to participate