By Sandra Awad and Rasha Alsabbagh
"While other children went to school, I was herding sheep," said Ahmad, 13, from Qseibeh village in Quneitra, south Syria, talking about how things used to be. Two years ago, he took on a responsibility beyond his years to support his family. 
Mohammad, Ahmad's father, worked as a daily paid construction worker with his eldest son Abdelhadi, Ahmad's brother. The modest money they made barely kept the family of six afloat. 
In 2018, the family was able to return home in Qseibeh after multiple displacements due to the conflict. They were financially exhausted. "Our house was severely damaged, so we stayed in my uncle's house. We couldn't afford to fix our own," said Ahmad. 
In 2020, Ahmad's father fell from the roof of a building he was working on. "I will never forget that day. I was in school when the accident happened," described Ahmad. "Dad was badly injured." 
The accident caused Mohamed temporary paralysis. He underwent several surgeries to be able to walk again, using crutches. It was impossible for him to go back to work. So, Ahmad had to leave school for work.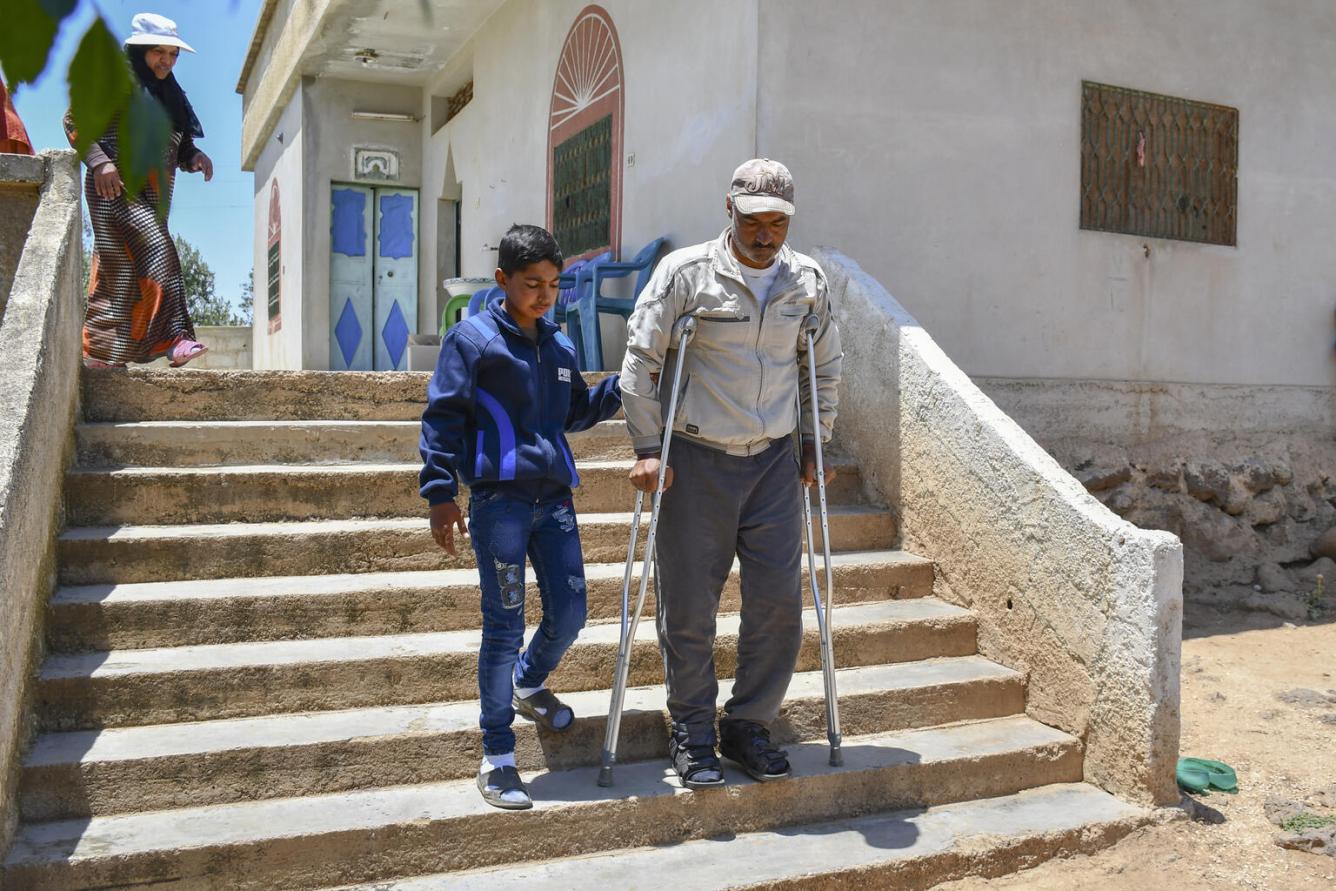 "I herded our neighbours' sheep every day from early morning till sunset. It was exhausting, but what saddened me the most, was skipping school. I also missed my friends," said Ahmad. He worked to support the family and pay for his father's much needed medical treatment and medicine. 
In the summer of 2021, two young volunteers visited Ahmad's family as part of their support to the children in the village. They told Ahmad about the education services available at a UNICEF -supported centre in Quneitra. The services aimed to help children and youth to continue their education and equip them with skills to smoothly transition from learning to work. 
"I felt all the sadness inside my heart disappear after the volunteers encouraged me to visit the centre and explained the programme to my mother. She seemed keen on sending me there. It was one of the best days of my life," Ahmad recalled.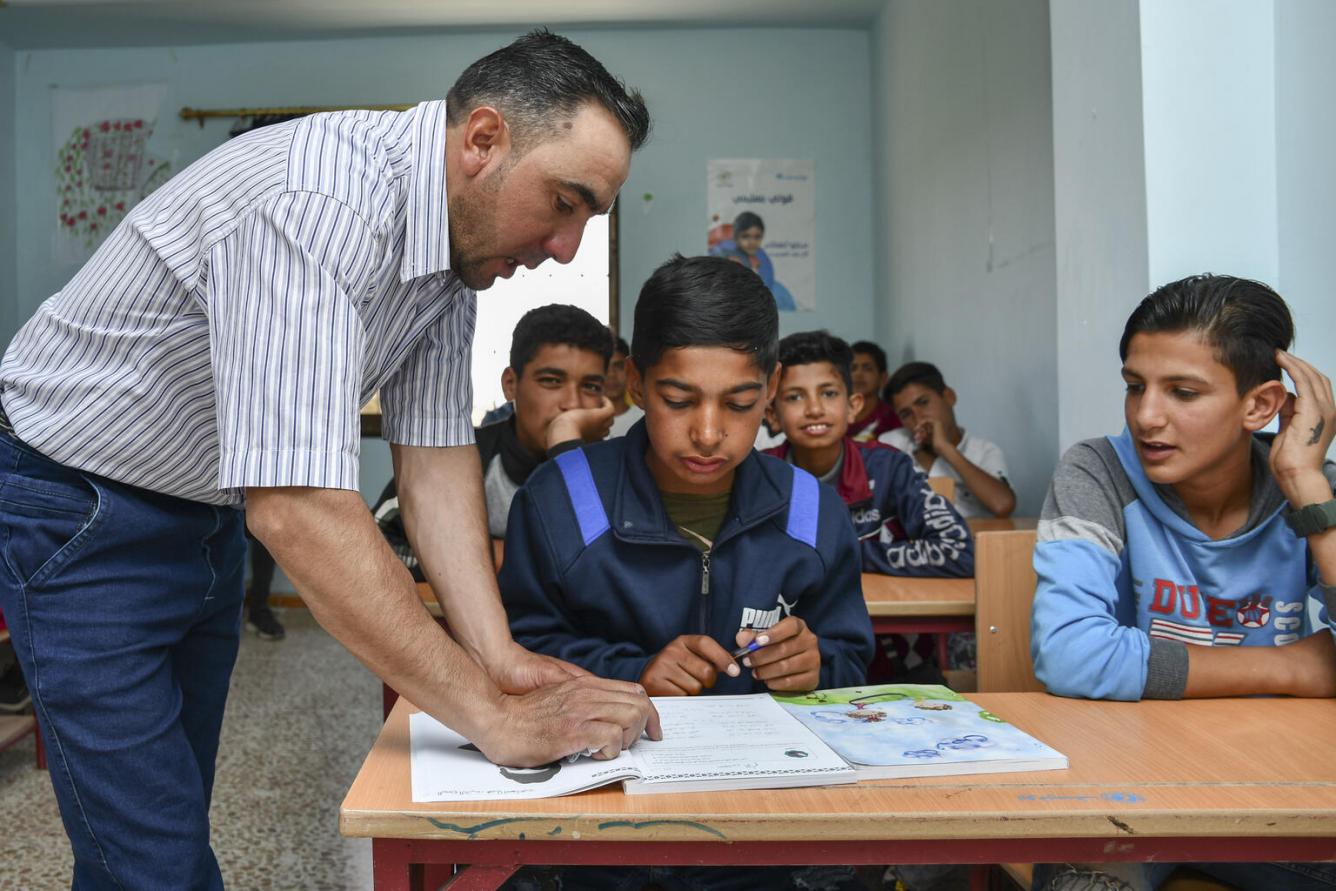 Ahmad began to attend the self-learning programme. It is especially designed for out-of-school children to help them make up for missed learning. Ahmad also benefitted from life skills and recreational activities at the centre. 
"I was overwhelmed about resuming my education, but it was not just that. I felt that I went back to living a normal life, meeting friends my own age and doing activities like sports, handicrafts and painting," said Ahmad. "I gained more self-confidence, and all of that gave me joy." 
"Three months after my first session at the centre, I was among 21 students in my village who went back to school," added Ahmad, looking proud. He was re-enrolled in a regular school in Grade 7. In May 2022, when we met Ahmad, he was preparing for his exams. 
He had started herding sheep only after school and on weekends to have more time for his studies. "When I go to work, I take my books with me to read and do my homework," he said. "I have to work hard to recap what I missed in school during the past two years."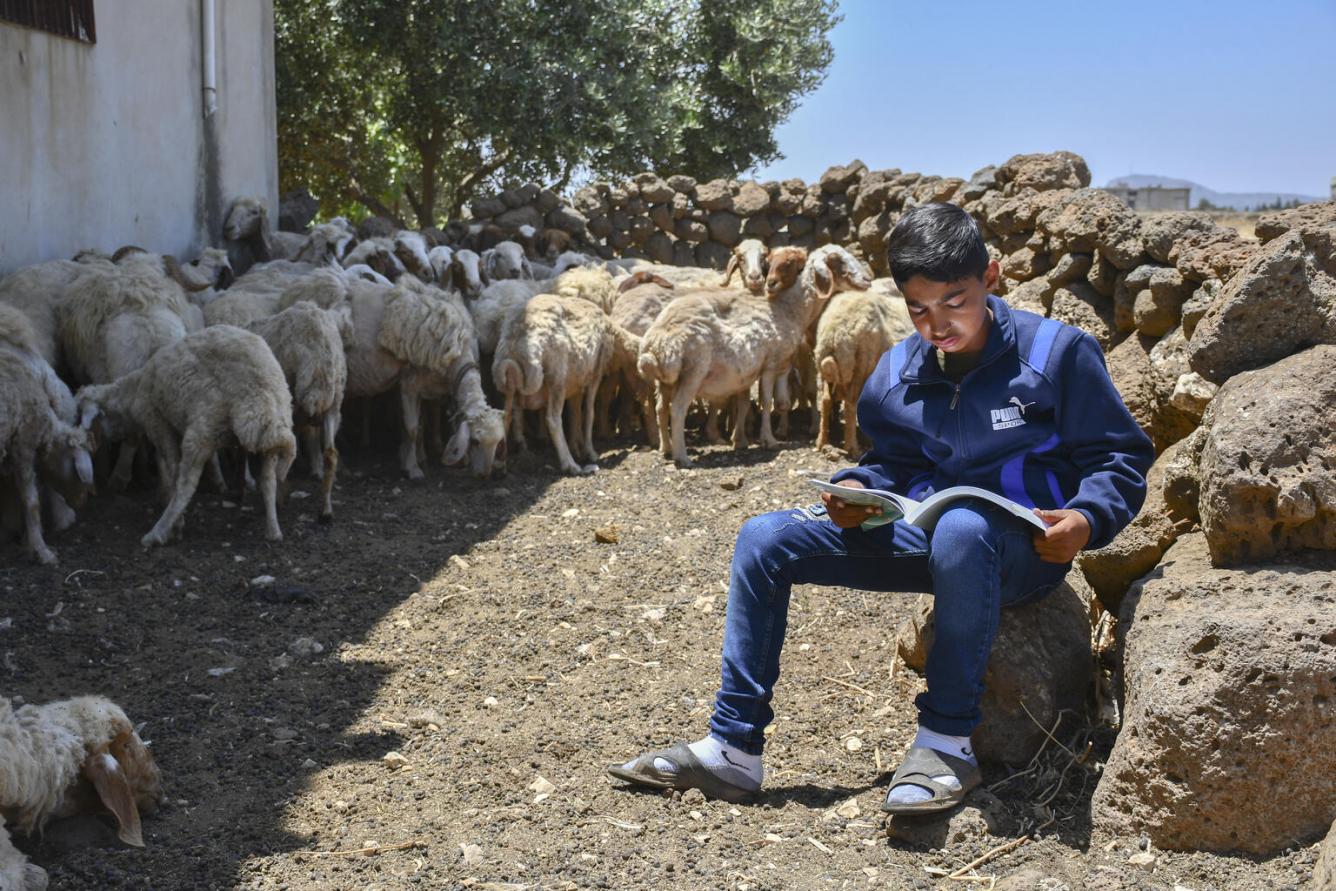 Ahmad still frequents UNICEF -supported integrated learning centre for remedial classes in the main subjects: Arabic, English, mathematics, science, physics, and chemistry. "I want to become a teacher and focus on helping the children who had to drop out of school in my village. I want to help every one of them, teach them and change their lives the way mine has changed," he said. 
UNICEF -supported integrated learning centres (ILCs) provide youth and children who are out of school or at risk of dropping out with multiple pathways to learn and equip them with skills to continue their learning journey and smoothly transition from learning to earning. 
Since 2021, UNICEF has reached nearly 4,000 children, through 12 ILCs in Syria with education support, including recreational educational activities, remedial classes, and the self-learning programme as well as national exam support for Grades 9 and 12 students. The activities were funded by the U.S. Fund for UNICEF via Educate A Child, the Government of Norway, NRK Telethon through UNICEF Norway and UNICEF's Global Humanitarian Thematic Funding. In 2022, 7,000 young people have received life skills and citizenship education, literacy, numeracy, and computer courses in the ILCs. They were also supported with social and civic engagement through youth-led initiatives, sports for development and social art for cohesion activities. Some 20 mobile teams were trained to reach their peers with outreach activities.