Learning how to bring families back together in Palu
---
Living in a camp for displaced persons with dozens of other families, Chi Ramadhani found herself at a crossroads. After an earthquake damaged her home in Palu, she felt compelled to stay with her family and take care of her infant daughter. At the same time, she knew that as a social worker there were thousands of people throughout the island who needed her help.
"I felt a moral obligation to support my community," she said, referencing her friends who were living in areas destroyed by liquefaction. "I felt blessed to still be alive."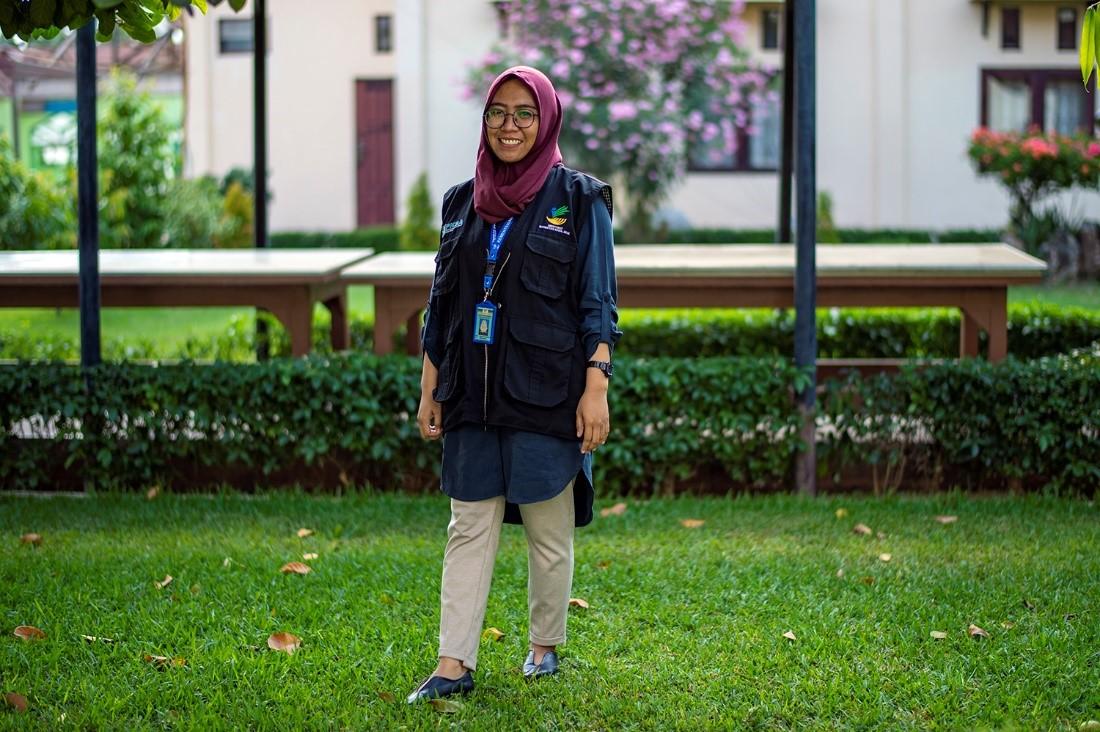 After a series of earthquakes struck the island of Sulawesi, Indonesia, about 300 children were estimated to be separated and unaccompanied while 118 were reported missing. A team of four social workers in the province was tasked with finding these children and reuniting them with their families.
According to social worker Robby Saputra, family tracing and reunification was the most challenging aspect of their work after the earthquake. "It was something new that had never happened before," he explained. "There were a high number of reported cases as well." Moreover, many displaced children were on the move and would often be gone by the time the social workers arrived at their reported locations.
The gravity of the situation made it an incredibly stressful time for the team. "It was difficult to face parents who reported their children missing," said Chi. "Sometimes we couldn't follow up with them which made us feel useless."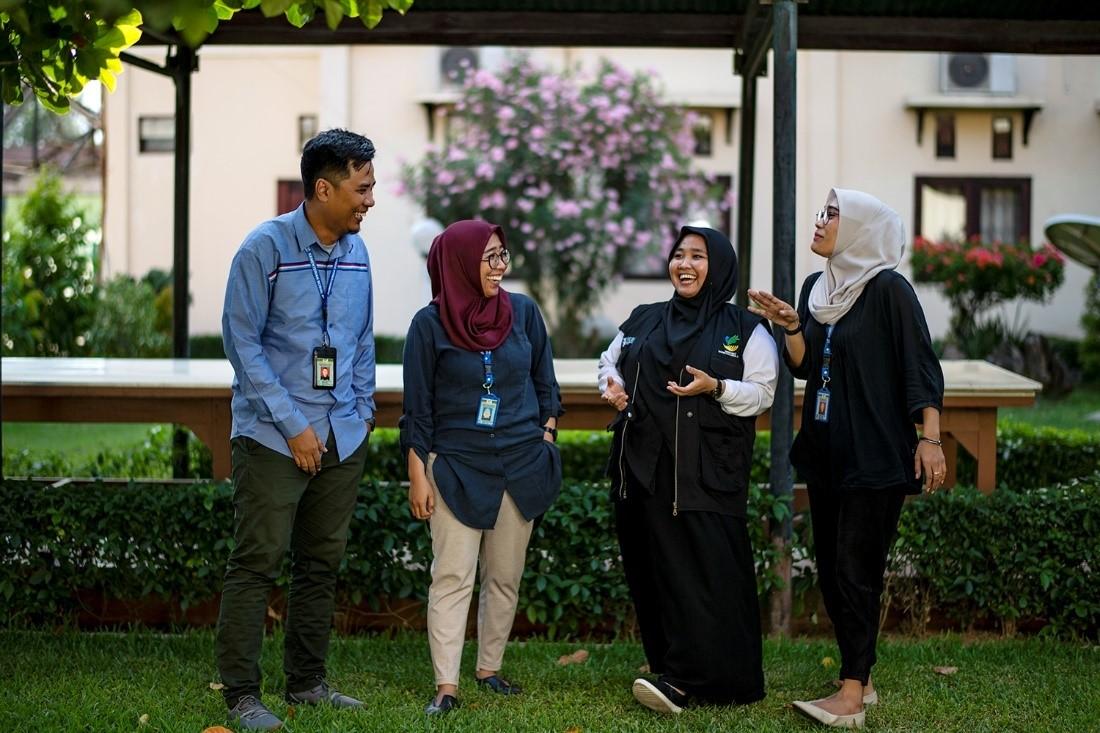 Three days after the earthquake, the team, along with 48 other social workers from neighbouring provinces, participated in a training led by UNICEF on child protection in emergencies. Over the course of five days, they learned how to determine whether a child was missing, separated or unaccompanied and recommend the correct course of action. They were also instructed on how to use social media to monitor information on missing children. And after their long days working in the field, the social workers had the opportunity to share their findings with the group and receive feedback.
"The training was useful," said Robby. "It was the first time we received training for emergencies."
One of the first children they were able to trace and reunite was Fikri As Sywie, 7, who was playing outside his home in Palu with his older brother, Mufli, 10, when the tsunami swept them away. "It was an extraordinary case," recalled Chi. "We weren't confident that we would find him."
After Fikri's father first reported his children missing, the team monitored social media for possible leads and learned that someone had found a child matching Fikri's description in a mosque in the village of Tavanjuka, about 10 kilometres away. Chi and her colleague Chaldon travelled to Tavanjuka where they met with a resident who confirmed that Fikri had stayed with them the previous night.
Earlier that same day, their cousin who had found Fikri on the beach took him to Morowali Utara, a district located eight hours away. Chi and Chaldon managed to track down the cousin and conducted a cross-checking and identification process. Once they confirmed it was Fikri, they brought him back to Palu where his entire family was already eagerly awaiting his return.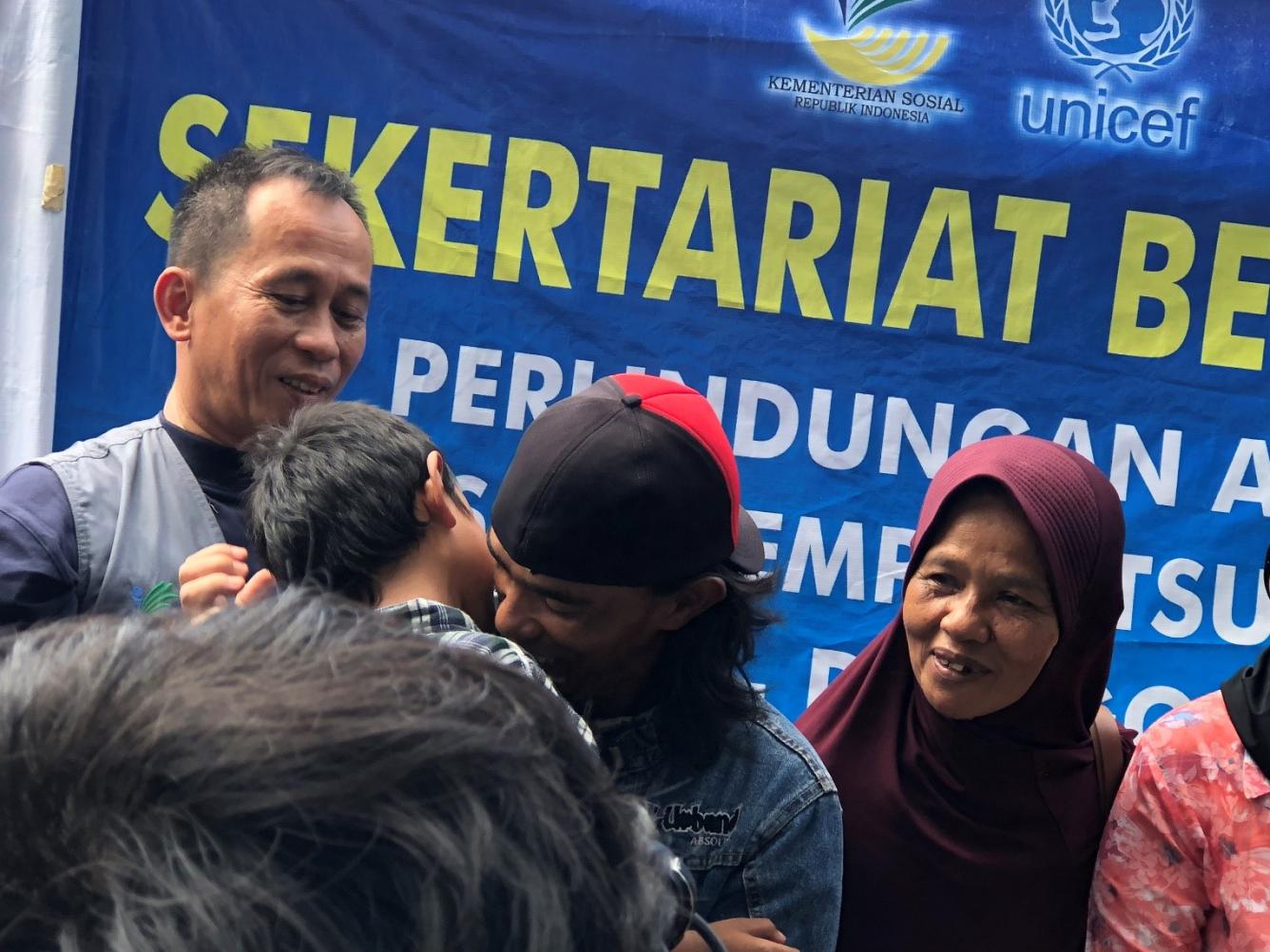 Fikri's tearful reunion with his father filled the team with joy and had an invaluable impact on their morale. "We realised it was possible," said Chi. "It gave us the confidence to find the other [missing] children. After the team found Fikri, they were able to locate and reunite 27 other children with their families, with the last child being successfully reunited last January.
The experience has left the team in Central Sulawesi in a better position to provide services for separated families following a disaster. Nurfanny, the team's supervisor, recently shared her insights with social workers in Banten after an earthquake struck the province. The 48 social workers who were deployed also returned to their home provinces with the invaluable knowledge they gained from working on the ground.
Indonesia's vulnerability to natural disasters means that the team must be ready to deal with child protection cases during potential emergencies in the future. "We don't hope for another earthquake," said Robby. "But we feel prepared and confident because we will know what to do."