With Hurricane Maria and other tropical storms threating the Caribbean, the number of children in need could rise with damage assessments still underway in the hardest-hit areas.
Working closely with the Government, UN agencies and NGO partners, UNICEF is on the ground and has already deployed additional staff and humanitarian supplies. The supplies include water purification tablets, school-in-a-box kits, early childhood development kits, school bags, tents and tarpaulin, teaching supplies, as well as hygiene and comfort kits for affected children and families. These are the stories of children from the islands of Turks and Caicos, recently hit by Hurricane Irma earlier in September, written by Manuel Moreno.
In Grand Turk Island, the capital island of the Turks and Caicos, 14-year-old Danessa Estime writes rap lyrics in her notebook about the night Hurricane Irma battered the island:
"Wake up, wake up!
But 5:32?
Why the hell am I waking up at 5:32?
Ma, what's going on?
What do you want me to do?
Did something happen to be up at 5:32?
She is finally over,
Hurricane Irma is finally done."

Hurricane Irma may be gone, but this year's hurricane season is far from over. Category 3 Hurricane Maria is now advancing on the same Caribbean islands that took the brunt of Irma's wrath.
The storm passed, causing massive damage in parts of the Eastern Caribbean, Dominican Republic, Haiti and Cuba, affecting homes, schools, health centres and basic infrastructure across the Caribbean. In its relentless path, more than 270,000 children have been directly affected, the vast majority already living in the most vulnerable communities. They are now bracing for another catastrophic hurricane.

The settlement where Danessa and her family live is one of these vulnerable communities. Outside the house, part of the zinc roof is on the ground. Mattresses, furniture, and home appliances, wet and ruined by the strong rains, are scattered.
"I have lived in this house with my mother and two sisters for more than 8 years. Now the house seems cleaner but right after the hurricane everything was wet and destroyed," says Danessa's sister, 15-year-old Katy Sabrina Estime. "The water system is not working, so we have to fetch water from a container up the hill. It is dirty and yellow, so we have to put bleach in. We are mainly using it for washing and cleaning but we are running out of water and we don't have enough money to buy drinking water."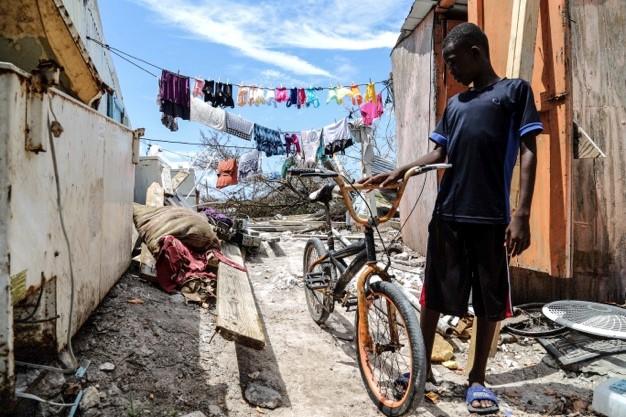 A few meters from Danessa and Katy's house, 11-year old Renalson Pervil tells me how the storm affected their lives.
"The night of the hurricane was horrible. We were not at home. All the children in the neighborhood slept at the shelter (school). The day after, when we came back to the house, it was as if a river had run through it. We have a lot of work to do, to fix up the house, clean the alley, dry the clothes, and wash them. We do not have enough food, and if we had, we wouldn't have any place to store them anyway," admits Renalson.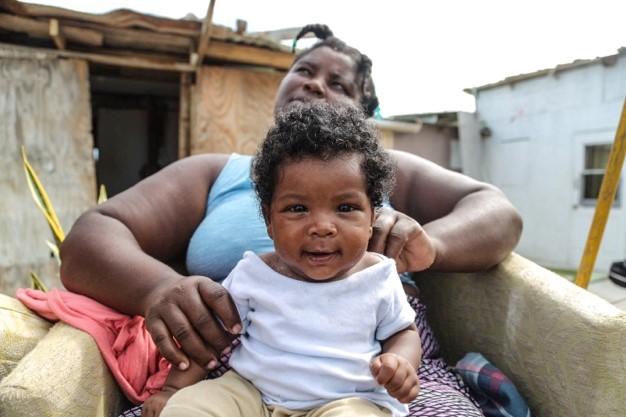 Grand Turk was just one of the islands hit by the hurricane. Jumping on a 25 minutes flight from Grand Turk, you will arrive in Providenciales. One of the communities that suffered the rage of the storm is called Five Cays. The great majority of the families living here are Haitian nationals of irregular migrant status.
5-month-old baby Recca Chery sits in his mother's lap outside his home. A buzzing cloud of mosquitos hungrily gather around him. His mother, Berline Ditah, covers him with a blanket to protect him from being bitten.
"Everything is ruined since the storm. There are so many mosquitos, day and night, that it is impossible to rest. What worries me most is that my baby can get sick," admits Berline.

Little by little I am seeing families trying to rebuild their homes and their lives, but each affected island has a different set of needs, with water, sanitation and hygiene, child protection and education being UNICEF's main priorities and concerns.
With new hurricanes and tropical storms threatening the Caribbean, the number of children in need could rise with damage assessments still underway in the hardest-hit areas.
To help UNICEF's efforts to help children and their families in the Caribbean during hurricane season, click here.