South Sudan is a forgotten children's catastrophe
---

Three years of conflict in South Sudan have taken a massive toll on the lives of millions of children and women across the country. As a result of the violence that erupted in December, 2013, nearly 3.1 million South Sudanese have been forced to flee their homes, with children representing about half of all those who are displaced.
More than 9,000 children are registered as being separated from their families, and more than 17,000 are believed to have been recruited by armed actors since the conflict commenced. At least one million children under the age of five are now estimated to be acutely malnourished - with more than 300,000 on the verge of starvation. Less than half of primary school-aged children are currently not enrolled in schools - the highest proportion in the world.
Last month, Canadian Michael Bociurkiw - a former spokesperson for UNICEF and the Organization for Security and Cooperation in Europe - visited South Sudan to document the situation for women and children in the country.
A UNICEF-supported school in Bentiu. Students writing their final exams.
Marina stands outside a UNICEF-supported school in the Bentiu Protection of Civilians (POC) site in South Sudan's northern Unity state, sharing her dreams for the future.
One of the three million civilians displaced by three years of harsh violence in the country, the 18-year-old was about to join her classmates to write her final primary school exam. She looked as determined and as prepared as can be.
Marina is an example of a young South Sudanese who has played by all the rules. She sets her dreams high, saying she wants to study abroad to become a doctor then return home to care for her people.
Her favourite subjects are mathematics and English. "God-willing my dream will come true," she said. "I want to go to Kampala to further my studies."
Marina says that as a young woman she is expected to carry the burden of household chores. Her family is so keen to see her succeed that they have excused her from some responsibilities. But sadly, there is little chance the family can raise the funds for her to complete her studies.
With her evident thirst for education, Marina is emblematic of the kids in Bentiu. On any given school day they rush to class carrying makeshift chairs, stoves, water buckets - anything to allow them to sit comfortably for a whole day in school.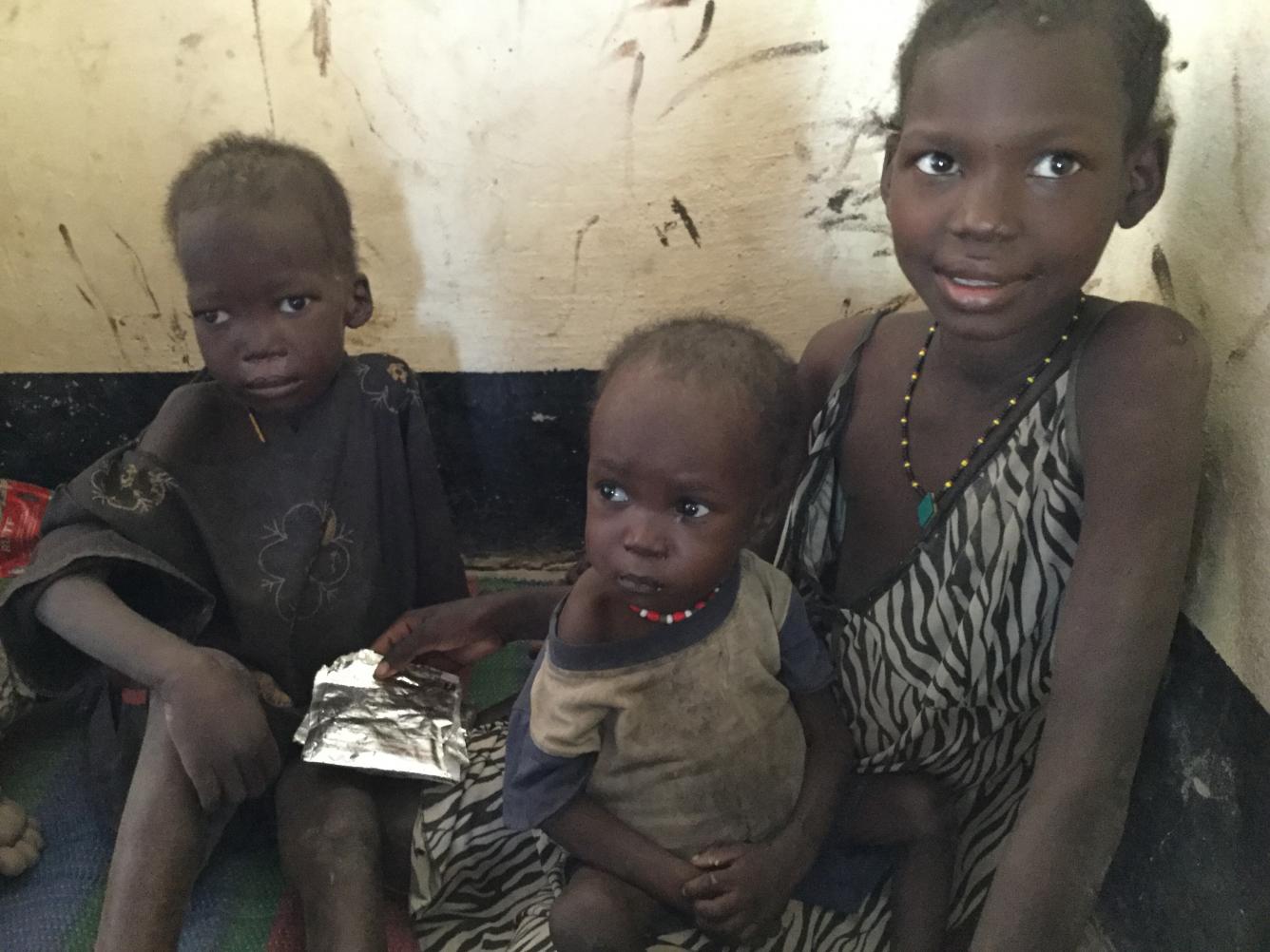 Children receiving treatment for acute malnutrition at a UNICEF-supported clinic in Rubkona.
No end to violence in sight
Aside from school there is little for girls like Marina to do in the camp. She says she is afraid to go out at night.
Many mothers said they are only able to provide one meal a day to their families, and going outside the PoC site to find food is too dangerous. They aren't exaggerating. When we visited the nearby state capital of Rubkona we saw evidence of scorched earth tactics - all homes burnt to the ground and also signs of mass graves.
What is happening in South Sudan at the moment equates to a catastrophe for children. With no end to the violence in sight - in fact, it is spreading - and with famine conditions appearing in some parts, they remain the most vulnerable. In some cases it is a miracle the families managed to get to this safe-haven: many said they travelled three to five days by foot and were robbed and harassed along the way by armed men.
When displacement occurs on such a massive scale it is inevitable that families get separated.
As of December 2016, there was an estimated 9,000 children separated from their parents. At its peak there were 14,000 separated children. UNICEF - through a family reunification and tracing program - has managed to bring this number down by almost 5,000 by sheer diligence and persistence.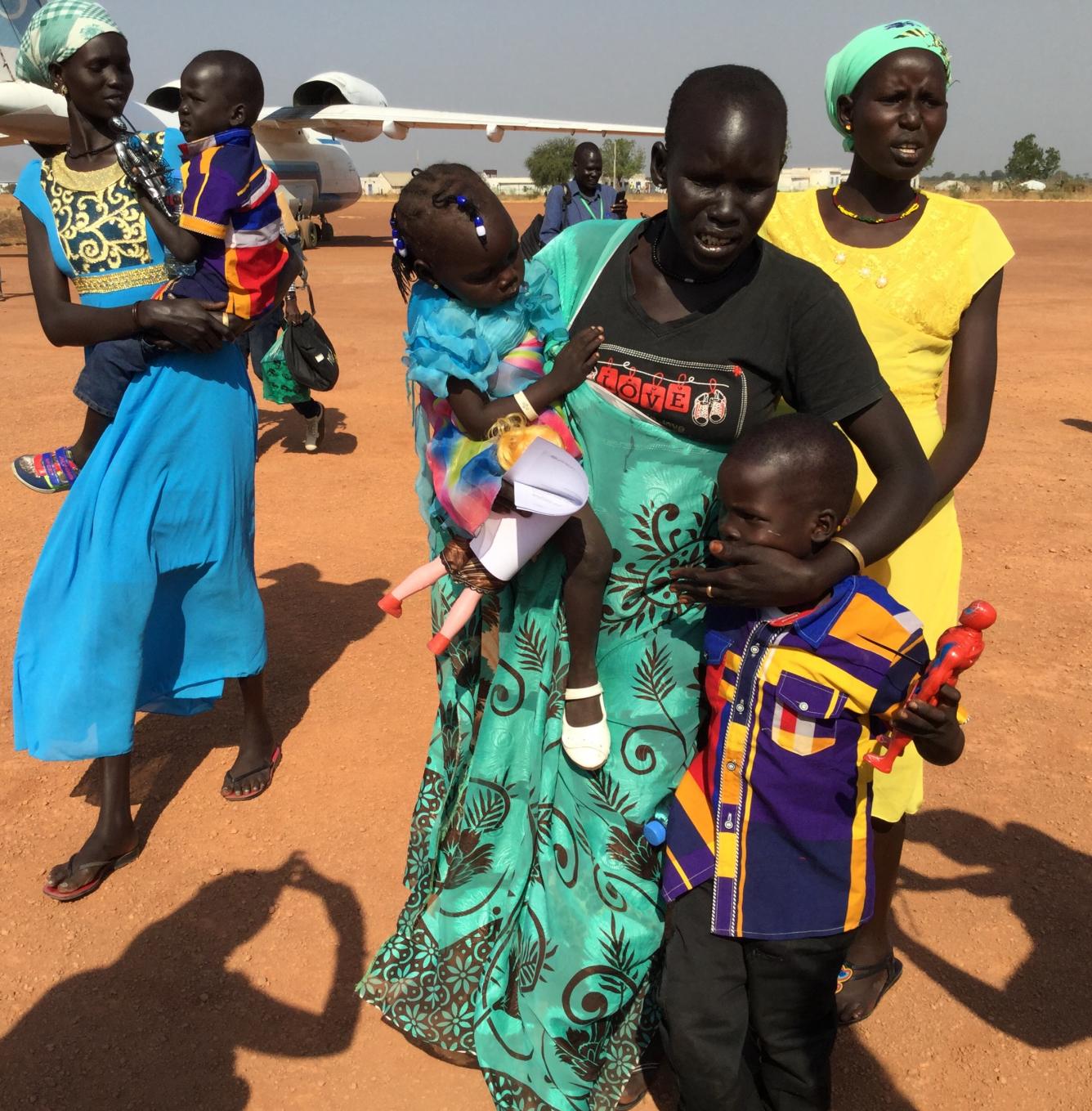 A mother (centre) is overcome with emotion after being reunited with her three children after a two-year separation. UNICEF facilitated the tracing and reunion at the Rubkona air strip in northern S. Sudan.
Just before Christmas, I and a group of foreign journalists had the pleasure of witnessing the reunification of a 27-year-old mother from the Bentiu PoC site with her three children, aged three, four and seven. It was an emotional reunion, especially when UNICEF child protection officer Kim Jial handed over the children to their mother.
"Today I will retire with a happy smile and with the feeling that the job has been done," UNICEF Field Office Chief Mustapha Ben Messaoud said as he waited for the family to arrive on a dirt airstrip near Bentiu.
UNICEF's involvement in FTR is an end-to-end approach, with staff intimately involved in every phase of the reunification - from the initial tracing and identification to the travel logistics and follow-up care and protection. UNICEF staff frequently accompany the children on the journey back to their families, ensuring that the match is complete. It's a job the children's agency takes very seriously.
Another important aspect of the FTR operations is the demobilization of child soldiers. More than 17,000 are believed to have been recruited by armed actors since the conflict commenced, and while almost 2,000 have been released, there were still 1,300 freshly recruited in 2016. This despite the fact that the two largest parties to the conflict - the SPLA and the SPLA in Opposition - have both signed agreements with the United Nations to end and prevent the recruitment and use of children.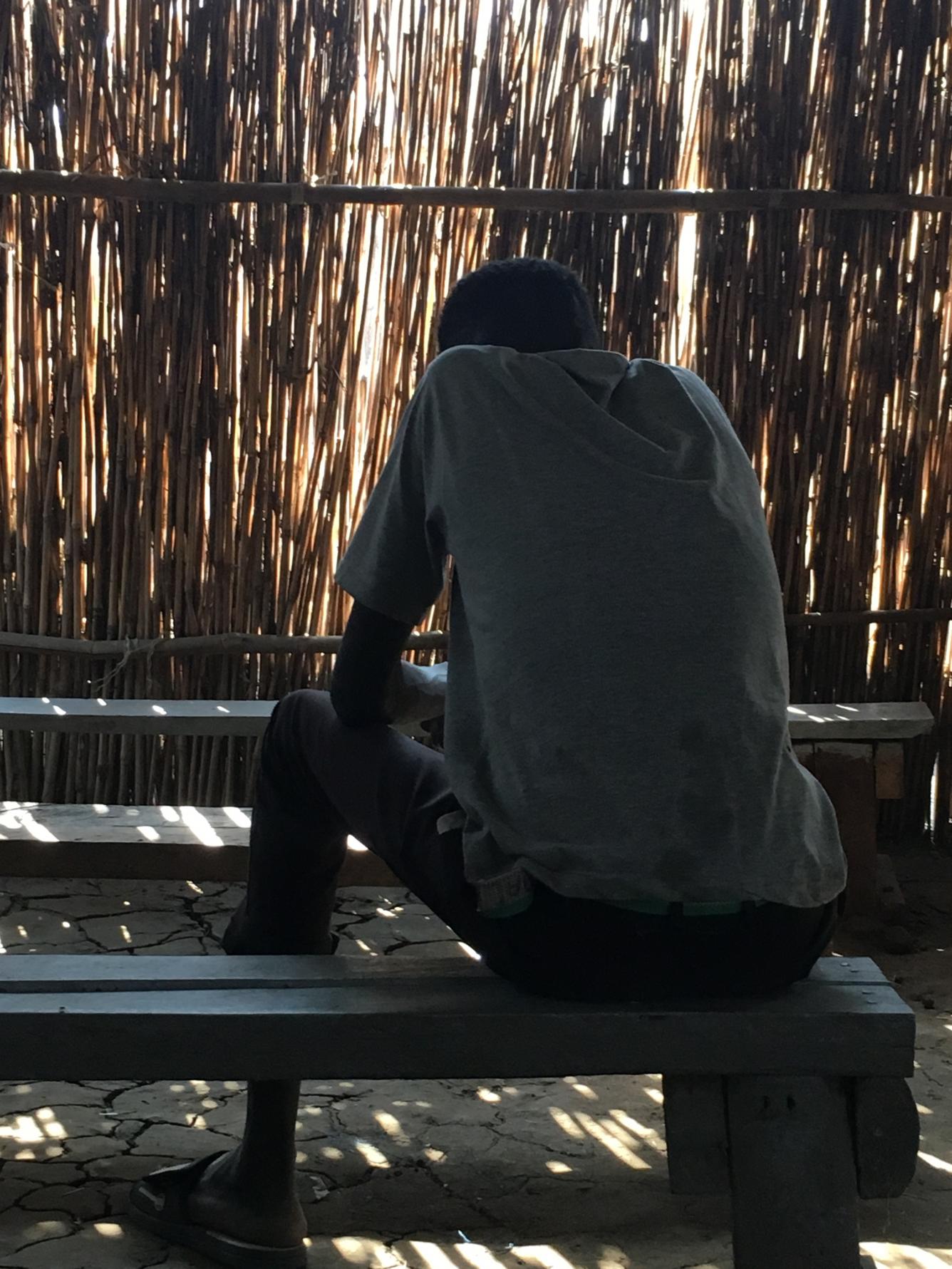 A former child soldier at the Bentiu PoC site. UNICEF assisted his return.
For UNICEF and its partners an enormous case load
For UNICEF, the reunification work is tedious as it involves many stages of protection - as well as the provision of education, nutrition and health - as soon as the children are released. "For UNICEF we find the work extremely slow but yet we managed to demobilize 1,900 kids that were previously associated with armed groups," said Massoud.
UNICEF has 10 offices in South Sudan, and its field office in Bentiu coordinates support for Marina's school. About 120,000 civilians reside in the Bentiu PoC site, with that number growing daily. Unity is the second most affected state in terms of food insecurity. In 2016 alone, UNICEF and partners admitted 184,000 children for treatment of severe malnutrition. That is 50 per cent higher than the number treated in 2015, and an increase of 135 per cent over 2014. 
Despite the large case load, UNICEF has only a handful of employees stationed in Bentiu as much of the work is performed by partners, including warehousing. This strategy allows UNICEF to not only develop the capacity of its local partners, but also to maintain an exit strategy once the emergency ends.
A young child peers through the fence at a UNICEF-supported school in Bentiu.
UNICEF does try to project its interventions beyond the borders of the Bentiu PoC site, but security, weather and other hindrances all have to be factored in.
Since returning home to Canada I've been asked many times, "Why South Sudan?" Well, there's a strong argument to be made for supporting the country as well as the work of UNICEF and its partners. Aside from the interventions being truly life-saving, South Sudan - which has few systems, institutions and infrastructure in place - requires strong support to prevent it from collapsing into a long-lasting conflict.
Significant resources have been invested in the past five years in order to best support women's and children's rights, health and well-being, and help build resilient communities - - and that investment needs to be sustained and protected. Just witness the UNICEF-supported psychosocial activities and you will see how to takes children away from the immediate conflict around them.
Said Massaoud: "We can do so much here, and whatever we do makes an immediate difference."
A UNICEF-supported school in Bentiu. Students writing their final exams.
QUICK FACTS
In 2016, some 6.1 million people - half the population in South Sudan - required humanitarian assistance. Some 3.1 million South Sudanese have been forced to flee their homes, about 1.3 million of them across borders as refugees. Children make up about half of those displaced.
More than 200,000 people live in PoC sites across Sudan.
One in four schools are closed and less than half of primary-aged children are currently enrolled in schools (the highest proportion in the world).
More than 362,000 children are estimated to be suffering from severe acute malnutrition, and more than one million children under the age of five are estimated to be acutely malnourished.
Less than half of the population has access to safe water.
Almost one million children are believed to be psychologically distressed due to violence and displacement.
Despite immense challenges, humanitarians have delivered life-saving aid to nearly 4.7 million people in 2016.
With support from donors, UNICEF has treated over 150,000 children suffering from severe acute malnutrition in South Sudan since January 2016. UNICEF also supports the training of health workers to identify, treat and manage cases of severe malnutrition.
The Government of Canada is supporting humanitarian partners and the people of South Sudan to address humanitarian challenges, reduce security threats, enhance stability, meet basic human needs and promote reconciliation and democratization.
UNICEF and partners have sent more than 650,000 children back to learning in 2015/2016. And through the Back to Learning initiative, an additional 315,000 children were going to school in 2016 - nearly half of them girls.
Together with its partners, UNICEF was able to provide more than 1.5 million health consultations in 2016, more than a third of them to children under five.
In 2016, UNICEF and partners provided access to safe drinking water to more than 740,000 people in South Sudan.
In 2016, UNICEF reached over 100,000 women with gender-based violence prevention and response services.
UNICEF and partners last year provided sanitation facilities to over 250,000 people throughout South Sudan.
To help UNICEF continue providing its life-saving support to vulnerable children in South Sudan and around the world, click here.