Written by Andrew Brown, UNICEF Kenya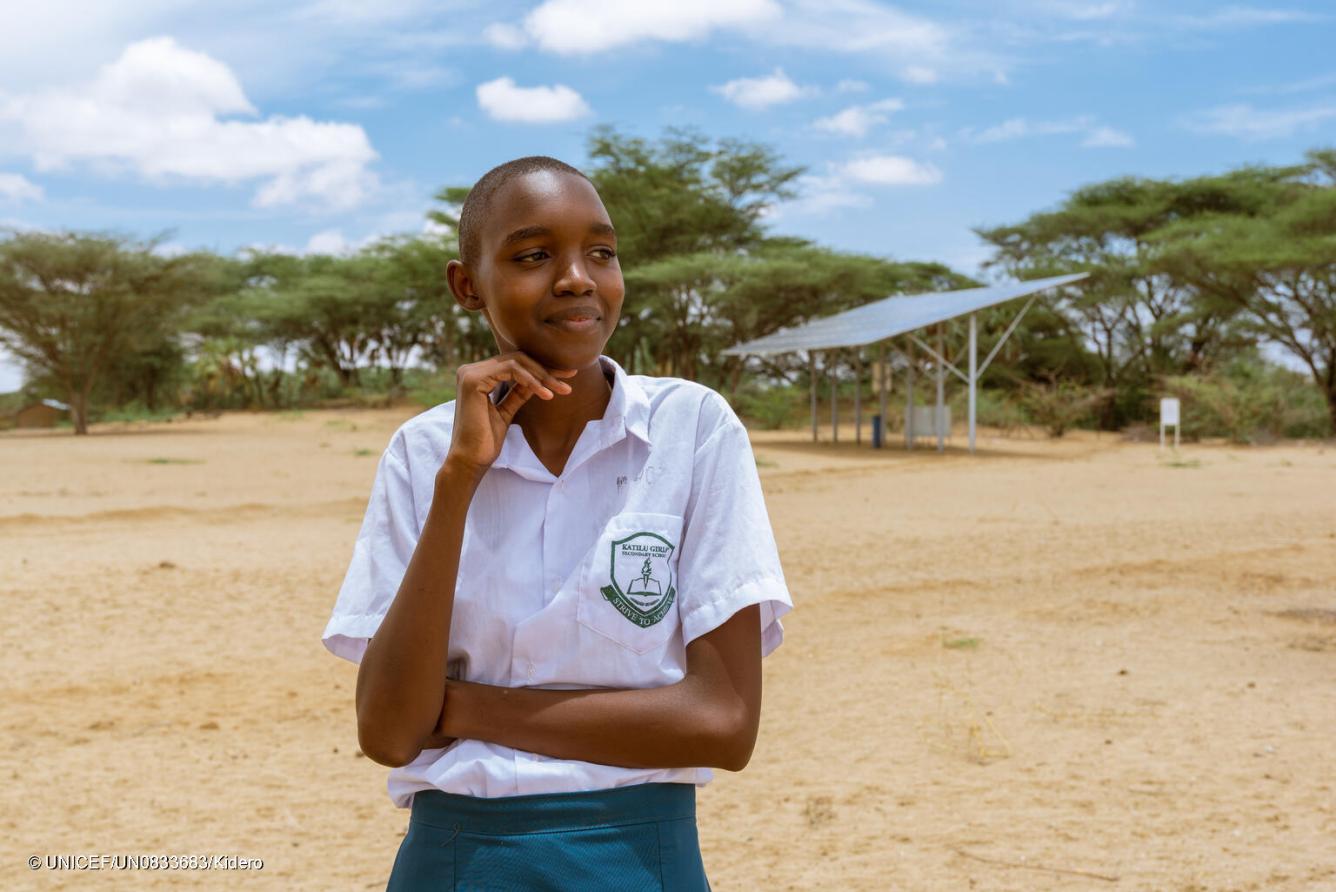 Sharlyne is a bright and outgoing 14-year-old, who recently graduated from Nabulon Girls Primary School in Lodwar, where UNICEF last year installed a solar-powered water system. The county has been affected by drought for the last three years, and much of the livestock that families used to rely on has died. In the last week, scattered rains have finally arrived. The ground remains dry and sandy, but trees are starting to return to life, with tentative green growth on their branches. It's a fragile moment for the county.
Sharlyne is tall for her age and can no longer use the skipping rope she has at home. She likes watching cartoons and Bollywood movies. When she meets UNICEF, she is shy at first but quickly warms up, snapping her fingers and laughing as she shows the team around the school. "These are the tanks. They hold 10,000 litres each," she says, pointing to two large water tanks on a high platform, reached by a metal ladder. "It has plenty of water. Once they're full, the tanks can last for three months. Then they pump the water again."
The solar-powered water system has made a huge difference to Shalyne and her fellow students. "Before the borehole, we used to go and collect water from the river," she continues. "But we could see crocodiles there and we used to be afraid. Students would get sick because of the dirty water. Once I got so sick that had to go to hospital for two weeks. I felt so bad. I missed a lot of school."
Next, Sharlyne takes us to the school vegetable garden, where pumpkins, kale and spinach are growing, surrounded by a low fence woven from straw and small branches. "This is our kitchen garden," she says. "We didn't have it before." Sharlyne gets a hosepipe from the caretaker and starts watering the plants. The pipe is not quite long enough, so she puts her thumb over the end to restrict the flow and make the water spray out further. "You see, it's a lot of fun!" she exclaims. "We always enjoy watering the plants."
Finally, at the water point, Sharlyne is keen to show off the quality of the drinking water. She leans over and turns on the small bronze tap that emerges from a concrete block, scooping her hands underneath to catch the water. "The water is so clear and pure," she says. "This is how you drink it if you don't have a cup. It tastes so good. Try it!"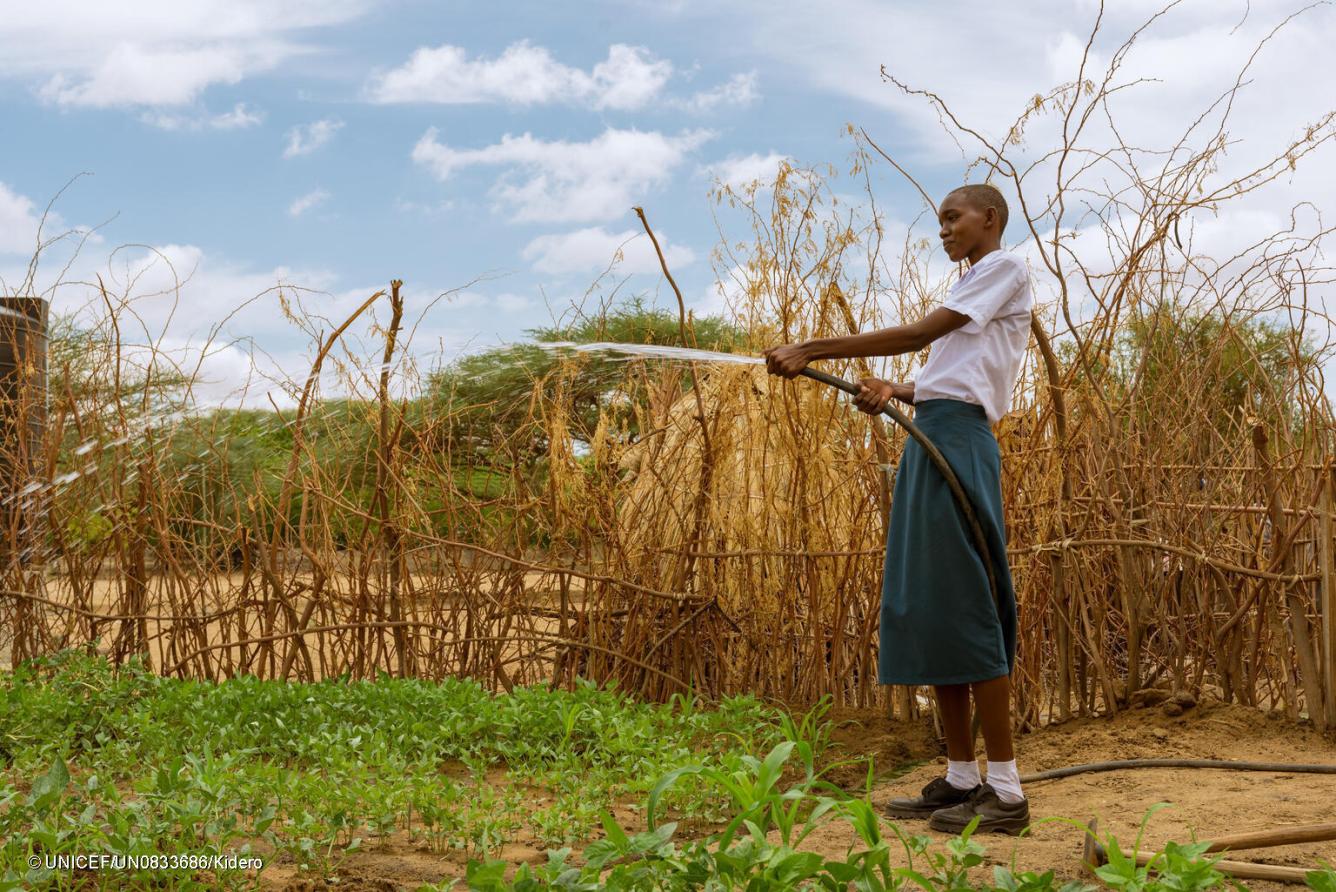 Impact of drought
Despite how happy she seems now, the last few years have been hard for Sharlyne. She lives with her aunt Sophia and two younger cousins. Sophia has taken care of Sharlyne since her mother died in childbirth, and she calls her mum. During the drought, Sophia lost her job at the local hospital, and her livestock died. Then, relatives from pastoralist areas came to Lodwar town looking for work. They moved in with the family, increasing the pressure.
"It hasn't rained properly for three years," Sophia says. "I used to have five goats, but they all died and now I struggle to find meals. Sometimes the children go to sleep hungry. Some days, I do casual work washing clothes and get 200-300 Kenyan shillings. Otherwise, I just stay home. During the drought, five of our relatives came to live with us because there was no pasture for their animals. I had even more people to feed. When it was time for dinner, I would sometimes miss out on the food, because there wasn't enough for everyone."
Despite these challenges, Sophia prioritized Sharlyne's education throughout the drought. "I tried to enrol Sharlyne in boarding school but I couldn't afford it," she continues. "So I joined a table banking group with other women and saved enough to pay for the first term of secondary school. I'm happy and hopeful for Sharlyne. If she can be the one to get an education, it will open doors for me and the rest of the family as well."
Sharlyne also saw the impact of the drought at her school, when girls stopped coming to class. "Some of my friends dropped out because of poverty," she explains. "They were forced into child marriage or got pregnant. Now they can't return to school. I felt so sad for them. I thought that I might have to drop out too but my mum managed to keep me in school."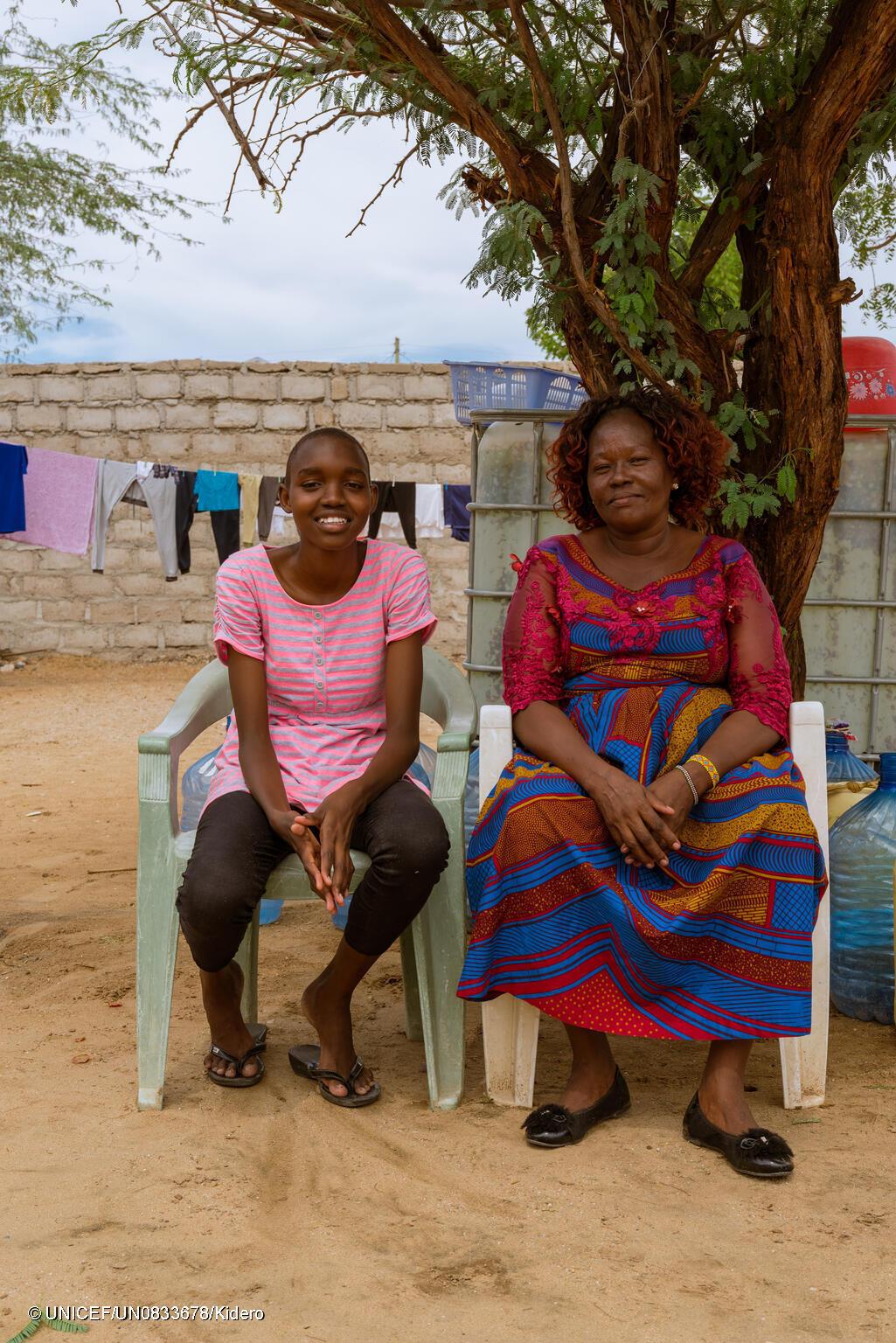 UNICEF's support
With support from Korea International Cooperation Agency (KOICA), UNICEF has installed 56 solar powered water systems in schools across Turkana County, providing access to safe water for over 112,000 people, including Sharlyne. This is part of UNICEF's response to the drought, which is driven by climate change.
Solar power allows for deeper drilling than hand pumps, providing access to safe water all year round. The pump at Nabulon Girls Primary School also provides safe water for a nearby health centre and the local community. In addition to the water system, UNICEF also supported the school to set up a dormitory, so that girls whose families were migrating in search of pasture, could board at the school instead of dropping out.
"UNICEF has really assisted our school," Nabulon Headteacher Rebecca Lotonia says. "For example, UNICEF trained us to do an enrolment drive. So far, we've mobilised five villages to bring their girls back to school. When they return, they get a UNICEF school bag and sanitary pads, which helps to keep them in school. We are also grateful for the borehole and the clean water."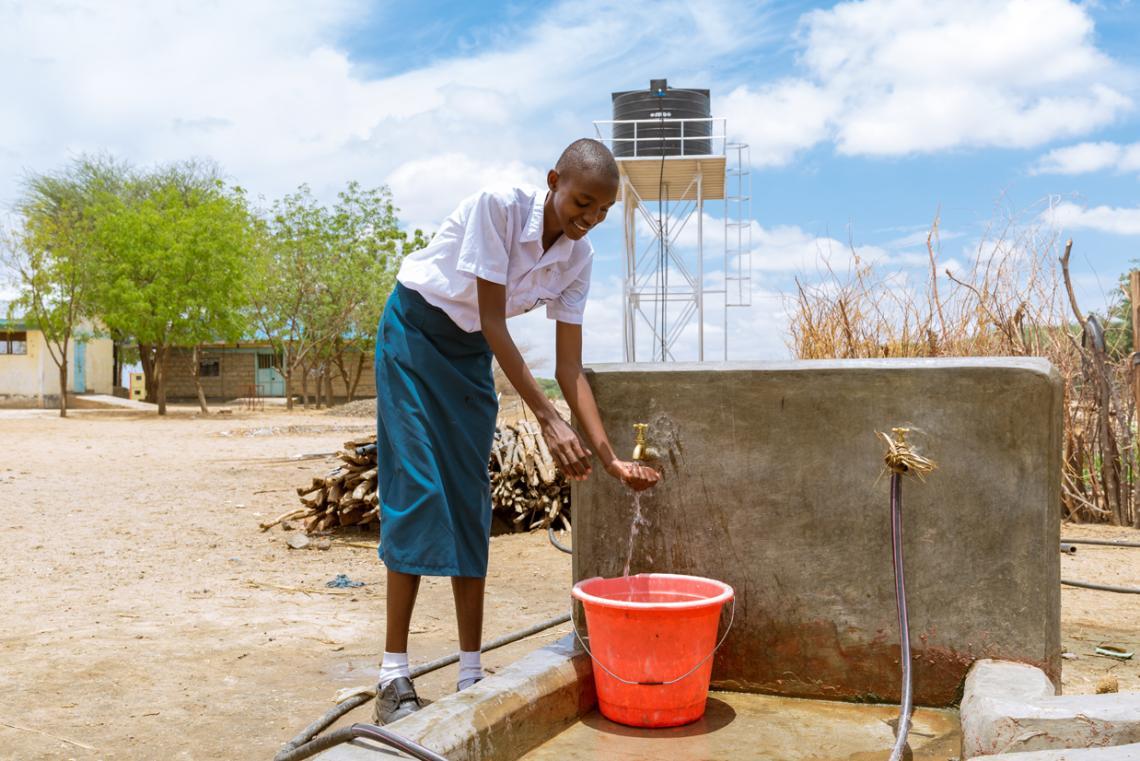 UNICEF is also supporting the Government of Kenya to take action on climate change, which is predicted to lead to more severe and prolonged droughts – like the one just seen in Turkana – in the future. Kenya already ranks 49 out of 163 on UNICEF's Climate Risk Index, which ranks countries by the risk to children of climate change. These includes severe weather conditions, burden of disease and lost opportunities.
"Climate change is a child rights crisis – it is already impacting on children's health and nutrition, and will do so even more in the future," UNICEF Kenya Chief of WASH Mahboob Ahmed Bajwa says. "This means that people living in the arid and semi-arid land (ASAL) counties of Kenya, like Turkana, need to adapt to a situation where there are less reliable water sources. The solar powered water systems are one part of UNICEF's wider response to this, which also includes sand dams and climate education."
For 14-year-old Sharlyne, the future still seems bright. "I feel so happy that I've joined secondary school and I just hope that I can finish very well," she says with a smile. "My hope for the future is that I'd like to be a journalist. I want to see what the world is like."