EVENT UPDATE – March 20, 2020
UNICEF's commitment to the health and safety of children and families is always our priority in Canada and abroad. Like you, we have been actively monitoring the situation with COVID-19 and we have made the difficult decision to cancel the Chefs for UNICEF Water for Life Gala on April 15, 2020.
The instinct to protect children runs deep in UNICEF, defining everything we do. And this virus is a painful reminder of the global challenges facing families and children around the world. Across 190 countries, our colleagues are working side by side with governments and other partners to limit the spread of the COVID-19 virus.
The situation around the world and here at home is rapidly changing. Please know that we are here for you to serve as a trusted source, whether you're looking for more information on how UNICEF is fighting COVID-19 or for guidance on how to help your family adjust.
We cannot thank all our supporters enough for their support of UNICEF and the work we do for children. 
Be well, stay safe and healthy and we look forward to seeing you in April 2021.
JOIN US FOR A SPECIAL EVENT IN HALIFAX
The annual Chefs for UNICEF Water for Life Gala brings together an unparalleled collection of international culinary delights as Nova Scotia's best Chefs create an unforgettable experience in support of UNICEF's life-saving work for children. 
Water is an essential right and a vital need, yet millions of children around the world lack access to safe drinking water. The UNICEF Water for Life Gala in Halifax is supporting UNICEF's global Water, Sanitation and Hygiene (WASH) programs. These programs help realize the rights of children by delivering safe water and sanitation, and by improving the hygiene practices for some of the world's hardest to reach children and their families. 
With the generous support of many donors, UNICEF leads innovative initiatives to bring life-saving water to all children.
EVENT DATE
Save the date for Wednesday, April 14, 2021!
LOCATION
Halifax Convention Centre
1650 Argyle Street
Halifax, NS  B3J 0E6
SPONSOR A TABLE
Tables are available as follows:
Advocate: $10,000
Collaborator: $5,000
Humanitarian: $3,000
Individual Tickets: $300
To purchase a table to the Chefs for UNICEF Water for Life Gala, please contact:
Holly Davidson
Manager, National Events
hdavidson@unicef.ca
1(800) 819-0889 ext. 8204
WATER PUMP
A single water pump can improve the lives of 150 children in a local community and helps improve overall health and sanitation. The water pump is a gift that will continue to give for up to 10 years, supplying clean water for drinking, hand-washing, bathing and household. This is particularly important during a global pandemic as we know that hand hygiene is the life-saving front line of defense in the fight against the virus. Additionally, a local water source means girls who typically miss school to collect water will have a chance at an education and a brighter future. Clean water saves and transforms lives!
WATER FOR LIFE BUNDLE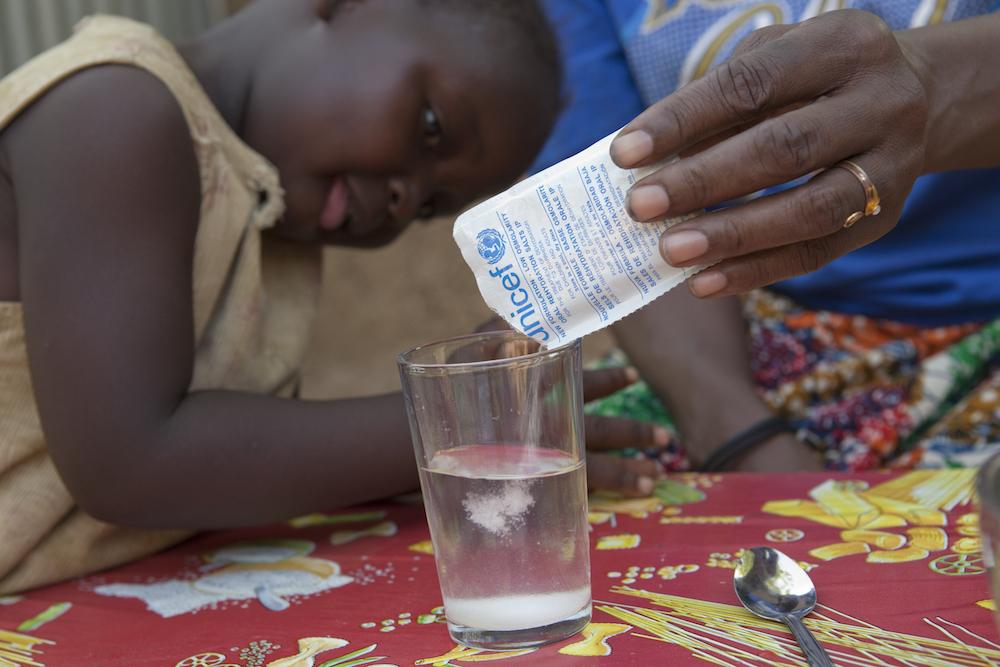 A Water for Life bundle contains 45 bars of soap, 490 sachets of oral rehydration salts, 3,281 water purification tablets, a collapsible water container, and a bucket, providing 135 children with the tools to purify water, stay clean and treat diseases from waterborne illnesses.
CHAIR, PATRONS & COMMITTEE
Honorary Chair
Colin MacDonald - Chairman, Clearwater Seafoods Inc.
Event Co-Chairs
Jeannine Bakeeff - Community Leader
Melanie Nadeau - Director, Strategic Initiatives, Emera Inc.
Patrons Council
Greg Bakeeff - Vice President and Wealth Advisor, BMO Nesbitt Burns
Jeannine Bakeeff - Community Leader
Jamie Berryman – Vice President, National Sales, Sysco Canada Inc.
Steve Bird - Retired, Vice President Finance, Bell Aliant
Troy Calder - President, Charm Diamond Centres
Kim Day - President & COO, Steele Auto Group
Andrew Inch - Manager, Corporate Affairs, Municipal Group of Companies
Brenda Kops - President, Whitko Consulting
Nicole Langille - Principal, Free People Marketing
Melanie Nadeau - Director, Strategic Initiatives, Emera Inc.
Lori Park - Partner, Atlantic Canada Market Leader, Mercer Canada
Christine Pound - Partner, Stewart McKelvey
Keith Skiffington - COO, Office Interiors
Organizing Committee
Laurel Boyle
Daisy Cobden
Ambrose Currie
Diane Davidson
Alannah Delahunty-Pike
Sean Doucet – Lead Chef
Natalie Irwin
Laura Kennedy
Nicole Langille
Andre LeBlanc
Brenda MacPhee
Laura Maynard – Auction Committee Co-Chair
Sarah Meade
Jennifer Murray
Matthew Orrell
Wendy Phillips
Caleb Power – Auction Committee Co-Chair
Nousha Saberi
Joanna Shackleton
UGANDA FIELD VISIT
Local UNICEF committee volunteers Caleb Power and Laura Kennedy returned from a field trip to Uganda in October 2018 where they saw first-hand the impact the Halifax community is having in providing clean water and sanitation infrastructure in secondary schools across Uganda.