We hope you will enjoy looking back at these videos of past Chefs for UNICEF Water for Life Galas.
You can also view our photo gallery that will take you back to when our Gala started in 1993.
JOIN US FOR A SPECIAL EVENing IN HALIFAX
Our in-person Gala will be on hold again this spring, however, we are working to bring you a safe yet intimate evening that will include a curated dining experience from some of Halifax's best restaurants. We look forward to sharing the date and more details with you in the New Year.
For 29 years, the Halifax community has generously supported life-changing water, health and education initiatives for thousands of children around the world, through UNICEF. This support is more important than ever before. Together, we can make a difference for the children who need us most. We can protect their right to a childhood.
ONLINE AUCTION
Wednesday, April 14 - Saturday, May 1, 2021
WATER PUMP
A single water pump can change the lives of 150 children in a local community and helps improve overall health and sanitation. The water pump is a gift that will continue to give for up to 10 years, supplying clean water for drinking, handwashing, bathing and household use. This is particularly important during a global pandemic, as we know that hand hygiene is the life-saving front line of defense in the fight against the virus. Additionally, a local water source means that girls who typically miss school to collect water will have their right to an education fulfilled, and a chance at a brighter future. Clean water saves and transforms lives!
WATER FOR LIFE BUNDLE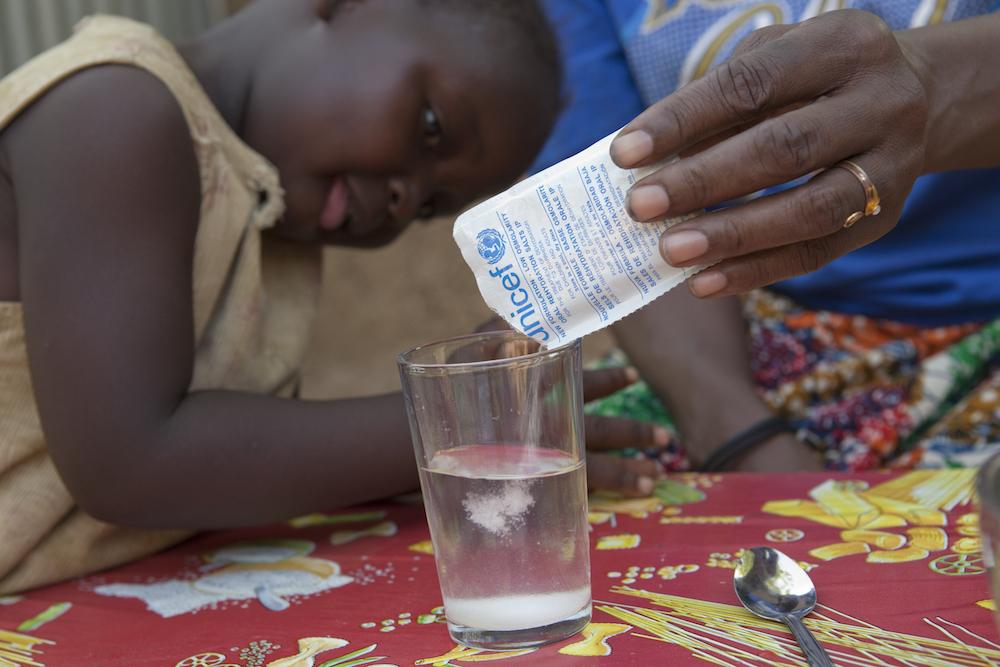 A Water for Life bundle contains 45 bars of soap, 490 sachets of oral rehydration salts, 3,281 water purification tablets, a collapsible water container, and a bucket, providing 135 children with the tools to purify water, stay clean and makes a lifesaving impact for children exposed to waterborne illnesses.
CHAIR, PATRONS & COMMITTEE
Honorary Chair
Colin MacDonald - Chairman, Clearwater Seafoods Inc.
Event Co-Chairs
Jeannine Bakeeff - Community Leader
Melanie Nadeau - CEO, Center for Ocean Ventures and Entrepreneurship
Patrons Council
Greg Bakeeff - Vice President and Wealth Advisor, BMO Nesbitt Burns
Jeannine Bakeeff - Community Leader
Jamie Berryman – Vice President, National Sales, Sysco Canada Inc.
Troy Calder - President, Charm Diamond Centres
Kim Day - President & COO, Steele Auto Group
Troy Harnish – Director of Sales, Rogers Communications
Andrew Inch - Manager, Corporate Affairs, Municipal Group of Companies
Brenda Kops - President, Whitko Consulting
Nicole Langille - Principal, Free People Marketing
Melanie Nadeau - CEO, Center for Ocean Ventures and Entrepreneurship
Lori Park - Partner, Atlantic Canada Market Leader, Mercer Canada
Christine Pound - Partner, Stewart McKelvey
Keith Skiffington - COO, Office Interiors
Organizing Committee
Laurel Boyle
Daisy Cobden
Ambrose Currie
Alannah Delahunty-Pike
Sean Doucet – Lead Chef
Natalie Irwin
Laura Kennedy
Nicole Langille
Andre LeBlanc
Brenda MacPhee
Laura Maynard – Auction Committee Co-Chair
Sarah Meade
Jennifer Murray
Matthew Orrell
Lila Pavey
Wendy Phillips
Caleb Power – Auction Committee Co-Chair
Joanna Shackleton
UGANDA FIELD VISIT
Local UNICEF committee volunteers Caleb Power and Laura Kennedy returned from a field trip to Uganda in October 2018 where they saw first-hand the impact the Halifax community is having in providing clean water and sanitation infrastructure in secondary schools across Uganda.