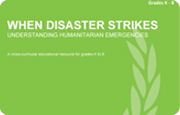 Students in elementary grades will examine UNICEF global education concepts in relation to humanitarian emergencies and disaster relief. The classroom-ready activities are presented in a sequence which follows the UNICEF Global Classroom programme cycle from understanding, to personal response, to informed action. The country specific insert will allow you to explore specific emergencies. 
This supplementary guide for teachers explores the crisis in Syria that begin in 2011.  What was known as the 'Arab Spring' in 2011 quickly developed into a civil war that has displaced millions of Syrians, with catastrophic effects on children and young people.
Three short animated stories of children on the move because of conflict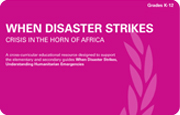 By early July, 2011, it became apparent that a crisis was unfolding across Kenya, Somalia, Ethiopia and Djibouti, an area known as the Horn of Africa. A worsening drought, rising food prices, and on-going conflict in Somalia have created a severe humanitarian crisis, with some 12.5 million people in need of life-saving humanitarian assistance.
This supplementary guide for teachers explores the crisis in the Horn of Africa. You may use it on its own, but for more extensive classroom activities, please check out the Elementary and Secondary guides, When Disaster Strikes: Understanding Humanitarian Emergencies.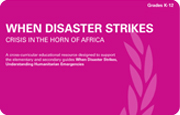 On July 27, 2010, the first of what would eventually be a series of heavy monsoon rains arrived in Pakistan, largely affecting the northwestern province of Khyber-Pakhtunkhwa. Monsoon season takes place from July to September every year in Pakistan and averages about 63.5 millimetres of rainfall per month. In a mere three-day span from July 28 to July 30, Pakistan received over 203 millimetres of rain! Imagine your neighbourhood receiving more than three months worth of rain in less than 72 hours. This is what happened to the country of Pakistan, and it immediately killed more than one thousand people while displacing millions of others.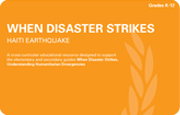 On the evening of 12 January 2010, the strongest earthquake to hit Haiti in more than 200 years struck just 17km south-west of Haiti's densely populated capital city, Port-au-Prince. The quake, measuring 7.0 on the Richter scale, lasted mere seconds, but the impacts will be felt for years to come.