Canadian celebrities conquer great heights to save children's lives
2013-05-15
Stars from hit show Rookie Blue and The Listener join UNICEF Canada on a Charity Challenge trek to the Lost City of the Incas, Machu Picchu in Peru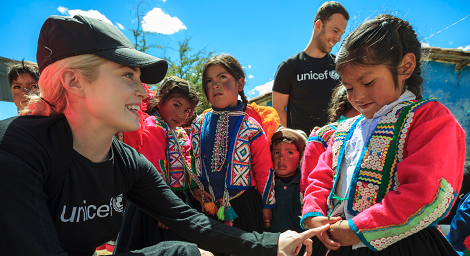 TORONTO, May 16, 2013 – Rookie Blue stars Charlotte Sullivan, Peter Mooney and Priscilla Faia, and The Listener's Peter Stebbings recently returned from a journey of a lifetime where they endured high altitudes and rugged conditions to reach the magnificent Machu Picchu - all in support of UNICEF.
UNICEF Canada's first ever Charity Challenge trek to Machu Picchu gave these stars, as well as 9 other enthusiastic Canadians, the opportunity to combine their love for adventure travel while supporting UNICEF's work ensuring the hardest to reach children survive and thrive.
"It was truly a life changing experience," says Charlotte Sullivan, a Genie Award-nominated actress who currently plays police officer Gail Peck in the Global/ABC hit series Rookie Blue. "The trek was not only a physical challenge in an amazing part of the world, it was an extremely rewarding way to support UNICEF's work to reach all children."
After a nine day trek that included sleeping in tents and cooking on open fires in remote Andean communities, the cast visited UNICEF health, nutrition and education programs reaching Indigenous children living in Peru's mountain regions around Machu Picchu.
"I was incredibly inspired by the work UNICEF is doing in Peru, especially after meeting so many wonderful children and families. These families face so many challenges but we definitely saw how important UNICEF's work providing basic health care and access to education is – things we often take for granted," says Priscilla Faia, the newest member of the Rookie Blue family.
"During the trek to Machu Picchu, we met lots of kids along the way in what seemed like the middle of nowhere. Some of them were walking to school, an hour or two each way, but smiling and joking around. It's amazing to see how resilient these children are and what a difference UNICEF is making in their lives," says Rookie Blue star Peter Mooney.
In Peru, UNICEF works with Indigenous children and their families because like many countries in the Americas, Indigenous children are particularly vulnerable and hardest to reach. Nearly 80 percent of Indigenous children between the ages of three and 17 live in poverty – half in extreme poverty – compared to 40 percent of Peruvian children whose first language is Spanish.
"I was moved on so many levels by this experience. It is unforgettable. UNICEF has a very clear mandate and you can really see it at work here, especially in the gratitude expressed by the people in their own communities," says Peter Stebbings of CTV's hit show The Listener.
UNICEF has been working in Peru for more than 60 years reaching the most vulnerable children with life-saving support and advocating for the promotion and protection of children's rights.
-30-
About UNICEF
UNICEF has saved more children's lives than any other humanitarian organization. We work tirelessly to help children and their families, doing whatever it takes to ensure children survive. We provide children with healthcare and immunization, clean water, nutrition and food security, education, emergency relief and more.
UNICEF is supported entirely by voluntary donations and helps children regardless of race, religion or politics. As part of the UN, we are active in over 190 countries – more than any other organization. Our determination and our reach are unparalleled. Because nowhere is too far to go to help a child survive.
Visit unicef.ca to learn more about Charity Challenge and sign up for the 2014 trek.