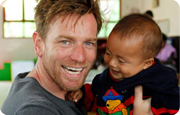 Ewan McGregor
Ewan McGregor is an actor who has had success in such films as Trainspotting, Star Wars and Moulin Rouge. During his motorbike adventure, Long Way Round, Ewan and his friend Charley Boorman visited UNICEF projects in Ukraine, Kazakhstan and Mongolia in 2004; in 2007, they embarked on a second adventure and saw UNICEF's work with child soldiers in Uganda and land-mine awareness programmes in Ethiopia.
Ewan's most recent UNICEF visit took him to India, Nepal and Congo, to make a documentary film called Cold Chain Mission on UNICEF's work immunising some of the world's hardest-to-reach children.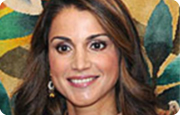 Queen Rania
Her Majesty Queen Rania Al Abdullah of Jordan, an ardent and outspoken advocate for the world's children, was appointed UNICEF's first Eminent Advocate for Children in January 2007.
Queen Rania has long been an active supporter of UNICEF and its programmes in Jordan and around the world. She has accompanied UNICEF to earthquake zones in Pakistan, to learning centres in India, and to schools in Argentina, Brazil and Morocco to emphasize the importance of providing all children – especially girls – with quality education.
In Jordan, the Queen has embarked on a personal mission to enhance the quality of life for children. As president of the National Council for Family Affairs, she championed the National Plan of Action for Children (NPA), which aims at enhancing the quality of life for children by ensuring healthcare, basic education and protection from abuse, exploitation and violence.
In addition, the Jordan Education Initiative (JEI), launched in 2003 and supported by Queen Rania, is an innovative e-learning program that enhances the quality of education through effective use of technology. The initiative has been adopted in other Middle-eastern countries.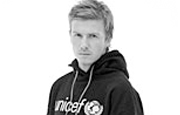 David Beckham
David Beckham has actively supported UNICEF since his days at Manchester United. In 2005 he became a Goodwill Ambassador with a special focus on Sport for Development. He has travelled with UNICEF to see our projects in action, supported our emergency work and added his voice to our global Unite for Children, Unite against AIDS campaign. He saw UNICEF's work first hand in South Africa in 2009 where he visited UNICEF projects supporting children and families living with HIV and AIDS. David also visited Sierra Leone in 2008 where he learned more about UNICEF's child survival work.
David continues to be an active supporter of UNICEF, raising money through fundraising events, supporting UNICEF UK's Soccer Aid activities and helping publicize UNICEF's work in emergencies.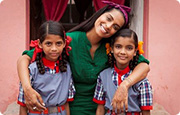 Lilly Singh
Lilly Singh, known primarily through her popular YouTube channel as ||Superwoman||, is an international online personality, actress, comedian and entertainer. She was appointed as a UNICEF Goodwill Ambassador in July 2017 in New Delhi, India, and visited the Madhya Pradesh State where she met with youth in the country who were living in conditions of extreme poverty and were being supported by UNICEF programs.
Lilly participated in numerous philanthropic ventures such as the Youth4Change initiative with UNICEF, and is also very passionate about being a role model for girls all around the world.
Today, Lilly has more than 11 million subscribers, has made numerous television and film appearances, including her own world tour documentary called A Trip to Unicorn Island, and released her novel, HOW TO BE A BAWSE: A Guide to Conquering Life. She will continue to use her platform to support UNICEF and encourage millions of supporters in advocating for the rights and protection of children everywhere.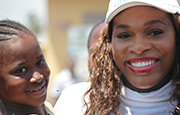 Serena Williams
Serena Williams was appointed international Goodwill Ambassador in 2011. She is one of the all-time greats of professional tennis, having achieved a decade-long dominance of the game. While she is best known for her power and finesse in competition, her generous philanthropic endeavors off the court are just as dynamic.
Williams first teamed up with UNICEF in 2006 when she traveled to Ghana, on her first visit to Africa, for the country's biggest health campaign. During her visit, she joined a team of volunteer health workers who immunized children against deadly childhood diseases, distributed free mosquito bed nets to help prevent malaria and joined local authorities in a demonstration of how to use the life-saving nets.
As a UNICEF Goodwill Ambassador, Williams has used her popularity and personal interest in children's issues to support UNICEF's mission to provide a quality education for the most vulnerable children through the Schools for Africa programme and the Schools for Asia initiatives.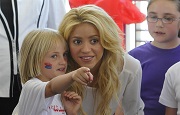 Shakira Mebarak
Shakira Mebarak, world-famous singer and songwriter, is a devoted advocate for children. The singer, known professionally as Shakira, was appointed a UNICEF Goodwill Ambassador on October 24, 2003.
Shakira believes that, as an artist, she has the ability to raise awareness about human rights challenges globally and to spur action against them. "I believe that I have to use the resources provided by my artistic career in order to tell people about real problems in the real world, and I know that I have to contribute to the search for real solutions. I'm sure that our planet will be a better place if each one of us will take responsibility for the needs of others."
As a Goodwill Ambassador, Shakira has expanded her child advocacy efforts on the global level. Through public service announcements and her participation in fundraisers and other events for UNICEF national committees, she has increased awareness of UNICEF's work in areas such as HIV/AIDS, education and child protection.