Join the Movement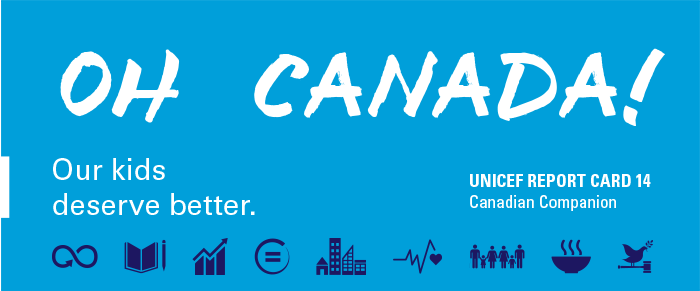 The 2017 UNICEF Report Card Building the Future is the first report to assess the status of children in rich countries in relation to the Sustainable Development Goals (SDGs). It ranks countries based on their performance and details the challenges and opportunities that rich countries face in achieving interdependent global commitments for children, shared economic prosperity and a sustainable environment.
How Canada ranks amongst rich countries
In our Canadian Companion to UNICEF Report Card 14, Oh Canada! Our Kids Deserve Better, we show that Canada does comparatively well in some aspects of child and youth well-being and lags behind in others, ranking 25th out of 41 countries. We bust some myths about what it's like to grow up in Canada: the data reveal that we are not as safe, clean and healthy as some believe.
Canada performs well in indicators related to education, but the widest and most worrying gaps are in child health, violence experienced by children and their own sense of well-being. The inequalities between families in income and food security are alarming.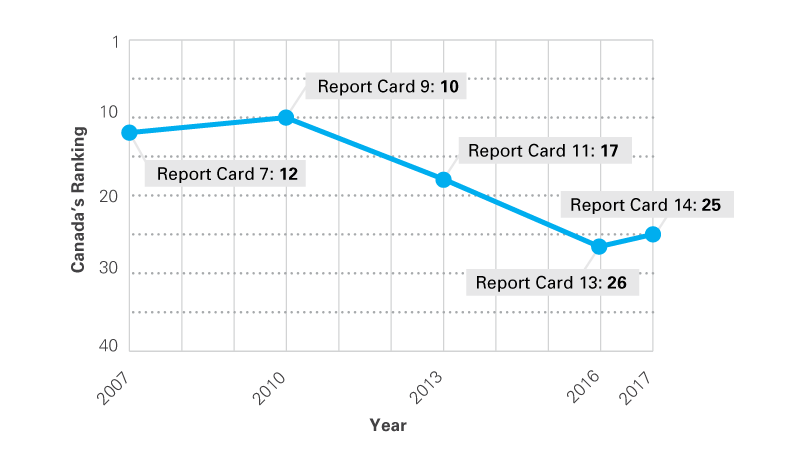 These Indices and rankings are not directly comparable as different indicators and measurement approaches are used, but a number of indicators are consistent and the data reveal some consistent patterns. UNICEF Report Cards 7, 11 and 14 are based on national averages for each indicator of child and youth well-being; Report Cards 9 and 13 measure equality gaps within indicators.
While close to a third of our peer nations have moved up the rankings over time, Canada's middle ranking in child well-being hasn't improved over the past decade, and our progress for children is more tepid than we've seen in previous report cards. Wider income inequality is sustaining high rates of poverty, social competition and stress that affect children broadly and make life more difficult for the poorest.
Canada's rank on the Index of Child and Youth Well-being and Sustainability
GETTING TO #1
No generation should have to settle rather than to dream. What can we do differently to make Canada one of the best places in the world to grow up in? We've highlighted the actions that would have the greatest impact on the well-being of Canada's children and youth and our rankings on the UNICEF Index of Child Well-being. Canada's recent advances in public policy and investment for children, including child-focused income benefits and early child care and education, may create measurable progress in the coming years. Young people want to know how to manage stress, how to help their friends, how to protect the environment and how to eat healthy. They want a say in how programs are designed for them and have a lot of ideas about how to shift resources to address the most pressing challenges. There remains considerable distance to cover to achieve the quality, universal policies that are clearly working in the top-performing nations – and get to the top of the league tables.
UNICEF Canada is taking action to get to number one with the launch this fall of One Youth, a new ground-breaking movement of children, young people and adults that, together, are developing the tools to gain powerful insights into how Canada's children are doing. We've launched a Design Studio to test new solutions to the challenges facing our children. And, we're using our data and design solutions to engage the public and influence decision-makers.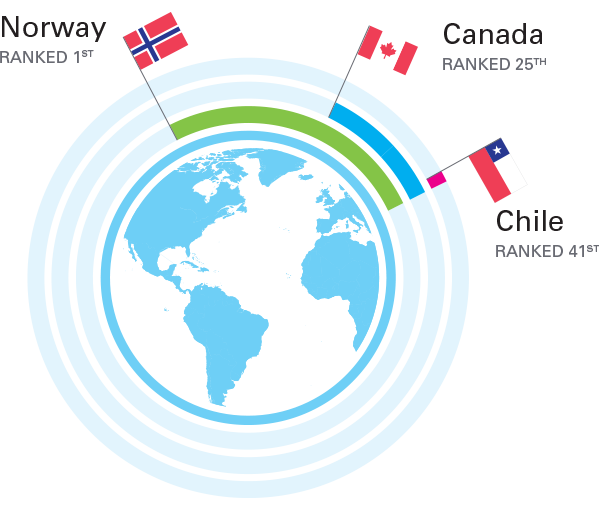 LEARN MORE
IN THE MEDIA
OTHER INFORMATION AND SOURCES