Humming her favourite tune by Bhupen Hazarika, Tarali Das, walks the labour lines, the common name for the areas where tea labourers live, in the Dholla Tea Estate located in Tinsukia District, upper Assam, north east India.
"I have been trying to reconcile my thoughts and actions with this song. I know that things are not good outside because of COVID-19, and we all need to stay home for ours and others' safety. But how can I not do anything when people in my community are hungry and look at me for help or food for themselves and their children," says Tarali.
Armoured with decades of experience as an anganwadi worker (an early childhood educator) today Tarali supervises the Katapung Line Anganwadi Centre (pre-school child care centre), which serves the tea estate's population of 645 children and adults.
Since the COVID-19 lockdown was imposed the situation for daily-wage earners in the tea estate has deteriorated.
"Like any daily-wage earners, tea workers have been affected too. Not working can mean sleeping on an empty stomach," says Tarali.
It could have also meant empty stomachs for millions of children too because the anganwadi centres, closed due to COVID-19, are also places where children receive daily, age appropriate food and nutrients provided by government.
 However, the lockdown closing of the anganwadi centre didn't stop Tarali from providing meals to the 43 children aged six months to three years who she usually sees every day at the centre.  Instead, Tarali and her team have brought the anganwadi direct to families at home.
As she marches along the unpaved paths through the lush green tea estate, passing house after house, Tarali remains focused on her mission. She wants everyone to know that essential services continue and there are things people can do to stay safe, like wash their hands with soap. She also wants to keep routine services like immunization and nutrition at the forefront of parent's minds so that once people start moving around again they also go out for regular health check-ups and monitoring of their child's development.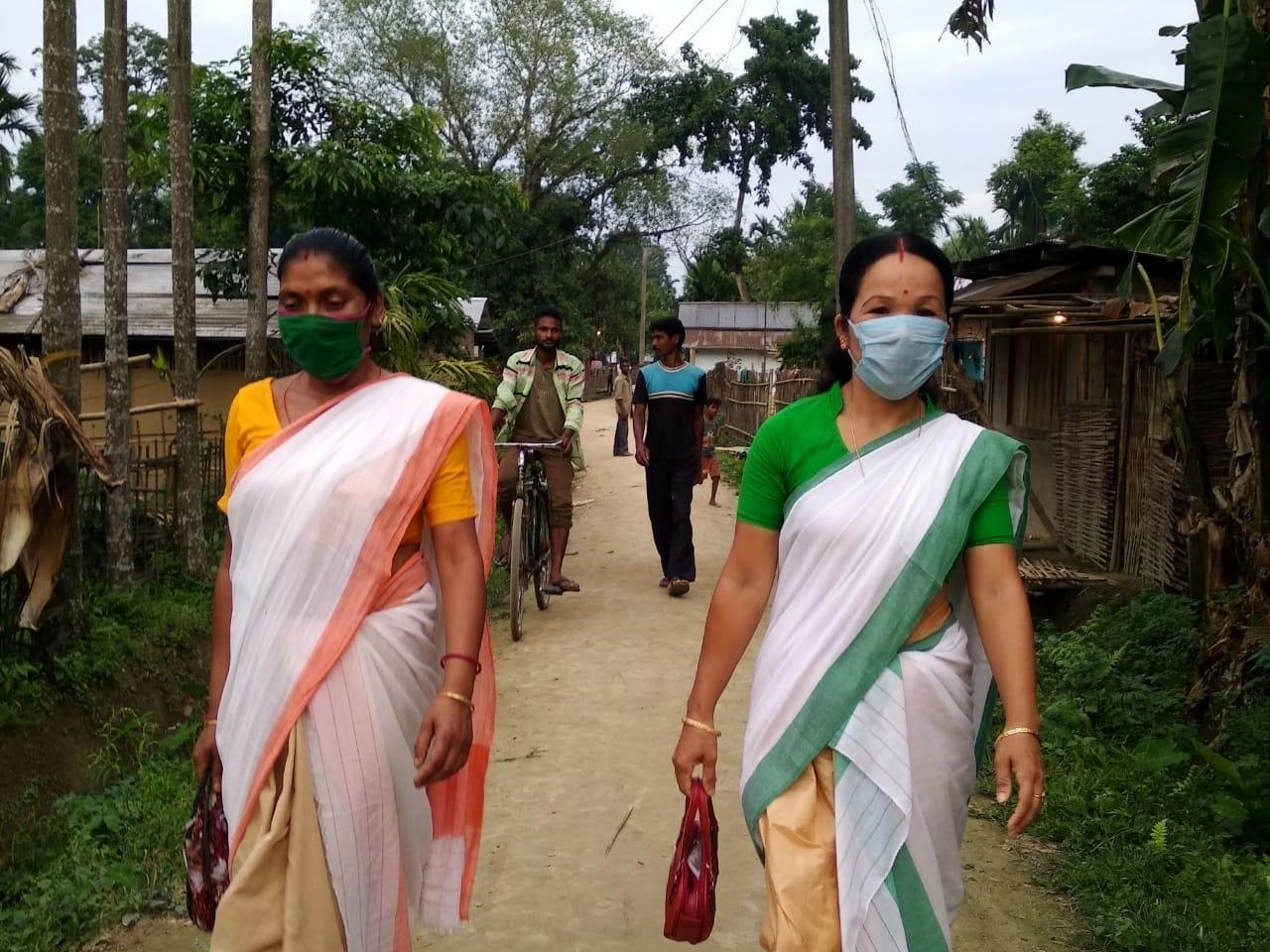 Tarali reaches the next house on her list, together with anganwadi help Promilla Rajput who is carrying the usual anganwadi lunch, not as a hot meal for mother and child, but as a home cooking pack or take home rations.  
 "We are happy that the government is taking care of us and our children through the anganwadi centre and the anaganwadi workers. We received rice, daal (lentil), oil and dried peas," says Jiten Nayak whose five-year-old daughter usually goes to the anganwadi centre
"Tarali Didi (a form of respect) also told us about hygiene measures to be taken during this pandemic. Since this is the season for Japanese Encyphellitis and diarrhoea, she also advised us on what symptoms to check for at home, to call a doctor if the situation worsens and to phone her or inform her when she visits in case of any health concerns," says Jiten.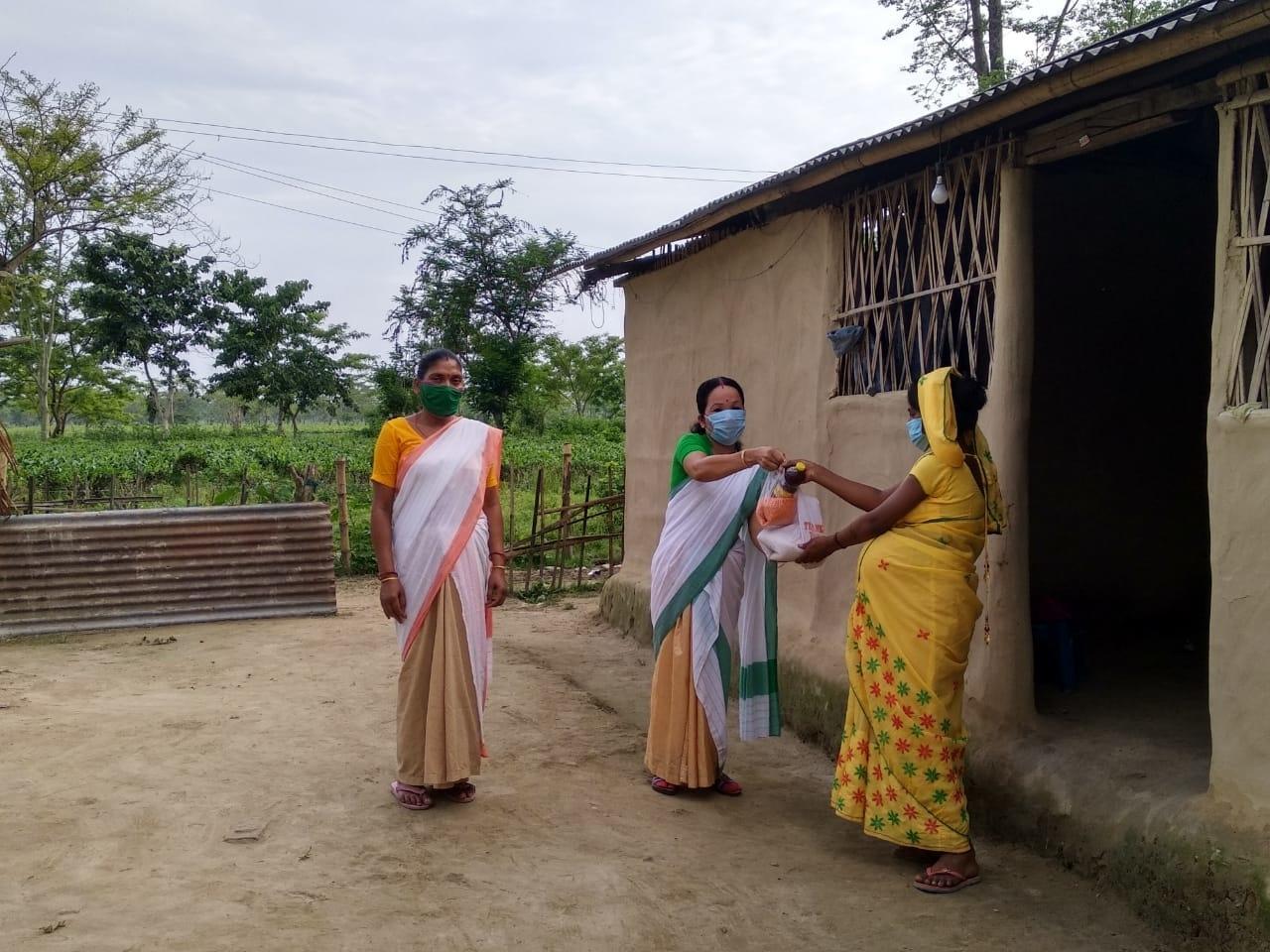 So far there have been no cases of COVID-19 in the tea plantation where Tarali lives and works. The Dholla Tea Estate management have played a vital role. During the lockdown they have been ensuring adequate supply of rations to all households and continuously spreading awareness on sanitation and good hygiene practices. Most of the Estate returned to work on 12 April 2020 and workers practice physical distancing and are reminded to continue good practices like wearing a mask and handwashing with soap.
Dholla Tea Estate is one of only a few tea estates n Assam that has readied a quarantine facility for people returning to the estate from other cities.
"This will help break the transmission cycle, and help the management keep track of suspected cases of viable transmission," says Tarali.
If all goes to plan children will soon be playing and learning together under the watchful eye of anganwadi workers like Tarali, but until then as long as we have frontline workers like Tarali who have transformed from a caregiver to door to door COVID-19 Warrior, there will be hope for every child.
Ethical Tea Partnership support
UNICEF has been playing a key role in ensuring the wellbeing of women and children living on tea plantations since 2010. With support from the Ethical Tea Partnership UNICEF has also engaged with tea estate management and welfare teams to implement programmes on the ground for every child, and communicate the importance of responsible businesses conduct towards building lasting and sustainable businesses.