One of the cheapest, easiest, and most important ways to prevent the spread of COVID-19 is frequent handwashing with soap and water. But for many children and families, basic water and hygiene facilities remain out of reach. 
Forty per cent of the world's population lacks access to soap and water at home, while 900 million children lack soap and water at their school.
UNICEF is working with governments and partners around the world to urgently reach them with safe water, sanitation and hygiene facilities. By the end of April, we have reached more than 11.5 million people with such services and supplies.
We are committed to not only making sure families, health workers, students and teachers have this means of protecting themselves against the virus, but to build back better – to ensure water, sanitation and hygiene is a reality for every child.
afghanistan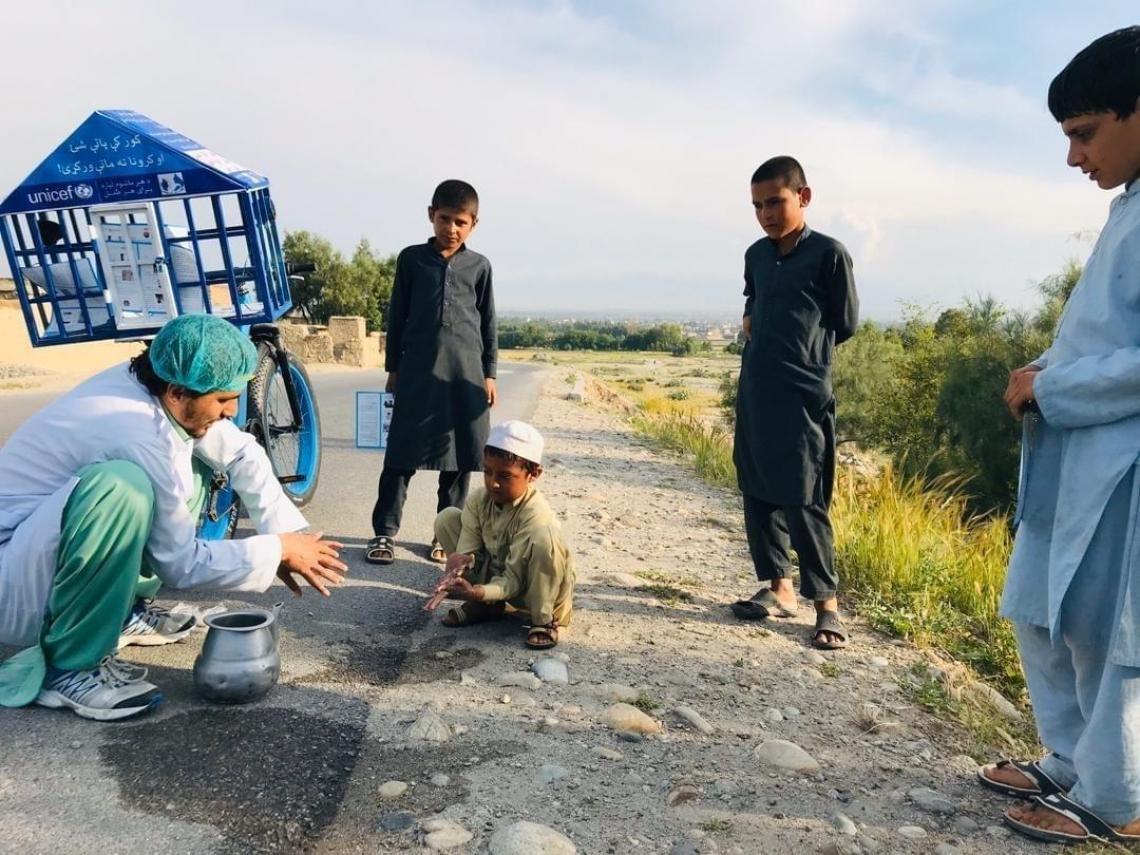 Idress Seyawash, founder of Ketab lwast, a mobile library, travels from Jalalabad city to Behsood District – around 300 km – as part of a 25-day campaign to raise awareness on how to prevent COVID-19 and to promote handwashing among children.
Since the beginning of the COVID-19 pandemic, UNICEF has supplied more than 84 tons of soap to the most vulnerable families in Afghanistan, including an estimated 45,000 internally displaced people, more than half of whom are children. We're also working to support communities with safe water, such as installing a water tank and water filter at Herat Regional Hospital.
Through a UNICEF-supported network, more than 1.8 million bars of soap are being distributed and an additional 6 million are in production.
Bangladesh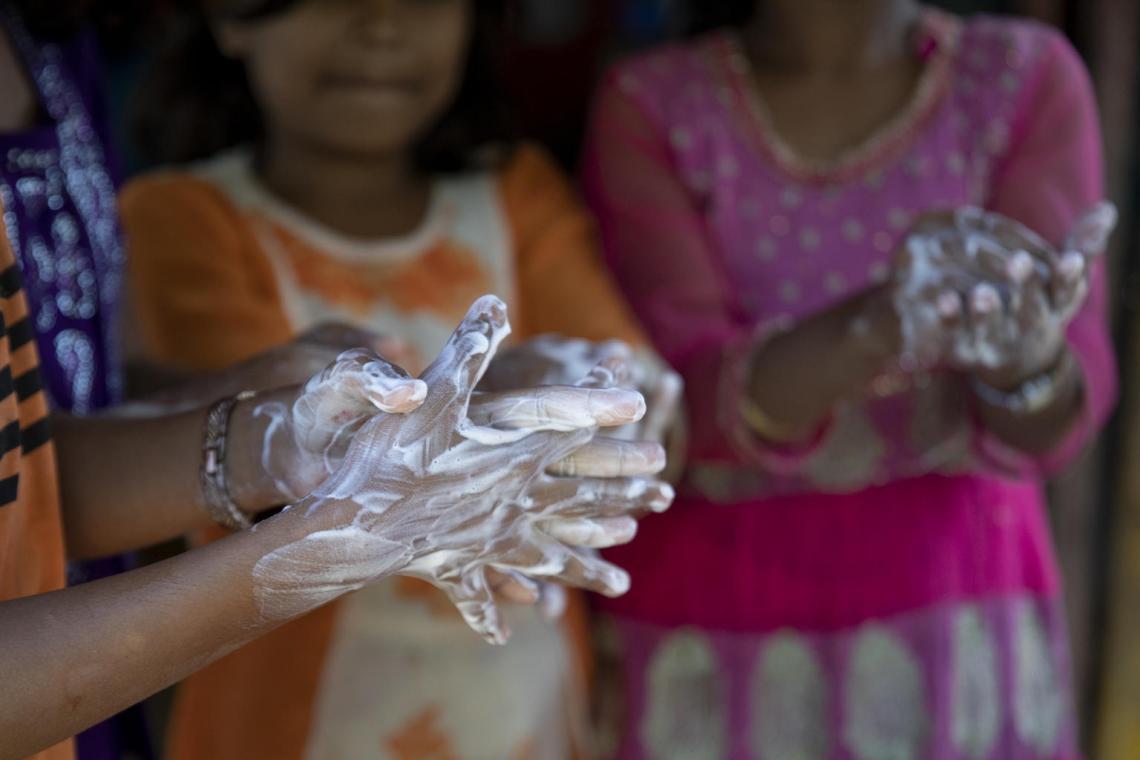 Children wash their hands with soap at a UNICEF-supported learning centre in a Rohingya refugee camp in Cox's Bazar.
The refugee camps in Cox's Bazaar are home to 850,000 Rohingya refugees, over half of whom are children. These densely populated camps are at high risk to COVID-19 infection. As of March 2020, more than 216,000 children in the camps have received hand washing lessons due to UNICEF's efforts.
Côte d'Ivoire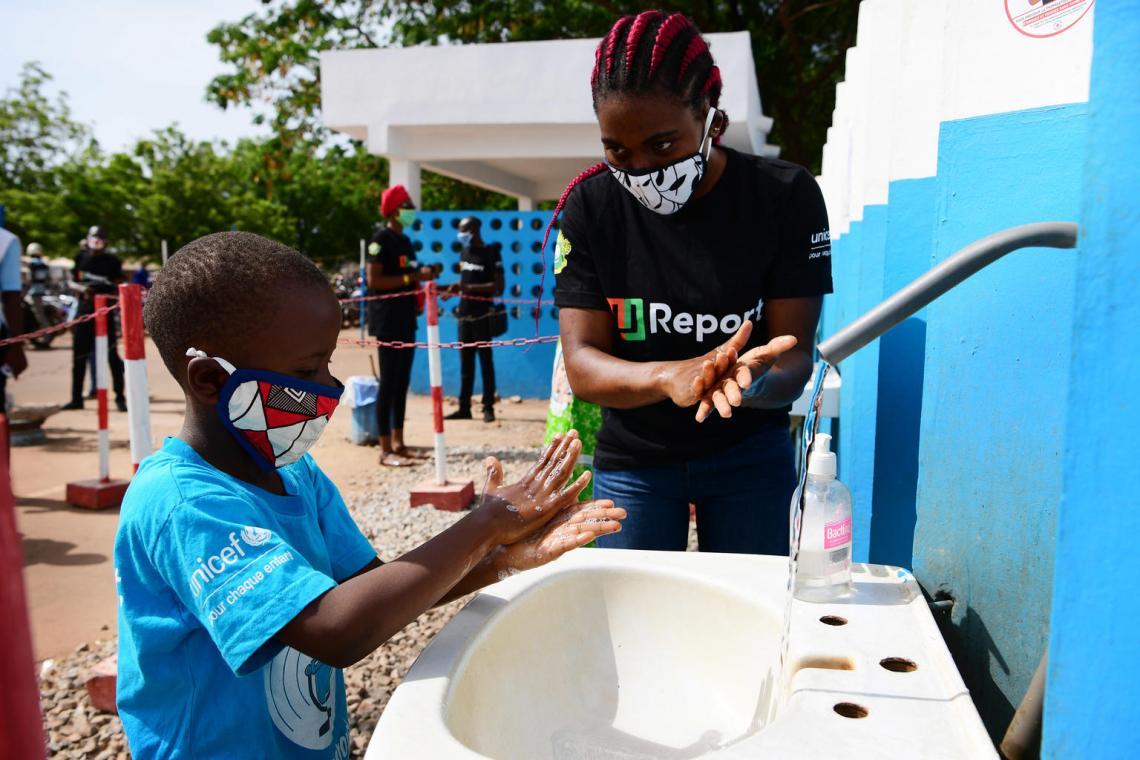 U-Reporters in Côte d'Ivoire are raising awareness about good handwashing practices to help people protect against COVID-19.
As soon as the first cases of coronavirus appeared in Africa, UNICEF Côte d'Ivoire launched a communication campaign in the country to raise awareness of the virus and provide accurate information on how people can protect themselves. The campaign uses various tools, partnerships and platforms, including U-reporters, a dynamic and engaged community of young people ready to take action for positive change. UNICEF is also distributing soap and hygiene kits among local communities.
Jordan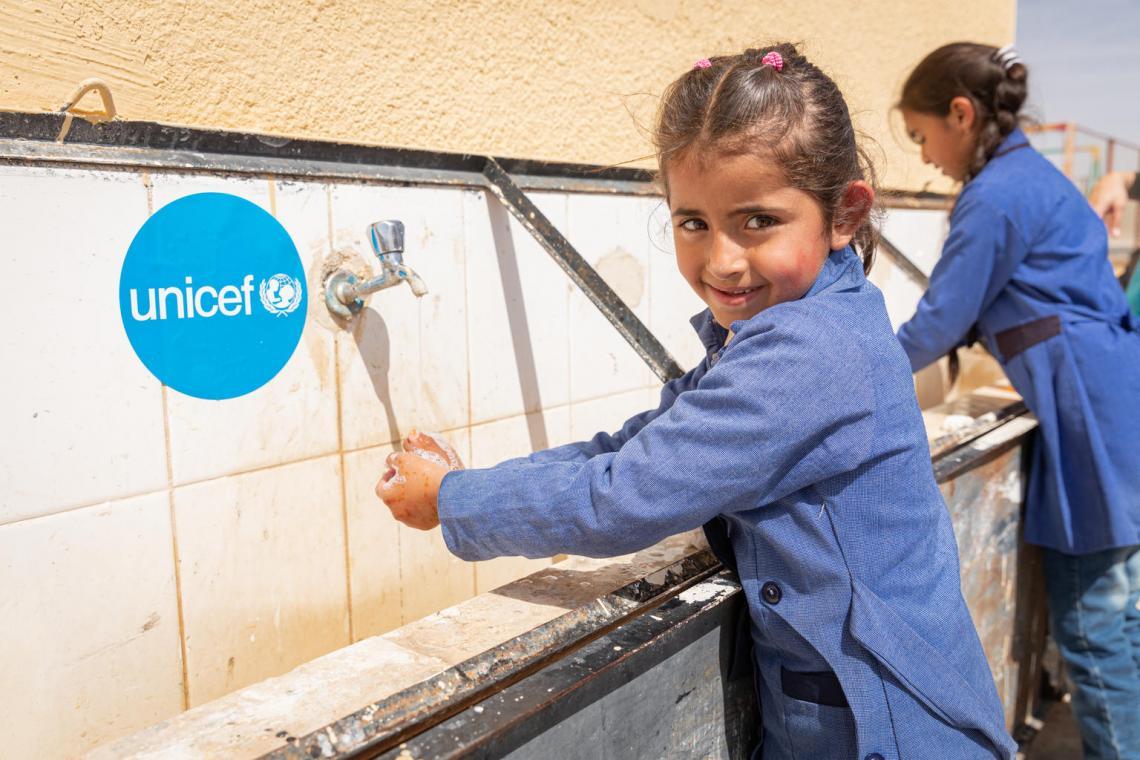 "I wash my hands so germs don't get on them," says Dareen, 6, taking part in a handwashing demonstration at a primary school in Jordan. "Germs can make people sick or even kill them."
Only 33 per cent of public schools in Jordan have access to basic sanitation facilities. Since the emergence of the pandemic, UNICEF and partners have scaled up hygiene awareness and the distribution of soap, particularly in vulnerable communities, to equip children and their parents with the means to protect themselves.
Restrictions on movement in refugee camps have also increased the demand for water beyond existing capacity. UNICEF has mobilized partners to expand water trucking in northern and eastern Jordan to respond to these needs.
Kenya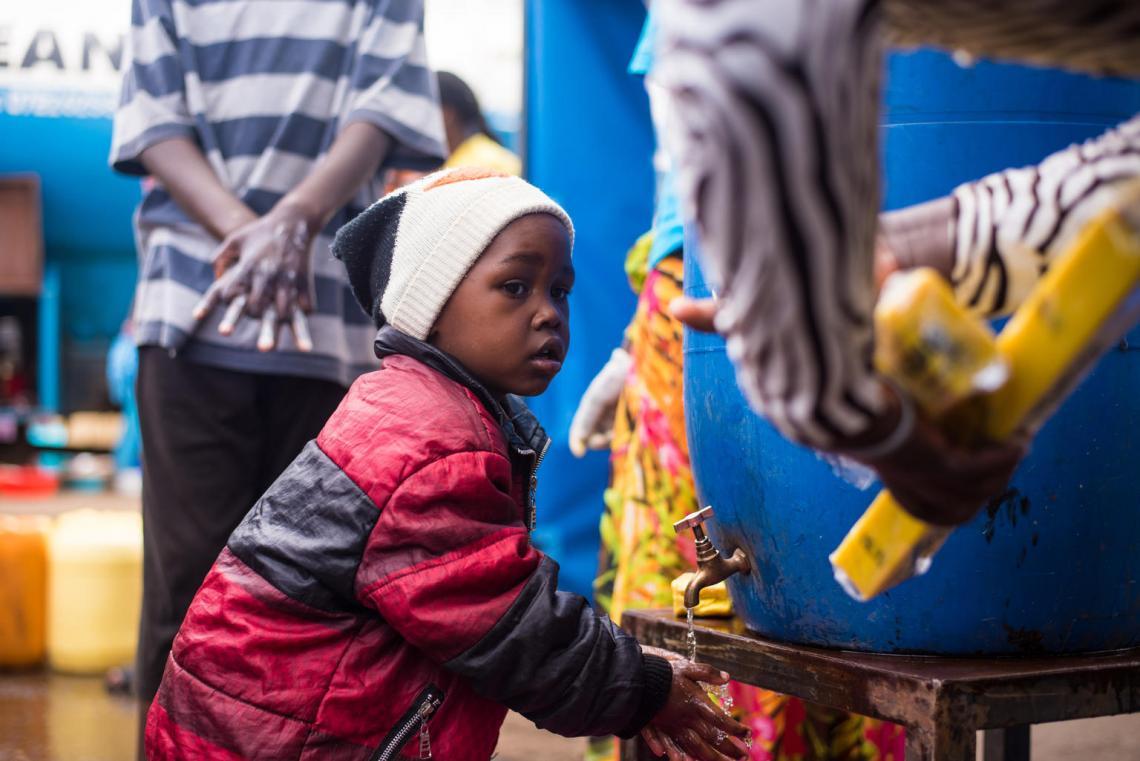 A young boy keenly follows instructions on how to wash hands properly at a water station in Kibera.
UNICEF is a leading voice for children affected by the COVID-19 outbreak in Kenya. At the beginning of April, we supported the Government by delivering water, sanitation and hygiene supplies to Kibera. These included 26,000 bars of soap for vulnerable families and 100 sprayers for disinfecting public spaces.
UNICEF is training community volunteers to spread health messages among the public and providing posters, flyers and public address systems for them to reach their communities.
South Sudan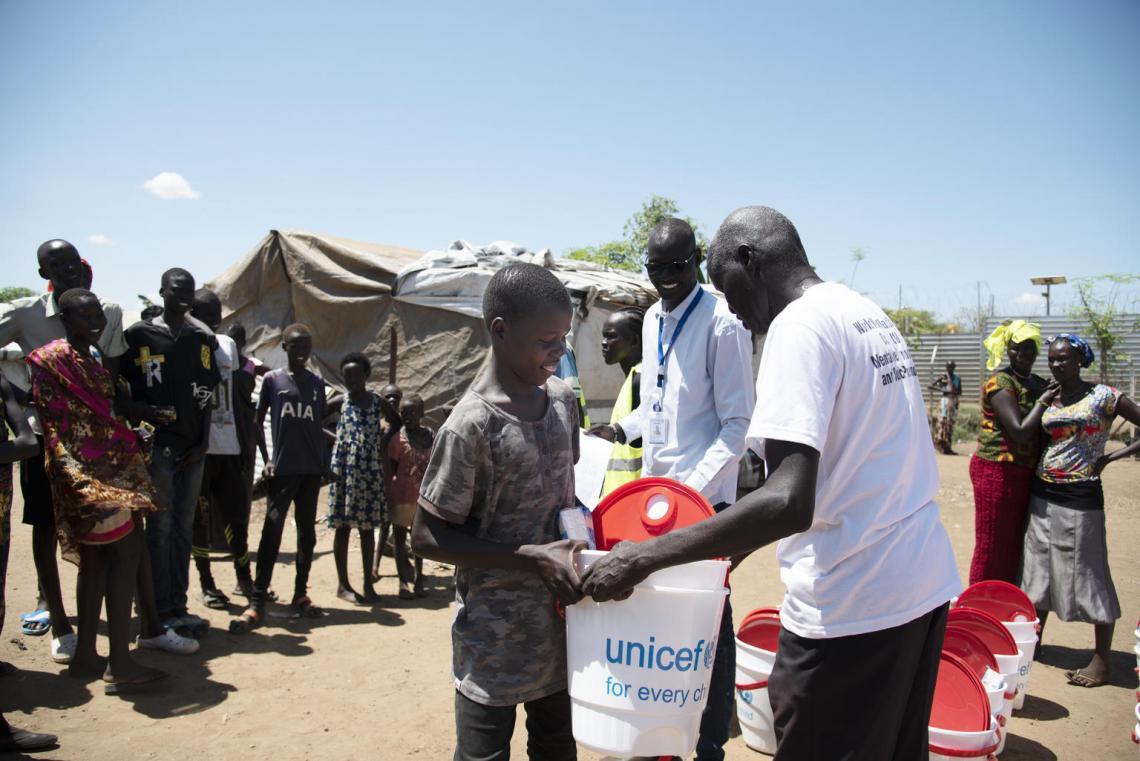 A boy collects buckets and soap that UNICEF and partners are providing to all the residents – approximately 7,500 people – at a protection-of-civilians site in Juba.
Together with the Ministry of Health, UNICEF is training health workers and providing them with personal protection equipment, as well as distributing hygiene items in order to keep health and nutrition facilities running.
Venezuela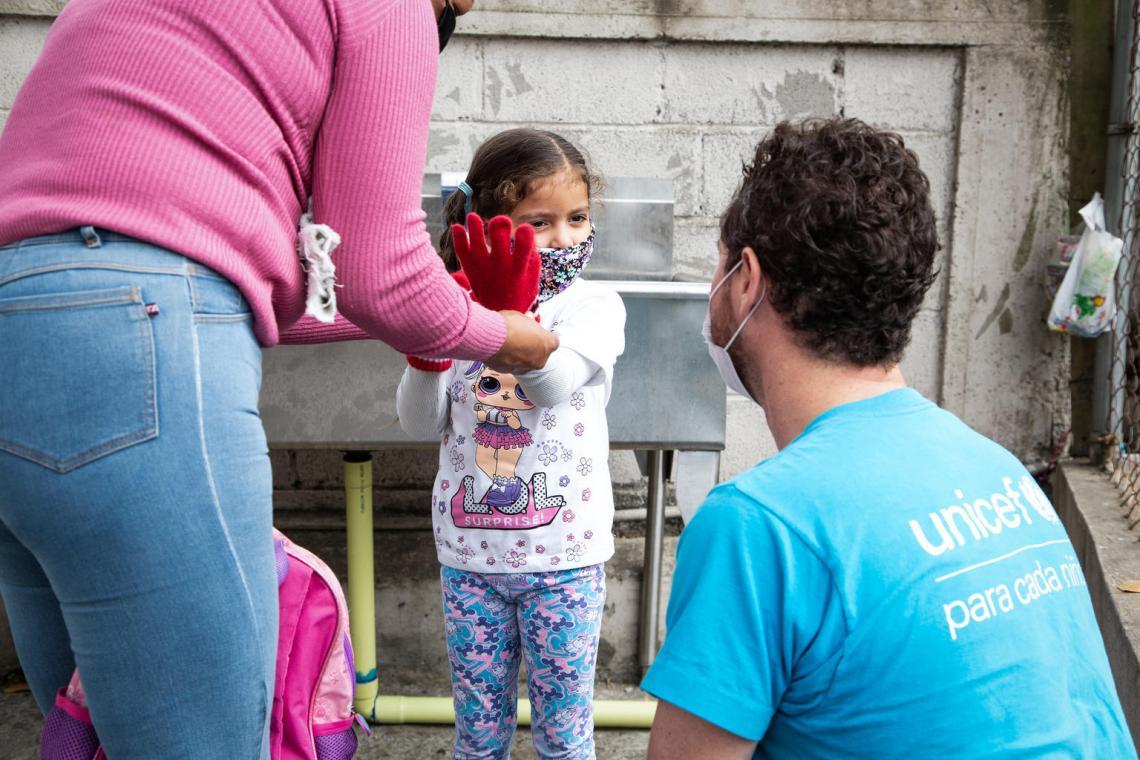 David Simón, Chief of Water, Sanitation and Hygiene at UNICEF Venezuela (right), talks with a girl at a health centre located on the outskirts of Caracas.
Venezuela is facing the COVID-19 pandemic while suffering a major gasoline shortage and a collapsed national water system that has left many homes without running water. To help prevent the spread of COVID-19, UNICEF is helping to repair and install new handwashing facilities at priority health centres, as well as providing critical supplies for cleaning, hygiene and personal protection to more than 65 health care facilities and more than 500,000 people.