Khatera, a 30-year old mother of three, takes the bar of soap.  She admires it as if it is a precious stone and rubs her son's wet hands.
Amid COVID-19 pandemic, UNICEF has supplied more than 84 tons of soap to vulnerable families like Khatera's. This has enabled families to practice proper handwashing with soap for at least 25 seconds.
For Khatera, receiving 12 bars of soap has made all the difference. "I don't have to worry about buying soap for the time being," she says. "Instead, I will use the money, which I would have used to buy soap, to buy food supplies for my children."
Two years ago, Khatera left Badghis, a province northwestern Afghanistan; due to both drought and a deteriorating economy. Khatera's family were not the only ones to leave their village in Qadis district. Many others followed, forced to leave due to one of the worst drought in decades and un-ending conflict in their areas.
It's the question of COVID-19 and her current economic situation that makes Khatera worried. Sitting on a worn-out rug with her child on her knee in a six-metre yard at her makeshift house, she wipes her tears through the corner of her scarf and says, "I am worried for my children."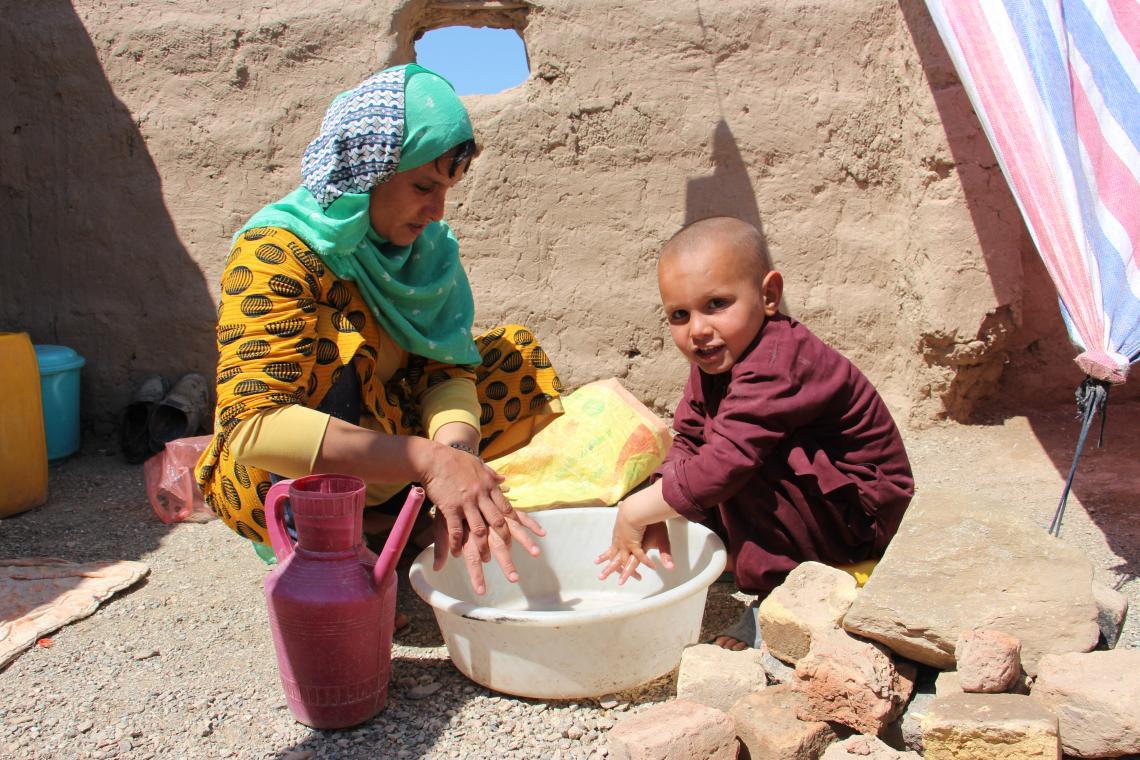 Recalling her life in her village in Badghis, and looking at her reality as an internally-displaced person, Khatera adds: "I am concerned about my children's future and most importantly their health. I can't see them sick. I can't sleep well at night. I wake up in the middle of the night with the thought of the virus and my children."
Khatera's husband has been away from home for the last two months. With limited job opportunities in Herat and his life confined to a tent, he went to Helmand, a province in southern Afghanistan, to find work. "So far, I have not heard from him. Not sure if he is alive or not. I don't even have a mobile phone to call him."
Despite COVID-19 pandemic, UNICEF continues to deliver for children
In Herat's camps for internally displaced people (IDPs), UNICEF is on the ground supporting children and their families. Amid COVID-19 pandemic, UNICEF is conducting awareness-raising sessions, promoting personal hygiene, supplying hygiene kits, including soap, and providing safe drinking water using solar-powered water supply schemes.  This has enabled UNICEF to reach an estimated 45,000 people, more than half of whom are children.
"In Herat camps, people live in crowded tents, sharing washrooms and toilets with limited access to health care and basic sanitation services," says David Igulu, UNICEF Herat Chief of Field Office. "They are some of the most susceptible to diseases, including COVID-19"
"I came to know about the virus and the ways to avoid catching it through [UNICEF] social mobilizers," says Khatera. The last weeks have been exhausting for the mother of three, who didn't have enough soap to wash her children's hands.
On a daily basis, UNICEF supported 52 trained social mobilizers to provide a door-to-door visit to teach families and children how to protect themselves from COVID-19.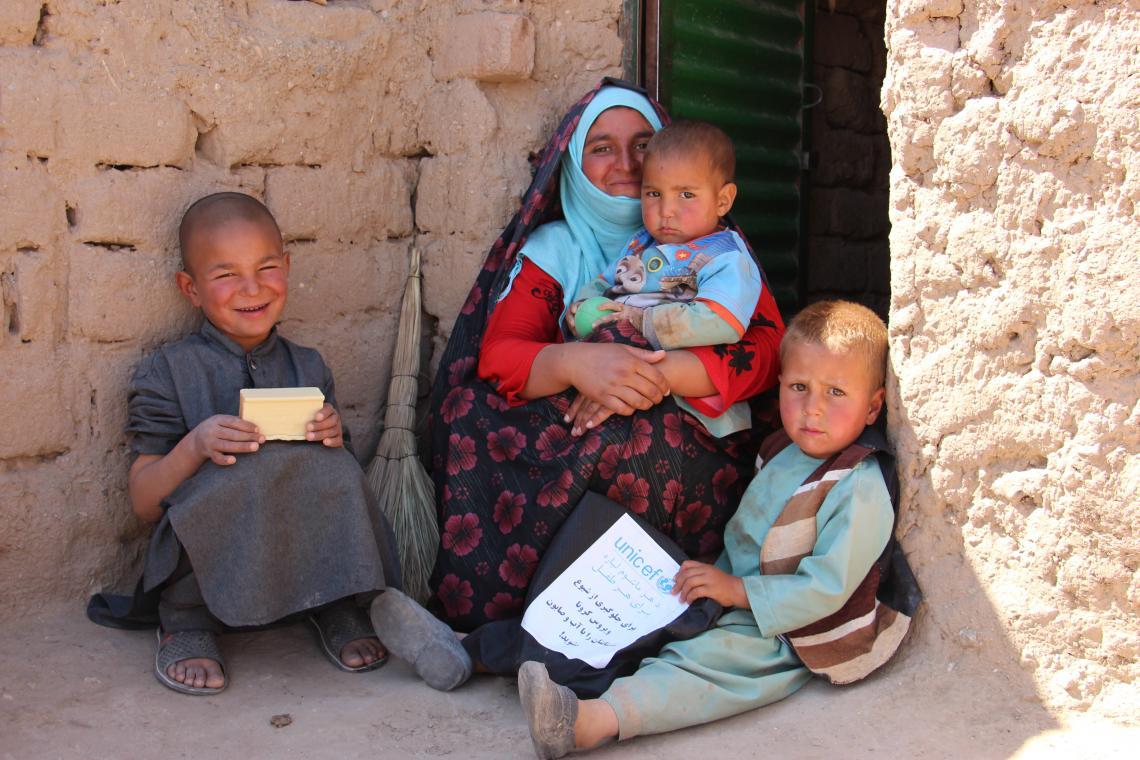 "Each of us visited 30 families each day and asked them not to gather in large groups, to keep their hands clean and other ways to prevent the virus," says Zainab, a UNICEF Social Mobilizer. "But people here can't even afford to buy soap."
"Our children suffer most because they are still young and their immune system is weak," Khatera adds. "We have malnutrition and diarrhea in the camp, and it's still an issue. I am scared if the virus spreads in the camp. God have Mercy on us."
The soap is a simple item that can save the lives of Khatera's children, and many others. Yet, these people cannot afford to buy it as poverty strikes them, forcing them to choose between food and soap.
"I need food for my kids, but also soap and detergent. I just want my children to be healthy, go to school, and get educated, so that their dreams come true. It is good that people around the world have not forgotten us and have given us soap which we can use to prevent spread of diseases including COVID-19. Thank you for your care and love."