"Bring your child for free vaccines tomorrow!" Sokly Ye called out to passers-by as she slowly drove her motorbike down a narrow dirt road lined with ramshackle homes.
It was 7 a.m., and Ms. Ye, an experienced village health volunteer, knew this was the best time to catch villagers at home and let them know that outreach workers from a local health centre would be coming the next day.  After weaving through the streets, she parked and went door to door, speaking directly with residents about the free life-saving services scheduled.  Ms. Ye has been a village health volunteer for 10 years in Svay Pak, an urban poor settlement nine kilometres north-west of the Cambodian capital, Phnom Penh. She acts as an important messenger to this vulnerable community, sharing the benefits of practices such as vaccination and appropriate pre- and postnatal health for mothers, while also encouraging regular check-ups at the local health centre for all family members.  Around 5,000 people live here. A third are migrants from rural areas in search of work. They live in informal settlements composed of small wooden houses with tin roofs squeezed tightly together. Most are packed beyond capacity with inhabitants, including many small children.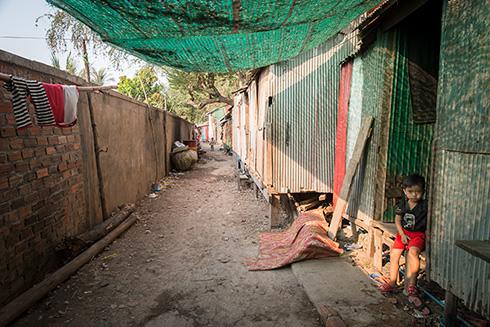 Because these settlements are typically illegal and unorganized, they are not registered with the municipality and therefore receive no public services. Clean water and electricity are supplied by private providers, which are more expensive than public lines. In such communities, there is neither proper drainage nor garbage collection, resulting in a dangerous situation of poor sanitation and hygiene.  Diarrhoea, pneumonia, dengue fever, skin infections and malnutrition are commonplace, particularly among children.  Barriers to care A 2014 UNICEF assessment showed that of Phnom Penh's population of 1.6 million, a quarter earn less than US$1.60 a day – many of them migrant workers like those in Svay Pak. These economic hardships mean disadvantaged communities are disproportionately affected by disease. In Cambodia's poorest households, only six of 10 children are vaccinated, compared to nine of 10 in the wealthiest homes.  At the local health centre, villagers need to pay around 2,000 riels or US$0.50 for administrative services (the vaccines themselves are free). Those classified as 'very poor' by local authorities are entitled to free health care. But without legal documentation of residency, migrants cannot claim this benefit.  Chanreourn Meas and her husband migrated from the eastern province of Prey Veng four months ago. They live with siblings and work as garbage collectors. The 27-year-old mother says her family simply cannot afford to wait at the health centre.  "Every day we earn between 10,000 and 20,000 riels (US$2.50 to US$5) and can only cover the cost of our food; we cannot spend time at the health centre as we must go out and work," she says.  Many villagers have limited knowledge of public health services, and are unaware of what is available – and affordable – to them. Parents often do not know the vaccines their children need and when to get them.  That is why the work of Ms. Ye is so important.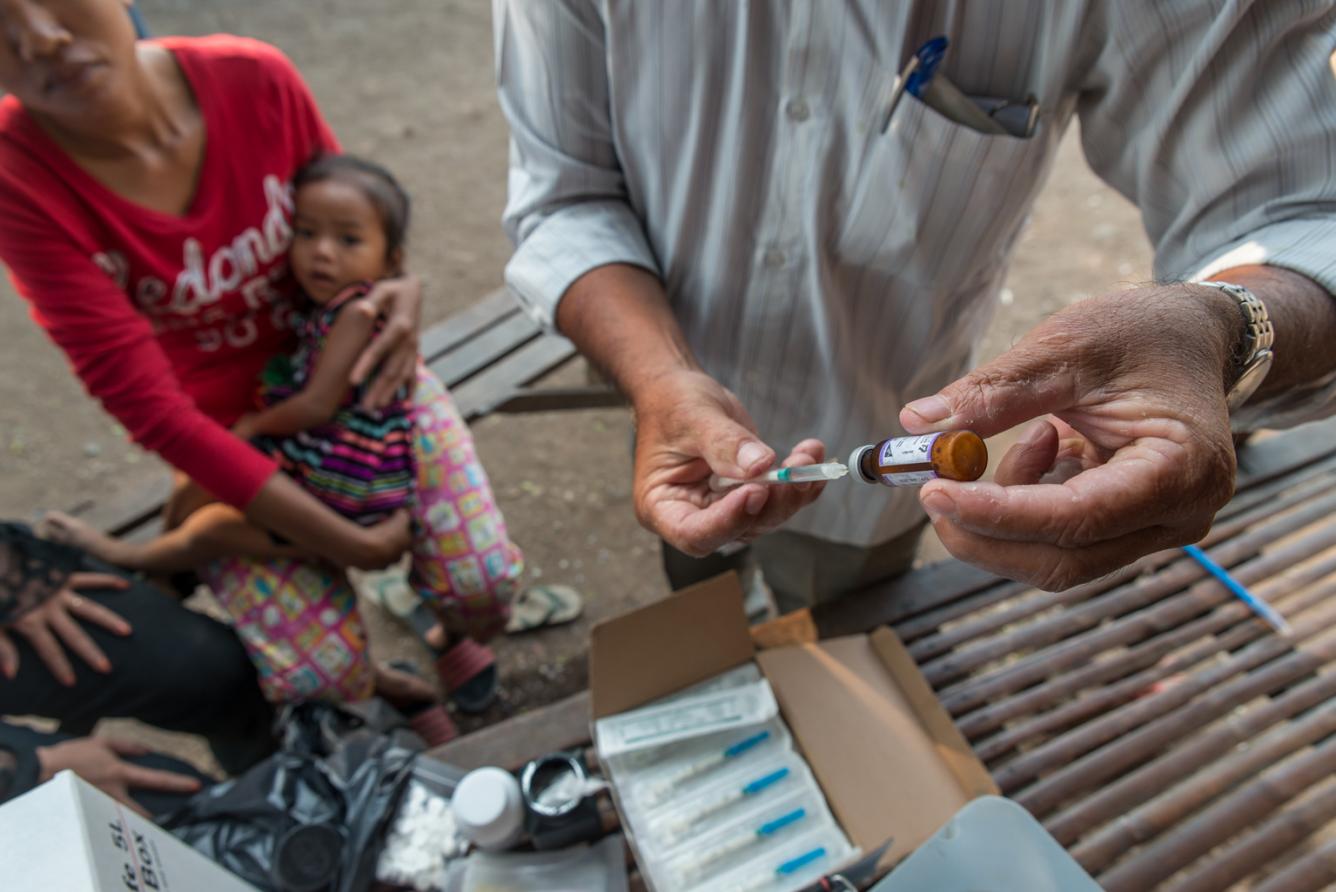 Vaccination day Early the next morning, Ms. Ye arrives to the meeting spot in the village where the vaccines will be administered, next to the community's Kilometre Nine health centre. "I know the mothers will come," she says with confidence.   She's right: shortly before 8 a.m., women start arriving with children on their hips. Ms. Ye greets them as two health workers drive up on a motorbike with a box of medical supplies. The session starts immediately as the health team knows villagers are anxious to get started on the duties of the day.  A three-month-old baby receives two drops of polio vaccine, a seven-month-old cries after getting a shot for measles and a one-year-old boy smiles after swallowing a vitamin A tablet.  Their mothers also receive tetanus shots. Two hours later, more than 20 people have been treated. Ms. Ye is happy, as are the health workers. "It was as successful as we hoped!" she exclaims.
Since 2011, UNICEF has worked with the Phnom Penh Municipal Health Department to improve newborn and child health services, including vaccination, in urban poor communities. This includes training health staff and village health volunteers to conduct face-to-face educational sessions and outreach activities. Efforts to boost vaccine coverage are complemented by a host of activities to strengthen children's overall wellbeing, such as education about proper nutrition and feeding practices to curb malnutrition, and behaviour change campaigns that inform caregivers about the dangers of pneumonia.   UNICEF also supports the Ministry of Health to organize outreach sessions in remote or disenfranchised communities at least once every quarter, like the services in Svay Pak.  Cambodia's national immunization program covers 11 diseases, including tuberculosis, hepatitis B, polio, measles, and tetanus. Children are scheduled to get them six times within the first two years of life to be fully immunized.
You can help UNICEF provide life-saving immunization support to children around the world. Send a child a vaccine pack today.