Children On the Move blog series: An Act of Humanity for refugee children
Some stories were never meant for children. Take Ivine and the Pillow, for example. It desperately needs a "happily ever after" – but we are not sure how this little girl's story will end.
It's hard to believe that tens of millions of children like Ivine are on the move globally. Their lives have been shaken by war, conflict, climate change and poverty. They dream of going to school, playing with their friends and having a safe place to call home.
Every day, everywhere, people are helping refugees with small acts of humanity. These acts of kindness are making all the difference in the world to individual refugee and migrant children. UNICEF wants to showcase these #actofhumanity to inspire others to take action to ensure that every child feels welcome, safe and cared for.
For every child, a fair chance. For every child, an #ActofHumanity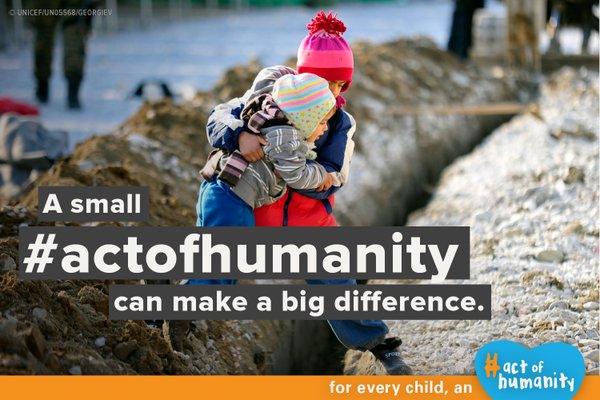 Join us to inspire the world with an #ActofHumanity.
Here are some ideas on how you can help:
LOOK: If you notice an act of humanity, share it on social media with #ActofHumanity.
HELP: Contribute to projects for refugees, like making a donation to help Syrian children in Syria or neighbouring countries.
LEARN: Keep informed about the refugee and migrant crisis and share what you've learned with others. Knowledge is the first step to empathy.
For more ideas on how to help refugees, click here.
No matter where they are in the world, when refugee and migrant children reach their destination, it is the beginning of another journey, not the end of the road.
Every #ActofHumanity helps.
More in the Children on the Move Blog Series
Categories:
Geographic Regions: