Over the past three years, the economic crisis in Venezuela has led hundreds of thousands of children and adolescents to leave the country with their families to migrate to other countries in the region, mostly to Peru and Colombia. They set out on the journey in difficult conditions and weary of the discrimination and xenophobia they might face in some places along the way.
Long days on foot, saying goodbye to relatives, experiencing new places – this is the life of Venezuelan children and adolescents who leave their home full of hope for of better tomorrows.
Throughout their trip, and at destination, UNICEF is on the ground to ensure access to child protection services, education, holistic health and nutrition support and WASH services.
A Suitcase Packed with Hope
It took two weeks for 10-year-old David to get from Venezuela to Peru, together with his family. During his journey, he held onto his dream of playing football
David Caña didn't know a lot about Peru before he set off. At ten years old, he was only just aware that Peru's national football team had done well at the last World Cup. They played really well against France and should have won," he says. When his parents told him that it was time to go to Peru, the first he packed in his suitcase was his Barcelona football jersey, the captain's number 10 with the names of UNICEF and Lionel Messi.
For his parents, leaving Venezuela, saying goodbye to their family and making all the necessary preparations, was both heartbreaking and hectic. It was not easy for David, either. That is why he held onto his beloved jersey: it is more than simply a reminder of his favorite sport. For David, the jersey it represents the memories of a happy childhood, which he shared with friends from school and his football club in the now faraway Maturín, in Venezuela.
It also carries his hope of one day playing football for Peru, where he has just arrived after a 15-day journey with his parents and brother. Exhausted, he remembers how hard it was to leave everything behind:
"When we started the journey, classes had already ended and we were on school vacation. In the weeks before we left, I had stopped going to football practices because it was hard to find transportation. I had to leave without saying goodbye to my friends. It makes me sad because we played together since we were very little," he says.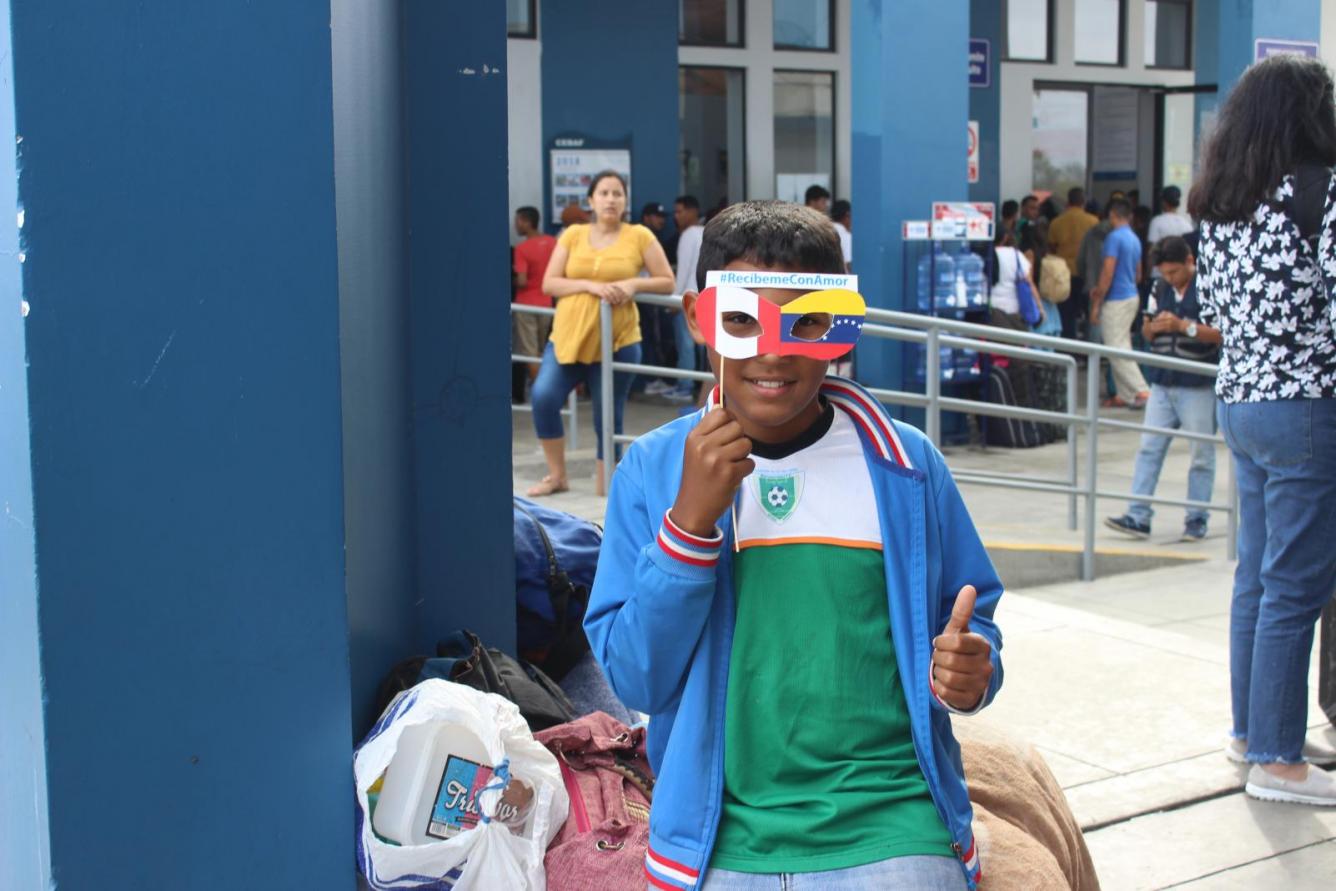 The journey out of Venezuela
The journey has left David heartbroken. At his young age, he already knows how hard it is to leave loved ones behind without being able to say goodbye
This feeling also comes through when he talks about his parents. It hurts him to think about everything they have sacrificed for him. "My dad had a really nice car. We went in that car from Caracas to Zulia, where he had to sell it to pay for the journey here," he says.
David and his family's journey was a long one. In a survey conducted by the International Organization for Migration (IOM) and UNICEF, 81 per cent of Venezuelan migrant groups arriving at  Tumbes with children had taken between one and seven days to get to the city, which is located on Peru's northern border with Ecuador. The other 19 per cent had longer journeys, which increase the vulnerability of travellers, especially children and adolescents.
According to the survey, 6 out of 10 children were emotionally affected by the journey. Fears of getting lost, changes in appetite, crying and headaches were their most common symptoms.
Despite the days-long trek along the highway and the long lines at the border, David isn't discouraged.
---
"The first thing I'll do when I get to Lima is thank God, go back to school and get back into football." 
---
Arriving in Tumbes, Peru
In Tumbes, David has found a space to draw and distract himself while his parents wait in line for hours to get a permit to enter Peru. The "Happiness Plan" tent is a child-friendly space set up by UNICEF and implementing partner Plan International for children like David to play and find respite from the stressful journey. While his parents complete the migration paperwork, David finishes his drawing and plays in the tent, wearing a mask which has the Venezuelan flag beside the country that now receives him.
Just before saying goodbye, David imagines the happiest day of his life, saying that it will be "A day just like this one, where they're interviewing me like I'm being interviewed now, but it will be because I'm a famous football player. Everyone's there: my parents, my brother, friends, and my relatives who are waiting for us in Lima."
David doesn't know where they'll end up in Lima. He only knows that he'll be greeted by his father's family, who arrived a few months ago, that he wants to play football again, and, no matter what happens, if he's with his dad, mum and brother, everything will be okay.
He has changed country, but his dreams remain the same.
Your donation today to UNICEF Canada's Emergency Fund, enables us to be there for children such as David, and deliver lifesaving supplies to the most vulnerable children almost anywhere in the world within 72 hours.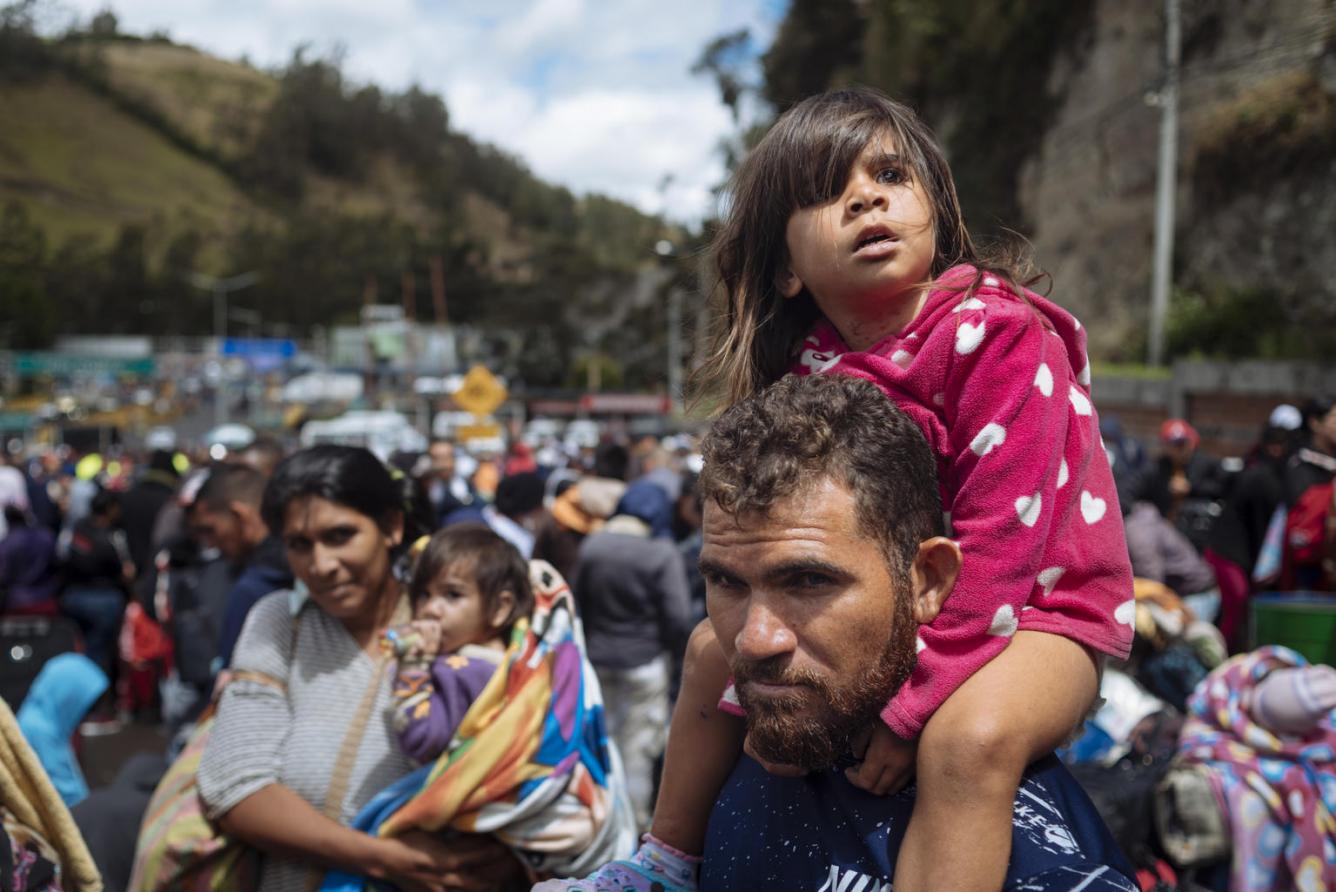 How do migration flows in Latin America and the Caribbean work?
Countries in Latin America and the Caribbean are hosting at least 2.4 million Venezuelan migrants and refugees out of the 3 million Venezuelans migrating worldwide. As of late 2018, UNICEF estimates that over 460,000 children in Brazil, Colombia, Ecuador, Guyana, Panama, Peru and Trinidad and Tobago require assistance.
Those in need include Venezuelan migrants and refugees, host communities and non-Venezuelans returnees. The high and unpredictable migration flows are stretching the capacities of host countries and increasing demands on already limited services and structures at the host community level. Women and children, particularly unaccompanied children and children with disabilities, as well as indigenous groups, are facing risks of violence, discrimination, trafficking, exploitation and abuse.
Read more on our funding requirements to address migration flows in Latin America and the Caribbean.