Jessica is originally from the Republic of the Congo and grew up in Côte d'Ivoire. She recently arrived in Canada to pursue her Master's degree at the Université du Québec en Outaouais.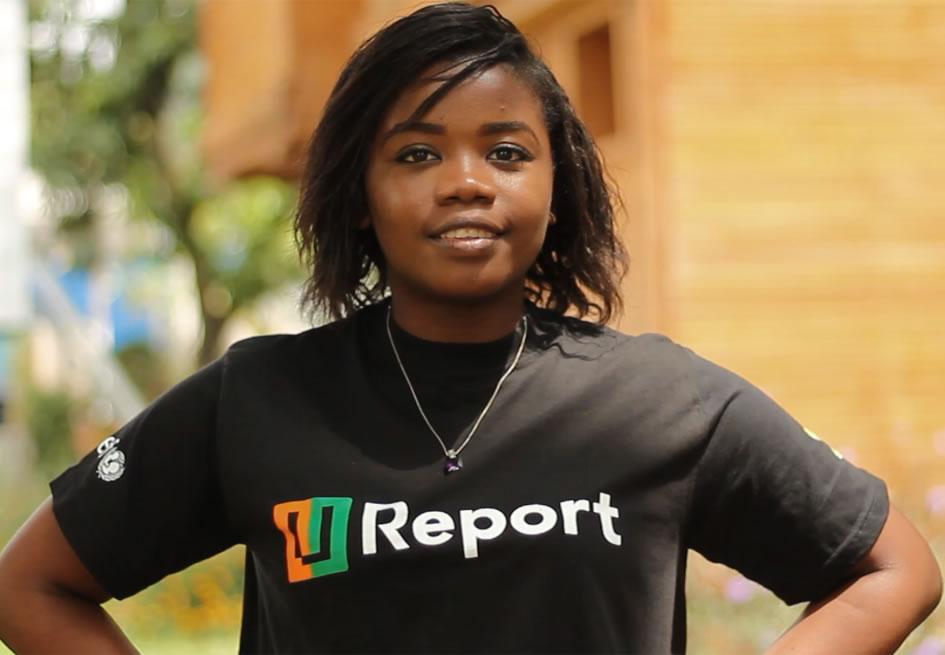 Growing up in an African country as a young person, and especially a young girl, I witnessed many situations, but I had no way of speaking out because of fear of reprisals. As such, I was in search of a way to make my point of view on my community heard.
Through my participation in Voices of Youth — a citizen leadership programme in which UNICEF is a partner— I heard about U-Report. I became interested in the programme and was won over by its mission.
Having my opinion heard and taking action my way to advance change
For me, being a U-Reporter is a dream opportunity that assures that my opinion doesn't stay locked away in a closet, but is heard and taken into account at all levels: political, economic, environmental, cultural, in sports, etc. It is also a commitment towards my community. It's being able act in my own way to advance change by initiating activities with other youth in my district to improve our living environment. Being a U-Reporter is a privilege that provides me with access to information on employment and puts me at the forefront of the elaboration of strategies that affect me directly.
Since the start of my time as a U-Reporter in January 2017, I have learned so much, and feel that I have grown both professionally and as a person.
I've had the opportunity to participate in many events, including ICASA 2017 — an important international conference on AIDS, where I served as a youth representative for UNICEF. I was a panelist on behalf of UNAIDS and a moderator of a session with UNFPA Country Representative Argentina Matavel.
I've also participated in workshops where I got to meet many health and education specialists, the very people who are working to improve the sanitary and education conditions of young Africans. I even had the honour of meeting Fatoumata Ndiaye, the Deputy Executive Director of UNICEF.
Today, I collaborate with several NGOs to solicit their experience for improving certain situations.
All of these encounters have allowed me to become more aware of the realities affecting different sectors of the population, to give my perspective as a young woman on the advancement of issues and to participate in decisions aimed at improving our living conditions in terms of the environment, health, education, etc.
"As a woman, this programme has changed how others perceive me. I have been able to gain the respect and consideration of my family and community."
I have easily mobilized people to help organize social activities that have had a big impact.
I have learned, amongst other things, about harassment and I realized that many women are victims, but aren't cognizant or don't dare to speak out because they don't know that there are state structures in place to help us address this issue, which can ruin lives.
Thanks to U-Report, I have become a woman who is more proactive and courageous. I can see things in another way and try to resolve problems right away.
I have been able to use survey results to help women and men in my entourage understand to what extent things are catastrophic and how they can make changes, even on a small scale, because we are all actors in our own change.
Every young woman and man is of paramount importance in the development of her/his own community.
Why should young Canadians participate?
I encourage young Canadians to join U-Report because it will help them have greater visibility and understand that their voice is important and useful in achieving a daily life that is at the height of their expectations.
Through surveys and live chats, they can learn about, and discuss anonymously and without taboo, issues such as employment, sexuality, entrepreneurship, health, agriculture, and more.
This platform allows you to ask questions on topics you don't know about since many youth need answers to their questions but don't know where to get the right information.
For each youth who is part of the movement, it's possible to receive help for particular situations and, more than anything, to denounce violence and abuse that many remain silent on.
It's easy to create a network with the other youth in the movement and put in place social actions that respond to the needs of our community.
As a young adult, I remain convinced that such a movement and the launch of genuine initiatives can lead young Canadians to eliminate many of the ills that undermine their daily lives.
Join the U-Report community today!