Getting Cash Directly to Yemeni Families In Need
---
Crippled water networks. A health system on the brink of collapse. Years of traumatic violence. Spiralling inflation. Reaching Yemen's most vulnerable children was no small feat as we entered 2020, and the COVID-19 pandemic has only made the situation more daunting. But thankfully, Sara Beysolow Nyanti is not one to back down from a challenge.
About 20 years ago, Nyanti returned from America to her home country of Liberia, where she headed up HIV/AIDS prevention efforts for the Global Fund. This kickstarted Nyanti's humanitarian career, which also saw her leading the Ebola response for UNICEF in Nigeria and serving as the UNICEF representative in Gambia during a time of political upheaval. In 2017, she became the UNICEF representative in Yemen, two years into the country's civil war.
It was here that Nyanti established a massive cash transfer program, which provides more than 1 million families – about 9 million people – with money for essentials. Not even COVID-19 has been able to derail these lifesaving efforts, and as Nyanti wraps up her assignment in Yemen, her team is well-positioned to continue getting cash to families in crisis. She recently spoke with UNICEF USA about her time in Yemen, as well as what may come next.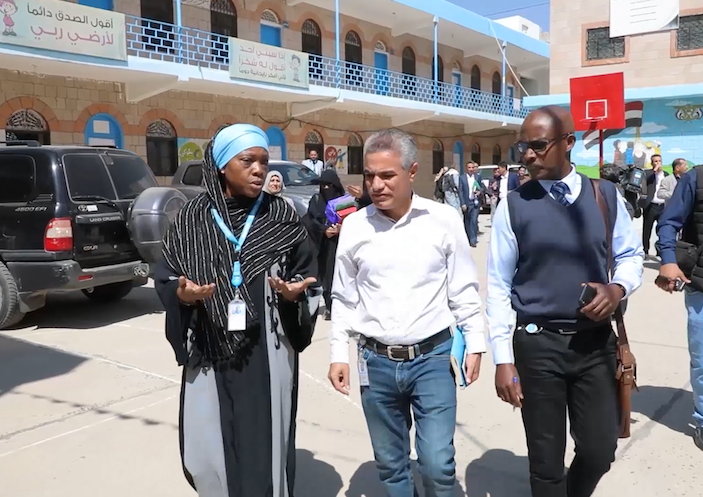 Can you tell us a bit about how the cash transfer program was first implemented?
"I joined the Yemen office with the daunting task of being given three days to leave Gambia to come over to Jordan to set up the project management unit that was to pay cash in Yemen for 1.5 million beneficiaries across all of the 333 districts. We had about two months to do that, which honestly seemed impossible, Yemen being a country with over 30 conflict lines at any given time.
And having to pay cash in envelopes in Yemen was, for me, one of the wildest things I had ever heard. But the World Bank and UNICEF agreed to take that risk, to look at how we could get cash to those families. 
The background to that was the Yemeni government, prior to the conflict, was using its own fiscal space to pay a social safety net, known as the Social Welfare Fund, for families. You had the elderly, you had disabled people, the Muhamasheen, who are the socially and racially discriminated group in Yemen – all of them were beneficiaries.
So with the conflict, these families were no longer receiving that amount of money. So UNICEF had to step in to set up a parallel system. And that's where my journey in Yemen started. With the phenomenal team that we've put together, we were able to make the first payment in August 2017 to over 1 million families. That payment system has remained until today, and it's now being seen as the best risk-informed fiduciary management system within the operations in Yemen."
And what does it mean for families to receive these direct cash payments?
"You know, I'm really happy you asked that question. I was just talking about how empowering cash is and how disempowering some types of delivery mechanisms for aid are. There are so many stories of families who opted to use the cash, for example, to buy medicine. Some opted to buy food, some opted to use it to get a loan.
Because they now had predictable funding, they could plan and say, "I will take this much of a loan against my emergency cash transfer slip that demonstrates the fact that I'm a beneficiary, and I'll use that to do my business." We had somebody who made a payment on their sewing machine and started their sewing business. I tell another story all the time about this man who took his wife on his back and said that he wanted to take her to get these benefits. He was going to the pharmacy because this was the first time in years he would be able to buy her medicine himself without begging.
We have so many stories of empowerment that just melt your heart because you just realize that even when this person is disenfranchised and poor, they still want the same things you want. They still want to provide for their families. They want to be empowered to be what they're supposed to be in this world, in this community, in this household. With a little bit of cash, the majority make very smart decisions."
What impact has COVID-19 had on the program?
"The challenge of choice becomes more difficult. There are more things people now need. They probably look at water and soap differently than they did before. They probably will have less social engagement, so people will be more skeptical of community efforts in the wake of COVID-19. You lose a lot of the community support mechanisms because of initiatives to manage the disease, which means families are moving further away from us. So COVID-19 has further exacerbated a very, very deep problem in Yemen.
We also have to mitigate for COVID and mitigate for inflation with cash payments, and see how best we can help these families to cope. I think anything we can do to increase the threshold for the emergency cash transfer will be useful. It started out as being about $50 USD. On any given day, we don't know what that would mean, in terms of the exchange rate. The rate fluctuates because of COVID-19, and issues around fuel shortages and stoppages of vessels. So to give you the value of what that cash could be will be difficult for me to say, but it has been depreciating over time. We have to mitigate all of that."
As you and your team have been dealing with the pandemic, are there any lessons from the Ebola response that you've been able to apply here?
"Oh, for sure. Bill Gates's TED Talk he did in 2015 resonates with me, because I don't think we've learned enough from Ebola. I don't think we took the experiences of Ebola far enough in terms of understanding. COVID-19 caught everybody with their pants down in terms of preparedness.
With Ebola, those who planned, who responded immediately, managed better with it. What I saw with Ebola was that although we weren't prepared for it, the disease was so contained that countries had an opportunity to manage. Because of this, it wasn't affecting everybody at the same time.
What I see from what happened with Ebola, that is not happening with COVID, is that after Ebola in Nigeria, for example, we had the opportunity to share our experiences with Liberia, Guinea and Sierra Leone. Some of the tools we used in Nigeria were adopted by the other countries. We also had an opportunity to train those who were not involved with the Ebola response, to make sure that they had some level of understanding of how we did the response in Nigeria.
What I think needs to happen, post-COVID or even now is that the world, and Yemen, need to have a critical mass of people train and prepare for future outbreaks coming. It seems like we're firefighting all the time and not standing and looking at eventualities and watching trends and seeing what could happen in the next two years."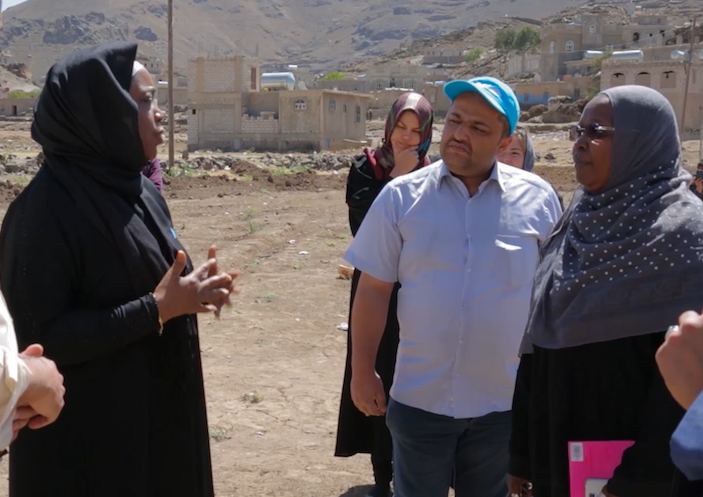 As you're looking ahead, we know you recently connected with some Yemeni children over Zoom. What were those conversations like?
"For the children we are there to serve, it's really difficult to look them in the face. I had the opportunity to see some of them recently, feeling that I was far removed from them with the lockdown. Listening to them was heartbreaking. Many of them spoke about water, education, diseases and several of them spoke about child labor and the fact that they're confronted with so many challenges that they have to earn the keep for the family. When you put all of that together, what does it spell? Disaster. It spells disaster.
All of these conditions in Yemen are ripe for a COVID wildfire. Children are under attack, and you'll find that across Yemen, nowhere is safe for them. It's just a vicious cycle, and until the war stops, it seems like that everything we do sometimes seems like it's just not enough. Beyond the bombs, the bullets and the bombardment, children have no reason to hope, and we have to give them that hope."
We know that the cash transfer program you launched will continue, that the UNICEF Yemen team will forge ahead with its lifesaving work. Do you know where you'll go next?
"I'll be taking the lessons from Yemen we've learned in terms of risk management initiatives in our largest operation in the world. We'll be looking at how other humanitarian operations around the world, at least the top five largest other than Yemen, are mitigating risks and ensuring that resources reach the children in such a complex compound context. That's the very immediate. And then after that, I can't say much about that yet. Cause I don't know which country I'll be going to."