Hurricane Irma continues to cause destruction of homes, loss of life and much more, with devastating impacts on children. UNICEF teams have been deployed to the most affected areas and continue to remain vigilant and prepared as Hurricane Jose looms closer to the Leeward Islands of the Caribbean. The following are updates from Rhonda Connor, Chief Education Officer for UNICEF Eastern Caribbean (and also an Anguilla native), and Cornelia Walther, Chief of Communications for UNICEF Haiti. To help children and their families affected by Hurricane Irma text ÏRMA to 45678 to donate $10.
A scene of devastation: Anguilla, my home
There is enormous devastation here. Most of the telephone poles are down, roads are blocked, lots of trees uprooted. Many houses have lost roofs, including mine. Part of my house has a galvanized roof and most of these have blown off. Some buildings have totally collapsed. Across the whole island electricity is off completely.
We have lost some of our schools. I have not yet had a chance to assess the situation. I've been told that many schools are damaged and that the secondary school has been hit:  with roofs blowing off and windows blowing out, you can just imagine what that's like. We will not be able to start again for a long time. There's a lot of structural damage and resources needed. We have to get together to assess the destruction and figure out a way forward. 
On a personal level, we are dealing with the damage to my own house. I have a lot of stuff that's wet and I'm trying to save what I can. But at least we're alive. It could have been worse. It was scary, really, really scary sitting there, waiting for the storm.  Everyone was talking about it, about the seriousness of this hurricane and whether we could withstand it. There was quite a bit of preparation. I don't think there was anything else that could have been done.
It was just a severe hurricane. Containers were hoisted and moved, flying through the air; lots of cars overturned or on top of each other. It was awful. The trees, what's left of them, are just bare stems and they're blackened as if they've been in a fire.
When I look out my window, I can see telephone poles down and two boats overturned. There's a container in the yard of the church and the roof of this church has been blown away. Lots of lines are down here. To my left I can see plenty of galvanized metal, and I can see a roof right in front of me. 
I'm glad it's over, but I'm worried as I'm wondering how we are going to survive this with all the infrastructural damage that was done and with the economy as it is. Now we have a lot of people who are homeless.
We will need some financial aid, definitely. One of the first things is to restore electricity, many people are crying out for that. We need to clear the debris and we need technical assistance.
Everybody is lamenting. We are relieved to be alive, but there is still a sense of hopelessness and helplessness.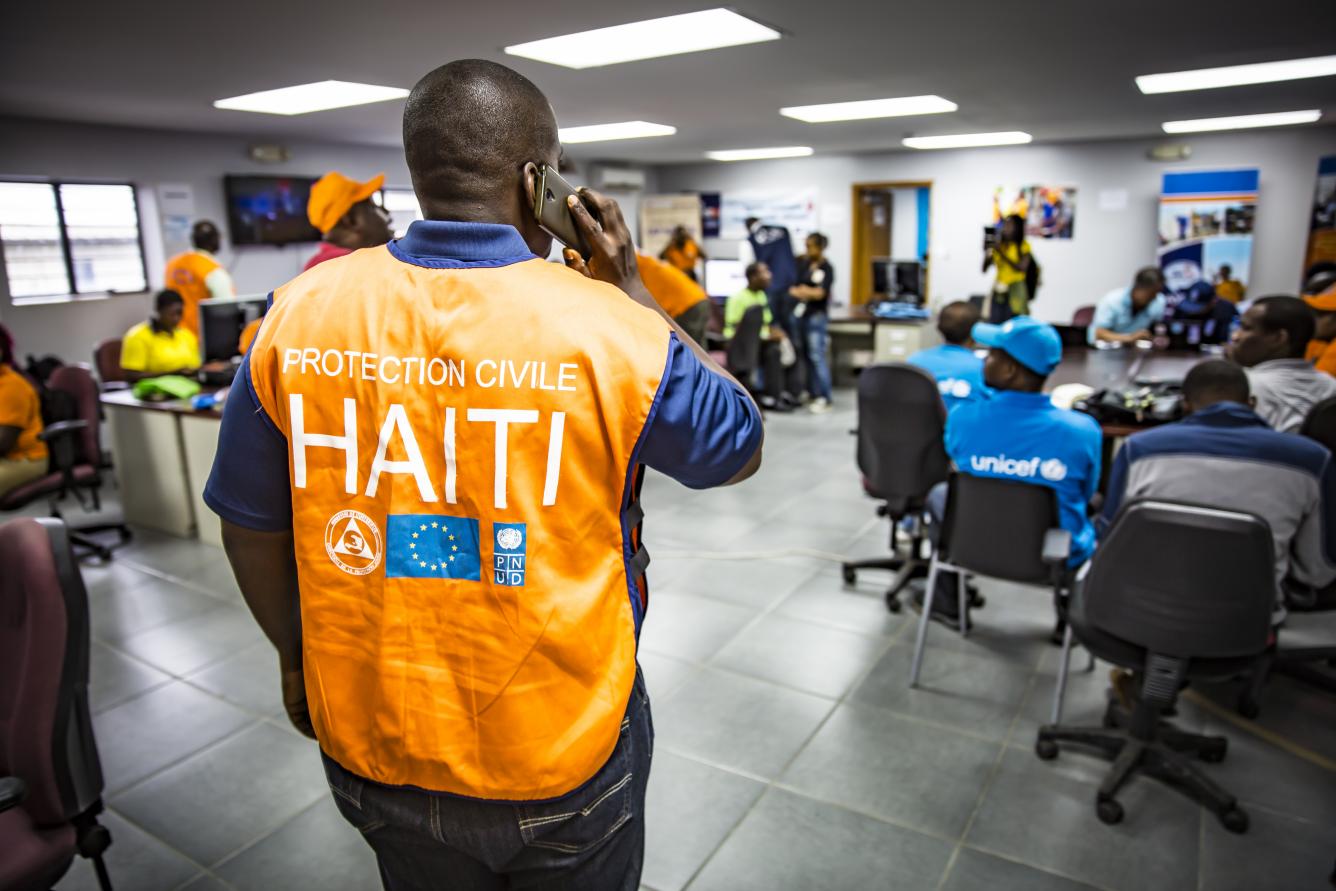 Haiti: Using precious hours before Irma hits
It is calm outside. As clouds are gathering, an eerie tranquility reigns in the streets. There is little traffic since schools have been closed as a precautionary measure; businesses were open this morning but by mid-afternoon everything was closed. Everyone is waiting.
In this atmosphere of sweltering expectation, the UNICEF team is working at full speed; in the central office in Port-au-Prince, where we have only a minimum of staff working today to reduce the risk of exposure, and in the North where programme specialists support the government in getting things ready on the ground. Everyone is pushing forward to get prepared as long as this is possible; setting the stage so that help for children can start as soon as Irma has passed.
Irma is moving towards the West at a speed of 24 km/h, with torrential rain, storm surges and life-threatening winds along her path. Tales of destruction have started to trickle in from islands on her way. In Barbuda, 90 per cent of all buildings are reported as destroyed or severely damaged; telecommunication systems on the island are down and the power supply remains off. Covering a space the size of France, Irma keeps barreling in our direction, coming closer one turn at a time.
Four million people live in the four departments that are most at risk of the current trajectory; approximately 40 per cent are children under 18 years old. Being already vulnerable in 'normal' settings, children and women are always the most vulnerable in disaster. They are our priority when Irma hits Haiti, and the efficiency of our response will be key to reaching a maximum of children, fast. Everything is done under the leadership of the government, and UNICEF is actively supporting the coordination mechanisms that have been activated at central and departmental levels. Our shared ambition is to ensure concertation and collaboration of actors, thereby maximizing the impact of everyone's resources.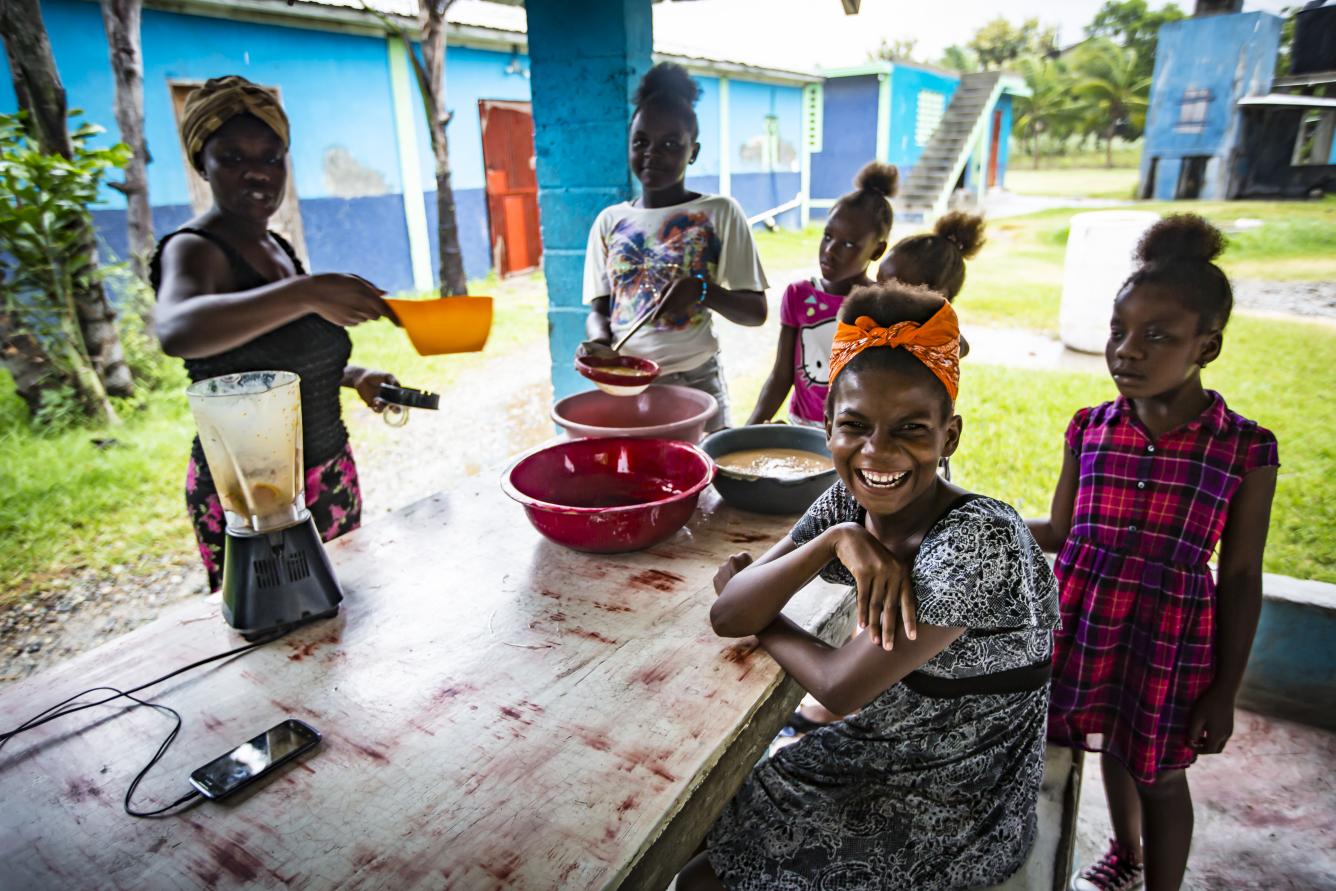 Stocks with critical supplies are prepositioned with civil society partners in the North and North East, North West and Artibonite, and additional stocks are ready for dispatch from the South and West, which are likely to be less affected. Safe water is a priority in the first hours after a disaster strikes. Based on past experience, stocks include aquatabs and chlore for water purification, and hygiene kits to ensure a minimum standard of drinking water and sanitation - crucial aspects to prevent the outbreak of diseases. Furthermore, plastic sheeting and blankets are included as families who lost their homes and belongings will be exposed to the elements; there is also ready-to-use therapeutic foods (RUTF) for the treatment of malnourished children, and school-in-a-box kits to facilitate the reopening of schools as soon as possible. Further priorities will include protection for the most vulnerable children and adolescents, and psychosocial support to the most affected children and adolescents.
As seen during Hurricane Matthew last year, the return to school can prove to be a major challenge as families who lost their houses seek shelter in schools (which are often the only solid buildings in their area) and have nowhere else to go once the storm has passed. Identifying alternative accommodation as fast as possible is one of the tasks that UNICEF, the government and various education partners have started to work on in preparation of Irma.
To help children and their families by Hurricane Irma text IRMA to 45678 to donate $10.