One of my strongest memories from this seemingly endless war is of a young Syrian refugee girl I met in Duhok, Kurdistan, Iraq – 12 years old and three years out of school – who had forgotten how to read. What kind of hope could there be for a society that, in this day and age, could let children lose their education?
To help address this issue, which affects Syrian refugee children throughout the region, UNICEF opened Makani centres in Jordan — integrated learning centres where children and youth can access education and essential services. Today, there are more than 230 of these community-based centres giving out-of-school children a chance to reclaim their education.
Last year, the Government of Jordan made a momentous decision. They threw open the doors of their public schools to any child on Jordanian soil – no matter their nationality, no matter if they had legal papers or not. UNICEF Jordan worked closely with the Ministry of Education to train teachers. We also helped upgrade classrooms and provided supplies.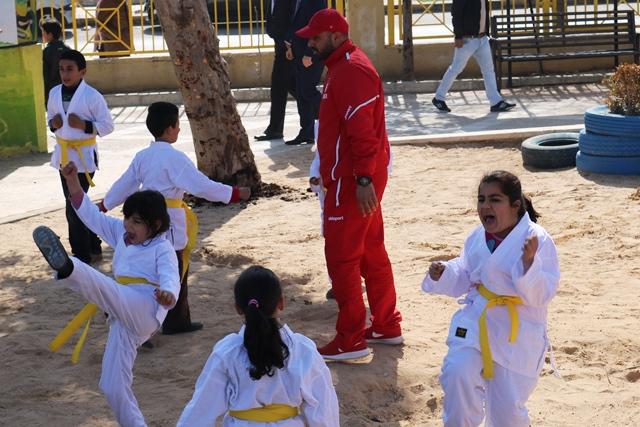 But not as many children came as we expected. As one colleague put it, "We had put the supply in place. We knew the children were out there. Where was the demand?"
So we created a team of outreach workers connected to the Makani centres that would travel to the neighbourhoods where Syrian families live. I met two of those workers, Fatima and Rawan, during my trip to Jordan. These lively young Jordanian women are outgoing. They were trained as social workers and are adamant that all children should have the chance to go to school.
"We went door-to-door to see if there were children not in school," Rawan explained. "Some people were afraid to open their doors to us since they don't have legal papers. Other times we were afraid to open the doors because we didn't know who we would find. These are tough neighbourhoods."
But they learned why the children weren't going to school.  One reason was age. "Many parents didn't want their 12 year old in a class with eight year olds," said Rawan. "Their child would feel awkward and out of place. But if they had missed three or four years of school they couldn't be in the regular 12-year-old class."
"But at the Makani centres we have accelerated learning programs so the children can catch up with their age mates," Fatima explained. "Once a couple of children started coming to the Makani they became our best ambassadors. They would tell their friends, we would put on neighbourhood parties with hats and t-shirts and told everyone about the Makanis. We get a lot more children now."
It's no surprise. This Makani centre is a great place. As well as reading and writing, kids are practicing karate (Canada's Minister for International Development, the Honourable Marie-Claude Bibeau, joined in the class with gusto – clearly she has done this before), creating mosaics (one boy let me help him, then quietly fixed up the little mess I had made of his work), or playing football.
"Of course, this is a lot more than just playing," said Rob Jenkins, UNICEF Jordan Representative, and a Canadian himself. "It is all part of the psycho-social support these youngsters need. Many of them are suffering from the trauma of what they have lived through, and they act out with violence and inappropriate behaviour, so we use this kind of play to help them learn coping skills, how to play together and use non-violent ways to express themselves."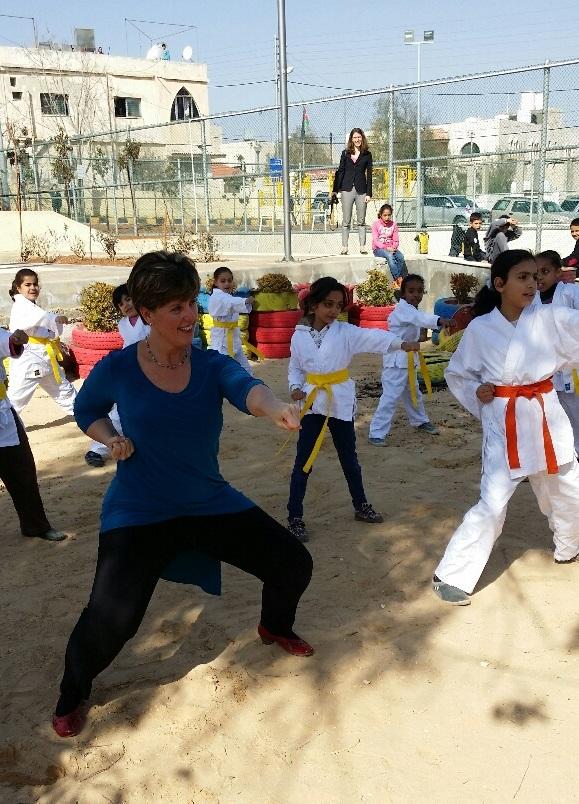 The Makani centres are preparing more and more children for the regular school system. One mother pointed out one of her children to us, a little girl of about nine years. "Leyla went to the Makani centre and now she is going to school.  She started last week – and now she wears her school uniform all day and night. She never wants to take it off!"
This time last year, the Government of Canada said they would match all donations made to Canadian charities to help Syrians in this region. The Syrian Emergency Relief Fund totaled more than $30 million, and it was given to UNICEF to support the Makani centres, along with education and vaccination programs in Syria.  That's a great responsibility for us – both to the Canadians who donated and to these children and families who are trying to put their lives back together. If the thoughtful, inclusive, intelligent work I have seen today is any indication, then the trust given to UNICEF and our teams here in Jordan has been very well-placed indeed.
David Morley is President and CEO of UNICEF Canada. He recently accompanied Canada's Minister for International Development, the Honourable Marie-Claude Bibeau, to Jordan to witness UNICEF's programming with Syrian refugee children, supported by the Government of Canada's Syria Emergency Relief Fund. UNICEF Canada thanks the Government of Canada for its generous support.