The Convention on the Rights of the Child says that all children have the right to good quality education and should be encouraged to go to the highest level possible. However, many children around the world, and more than ever in 2017, are either not going to school at all or attending school in the toughest of conditions—war, famine, migration, malnutrition, environmental disasters and disease.
It's been said that "a hero is an ordinary individual who finds strength to persevere and endure in spite of overwhelming obstacles"; these pictures show that children are some of the most resilient people—and in turn, heroes—that live among us, even if all they're trying to do is learn.
Children have the right to good quality education. Help UNICEF's efforts to continue education for children in difficult circumstances around the world.
Go Back, Give Back
Want more ways to help kids around the world go back to school? Shop at H&M until September 7 and your in-store donation will help you give while shopping to go back!
Stanislava is a 15-year-old girl. After her birth she was placed in several state institutions for children. Now she lives in a family-type placement center (small group home) for children with disabilities and attends mainstream school. Stanislava is supported by teachers, caregivers, social workers, psychologists, speech therapists and rehabilitators.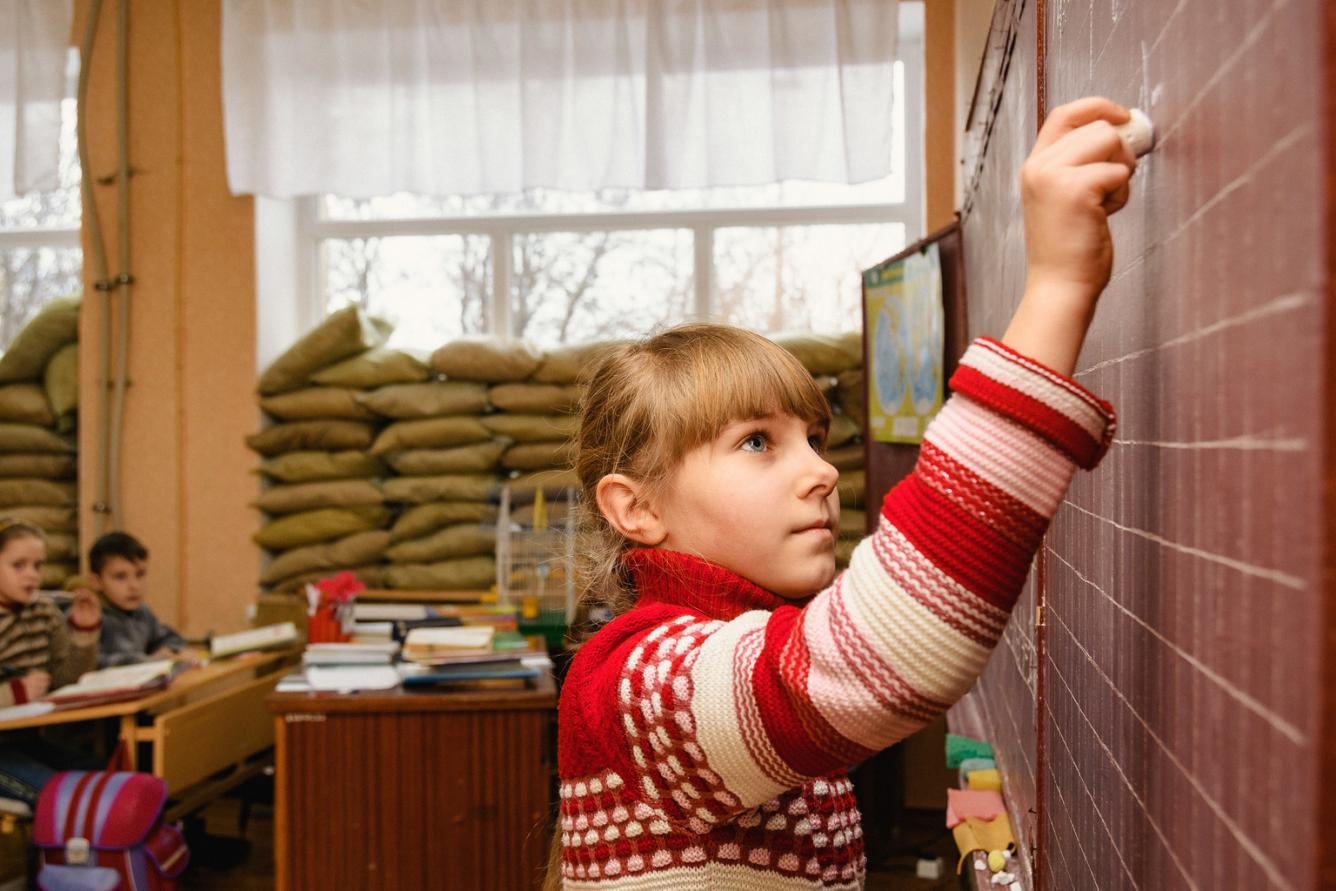 Fourth grade student Angelina, 10, writes on a blackboard during a class at school No. 2, in Marinka, Donetsk region, Ukraine. Containing 21 tons of sand, the sandbags in the background reinforce the classroom windows and are intended to prevent them from shattering during frequent shelling.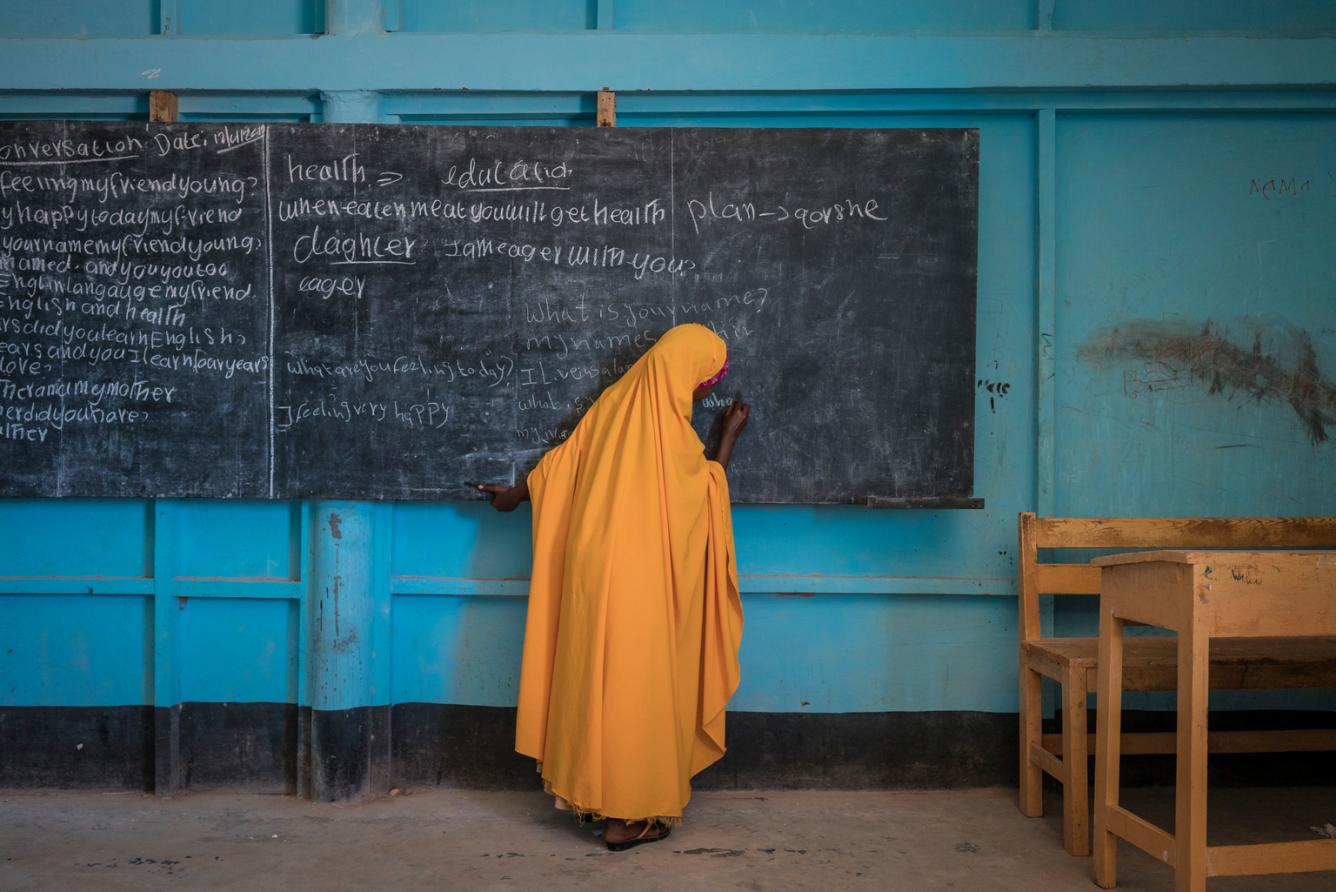 A young girl writes her answers to a question on the chalkboard of her class in her UNICEF-supported primary school, Salaama in Galkayo, Somalia.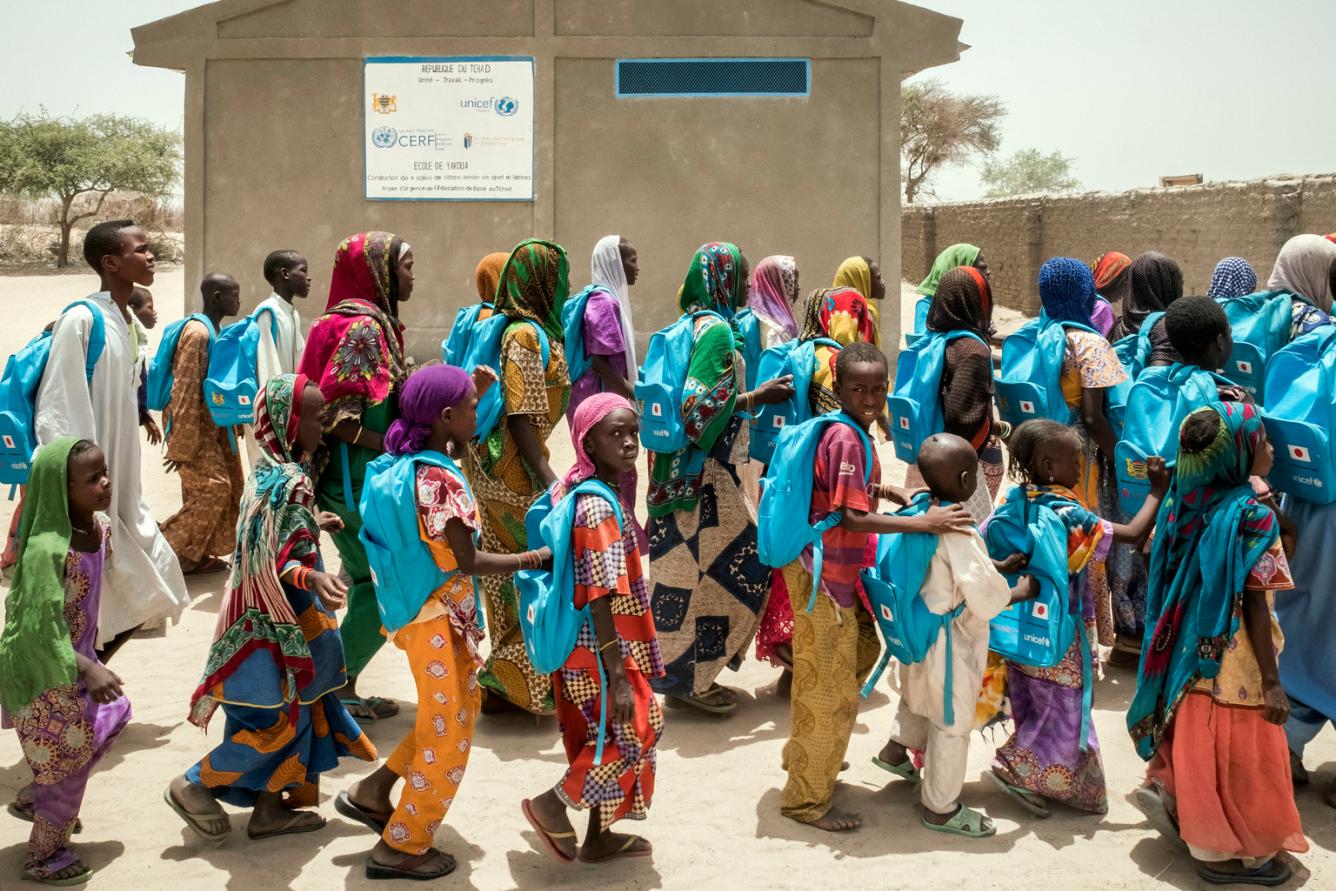 Students leave Yakoua school following classes in Bol, Lake Region, Chad. There are 500 displaced children attending the school of 800 students and only eight teachers, causing strain on an already weak education system in Chad.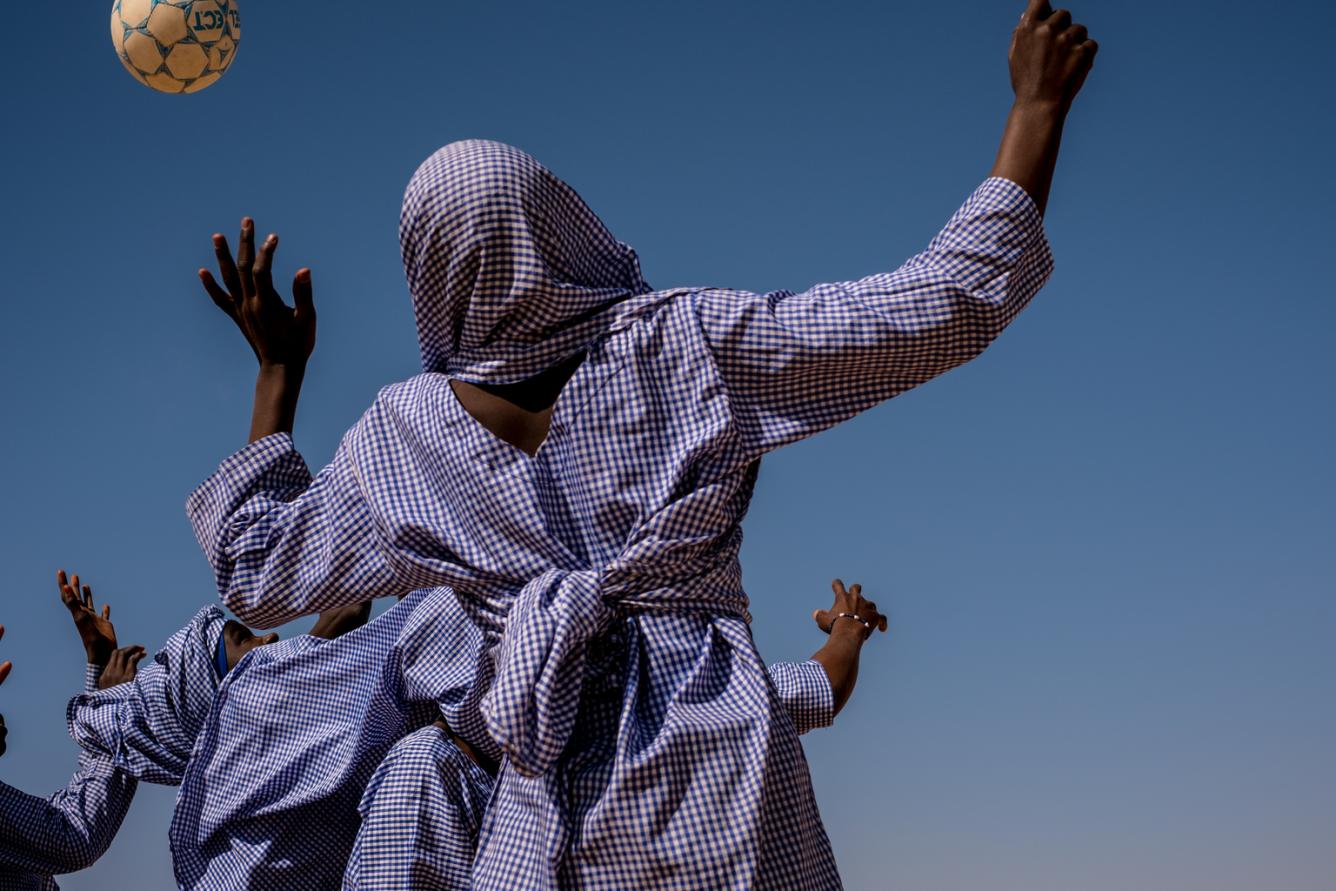 Children play with a ball during a recess at a UNICEF-supported primary school at the Bukasi Internally Displaced People's camp, in Maiduguri, Borno State, Nigeria.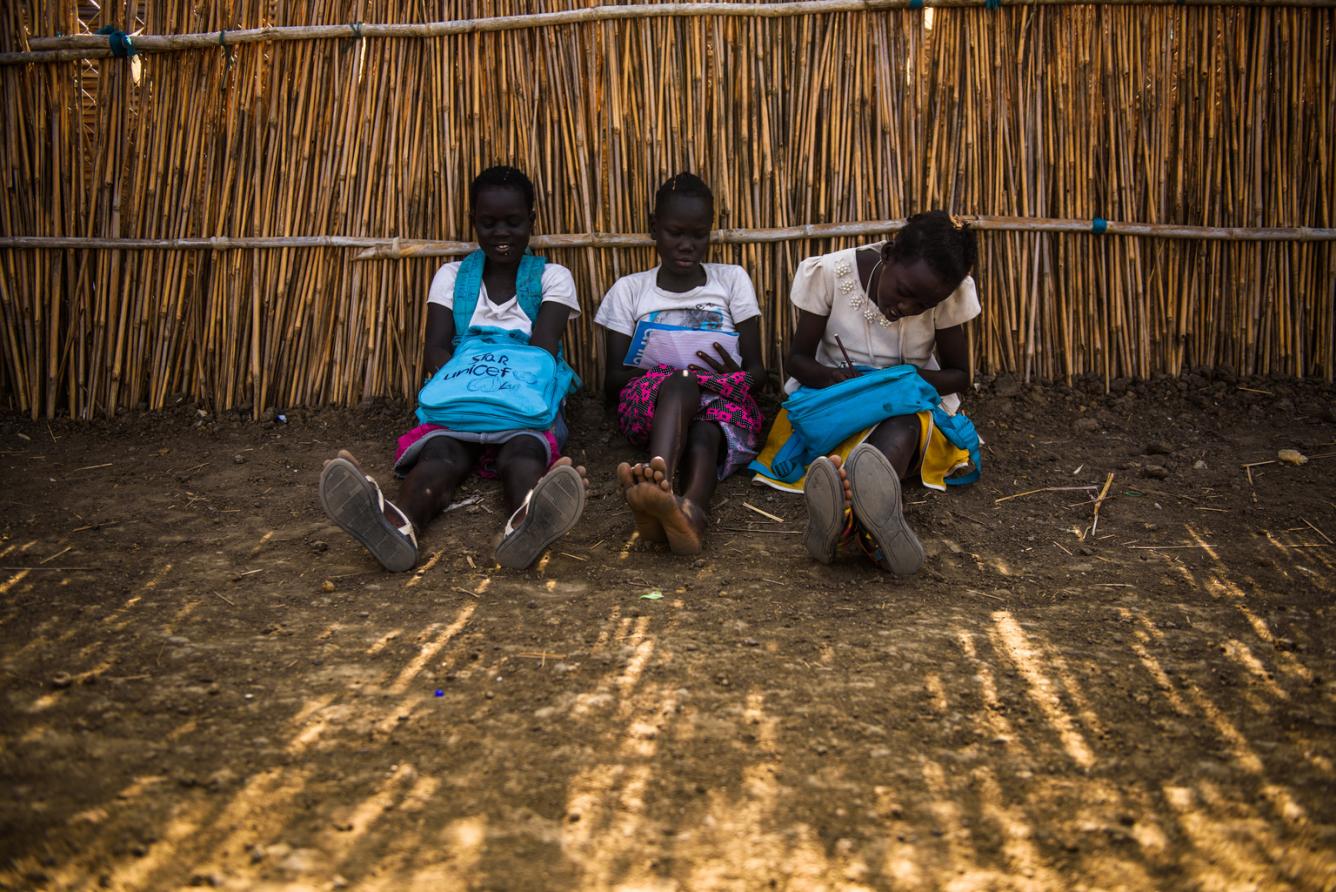 Girls sit on the ground after school at the Upper Nile primary school in the Protection of Civilians (PoC) site in Bentiu, South Sudan.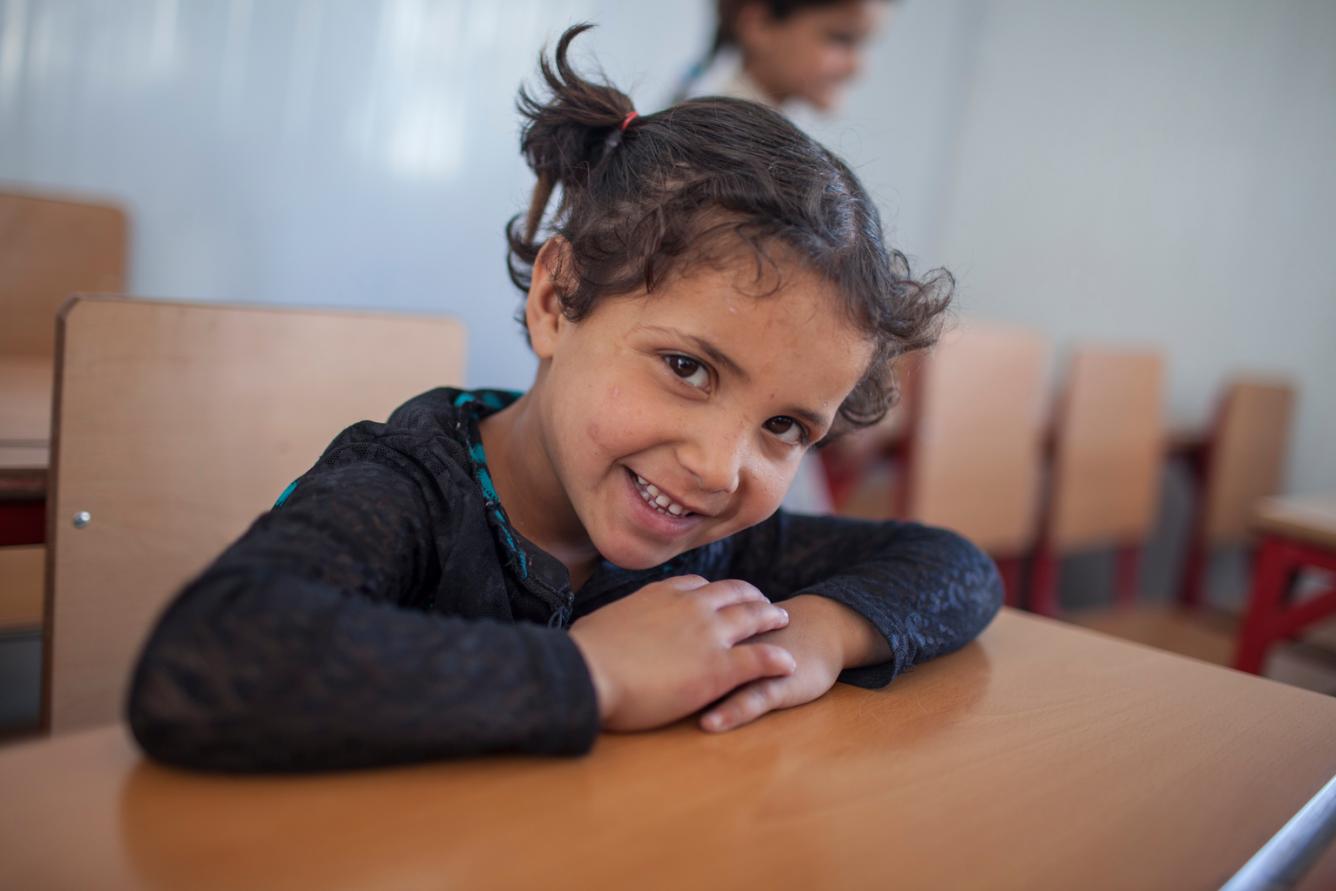 The Mouhamed Seif Mahmoud School in the Sakhoor neighborhood in the east part of Aleppo, a UNICEF-supported school provides an alternative space for learning. This school in containers is located on the grounds of the former school, which was destroyed during the conflict.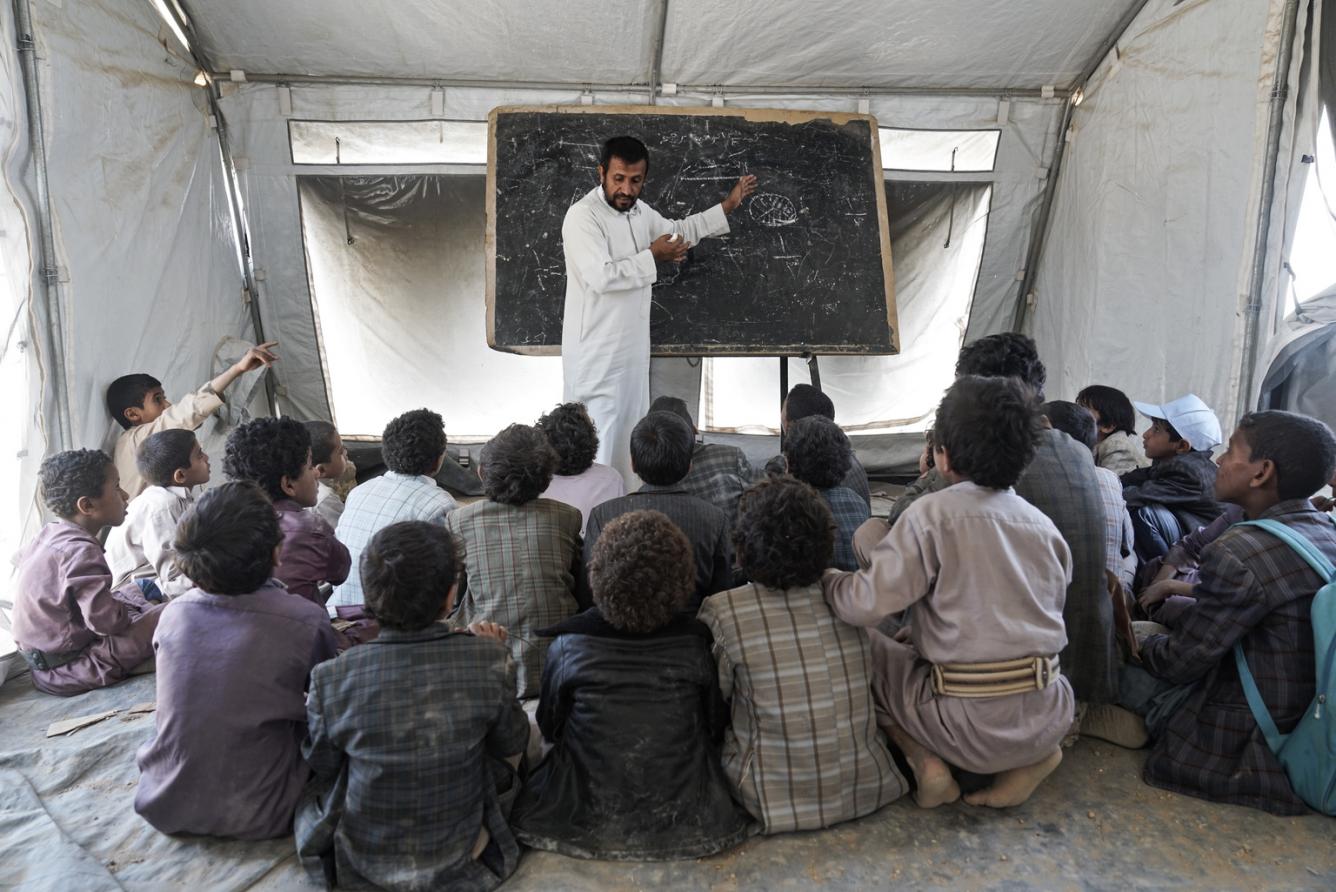 In Saada, Saada Governorate, Yemen, students listen to their teacher during a class held in a UNICEF tent school, after the Aal Okab school, which they used to attend, was destroyed in June 2015.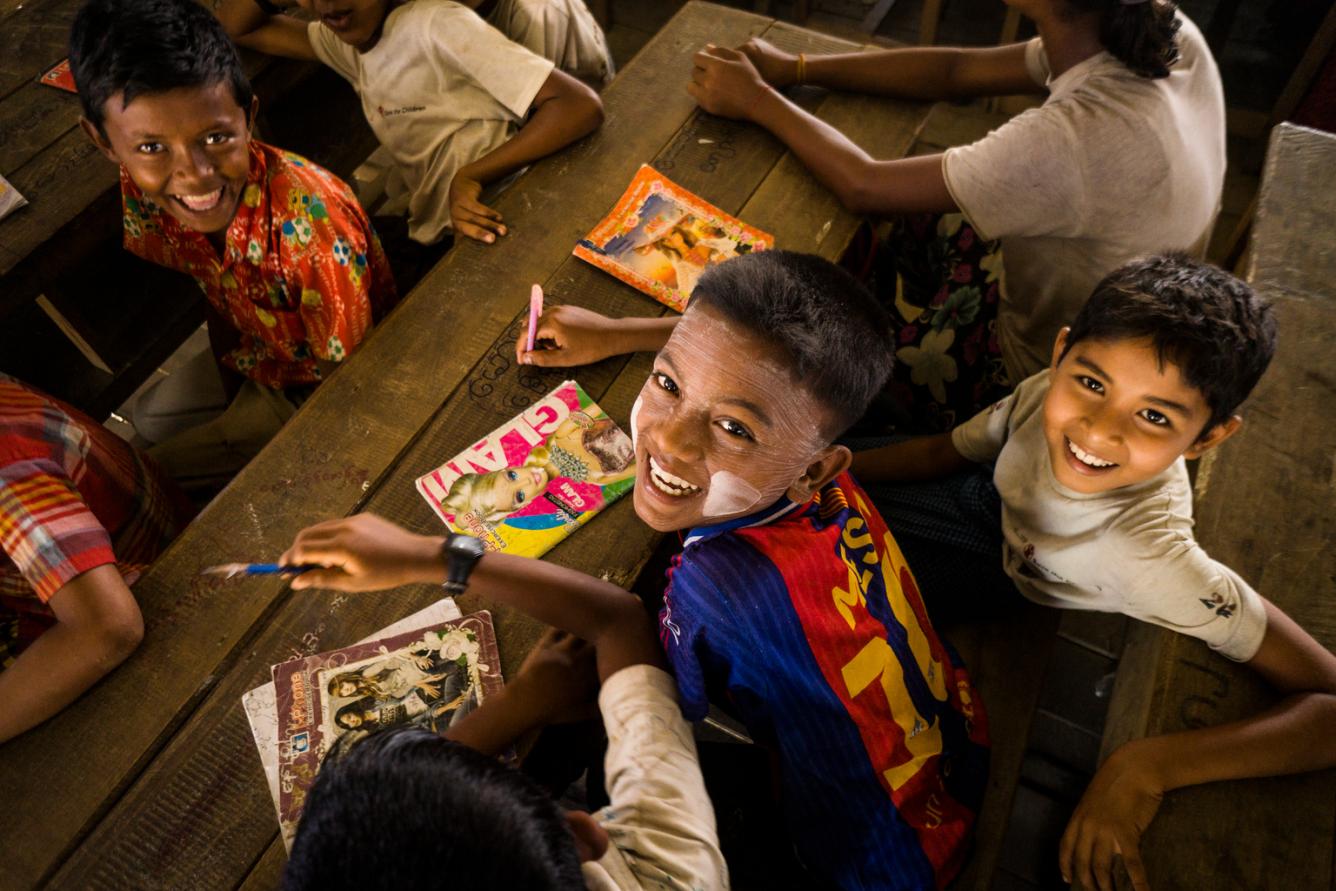 Students sit in a classroom at the Sin Tet Maw camp for internally displaced persons in Rakhine State, Myanmar.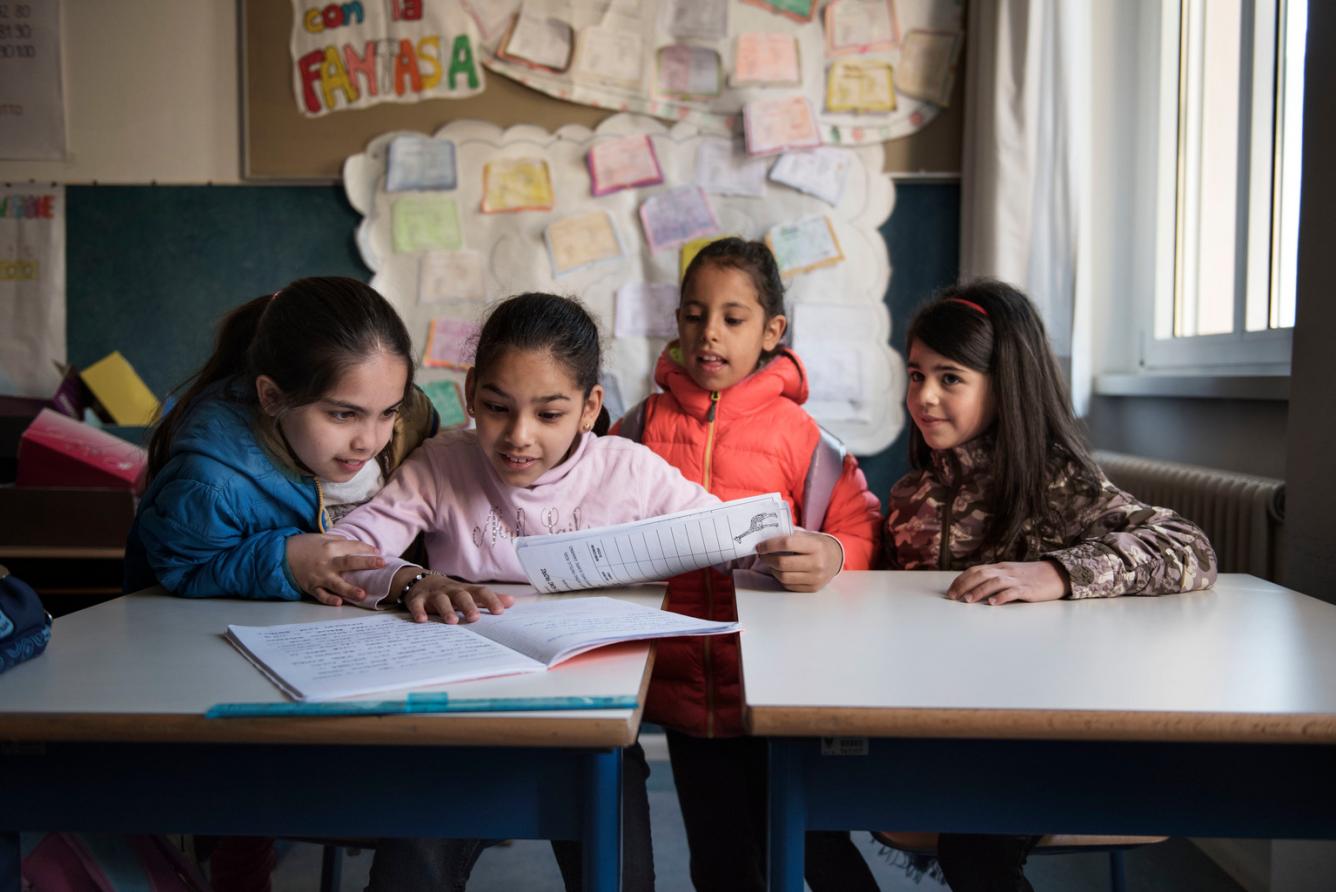 Nine-year-old Syrian refugee Badiaa (second left) sits at a desk with Italian and Syrian friends in her classroom at a public elementary school in Trento, Trentino province, Italy. Badiaa, who is originally from Homs, Syria, arrived from Lebanon through a humanitarian corridor that helped 93 Syrian refugees reach Italy safely in February 2016.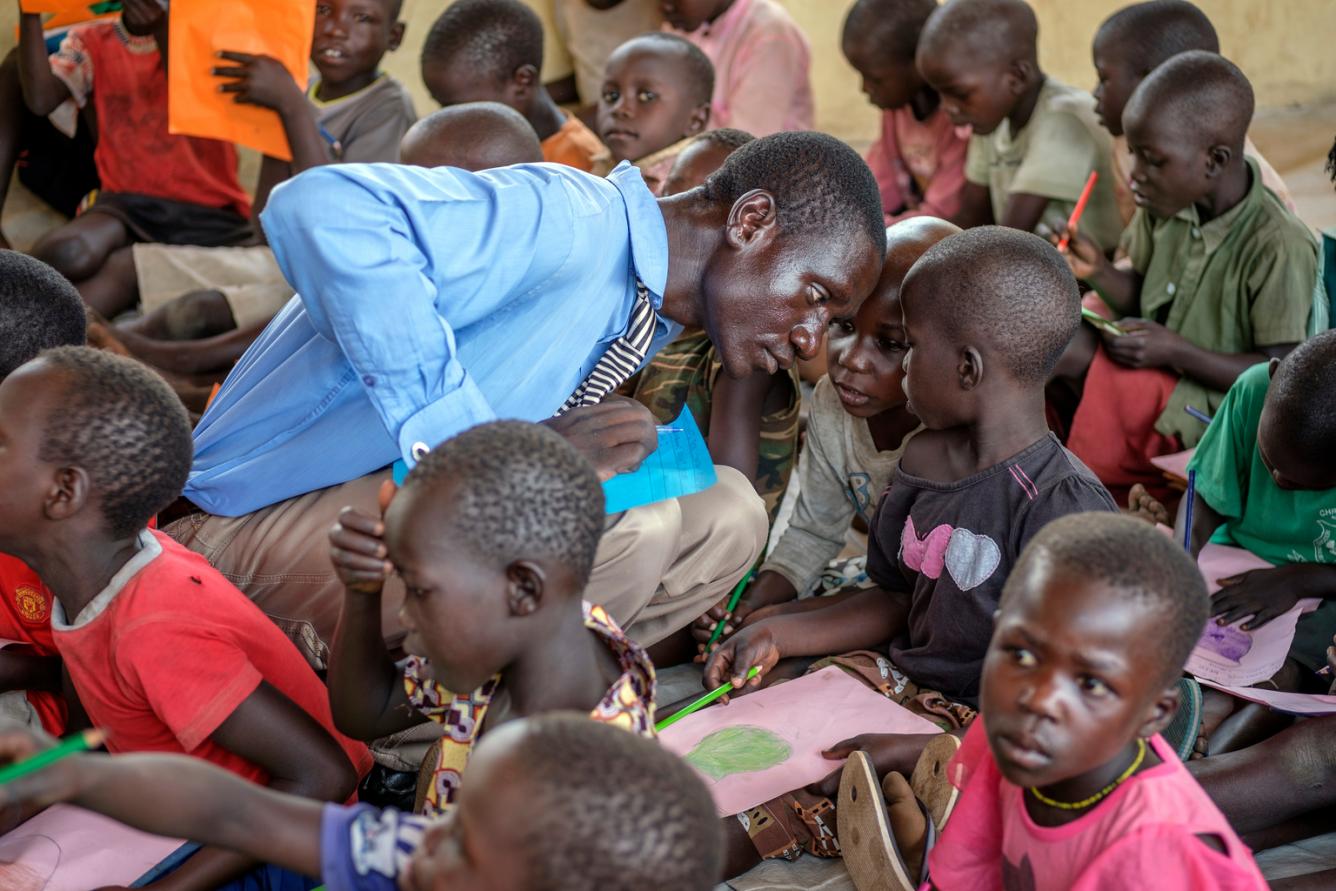 A teacher speaks with a South Sudanese refugee child during activities at an Early Childhood Centre in Bidibidi refugee settlement, Yumbe district, northern Uganda.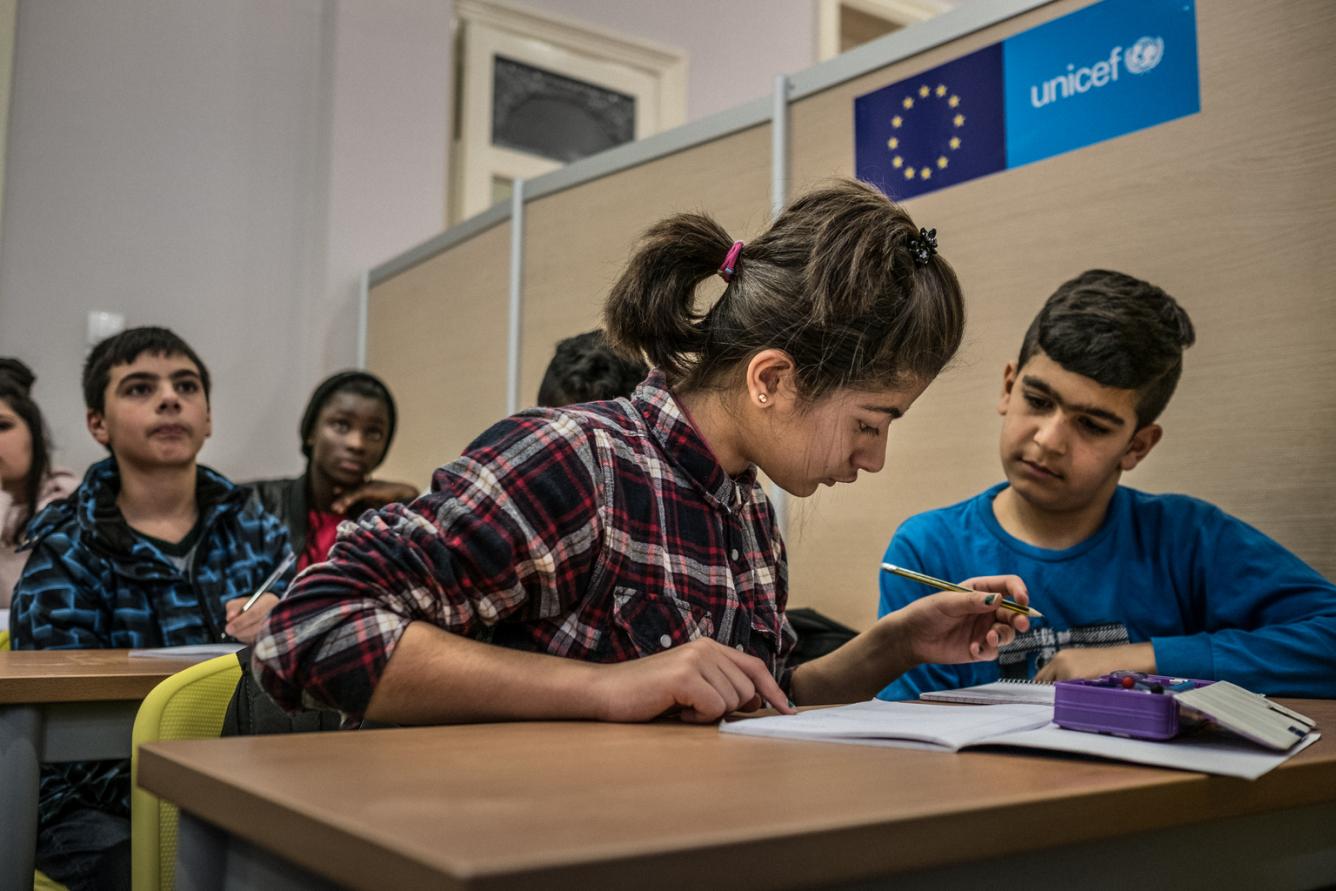 Children sit in a class at a refugee learning center run by the Apostoli NGO, in central Athens, Greece. The UNICEF-supported center provides education for children of all ages who are not in formal education or who are supplementing the education they are receiving from Greek schools. Classes are offered in students' mother tongue, English and in Greek.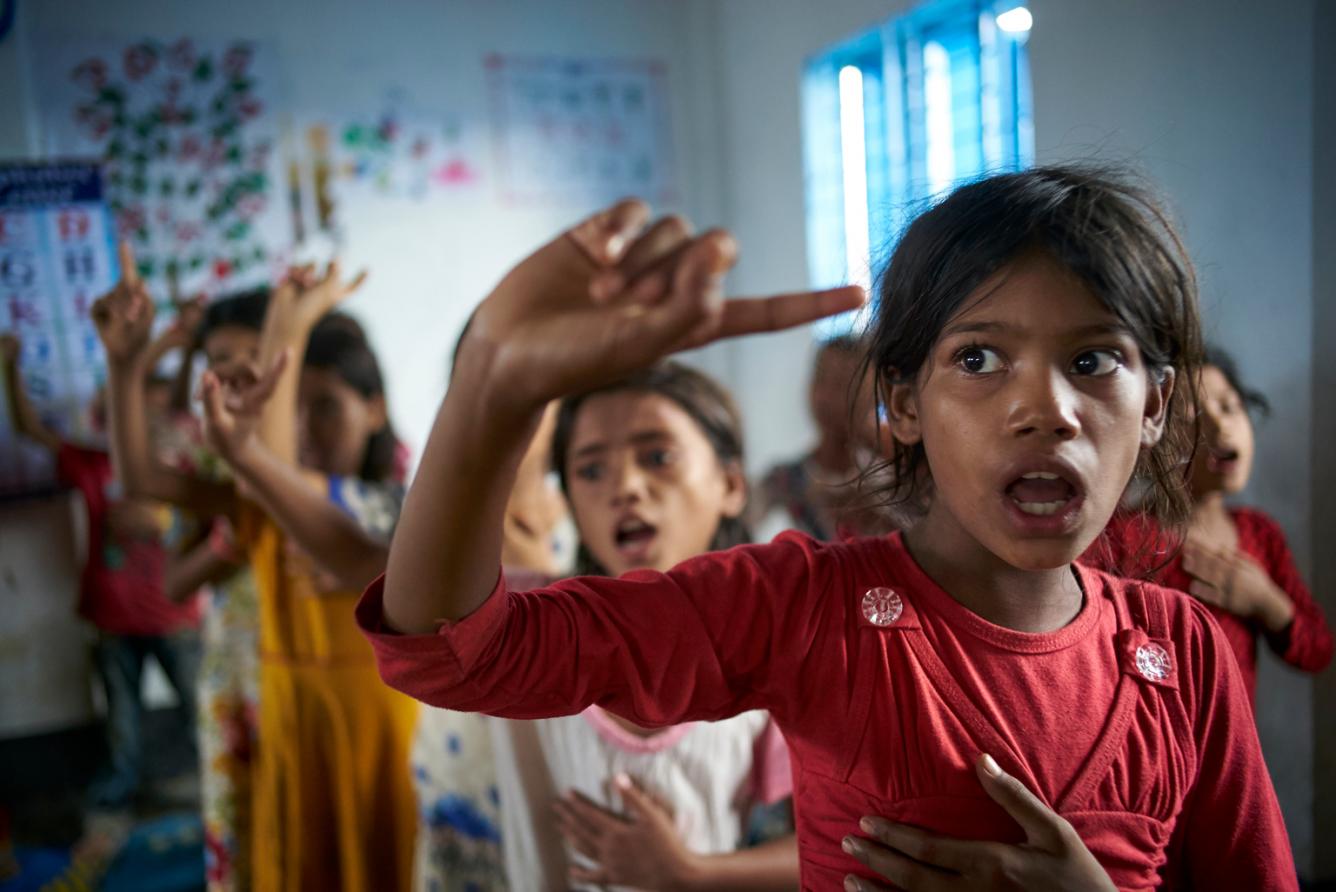 Eight-year-old Rohingya refugee Yasmin Akther (right) sings during an assembly with other children at the "Prajapatti" (Butterfly) UNICEF Learning Center in Kutupalong Makeshift Settlement for Rohingya refugees in Ukhiya, a sub-district of Cox's Bazar District, Bangladesh.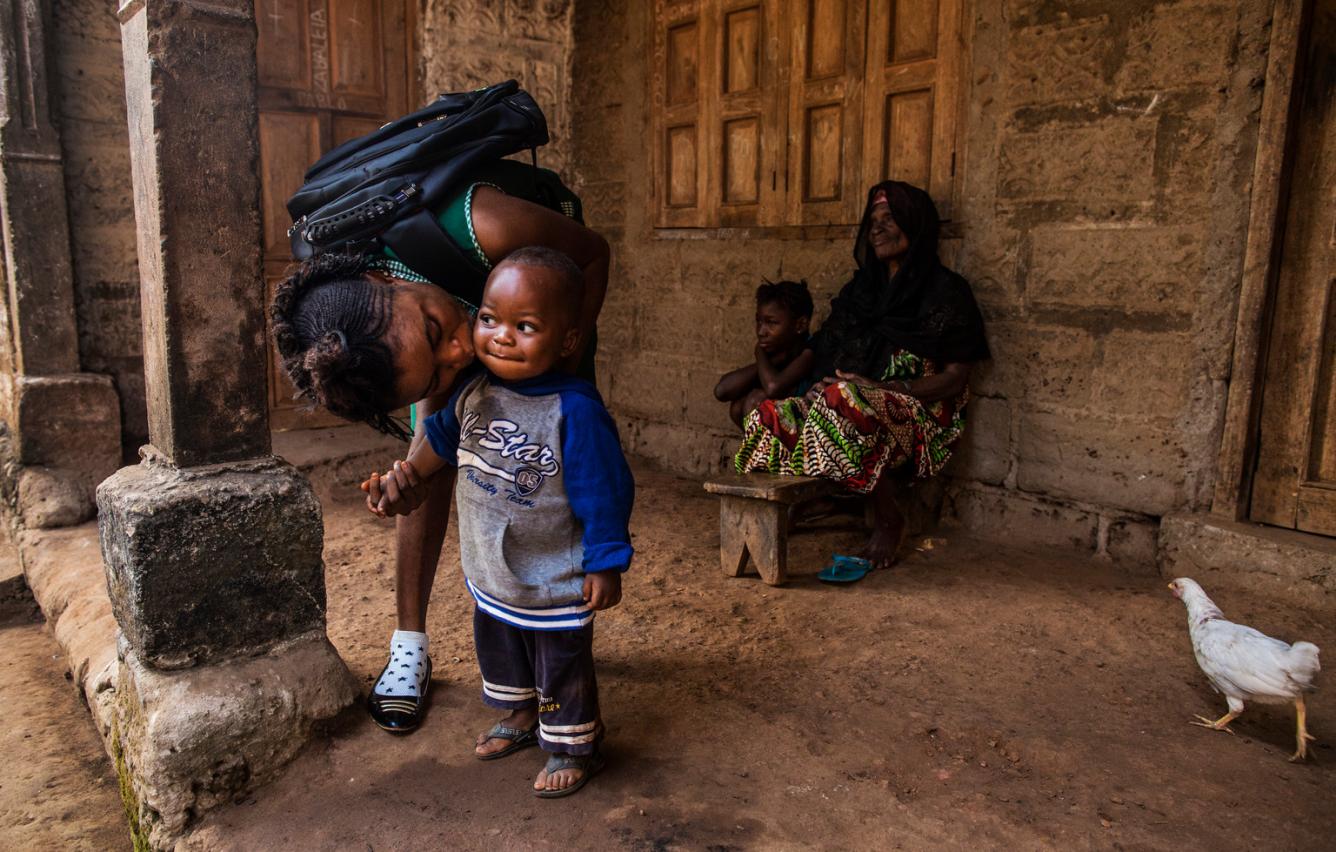 18-year-old Mariatu Bangura kisses her son, Abdulai Kamara, at home before leaving for school, in Rokupr Town in Kambia District. Mariatu and her son live with her grandmother Yamaya Kamara (behind them), who looks after him while Mariatu attends school. Mariatu's cousin, Ya Alimamy Kamara, is also visible behind them. Mariatu, who gave birth to Abdulai in October 2015, attends Kubra Agricultural Secondary School in the town. She returned to mainstream schooling after taking remedial classes that were provided for free to girls who became pregnant or gave birth during the Ebola emergency. Kubra Agricultural's proprietor provided Mariatu's school uniform and helped with her tuition. To support herself and her child, Mariatu sells slippers and started a vegetable garden. She wants to become a nurse when she completes her education.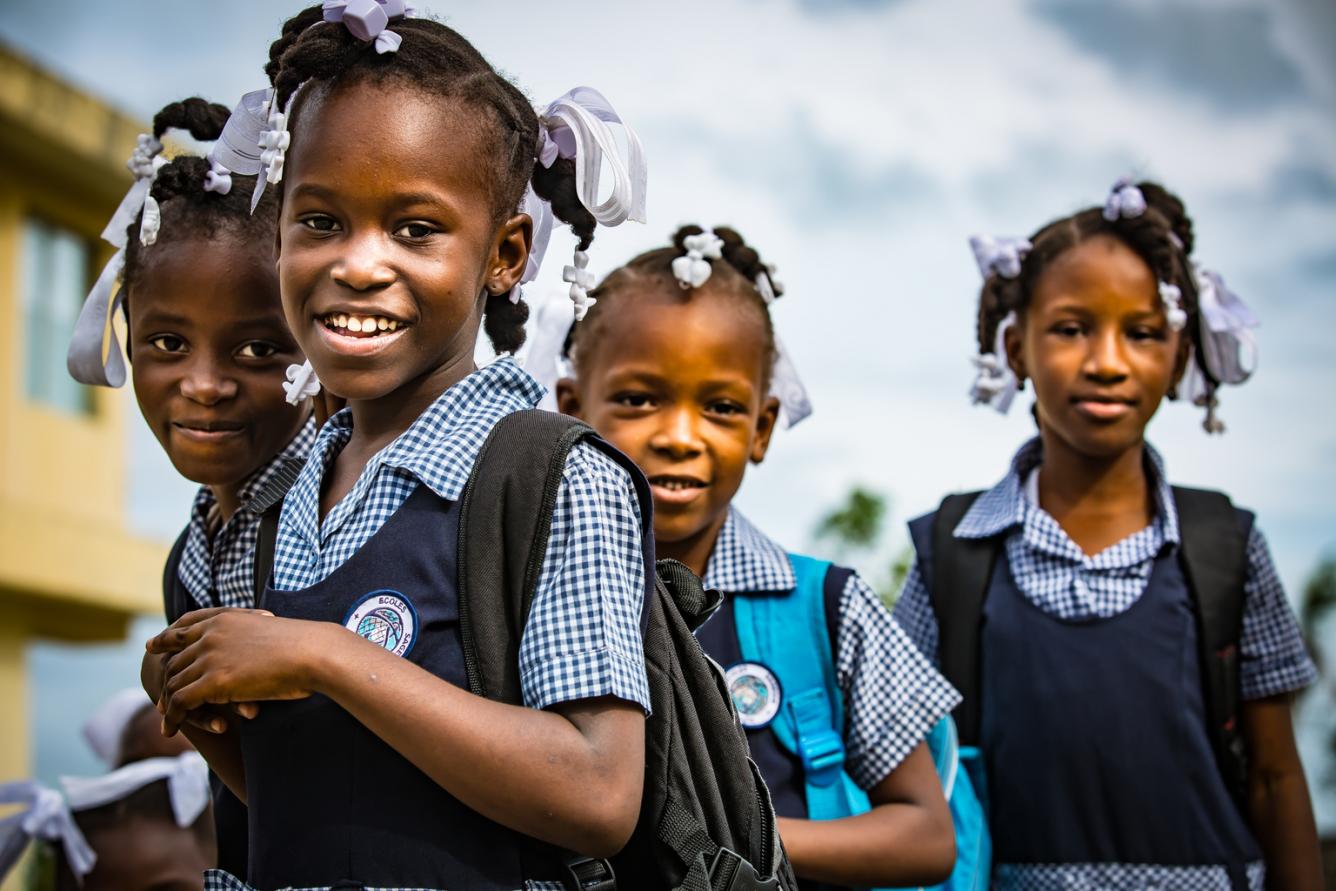 In Haiti, (left to right) Élodie (seven), Givelore (eight), Francesca (six), Érica (eight) gather outside their school, the Notre Dame de Lourdes school, in Jérémie. By January 2017, UNICEF had completed the restoration of 14 schools, with another 107 in various stages of progress. These restored schools have made it possible for 4,200 students to return to class. In total, it's expected that over 36,000 students will return to the schools rehabilitated by UNICEF.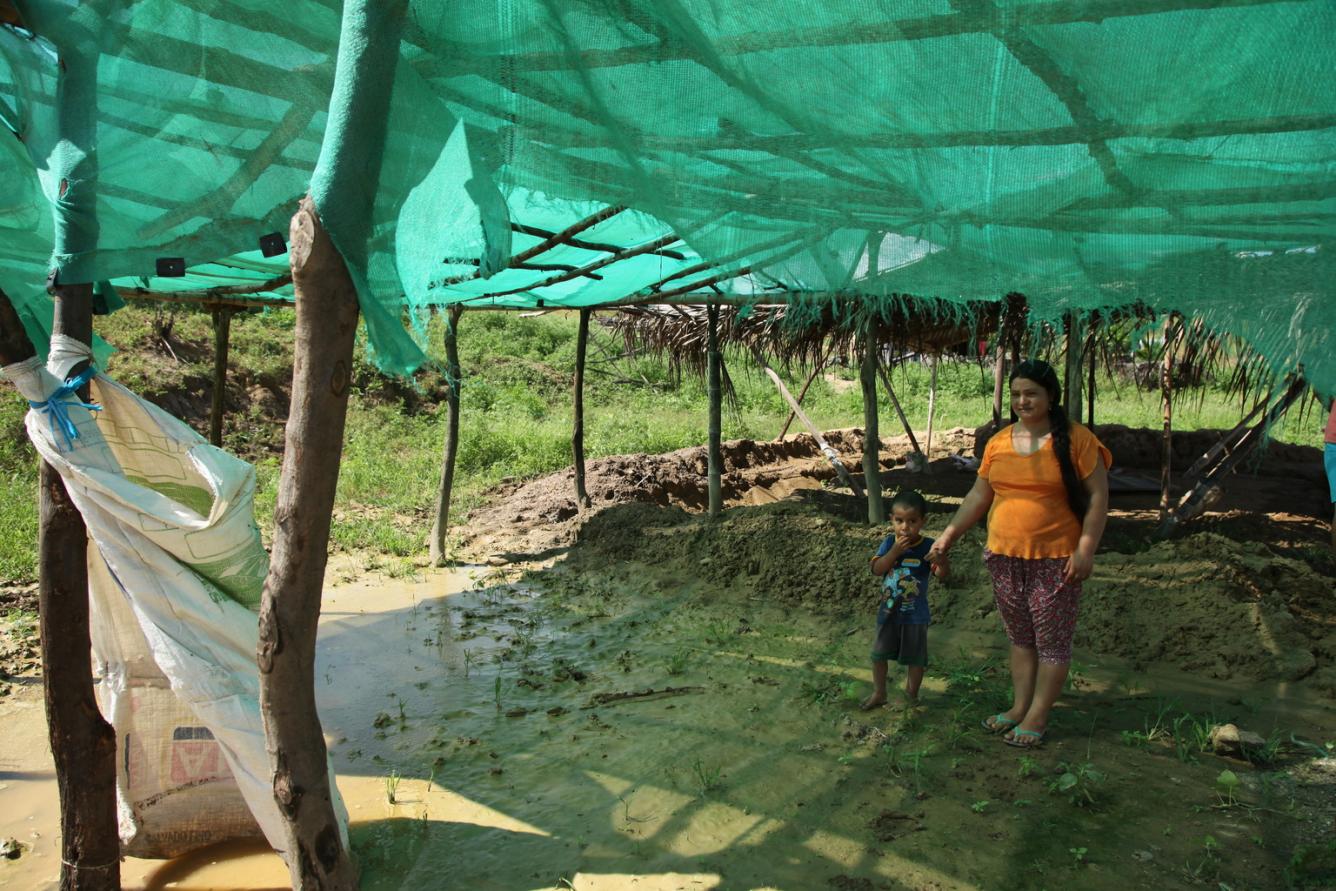 Three-year old Joycer (left) and his mother Ofelia stand in the flooded kindergarten which he used to attend, El Yucal, a rural community in Sullana District, 35 kilometres from the city of Piura, Peru.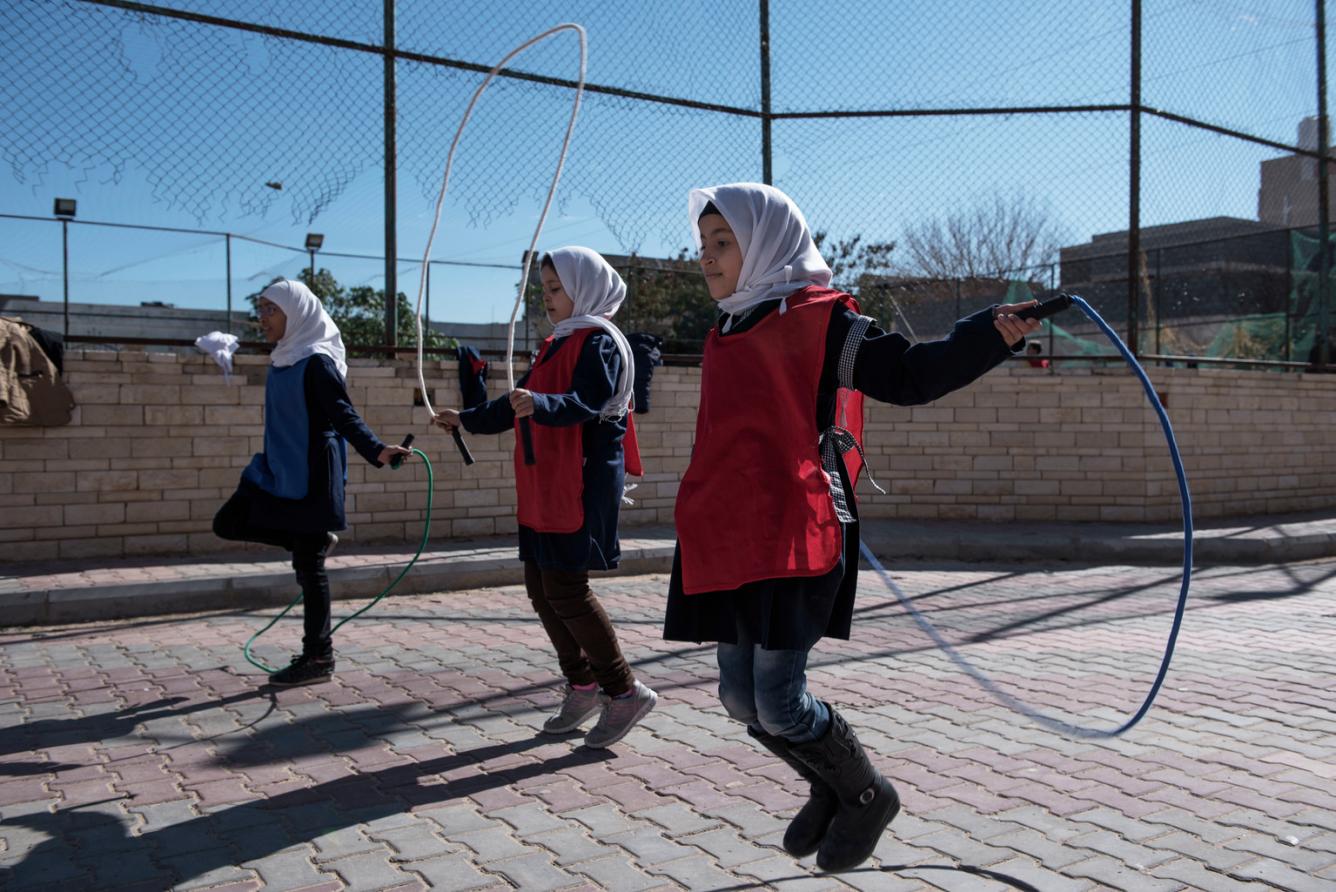 Students skip rope in a playground at El Hadana school in Zanzur, east of Tripoli, Libya.
In South Africa,  a girl receives a snack and a drink at the Isibindi Safe Park in Soweto Township, in the city of Johannesburg. A crowd of other children wait their turn behind her. Safe Parks – established through the UNICEF-supported Isibindi project – are designated community areas where Child and Youth Care Workers engage children in constructive, age-appropriate educational and recreational activities after school. Through the Isibindi programme, local community members are trained as Child and Youth Care Workers to identify and provide support for vulnerable families to ensure that at-risk children have access to essential services. These services can include accompanying children to school, a health clinic or the hospital if needed; as well as helping children obtain important official documents, such as birth certificates; as well as government grants; psychosocial support and counselling.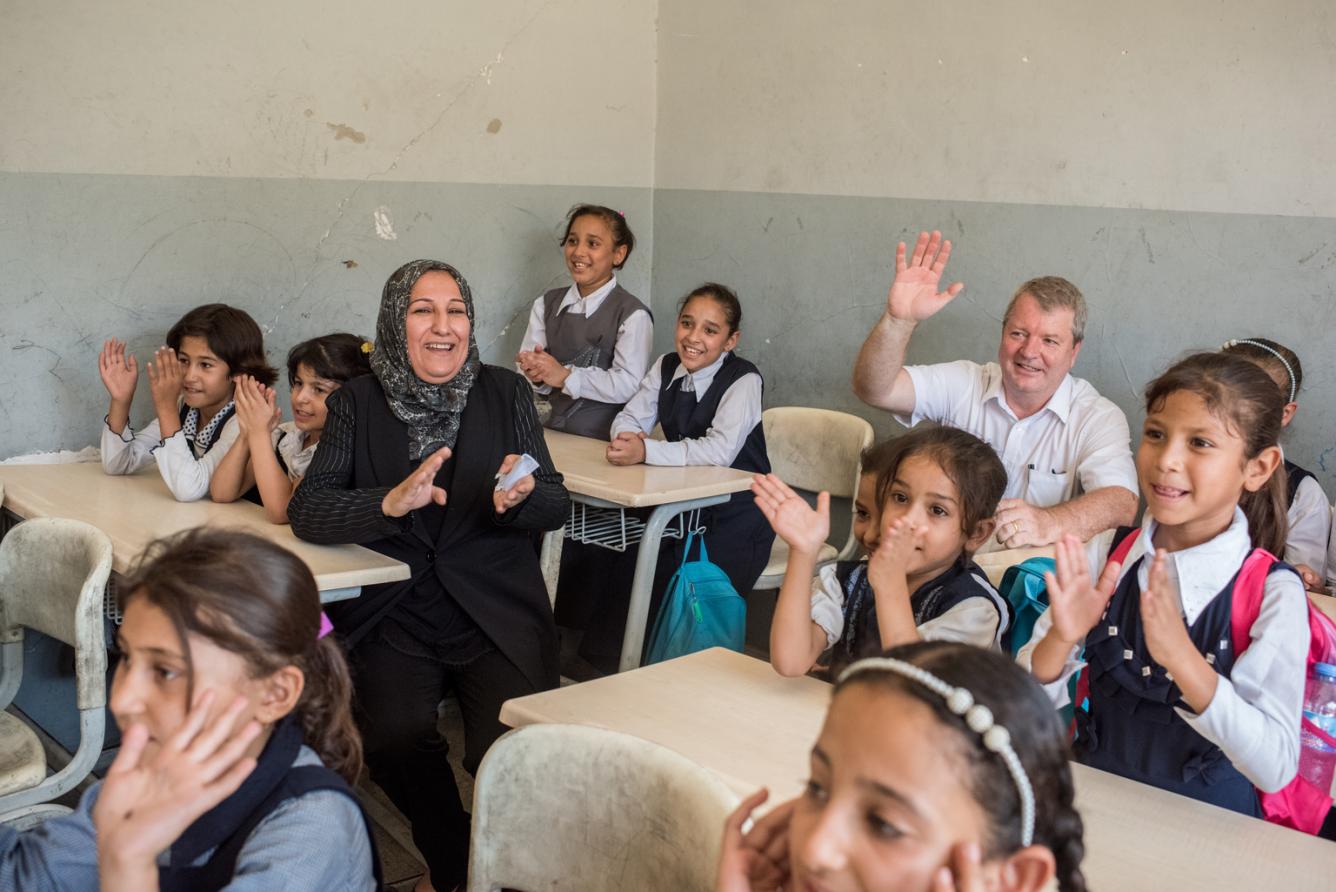 UNICEF Representative in Iraq Peter Hawkins (in white shirt at centre back) participates in a class activity as he meets with students and faculty at the Ammar Ibn Yasser School in the Wadi Hajar neighbourhood of Mosul, Iraq. The school reopened two months ago, yet teachers say they lack running water, electricity and books. Despite having reopened, most windows in the school remain broken and other parts of the structure are still being cleaned and repaired.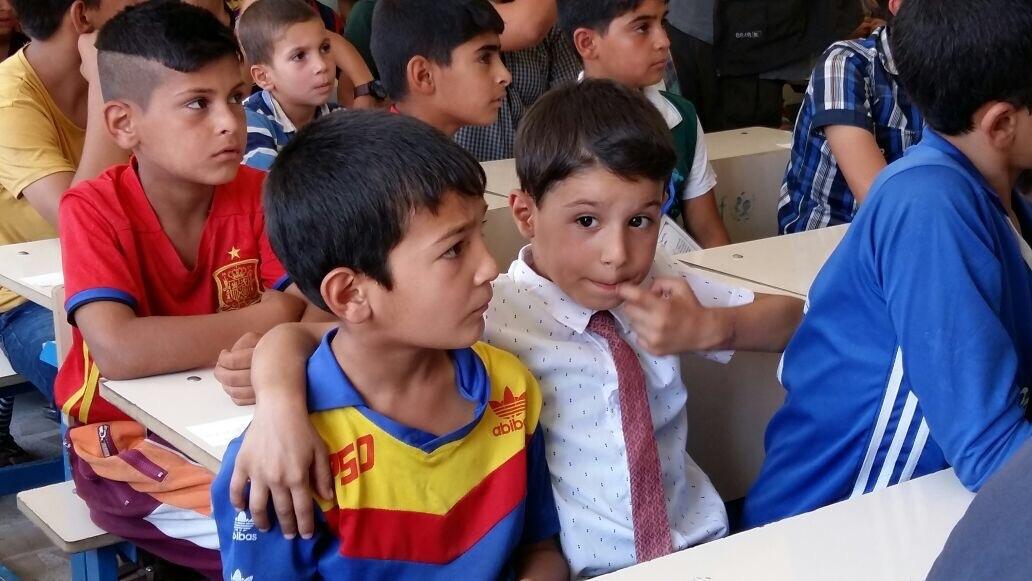 Ahmed (with the tie) comforts his friend Ibrahim then he is upset by a memory of the past three years. These two attend a school in east Mosul which has been rehabilitated by UNICEF--one of 336 schools reopened with our help to date (as of July 14).