A World Inside a Refugee Camp: Children of Zaatari – Part 2
---
In part two of the blog series, Bayan shares personal recollections from her three weeks spent at Zaatari refugee camp. Read Part 1 of Bayan's blog here.
October 28 – Visit to a public school inside Zaatari:
This public school (one of 13 inside Zaatari) is run by the ministry of education in Jordan, with teachers hired by the ministry; the school follows the Jordanian curriculum and students write the official exams at the end of high school. Some really high scores came out of the schools at Zaatari. A limited number of scholarships allow the students to continue their education at the University of Jordan in Amman. 
UNICEF builds the school and oversees all operations and maintenance. It also advocates for services and intervenes when needed; e.g. this school does not have electricity yet, which means no lighting, heating or cooling or technology. Without electricity it gets very dark in the winter, to the point that the students can't even see the blackboard. There are two shifts a day – One in the morning for girls, and one in the afternoon for boys – with each shift lasting 3 hours; meaning that teachers have just 3 hours to teach all their lessons!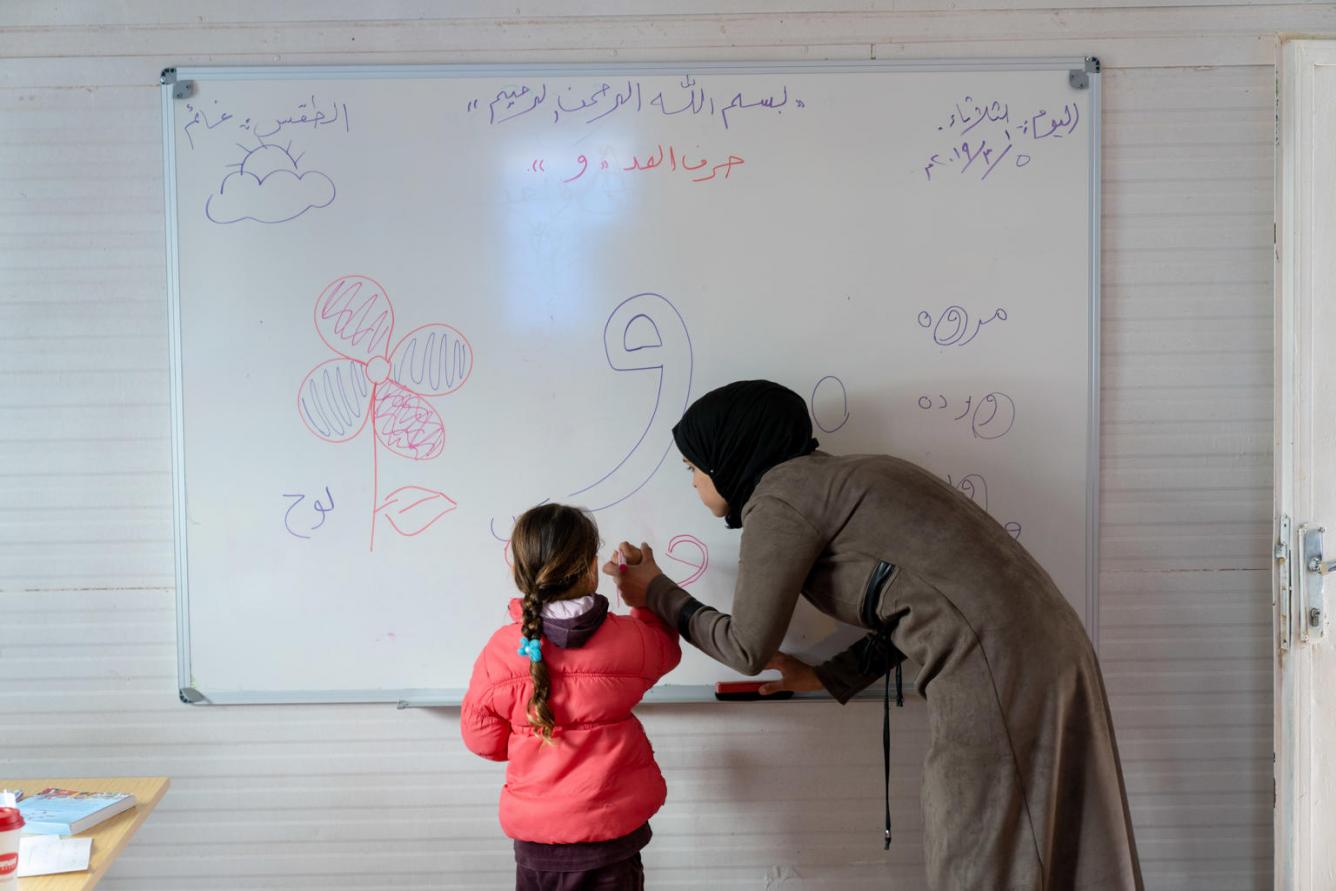 October 30 - Meeting with the afternoon shift facilitators:
I introduced myself and the reason behind my presence. Sharing with them that I am a war survivor certainly brought me a step closer to them. I made sure the facilitators understood that they have many great skills in teaching and that I was there to learn from them and work with them to find solutions to some of the challenges they face relating to classroom management and behaviour management. Afterwards the facilitators introduced themselves; most of them have been living in Zaatari for 7 years. Some of them were university students when they came and couldn't graduate because of the war. Now, they attend the university in Amman and work/volunteer as facilitators in Makani.
October 31 - Meeting with a youth officer working with the Social Innovation Team
This team works on encouraging creative social innovation in youth. Youth attend innovation programme to talk about a problem their community face (e.g. in Azraq refugee camp, it is hard for kids to go to school when it rains, they get very wet.) The youth discuss the problem, brainstorm innovative solutions, build a prototype at a low cost in the UNICEF supported innovation labs at Zaatari and Azraq, test it in the community, and come back with feedback. One of the ideas they came up with is a raincoat for the children in Azraq, made out of recycled materials, large enough to cover their clothes and their backpack.
Youth are learning about entrepreneurship which helps solve youth unemployment. They are encouraged to think about the design, the costs, and the sustainability. This program is offered to girls and boys and is pretty competitive. They need to show commitment and innovation to go from phase one to phase two to actual implementation. They need to show proof of strong realistic innovative and sustainable idea that serves their community.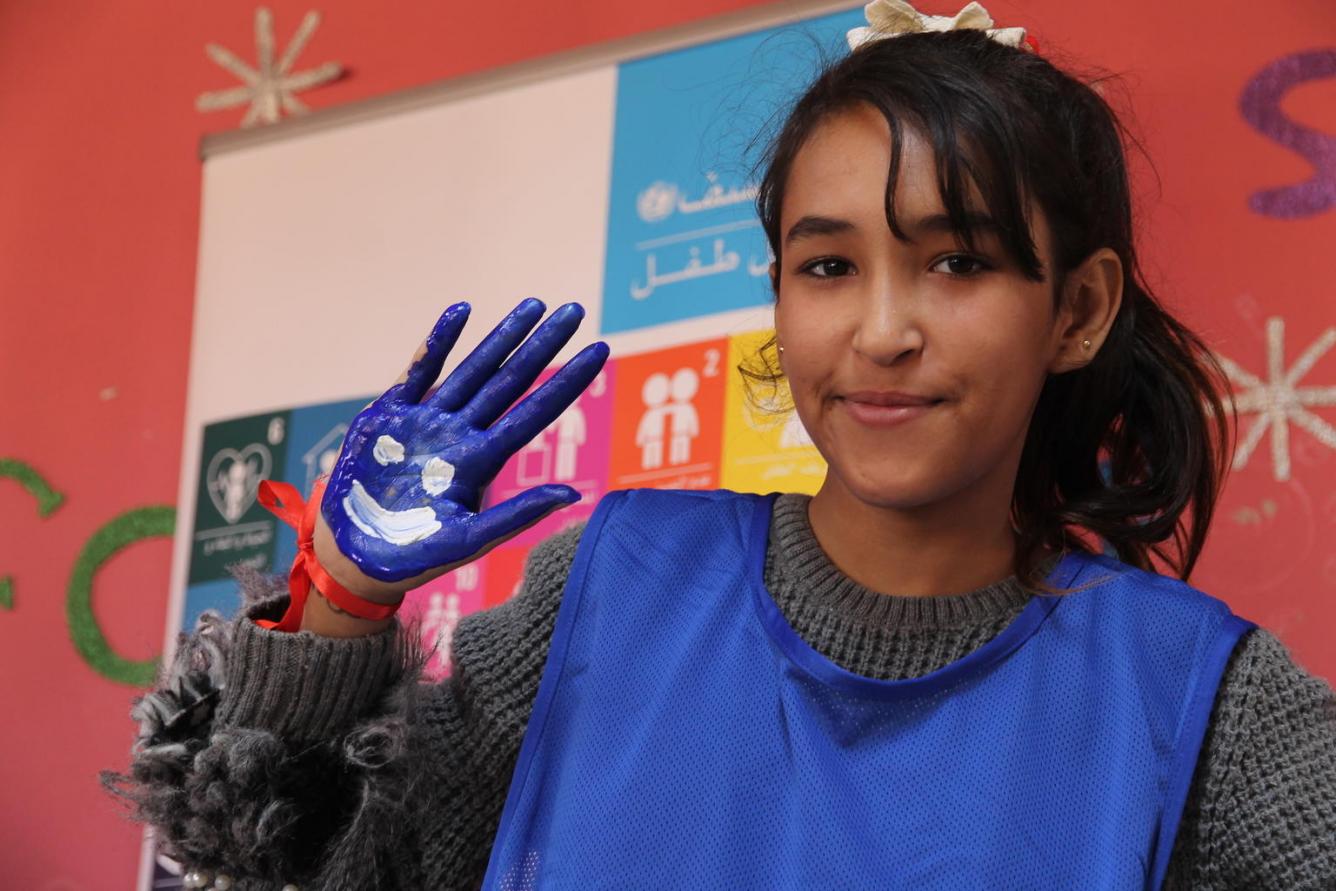 November 3/4 –Training at Makani Centre District 8
I heard this story from one of the facilitators at the Makani centre in District 8; they received an invitation to bring a small group of children from Zaatari to Amman to watch a play. Taking the children out of Zaatari is allowed but not possible because of several challenges. Still the facilitators decided to take about 200 children from different Makani centres. These children had NEVER been outside Zaatari. They never had exposure to the world outside their camp. They saw cars, buildings, green spaces, and even traffic lights for the first time. They were in shock! Everything around them was new. Until this day, the only vehicles they had ever seen were the NGO cars (mostly UN) and the donkeys, horses, and bikes in addition to some pickup trucks that merchants use to bring in goods to sell in the markets. They were speechless when they saw buildings. They have never seen a structure with more than one level. All caravans at Zaatari are on one level, like RVs. They asked how people can put a stone over a stone to build a building.
They were very happy to see the traffic lights and told the facilitators that they had seen such a thing in a picture once but they didn't know that they actually existed in real life. At the theatre entrance they saw stairs for the first time. The children didn't know what to do so they started climbing them carefully with their hands and feet. I was speechless, I listened to the facilitator and my heart sank. Until that point, I had been looking for happy stories. Now I know that despite the huge efforts and dedication of so many people, the global community is not doing enough. These children are soon going to be teens and will not forgive us if we don't do more to connect them to the outside world now, today. I just wish I could make it a reality to send them all on regular field trips and help them learn more about the world.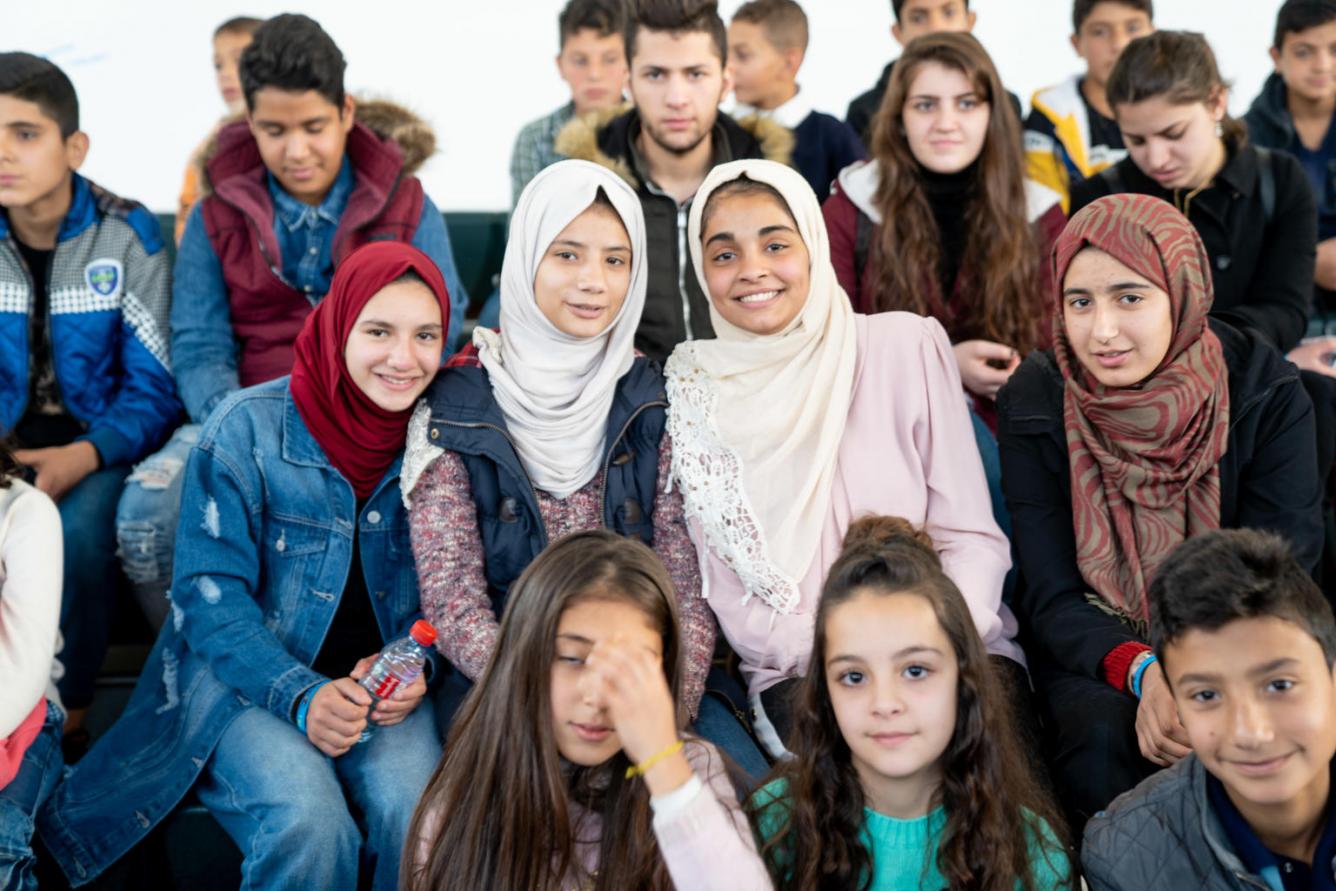 November 6 - Met teenage girls as I was waiting for my ride back to base camp.
The girls asked me a million questions. Once they learned I have a daughter at the university who is studying nursing, they started asking detailed questions about the prerequisites to enter such a program. They were very keen to work hard. One of them said that she was very sad that she lost one year in high school because of the war. I shared with her that I also lost one full year of high school during the war in Beirut but managed to catch up. I told her that determination and hard work would help her achieve her dream of becoming a nurse. I can't wait to see where this girl will be in a few years.
She told me that she doesn't want to leave this camp because she feels safe here and that many NGOs are giving her what she needs to succeed, something the communities outside this refugee camp might not be able to offer. She mentioned UNICEF several time when talking about how her needs are being met. I asked the girls if they like to go outside the camp, they said:
"Yes, we wish we could go out every day."
November 7 - Modeling sessions:
The first session I sat in on was for 16 boys in grade 4, aged 10 to 12 years old. This class was challenging as it was hard to get some of the boys to participate. Two boys in particular sought negative attention while one other would not follow the instructions. We did the "breathing ball" exercise, "if I have a super power, I would…" (community circle), and we wrote "positive qualities" in each other's silhouettes. In this class there are a number of special cases, including the boy who refused to follow instructions – his father died in the war and he often tries to get what he wants by being aggressive with others. The facilitators are working hard, as a team, to support him. I feel good knowing that UNICEF has an effective process in place to refer children with behaviour or other special needs to specialized programs, such as Mousikati (music therapy).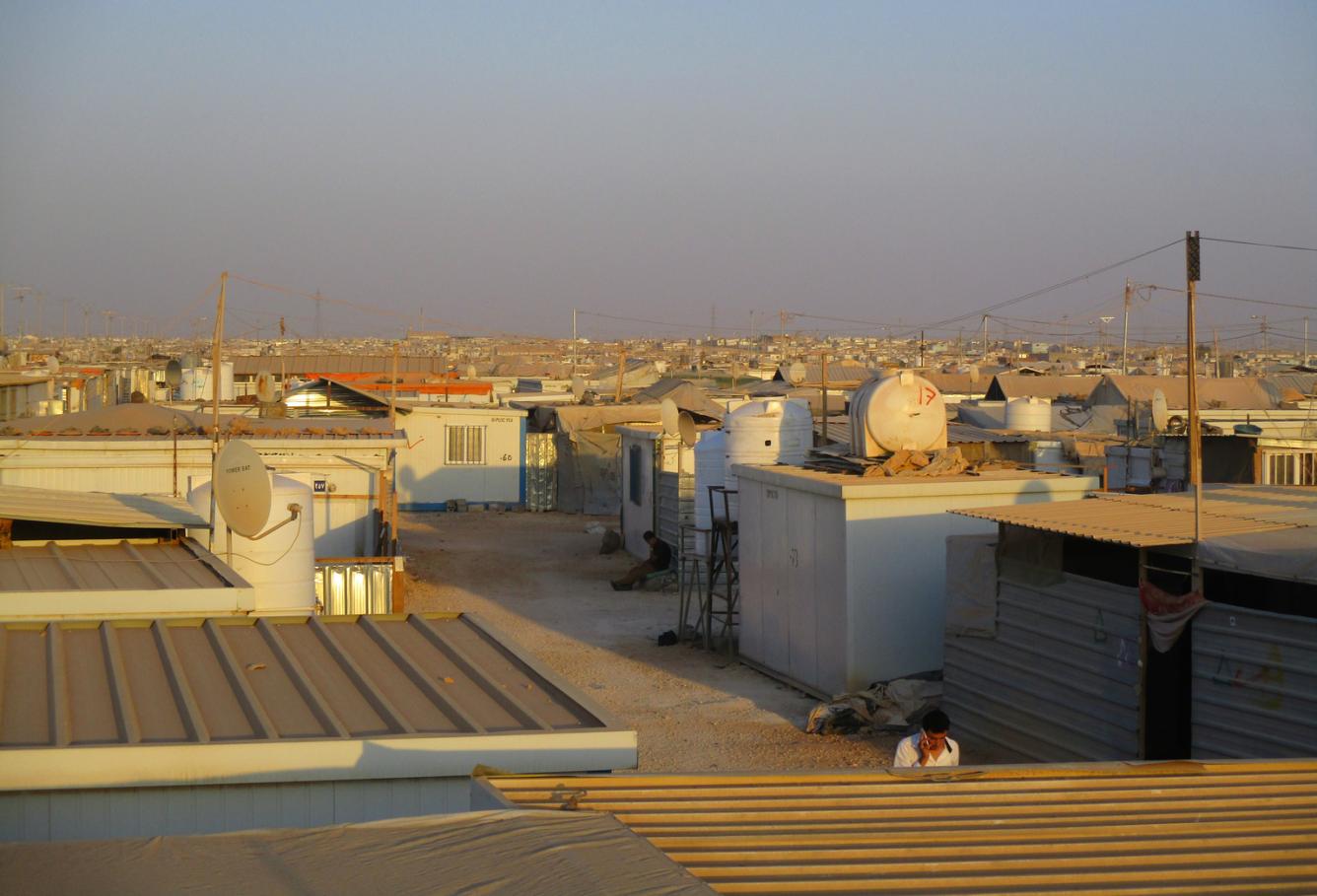 November 13 - Makani Centre in District 10:
At the Makani centre, I met Nizal, a young boy with special needs. He uses a wheelchair and has recently undergone surgery. Nizal is a very good student and comes regularly to the Makani centre for learning support. I felt awkward to meet him briefly so instead, I quickly pulled pictures from the internet of children using wheelchairs who looked like children I worked with in Toronto and showed them to Nizal. I told him that my students have something in common with him; at first he couldn't guess what, so I had to prompt him to look at the wheelchairs.
I told him that the purpose of my visit was to meet him and have him meet children like him, who are very smart and whose physical needs don't stop them from doing anything they want to do. It was great to see how children with special needs are being supported inside Makani. The classrooms are accessible but it seems that Nizal counts on others to help him get from one place to another. I wonder how we can support him to gain more independence and freedom when it comes to mobility.
I promised the children I met at Zaatari to work hard to bring the world into their classrooms. I know that as a UNICEF Canada ambassador, I don't have a say in how the funding is spent, but what I know is this: As a global citizen, a human, and an advocate for child's rights, I strongly believe that we need to do more! Kids grow fast, we need to make sure that children living in Zaatari and Azraq are prepared for life outside a refugee camp. I will strongly advocate for more resources (mainly a library with fiction and non-fiction picture books in Arabic and English, internet, e-books) and funding for regular field trips despite the mixed opinion on that. These kids must have more opportunity to come out and explore the world.
Every story I heard ended with a promise I gave. I will advocate for each and every one of these kids because it is their right to learn.
A little note about UNICEF staff who work in the field:
Over the last few weeks I had the chance to work w/ this incredible team from UNICEF Jordan! I saw firsthand their extraordinary work in the field. They care deeply about the children and advocate tirelessly to ensure the success of the programs. They deal with so many challenges every day. Their collaboration with each other, their professionalism and love for what they do is outstanding!