Za'atari refugee camp, Jordan – When the farmhouse where Fatima, Ahmed and their six daughters (aged 2-10) were sheltering in was attacked, each parent grabbed three girls and literally ran for their lives.
"I remember my youngest daughter's face was covered in blood and after running I realized I couldn't find Safa," says Fatima.
It was a neighbour who eventually found Safa bleeding in burned down trees and took the little girl to a hospital in rural Damascus. When Fatima and Ahmed arrived, they learned their six-year-old daughter had been gravely injured and would lose her right leg.
It was the third attack the family had lived through. Originally from Aleppo, Fatima and Ahmed fled to rural Damascus after their home was destroyed. After Safa almost died they decided to leave Syria.
"I'm not with any side. What's the fault of our daughters? They're not guilty. Why would this happen?" asks Ahmed.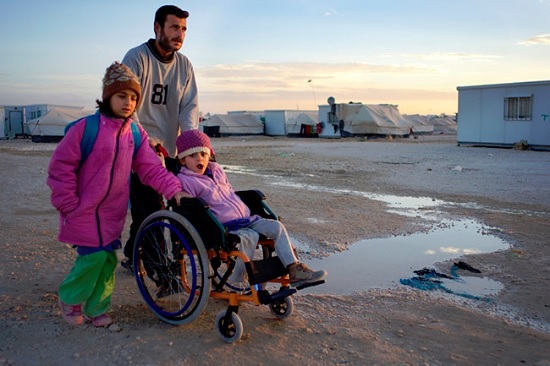 Ahmed walks two of his daughters, six-year-old Safa and nine-year old Aya, to school in the Za'atari refugee camp in northern Jordan. ©UNICEF/Jordan-2013/Noorani
Almost five months have passed since the attack and the family of nine – including Ahmed's elderly mother Wardeh – now live in a small caravan in the Za'atari refugee camp in Jordan.
Somehow Safa still smiles and has adjusted to having to crawl to get around by herself. But she's shy and buries her face in her hands when asked questions.
The little girl's entire back is covered in scars from the attack. She still has pieces of shrapnel under her skin, which doctors in Za'atari are working carefully to remove.
"Even small sounds make her scared and she hides," says Ahmed. "All of the girls are living in constant fear. It was a year and a half they suffered through bombings they are afraid."
School and safe spaces critical to healing
Though the conflict has destroyed much of their country, Ahmad and Fatima are determined not to let it destroy their children's futures.
Thanks to the NGO Handicap International, Safa has a wheelchair, receives regular physical therapy sessions and has been measured for a prosthesis.
Every morning Ahmed walks his daughters to one of the UNICEF schools in Za'atari. Safa and her twin sister Marwa are in grade one and their teacher Miss Abeer makes sure Safa is treated like all of the other students.
In the afternoon, Ahmed takes his daughters to a UNICEF-Save the Children child friendly space, where they can play, socialize and receive psychosocial support.
Safa says she likes going to the child friendly space because, "I like playing, I like the other children there."
Fatima and Ahmed explain their number one priority is ensuring their daughters are educated. "Even in Syria we managed to keep the girls in school as long as we possibly could. Education is the most important," says Fatima.
Help Safa and her sisters receive the support they need by making a donation today.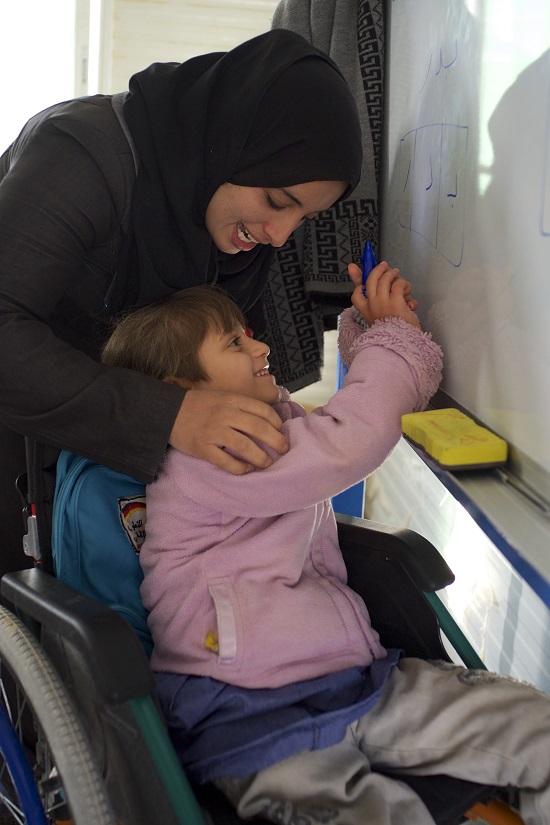 Safa's teacher helps her to learn in a UNICEF-supported school in Za'atari. ©UNICEF/Jordan-2013/Noorani
On the verge of a lost generation
The Syrian conflict has resulted in the most rapid decline in education for children in the history of the Middle East. Since 2011 nearly 3 million Syrian children have dropped out of school.
At the same time, 1.2 million Syrian children are living as refugees and an untold number have been victimized by unspeakable violence – like Safa and her sisters.
Back at Safa's family's caravan, Fatima helps her daughters with their homework. She admits her body is still in pain from constantly being in a state of fear and anxiety.
"I want to tell people my girl is an innocent girl, the war is not her fault and why should she suffer from this?"
No child should suffer from war. You can help prevent a lost generation of Syrian children by supporting UNICEF's life-saving work.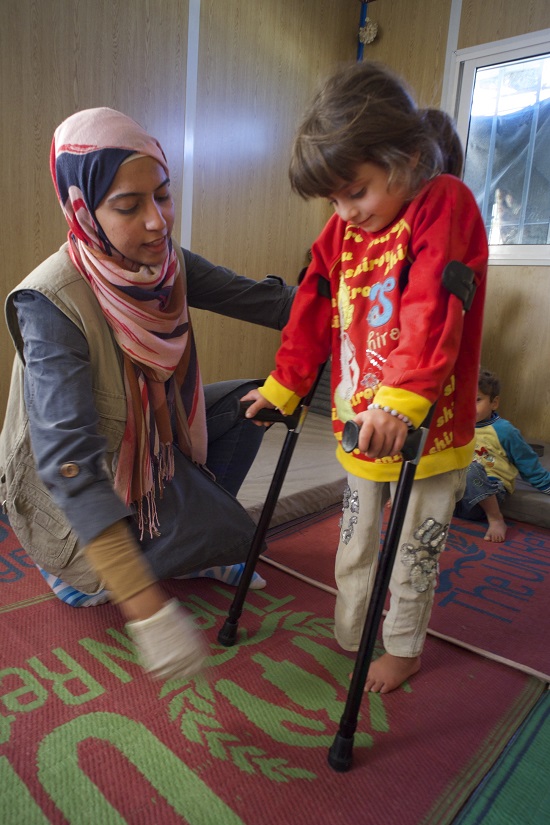 Six-year-old Safa receives assistance learning how to use her new crutches from a Handicap International physiotherapist. ©UNICEF/Jordan-2013/Noorani
---
Categories:
Geographic Regions: