Today marks World Day Against Child Labour, shining a light on the darkness that 168 million children endure around the world. One in ten people under 18 years old are working in conditions that rob them of their childhood, interfere with their education, and harm their health. One example of child labour is the tens of thousands of children who are working in small-scale mines across West Africa, falling ill as they miss school to look for gold, copper or charcoal.
This year's theme for World Day Against Child Labour is social protection – supporting poor and vulnerable families so that their children don't have to do inappropriate work. Everyone has a part to play in making this happen, including businesses. In February Toronto saw the Canadian launch of the Children's Rights and Business Principles, which equip companies to respect and support child rights in their policies and practices. Global retailer IKEA spoke at the launch, and shared how they were implementing two of the Principles on eliminating child labour and providing decent work for young people. They've incorporated the Principles into their company strategy, maintain a clear ban on child labour for their suppliers, and support UNICEF's work in India to provide social protection to the families of vulnerable people in the cotton industry.
One of the thousands of children who benefitted from this partnership was Sailesh, who lives in Gujarat and wanted to go to school and play cricket. But his father pulled him out of classes and made him work in the cotton farms to help provide for his family. He soon forgot what he had learnt and lost touch with his friends. Help was at hand though. Champa and Sumitra were two girls who had been trained by an IKEA-UNICEF social protection project in child rights and advocacy. They identified Sailesh and together with other villagers helped Sailesh's father release him to go back to school. While the years working in the cotton farms has made it difficult for him to hold a bat, he is back playing cricket, enjoying his studies, and making new friends.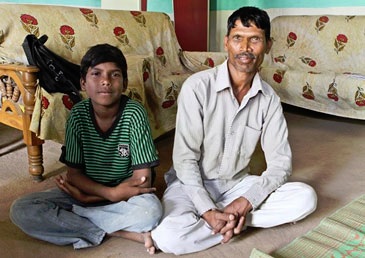 There is other good news too. Child labour has fallen by almost a third from 215 million since 2000. This is thanks to programs like UNICEF's in Burkina Faso that removed 20,000 children working in gold mines by providing them with education and training and their parents with alternative livelihoods. You can see a photo gallery portraying the success of this program here. Social protection in action. We still have a long way to go, but there are many good reasons to continue our fight against child labour – 168 million good reasons in fact. So play your part:
Get informed – read our latest publication on child labour and what UNICEF is doing.
Get involved – act to end child labour as part of the larger problem of violence against children.