Help us reach more children with life-saving food and supplies
The Yemen conflict began in 2014 and escalated into a brutal war in 2015, and has put more than 24 million people – about 80 per cent of the population – in danger. Today, Yemeni families face the added threat of COVID-19. As basic services collapse and the economy continues to deteriorate, families are struggling to feed themselves, and preventable diseases are on the rise. More than 12.2 million children are in desperate need of life-saving humanitarian assistance. Please help.
How will my donation help children in Yemen?
Your donation will help UNICEF reach more children with life-saving food, treatment for malnutrition, COVID-19 response, vaccines to prevent disease outbreaks, and other vital services.
Here are just a few examples of how you can make an impact:
Your gift of $11 can provide 21 packets of Plumpy'Nut® therapeutic food to boost a child's chance of survival
Your gift of $30 can provide measles vaccines for 27 children
Your gift of $50 can protect 51 children against measles, polio and tetanus 
How urgent is the humanitarian situation in Yemen?  
Yemen is the world's largest humanitarian crisis, complicated by the outbreak of COVID-19. Nearly every single child in the country needs emergency assistance. A child dies a preventable death every ten minutes. Cholera, measles and diarrhea are life-threatening concerns. And unless UNICEF receives immediate support, 4 million people – half of them children – will lose water, sanitation and hygiene services, critical for their survival and protection against coronavirus and other diseases.
The future of an entire generation is in jeopardy, as the continued destruction and closure of schools and hospitals, especially since COVID-19 began to spread, disrupts access to education and health services. 
And with escalating food shortages, malnutrition rates among children in Yemen are some of the highest in the world, with 2 million children requiring treatment for acute malnutrition.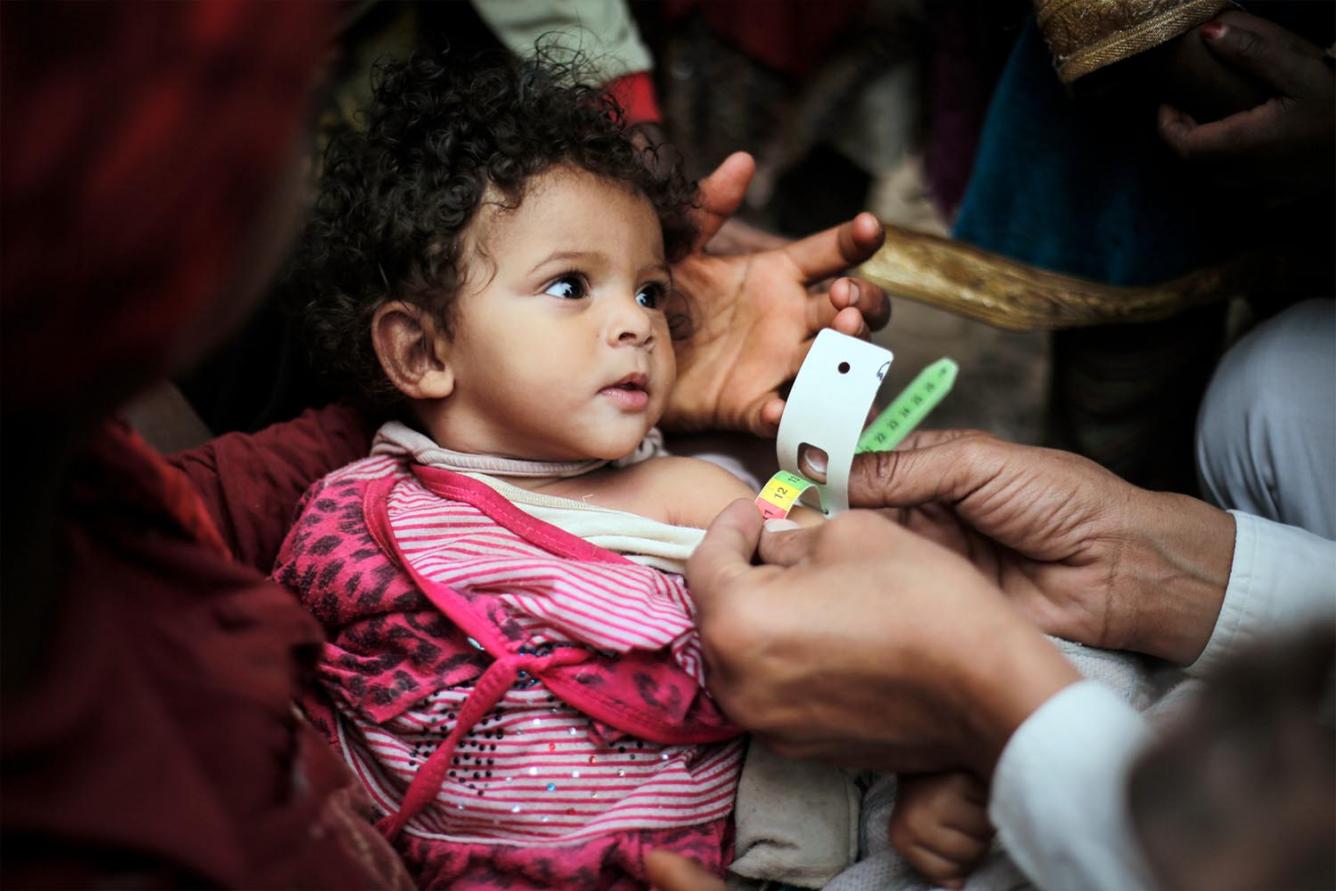 What is UNICEF doing to help children in Yemen? 
UNICEF is on the ground across Yemen, working to save children's lives and to help them cope with the impact of conflict by providing victim assistance and education on mines and explosive remnants of war, plus other vital services.
In response to COVID-19,  with help from our donors, UNICEF has: 
Shipped over 33,000 N95 respirators, 33,000 face shields, and 18,000 gowns for frontline workers.
Treated 15,285 children for severe acute malnutrition and provided 2,759 children with Vitamin A supplementation in April alone.
Trained 10,000 community volunteers across the country.
Provided 80 tents for new quarantine centres.
Reached 16 million people with risk communication messages on COVID-19 prevention.

Why does UNICEF need my help now?
Yemen is facing an emergency within an emergency as COVID-19 spreads across the country. Sanitation and clean water are in short supply. Only half of health facilities are functioning, and many lack basic equipment like masks and gloves, let alone oxygen and other essential supplies to treat the coronavirus. 
Children continue to be killed and maimed in the conflict. Around 2 million children are suffering from acute malnutrition and require urgent treatment. The damage and closure of schools and hospitals has disrupted access to education and health services, leaving children even more vulnerable and robbing them of their futures. Before COVID-19, 2 million children were out of school. Now, because of the pandemic, schools have been closed around the country, leaving an additional 5 million children out of school. 
Please help by making a donation today.
We need the support of generous and caring donors like you to help us: 
Provide PPE (Personal Protective Equipment) items and operations support to 25,000 frontline workers, including health staff.
Provide safe water and sanitation services for 900,000 people in isolation centers and quarantine facilities.
Procure oxygen concentrators and ventilators.
Train of over 7,000 frontline Health Workers on Infection, Prevention and Control.
"Children in the heart of the world's worst humanitarian disaster need help. Funding Yemen's WASH needs and COVID-19 response is critical to their survival. We appeal to donors to step up and dig even deeper to support this lifesaving work."
- Henrietta Fore, UNICEF Executive Director
Last updated: June 12, 2020