How to help the children in Yemen: Donate to UNICEF's Yemen Fund
The humanitarian crisis in Yemen: explained
The crisis in Yemen consists of different issues that children and families have to face every day, such as:
Conflict
Collapse of basic services
Threat of famine
Threat of cholera
1. The war in Yemen threatens children's lives
The conflict has made Yemen a living hell for children. Over 12.3 million children require humanitarian assistance.  
How did the conflict start in Yemen?
In March 2015, the conflict in Yemen between the Houthi militia and supporters of Yemen's government escalated into a brutal war after Houthi militia forces took control of Yemen's capital, Sana'a in late 2014. Aerial bombardment and street fighting has gripped most of the country, putting millions of the country's civilian population, especially children at peril. Across Yemen, aid organizations are facing major obstacles to helping Yemenis in need of food, medicine, and other essentials.
Yemen on the map:
2. Basic services are rapidly collapsing
The collapse of basic services in Yemen continues to accelerate. Evacuated or forced to close down because of the lack of fuel, supplies and funds. Children face food shortages, disease, displacement and an acute lack of access to basic social services. The list goes on. Children across the country are at grave risk. With global media and donor attention flitting from one crisis hotspot to another, Yemen risks becoming a forgotten crisis. But its needs are enormous. The chances of survival are becoming more desperate by the day for the 360,000 severe acutely malnourished children fighting for their lives in Yemen.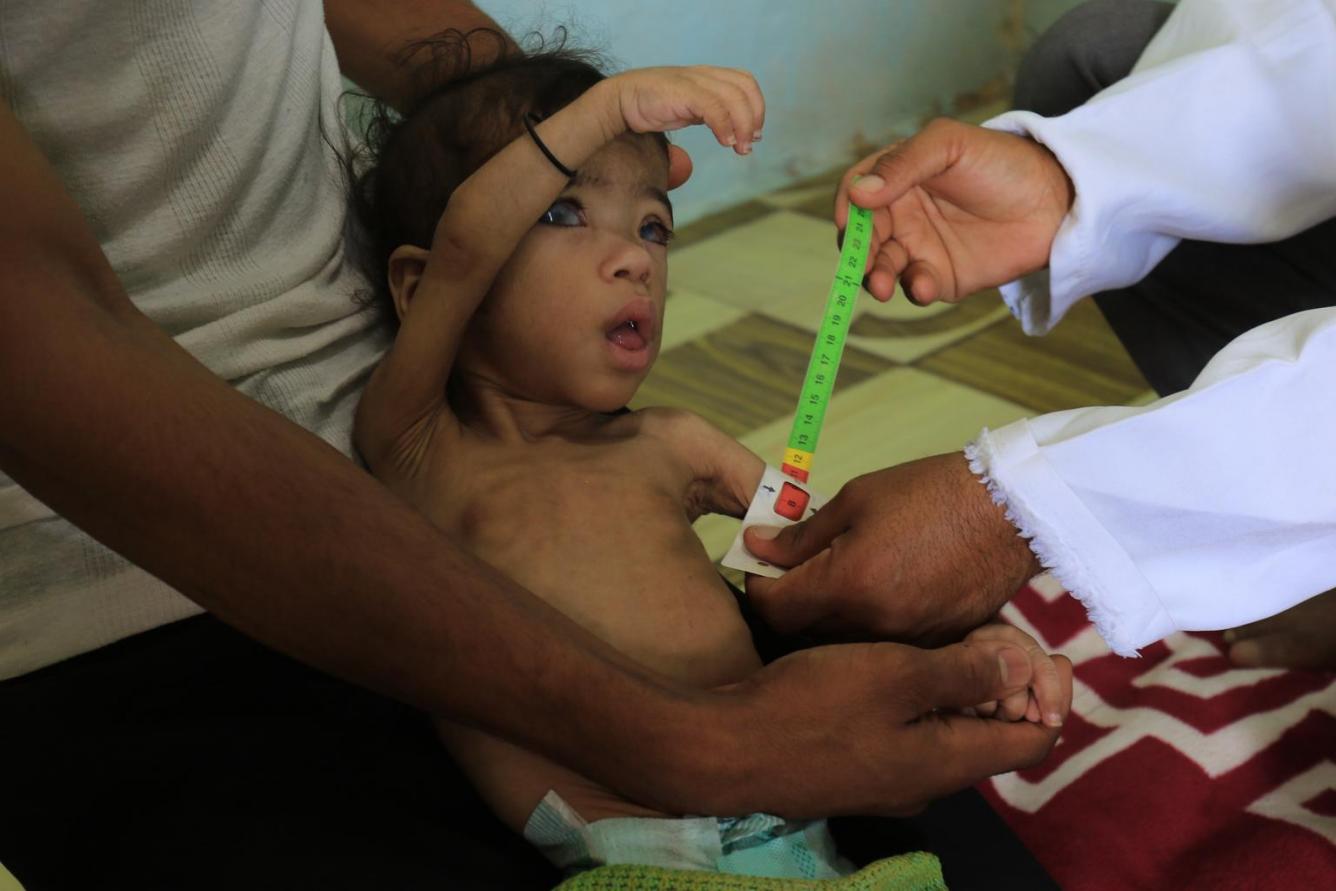 3. Famine in Yemen: the most immediate threat 
As economic crisis deepens and Hudaydah violence drags on, millions of desperate children and families across Yemen are on the brink of famine. The statistics are grim:
20 million people are food insecure – meaning they lack access to regular food supplies.
360,000 children under the age of five suffer from severe acute malnutrition and are fighting to survive.  
4.9 million children and 2.5 million pregnant or lactating women are acutely malnourished and could become severely food insecure.
Three quarters of the country's population would be facing life-threatening shortages of food without the assistance provided by the humanitarian community. These conditions, devastating in their own right, are compounded by the situation in Hudaydah where violence threatens to kill children and choke off an essential supply chain of fuel and humanitarian aid that sustains 24 million Yemenis.
4. Cholera: alarming number of infections already 
Since April 2017, the cholera-related death toll has grown to staggering heights. There have been over 1.6 million suspected cholera cases and 3,288 associated deaths in the country – one of the worst outbreaks in recent history. Vaccination is critical to preventing further spread of cholera, especially amongst children.

In April 2019, a total of 1,088,818 people over the age of one, were vaccinated against cholera as part of a joint WHO-UNICEF campaign. The nine-day vaccination campaign was carried out in three districts in Amanat Al Asimah.
UNICEF is providing essential services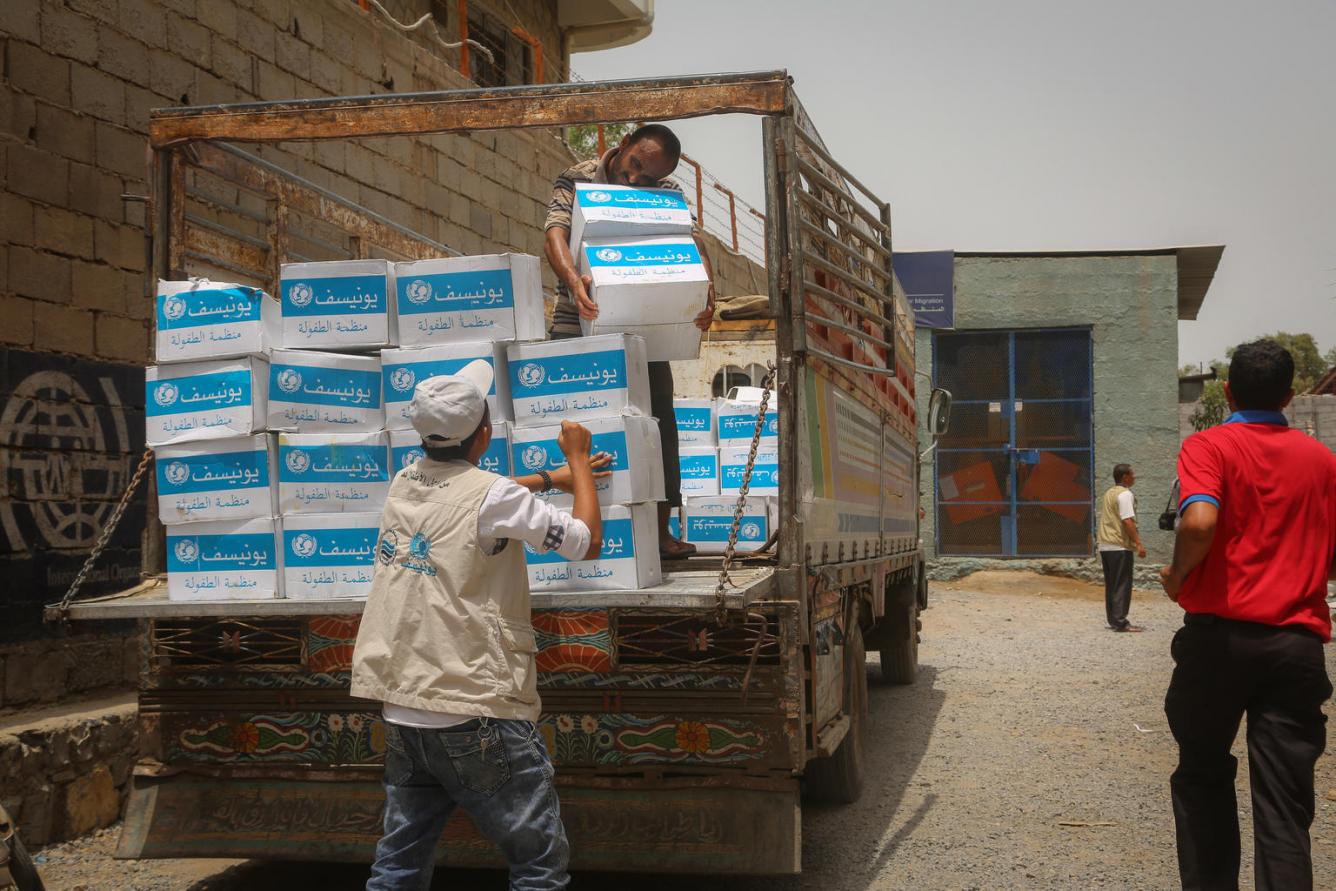 Yemen is among the worst humanitarian crises in the world. UNICEF is one of the most active children's charities providing humanitarian aid in Yemen. Response is being rapidly scaled to meet children's humanitarian needs which are getting more acute by the day. 

UNICEF is working with partners in Yemen to provide health and nutrition support, clean water and hygiene services. Between January to April 2019:
Over 84,256 children with severe acute malnutrition were admitted to therapeutic care.
 
Nearly 4,045,110 people received access to safe drinking water. Additionally, over 1.7 million people living in high risk cholera areas had access to household level water treatment and disinfection. Clean water supplies are being established through the provision of electricity in communities. 
 
Almost 42,000 children under the age of 1 received the measles and rubella vaccination and just over 151,000 were vaccinated against polio. Specialized health services are being delivered for children with injuries and disabilities and to reach the most vulnerable. 
 
Over 48,438 children were provided with basic learning supplies, and an estimated 64,387 children accessed education with UNICEF support. UNICEF is focused on preventing the education system from collapse and ensuring that infrastructure, learning materials and teachers are available to continue working with children.
 
474,619 children and caregivers have benefitted from psycho-social support to cope with the traumas they have been through and provide a sense of routine and normalcy when school is not an option.
How can Canadians support the children of Yemen?
In Yemen, a child dies every 10 minutes from preventable causes. The best way to provide immediate help is by donating to UNICEF's Yemen Fund. Your donation will go directly to Yemen to help children survive the food crisis and to provide life-saving essentials.  
$63 could provide a survival food kit providing nutrient-packed therapeutic food for 69 children. 
$110 could provide 210 packets of Plumpy'Nut® providing a week's supply for 70 children of a high-protein therapeutic food that can help a child to gain up to two points in one week. 
$131 could stock a malnutrition treatment centre and provide therapeutic food for 164 children.
 
Last updated: November 2, 2018