Saving children's lives through immunization

How to help: donate to UNICEF and help deliver more vaccines around the world
Everything you wanted to know about UNICEF's work with vaccines
Vaccines are one of the simplest, most cost-effective and most successful ways to save children's lives. As the largest global purchaser of vaccines, UNICEF reaches 45 per cent of the world's children with life-saving vaccinations.
But it's not just about working to vaccinate every child. We're also working to completely rid the world of diseases like polio and maternal and neonatal tetanus.
Thanks to our donors, UNICEF is able to reach and immunize children worldwide. Donate vaccines through UNICEF's Survival Gifts »
Immunization statistics
Thanks to vaccination efforts, an estimated 2-3 million lives are saved every year. One third of deaths of children under five are preventable by vaccine. Yet an estimated one in five of the world's children still don't have access to life-saving immunizations.
Did you know?
Together with partners, UNICEF was able to help reduce the price of the pentavalent vaccine by half in 2016 to 84 cents US per dose, on average. This is a vaccine that protects children against five deadly diseases. Thanks to the reduction in price, every dollar you donate goes further. UNICEF will be able to save an estimated 5.7 million children by 2020.
Vaccines work – here are the facts:
Vaccines are safe and effective. Any licensed vaccine is rigorously tested before it is approved for use.
Vaccines prevent deadly illnesses such as diphtheria, measles, mumps and pertussis (whooping cough).
Vaccines provide better immunity than natural infections because they have proven to be less risky and less likely to result in cognitive impairments.
Combined vaccines are safe, beneficial and save time, money and discomfort to children. The common cold actually has more antigens than vaccines.
If we stop vaccinating children, diseases will return. The more children remain unvaccinated, the more likely it is for diseases to make a comeback.
Deadly diseases that are preventable with vaccines
1. Polio

Polio anywhere is a threat to children everywhere. UNICEF is part of the Global Polio Eradication Initiative, which aims to eradicate the crippling disease by 2019. We're 99 per cent of the way there. Recent vaccination campaigns in the final three endemic countries of Afghanistan, Nigeria and Pakistan reinforce that we're on the brink of global change.
With support and generous donations from our community and key partners like the Government of Canada, we can have a polio-free world very soon.
2. Maternal and neonatal tetanus (MNT)

Maternal and neonatal tetanus (MNT) is a painful, paralyzing and fatal disease for women and their newborn babies. Infants are especially at risk. It's contracted when an unsterile blade is used to cut the umbilical cord, infecting vulnerable babies during their first moments of life. Fortunately, MNT is completely preventable. When a woman of childbearing age is vaccinated against tetanus, she passes on her immunity to her unborn children. As of February 2018, UNICEF and partners have eliminated MNT in 44 countries, and we continue to tackle it in the 15 countries where it remains a public health concern.
Protect families with a Mother and Baby Tetanus Pack »
3. Measles

Measles is a leading cause of death among children, even though a safe and inexpensive vaccine exists. Since 2000, an estimated 20.3 million child deaths were prevented through measles immunization. In 2016, approximately 89,780 deaths were attributed to measles.
UNICEF and partners are working to prevent measles deaths in the world's poorest countries by 2020 – and if we can reach every child, we can stop measles for good.

Almost two-thirds of children who have not been immunized against deadly or debilitating diseases live in countries affected by conflict. The breakdown of vital health services, the killing of health workers and the destruction of medical facilities, supplies and equipment can all have disastrous effects on children's health. To protect children caught in conflict, UNICEF vaccinators reach those in besieged and hard-to-reach areas.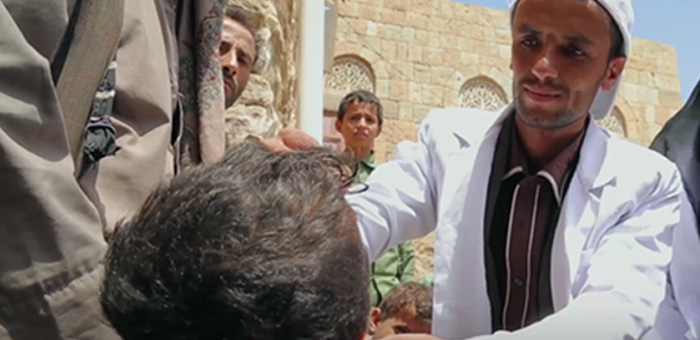 "I chose this work to serve my village and community. Obstacles do not matter," says Ahmed, a UNICEF vaccinator who often works nights and transports vaccines for children up the rocky mountainside with his donkey.
UNICEF was also the first to introduce "days of tranquility" and "zones of peace" to the world: temporary ceasefires to provide life-saving care. The first days of tranquility occurred in El Salvador in 1985, when fighting stopped for three days to allow 250,000 children to be vaccinated. UNICEF will always work to ensure that children caught in crisis are not forgotten.
Read more about our vaccination work for children caught in conflict »
Cold chain: innovating to ensure vaccines are delivered unspoiled

Delivering vaccines from where they are produced to children in remote communities, unspoiled, is a huge undertaking. This process is called the "cold chain" and it requires every facility, truck and cooler to maintain a steady temperature of +2˚C to +8˚C. Any fluctuations in temperature can spoil the vaccine. As an organization that manages cold chains in many countries, UNICEF is constantly innovating to keep vaccines – and children – safe.
In his blog post, UNICEF's Sergiy Prokhorov reports that cold room facilities in Pakistan "are now being equipped with a Central Monitoring System (CMS), which allows online recording and reporting of the temperature inside of the cold rooms. It does real-time cold room temperature monitoring and immediately informs the store keeper via SMS or email if a temperature fluctuates or a door is left open." With our teams, innovation has no limits.