Indonesia: Adolescent Nutrition
Background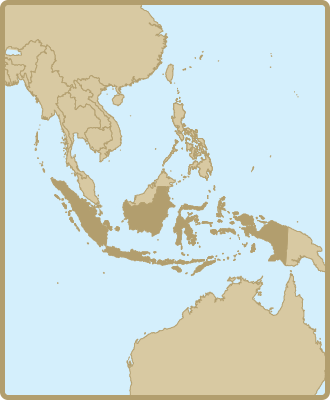 Indonesia has some of the most troubling nutrition statistics in the world: almost eight million children are stunted and there are an estimated three million cases of severe acute malnutrition every year. The nutritional status of a pregnant woman is a crucial determinant of a child's health and nutrition. The first 16 weeks of pregnancy are especially critical because this is when the development of the brain is most rapid. Women in Indonesia rarely access antenatal services this early in pregnancy, and by the time they access care, it is usually too late to correct nutritional deficiencies.
Poor adolescent nutrition is one of the key factors underpinning the high burden of malnutrition in Indonesia. The country is in the midst of a 'demographic transition': there are more adolescents in Indonesia today than ever before. Forty percent of adolescent girls are thin due to undernourishment, 25 percent marry before they are 18 and childbearing before age 20 is common. Undernourishment in adolescent girls is a major determinant of low birth weight and stunting in babies, as well as a risk factor for complications during childbirth.
It is imperative to improve the nutritional status of adolescent girls and women before they become pregnant. Despite this urgent need, adolescent health and nutrition has received very little attention in the country. The Government of Indonesia has approached UNICEF for guidance on how best to address this issue.
Country Profile
Population: 252,164,800 (2014 estimate)
Official Languages: Indonesian
GDP per capita, PPP: US $9,561 (2010-2014)
HDI: Medium HD, ranked 108/187 countries (2014)
Key Objectives
Design and model new program approaches that more effectively reach adolescent girls with interventions to improve their health and nutritional status. This will contribute to ending generations of child stunting and poor nutritional outcomes by improving the nutritional health of adolescent girls before they become pregnant.
The Multiplier Effect
The program approaches will model and demonstrate effective nutrition interventions to be scaled-up nationally with the Government's own resources.
Key Activities
Generate information on the nutritional status of adolescents and determinants of malnutrition, particularly in urban poor areas where there are high risk factors. This evidence will increase the visibility of adolescent malnutrition in Indonesia to generate greater demand for policy and programs.
Map and review regional policies and guidelines on adolescent health and nutrition to ensure directorates of multiple ministries are harmonized, complementary and reflect the highest global standards.
Create training packages to update the knowledge and skills of health workers to implement policies and guidelines.
Design and test a package of effective nutrition interventions targeting adolescents, including testing various delivery platforms to reach adolescents, particularly high-risk adolescents who have dropped out of school.
Develop a monitoring and evaluation framework and knowledge platform to encourage widespread access to data and information on adolescent nutrition, as well as the findings of the program, in order to catalyze scale-up of successful approaches.
The 25th Team interventions will directly benefit 50,000 adolescent girls.