Karina LeBlanc dreams big.
Born to parents who sacrificed a lot to move from the small Caribbean island of Dominica to Canada, Karina felt lost and disconnected in her new home. It took sports – soccer – to help her find her way.
Years of rigorous training, determination and countless hours on the pitch helped her gain confidence and a sense of belonging. She believed in her dreams and they helped her overcome endless obstacles.
Today, Karina is a bronze medal Olympian from the 2012 London Olympic Games, a professional footballer and head of CONCACAF Women's Football. Four FIFA Women's World Cups, three Pan American Games and two Olympic Games later, Karina is now a proud UNICEF Canada ambassador – ready to inspire young girls to live their own dreams.
In 2013, Karina teamed up with UNICEF Canada on a trip to Honduras to visit its Football for Life program. In 2015, Karina went back to Dominica, where she grew up to visit UNICEF projects and hosted a soccer clinic for kids. Karina is currently raising funds for the children of Dominica in hopes of realizing their dreams. Join Karina in raising money to help kids in Dominica.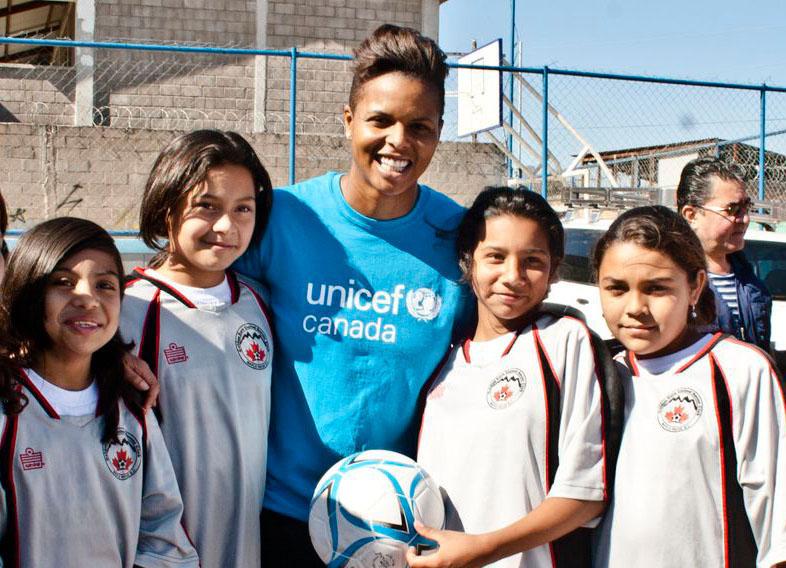 "I have always known that UNICEF is the world's leader in protecting children and ensuring children have access to basics like health care, education and clean water. Seeing this first-hand in Honduras strengthened my belief in UNICEF's vital work. I am so pleased to be part of this organization and look forward to meeting more children UNICEF reaches as its newest ambassador."
More than just a sport.
Soccer is more than just a game; it is more than just a sport.
Soccer can change children's lives; can save children's lives.
Active in virtually every country, with nearly seventy years of experience in saving children's lives has taught us many things.
One of the most important things it has taught us is that children scarred by war and poverty – who lack all the basics – miss a childhood most.
We are the global leader.
All too many girls around the world are seen as burdens on their families and from the very moment they are born, receive less investment in their health, their education and their care.
At UNICEF, we are working to change that.
Reaching hundreds of thousands of children through our innovative Sport for Development programs, we are not just teaching girls, but proving to them, that they matter too.
Together with your support, we can reach countless more and prove to them that anything is possible.
I save children's lives.
Download the map showing the impact UNICEF have had around the world through sport.
Global leaders for a global sport 
The proof is in the report.
More on Olympian Karina LeBlanc
Visit Karina Leblanc's official website.