Background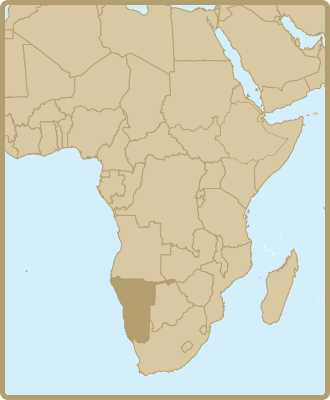 Namibia has made significant economic progress since independence in 1990, attaining an upper middle-income status. The country has a well-developed national health system, which has played an important role in reducing deaths of children by more than 40 percent in the last ten years. However, most of the population live in rural areas - at least 10km from the nearest health facility - and are unable to benefit from current health initiatives. In addition, there are significant child health outcome disparities that persist within regions, ethnic groups and wealth quintles.
Namibia is challenged by a small number of preventable and treatable childhood conditions. Neonatal conditions, pneumonia, diarrhea, HIV and malnutrition are the most common causes of child mortality. Although the majority of mothers receive antenatal care and have births in a health facility, postnatal care remains a challenge throughout the country.
Although Namibia's under-five birth registration is relatively high (78 percent), enormous inequities exist in access to and demand for birth registration among remote and poor communities. Namibia is one of the few African countries with a comprehensive and entirely government funded social grant system. While these grants make an important contribution to improving livelihoods, they have not been effectively utilized as a measure to reduce poverty. Birth registration is the very first step for children from extremely poor families to access social grants.
Country Profile
Population: 2,113,077 (2011 census) Official
Languages: English
GDP per capita, PPP: US $9,583 (2010-2014)
HDI: Medium HD, ranked 127/187 countries (2014)
Key Objectives
Address disparities in health outcomes for mothers and children in the Ohangwena and Kavango regions due to inequities among regions, ethnic groups and wealth quintiles by providing targeted quality health care to the most disadvantaged.
The Multiplier Effect
Project activities will focus on low-cost, high-impact maternal newborn and child health interventions that will demonstrate to the government how to successfully improve access to services for vulnerable families. The goal is for the government to scale up successful program approaches.
Key Activities
Gather evidence through assessing, reviewing and analysing maternal and child health care to influence government and advocate for policy change.
Increase and sustain the integrated service delivery of high impact and low cost maternal, newborn and child health services.
Build the capacity of health workers to deliver newborn care, birth notification, child health care and postnatal follow ups.
Improve quality of care by ensuring quality guidelines and protocols are in place.
Provide technical support to the government to accelerate timely birth registration in the Namibia Strategic Plan for the Civil Registration and Vital Statistics System.
Develop a communication for development approach to strengthen individual, family and community capacities to take necessary child survival actions at home and to seek appropriate health care.
Build capacity at the national and sub-national levels for monitoring results for children and developing maternal, newborn and child health scorecards.
The 25th Team interventions will directly benefit 319,600 women and children.