Staring amused at her mother's mask covered face, 3-month-old Christelle is waiting to be vaccinated in the health center near Abidjan, in Côte d'Ivoire. This may seem routine but it's April 2020, and COVID-19 has been circulating for two months in the country.
Routine immunizations, integral to the fight against preventable causes of death in children, were halted for months during the pandemic. Each year, UNICEF vaccinates 45% of the world's children age five, procuring 2 billion vaccine doses annually. But, in 2020, countries in West and Central Africa were running out of childhood vaccines, amid a rise in measles cases.
Strict lockdowns in manufacturing countries, grounded flights, restrictions on international transport and shortages of life-saving supplies were major roadblocks. But UNICEF persevered and found innovative ways to reach the most vulnerable.
Canadian donors and supporters' contributions are part of these wider global efforts to protect every child's right to a childhood during the COVID-19 pandemic. Together we are working hard to build back better. For the children, the ones who will inherit the future, 'back to normal' was never good enough anyway.
How UNICEF is Protecting Children During A Pandemic
One of UNICEF's innovations was the multi-stop charter flights—several smaller vaccine shipments pooled into a single aircraft, making stops in several countries. It was a charter plane that flew from India, to Côte d'Ivoire and 12 other countries in the West and Central African region, delivering more than 11 million doses of vaccines, to protect children like Christelle from diseases like diphtheria, tetanus, measles, polio and hepatitis B.
Built through dynamic partnerships over 75 years and a network that spans the globe, innovations like this are one of the many reasons why UNICEF has been chosen to lead the procurement and delivery of COVID-19 vaccines. One of the largest humanitarian efforts of our lifetime.
Providing Equitable Access to the COVID-19 Vaccine
As part of a global alliance with WHO and others we are working to ensure equitable access to 2 billion doses of COVID-19 vaccines by the end of 2021 – enough to vaccinate 20% of 190 participating countries' populations. While our focus will be vaccinating high priority populations, the 107 million health workers and others who are part of these populations will be integral in building back better for the children we serve.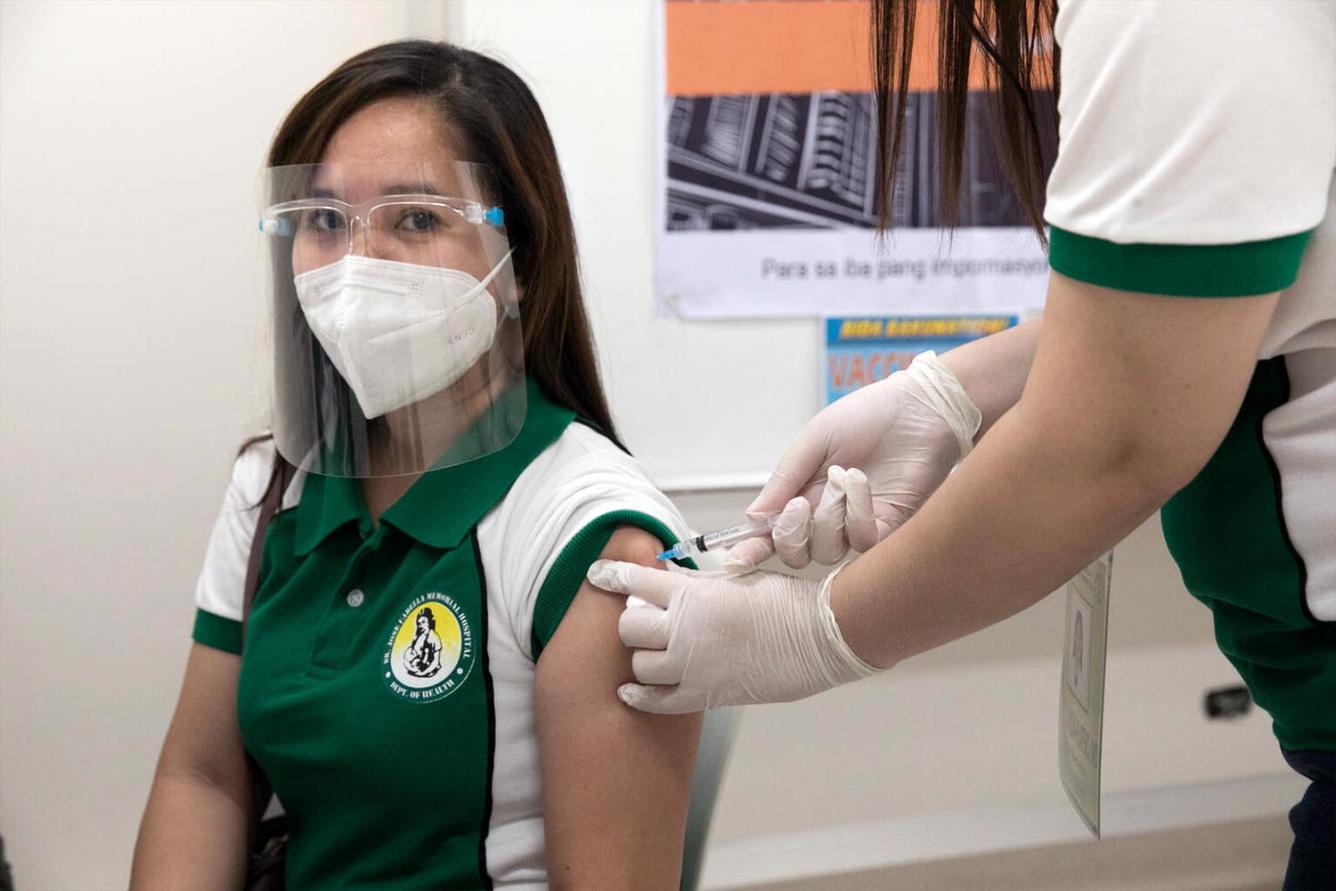 "Let's set aside our fear because with this vaccine, we have hope that COVID-19 will end. Because we have this vaccine now, we feel fully protected when we go on duty. As health workers, we must not be the carrier, we must be the one protecting patients. I feel hopeful that this pandemic will end soon and that I can finally go home to my 3-year-old son and husband and hug them, kiss them."
- Kareen Mae Abalahin - Nurse, Dr. Jose Fabella Memorial Hospital, Philippines
COVID-19 Response
UNICEF is also working on the ground to provide:
Healthcare Training
Train and equip frontline healthcare workers – the majority of whom are women.
Vaccine Delivery
Strengthen countries' supply chain and cold chain so vaccines are safely stored and delivered.
Technical Support
Provide technical support to governments in planning vaccine roll-out.
Reliable Resource
Tackle misinformation through communications and social mobilization.
Tackling COVID-19 Misinformation
The spread of misinformation has become a parallel pandemic so UNICEF Canada was quick to curb it. We worked with global experts to constantly provide current, accurate information, resources and guidance on our website. Parents are often targeted for misinformation, so we built a resource center to guide families through the pandemic. It armed parents with information and activities to keep their children occupied while staying at home. Parents could also receive text messages and phone calls to keep them up to date on our resources.
Globally UNICEF reached over 3 billion people with COVID-19 messaging, dispelling rumors and making sure that health education messages specifically tailored for children, parents and caregivers, teachers, community leaders and the media reached all corners of the globe.
Averting Lost Education
The pandemic is a race against time and it is children who will pay the highest price. Until COVID-19 vaccines reach everyone we risk progress made on children's rights being set back across multiple indicators. Poverty rates have increased for the first time in 20 years. Food insecurity has risen. At the peak of the pandemic in April 2020, 90% of the world's children were out of school.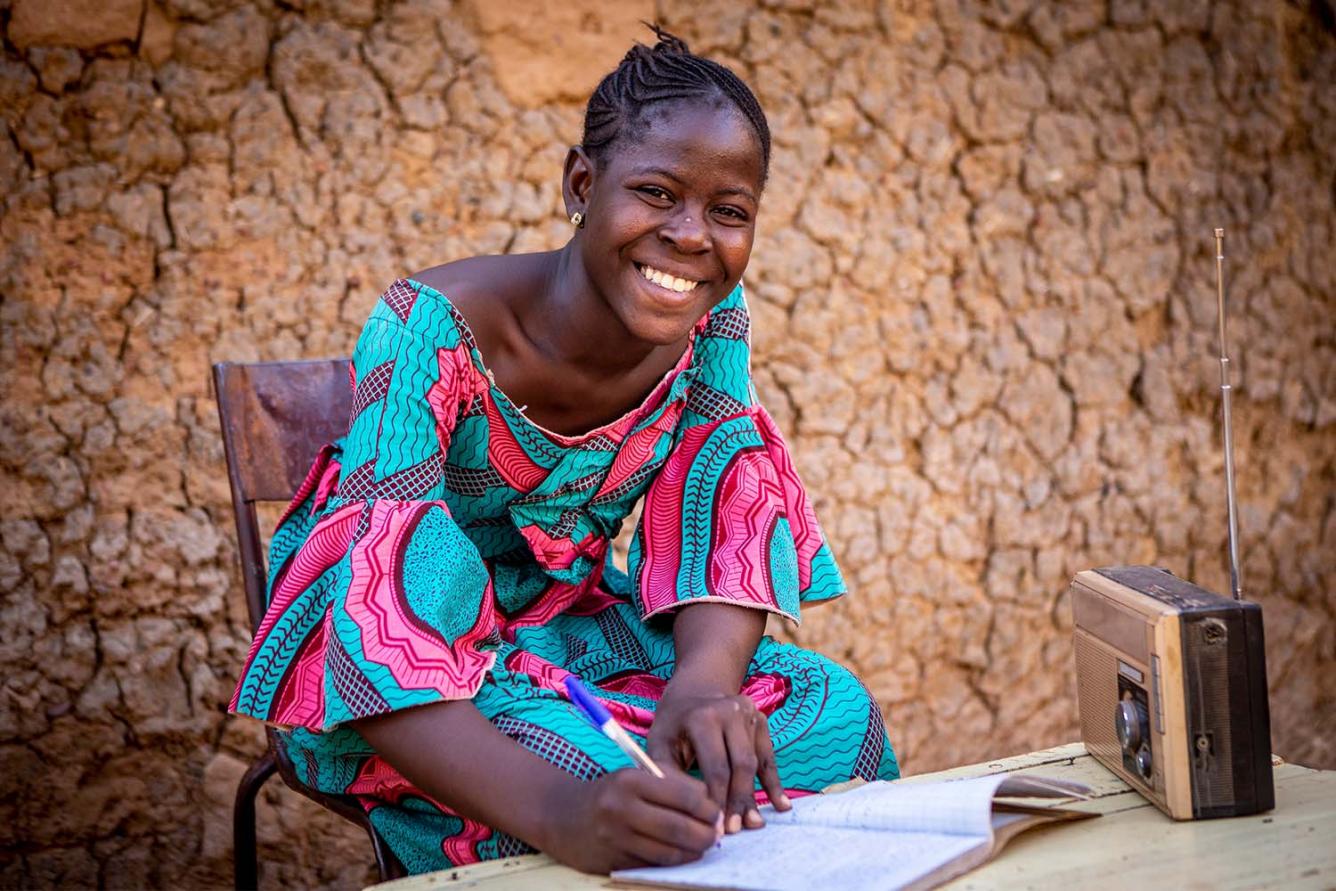 In Mali, Aïchata, together with her four sisters, worked around the house with her mother while her country was in lockdown. Her father, a tailor was worried that, unable to follow lessons from home, she wouldn't be able to get back to learning.
To help students like Aïchata during the pandemic, in Mali, UNICEF distributed 2,000 solar radios with USB drives containing educational programmes to vulnerable households. Listening groups were then organised so that many children could benefit from these distance learning courses.
As schools shut, UNICEF supported many such modern solutions to education around the world. Despite these efforts, more than a third of all out-of-school children remained without access to remote learning during the pandemic.
To enable safe reopening of schools, UNICEF created guidelines. In January 2021, Aïchata beamed as she returned to her classroom. "It's a real joy to be back at school. While school was closed, I followed the lessons on television, I studied and did exercises but it was difficult. I couldn't ask questions when I didn't understand something but above all I missed the school and my classmates."
Unlike Aïchata, nearly 1 in 5 schoolchildren globally – or 320 million children were still not back in their classrooms as of December 2020. This school disruption means many young people may never head back. This also means in a post-COVID world, UNICEF and partners will still have a daunting task in making sure education does not stop.
Addressing the Nutrition Crisis
The COVID-19 pandemic has also created and aggravated the nutrition crisis for many children. Food insecurity and malnutrition have worsened with an additional 132 million people poised to go hungry this year, of which 44 million are children.
Sometimes, school meals are a child's only meal of the day. However, more than 39 billion in-school meals have been missed globally since the start of the COVID-19 pandemic due to school closures, deepening a growing nutrition crisis. With 24 million schoolchildren at risk of dropping out of school due to the pandemic, school feeding programs can serve as incentives for the most vulnerable children to return to school.
In Venezuela, to bridge this gap, UNICEF reached many like Fernando and his family with not only school supplies, but an extension of a school food program.
We must all work together as the aftershocks of the COVID-19 crisis will last long after we are able to control the disease.
Preventing and Responding to Gender-Based Violence
The effect of the pandemic on women and girls has been especially devastating, as it has exacerbated gender-based violence. Those who experience violence at home have been trapped with their abusers. This has led to a spike in femicide in some countries. Lockdowns have also meant that services to respond to gender-based violence are largely unavailable or inaccessible to women and girls at the very moment when they need them the most.
UNICEF has prioritized its response to this crisis and trained more than 83,000 UNICEF and partner staff in gender-based violence risk mitigation and safe referral strategies for survivors.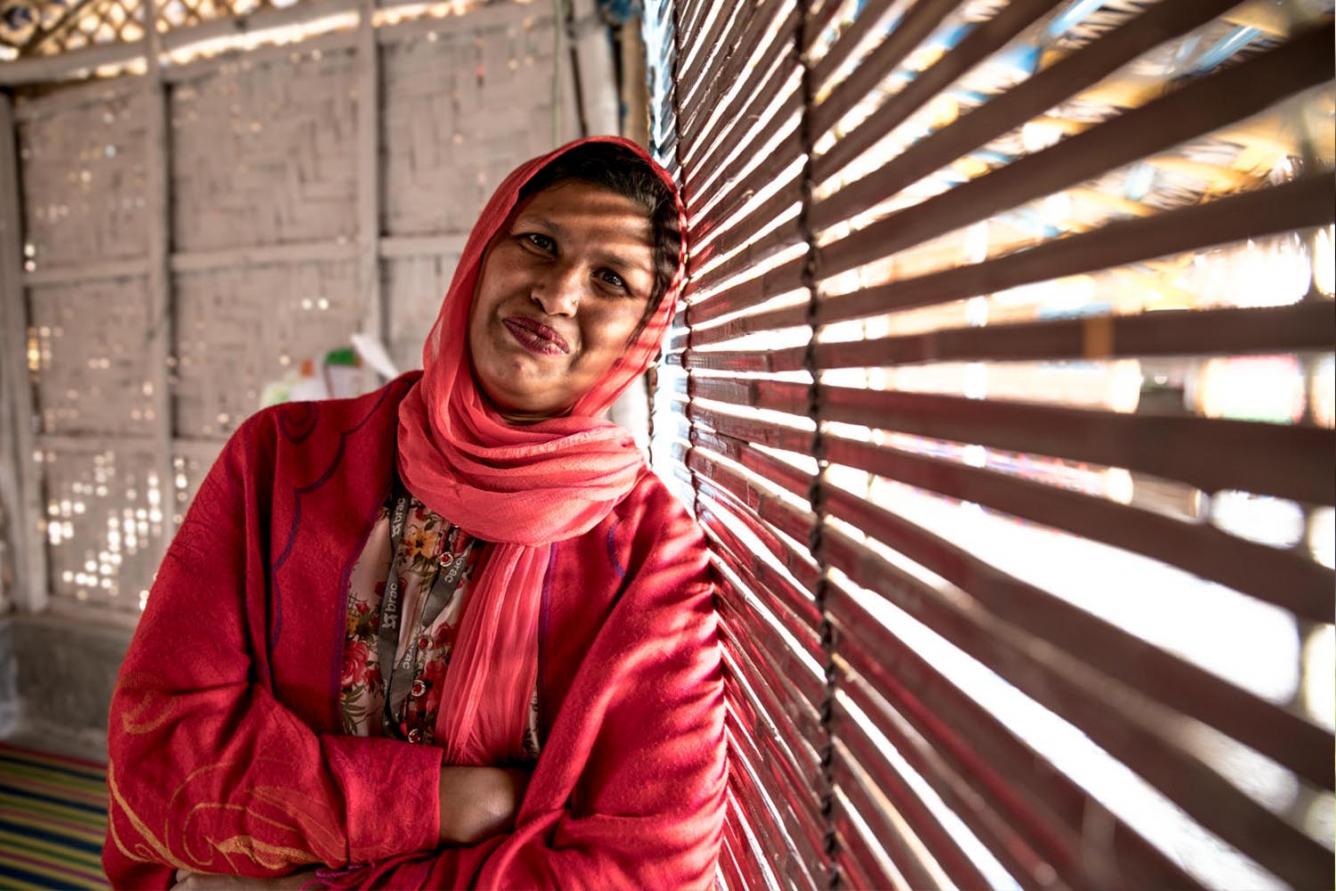 Shumi works in one of the 15 UNICEF-supported Safe Spaces in the world's largest refugee camp in Cox's Bazar, Bangladesh. The Safe Spaces offer protection services, such as group counselling, skills training and psychosocial support to vulnerable Rohingya and Bangladeshi women and girls who are survivors of gender-based violence. During the lockdown when the services were disrupted, Shumi began conducting house visits in the nearby community. She shared information on measures to prevent the spread of coronavirus and going door-to-door allowed her to also raise awareness on the services for gender-based violence response and how they could be accessed by survivors.
As the COVID-19 pandemic created additional barriers to accessing services that address gender- based violence, UNICEF continued delivering services and sharing information using innovative strategies and by adapting programs.
Building Back Better
COVID-19 has truly been a global crisis. It has touched lives everywhere, widening inequalities. The social, economic and health impacts of the pandemic will reverberate for years to come and continue to threaten child rights.
For 75 years, UNICEF has stood by children through the toughest times. During this pandemic too, we found innovative ways to reach those farthest from opportunity. Through COVID-19 and beyond, we are building more resilient systems and services that can reach all children. We must ensure that when the next crisis strikes, the world can fight back stronger.