The Zika Virus: Help us end the emergency.
With your support, we can control the spread of the Zika virus, support vulnerable newborns and families, and help drive development of the vaccines we need to save lives. Help us end the Zika virus emergency.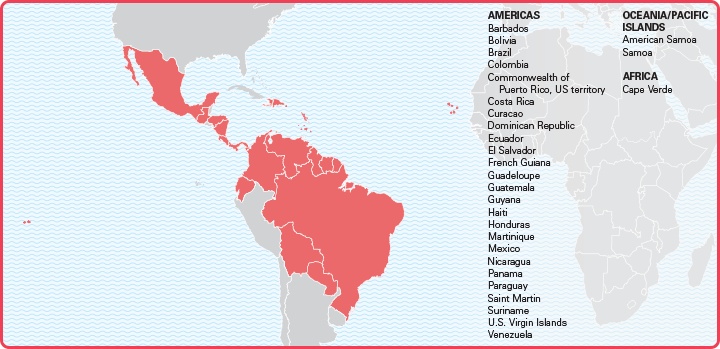 The Zika virus is a global health emergency that threatens the well-being of pregnant women and their newborn babies.
The Zika virus and Microcephaly in babies
With cases in nearly 30 countries, most of them in Latin America and the Caribbean, the Zika virus is putting the most disadvantaged communities at even greater risk. The virus is transmitted by mosquitoes, and has a suspected link to microcephaly, a serious birth defect that puts newborns at risk for a range of issues such as learning disabilities and vision loss. While scientists have not yet been able to definitively prove a link between the two, the evidence is strong and it means we cannot take any risk. We must act now.
Children born with microcephaly need special care for their entire lives. In countries like Brazil, which has seen more than 4,000 cases of microcephaly between October and January and where doctors are already in short supply, the consequences are devastating.
UNICEF supports Zika virus elimination efforts
We are using the knowledge and skills we have gained from fighting malaria, another mosquito-borne virus, to help communities protect themselves. Simple measures such as using insect repellent, sleeping under mosquito nets to avoid being bitten, and eliminating mosquito breeding sites can help save lives. We are on the ground mobilizing communities to stop the spread of the virus. UNICEF is also working to support the governments in affected countries to provide care and protection for newborn babies born with microcephaly. And with our partners, we are using our business contacts in the health industry to help drive the development of tools to diagnose the virus and vaccines to prevent its transmission.
We are committed to saving lives.
Zika virus statistics:
More than 4,000 cases of microcephaly registered in Brazil in just three months
Nearly 30 countries affected
3-4 million cases of the Zika virus expected in the Americas this year if unchecked